Samsung Galaxy Tab S Review: 10.5 And 8.4 Android Glamour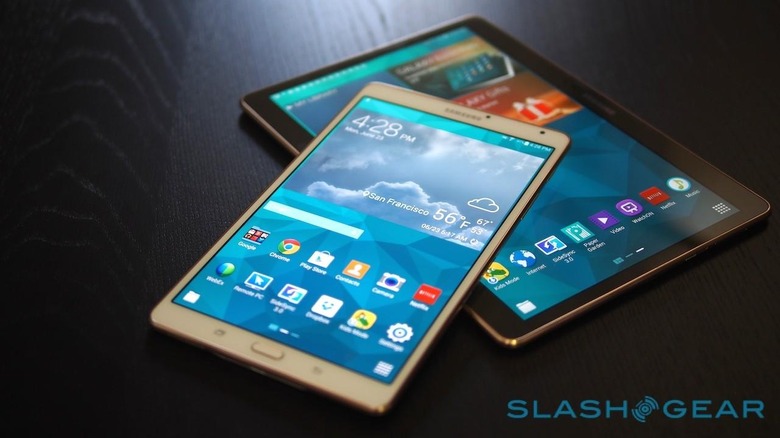 Samsung has always been at the forefront of envelope-pushing when it comes to slim tablets, and the Galaxy Tab S is no exception. Challenging Apple's iPad line-up head on, and borrowing the Super AMOLED technology and fingerprint biometrics from the Galaxy S5, the Galaxy Tab S 8.4 and Tab S 10.5 promise to finally give the Android tablet world what it's arguably been missing: a little glamour. Read on for the full SlashGear review.
Design
It's clear that a lot of effort has gone into making both the 10.5-inch and 8.4-inch tablets as thin as mechanically possible. Both are just 6.6mm thick, though unlike some earlier Samsung slates, the bodies may be plastic but they're flex-free and don't feel like they'll bend out of shape in your bag.

The textured rear panel of the Galaxy S5 has been brought across to its tablet cousins, and though I'd still prefer metal, they're at least easy to grip. Running the periphery is a thin, metal-effect strip in which the speakers, buttons, IR blaster, microUSB, and microSD slot are embedded.
On the back is also where you'll find two odd little spring-loaded circles, which aside from being something for fidgety fingers to play with, also allow you to snap on an optional cover.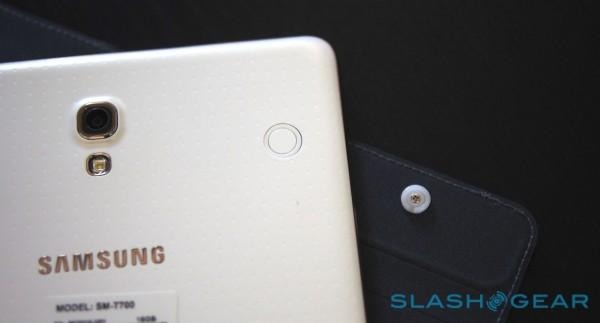 Samsung has two different styles to choose between, either the "Simple Cover" which is a basic flap that powers the screen on and off when opened or closed, and the Book Cover which can be flipped into three angles for watching video, browsing the web, or typing on the on-screen keyboard. The latter also has a useful flap-down section to quickly expose the camera lens.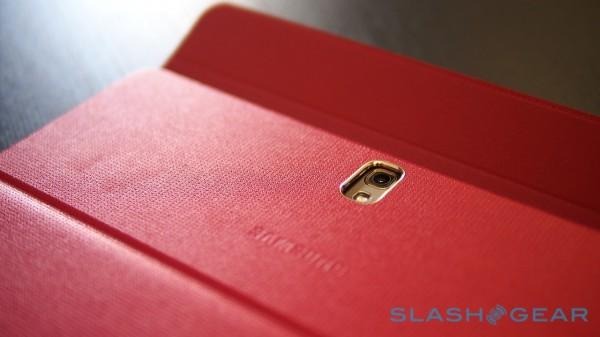 It's hard not to see both versions of the Tablet S as a direct response to the iPad Air and iPad mini with Retina display. Samsung's are certainly slimmer (the iPad mini with Retina is 7.9mm thick, while the iPad Air is 7.5mm thick) though obviously use plastic rather than the brushed aluminum Apple favors.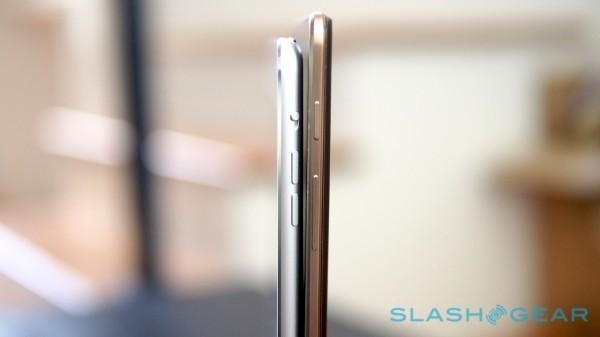 The difference in aspect ratios is most obvious with the smaller tablets: longer and narrower, the Galaxy Tab S 8.4 is easier to hold in one hand with fingers either-side than the iPad mini. Where the iPad Air feels designed to be used in portrait orientation by default, the Tab S 10.5 favors landscape. Interestingly, the speakers on both Samsung variants are on the shorter edges, for best stereo separation when watching video.
Display
The Galaxy Tab S range aren't the first tablets from Samsung to use a Super AMOLED display – that honor goes to the Galaxy Tab 7.7, an expensive metal-bodied Android slate only offered on Verizon in the US back in 2012 – but they are the highest-resolution examples.
In fact, at 2560 x 1600 they match the Nexus 10 for the sheer number of pixels on offer, besting the iPad Air at 2048 x 1536 and the Surface Pro 3 at 2160 x 1440. Even more impressive, that WQXGA resolution is consistent across both Tab S sizes, which means while the larger still manages a 287ppi pixel density, its little brother comes in at a whopping 359ppi.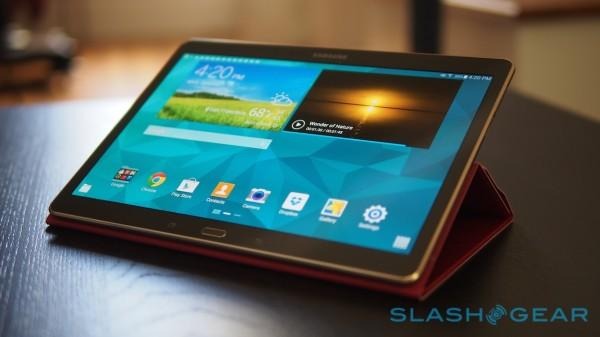 The end result is a pair of tablet displays the individual pixels of which are practically invisible to the eye, certainly in everyday use. Text reaches print-levels of crispness, while websites that are yet to update for this new generation of high-resolution panels can look gritty and underwhelming.
Of course, the advantages Samsung boasts of Super AMOLED goes beyond just detail. For a start there are the colors, with the panel having broader coverage of the RGB gamut for more accurate pictures and video, but the contrast levels are higher than for LCD too, even when you're looking at the tablets askance.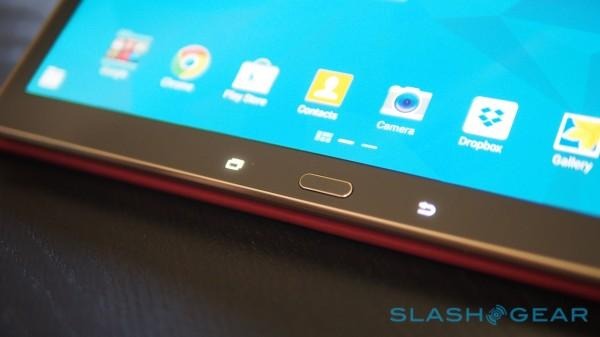 It's also AMOLED's core design that's allowed Samsung to trim the bulk down. Since each pixel is individually illuminating, there's no need to accommodate the thickness of a backlight as you would with LCD. Meanwhile, each pixel can be independently switched on or off to boost contrast, brightness, and better differentiate graphics even in bright sunlight.
Samsung has raised its game with processing, too. Rather than just a sensor for ambient light levels, the Galaxy Tab S has an RGB sensor that measures the color tone of the room and tweaks the settings of the tablet's screen in response. There's an adaptive mode which – with compatible apps – automatically finesses detail, color reproduction and saturation, white balance, and gamma correction, so that things like text and images look their best.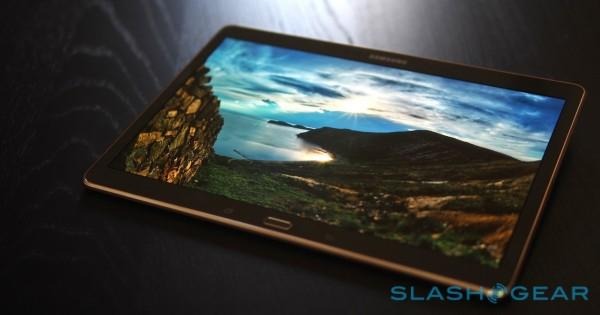 It's also capable of making contrast adjustments to portions of the screen, rather than treating it as a single whole. However, only a certain number of applications can work with the adaptive display system (out of the box, that's the gallery, camera, browser, video player, and Google Play Books, as well as select third-party ereader apps).
Overall, it's one of the best tablet displays I've seen. The Galaxy S5 has been rightly praised for its excellent screen, and the Galaxy Tab S duo follow in those metaphorical footsteps. Indoors, they're tailor-made for high-definition video, with the huge contrast range helping keep darker movies like Batman Begins from looking unduly murky. Outside, I was able to read an ebook in bright sunlight without issue, though it's worth noting that the Tab S got noticeably (though not uncomfortably) warm in the process.
Fingerprint Sensor
AMOLED isn't the only thing inherited from the Galaxy S5: the Tab S pair are also Samsung's first tablets to include fingerprint biometrics. As on the phone, the scanner is integrated into the home button.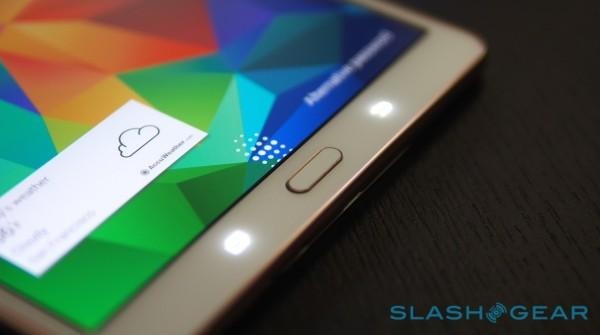 Usability still falls short of what Apple does with Touch ID. On the iPhone 5s, with its circular sensor, you can effectively press your finger down at any angle and have it recognized; the Tab S demands a straight swipe down, which means there's some lining up to do first.
Nonetheless, whether it's the larger form-factor or an improvement in Samsung's technology, I got on better with the Galaxy Tab S' fingerprint scanner than I have done with that of the Galaxy S5. Teaching it a half-hand's worth of prints was hassle free, and most of the time – if I've got the angles right – I can unlock on the first attempt.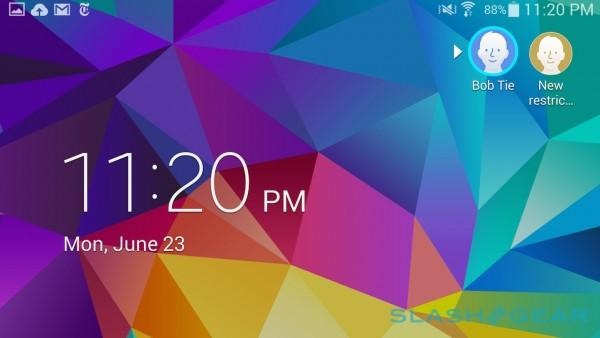 Samsung also allows the fingerprint scanner to be used to switch between user accounts – which can be optionally restricted to only allow the use of certain apps – and to authorize PayPal payments. With an SDK for the system, we're likely to see more vendors jump on board too.
Hardware and Camera
Slotting into Samsung's expansive tablet line-up as a consumer-focused alternative to the Galaxy Note Pro range, you could almost expect the company to trim the hardware a little. That's certainly not the case, however, and the two Tab S models come bearing some impressive specifications.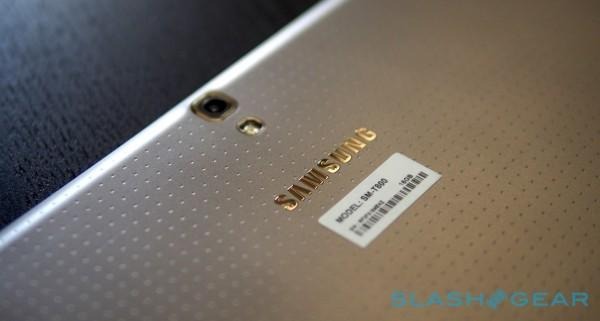 At their heart is one of two processor options. WiFi-only versions get Samsung's own Exynos 5 Octa 5420, combining a 1.9GHz quadcore with a 1.3GHz quadcore that Android can switch between as it balances performance and battery life. LTE versions use Qualcomm's Snapdragon 800 2.3GHz quadcore.
Both get 3GB of memory and either 16GB or 32GB of onboard storage, with a microSD slot good for cards up to 128GB. Connectivity includes WiFi a/b/g/n/ac MIMO, Bluetooth 4.0, and an IR blaster for using the Tab S as a universal remote. LTE models will get Samsung Download Booster, which couples a 4G and a WiFi connection to improve download speeds. There's also GPS and GLONASS, an accelerometer, gyroscope, and a digital compass.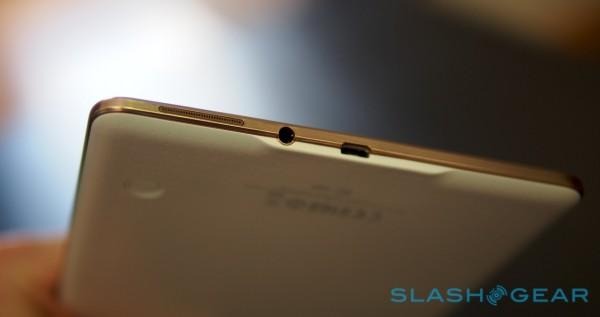 On the back, there's an 8-megapixel camera with an LED flash, while a 2.1-megapixel camera with Full HD video recording is on the front. Tablet cameras all too often fall short of their smartphone equivalents, even with the same resolution on paper, but here too the Tab S is a happy outlier.
Daylight shots outdoors are good, with solid color balance and plenty of detail. There's a little edge-fuzziness when you zoom in close, mind. Macro performance works well – one of several modes the Tab S can shoot in, several of which are gimmicky like embedding a thumbnail from the front camera in a postage stamp on top of the main frame – and the fast shutter kept up even on a windy day taking shots of fast-swaying flowers.
Indoors, the grain starts to slip in as the natural light dwindles, but there's still a fair amount of detail. I'll never advocate being a tablet-photographer – ergonomically they're just subpar compared to a smartphone-scale device – but if you have to hold up your slate to get a shot, the Galaxy Tab S stands a decent chance of capturing something usable.
Software and Performance
Android 4.4 KitKat makes another appearance here, with Samsung putting its TouchWiz interface on top as per other recent devices. There's thankfully less of the scattershot approach to features that I've criticized on previous Samsung devices, though the modifications over base Android are still considerable.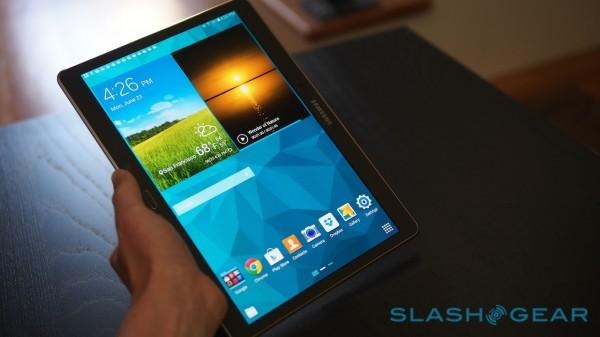 Which of those changes will be most welcome to users will be a matter of personal preference, though there are some standouts. Multi-user support I've already mentioned, great if the tablet is a communal one for the coffee table, while those who have a Galaxy S5 get SideSync 3.0, which allows for calls and messages to be made and received wirelessly from the Tab S.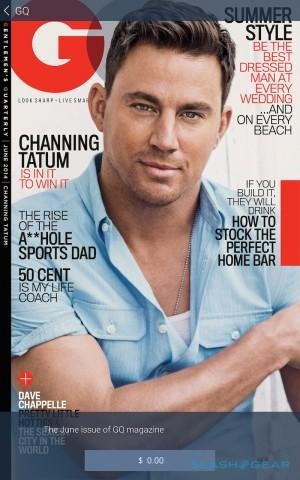 Samsung's iconography and widgets are still a little cartoonish for my tastes, but I can't argue with the collection of free apps and services Samsung has negotiated. Part of its Galaxy Gifts promotion, there are things like 3-12 months of digital magazine and newspaper subscriptions, a free Kindle ebook every month with a custom-branded version of the app, three months of Marvel Unlimited comics access, and several others.
There's also Papergarden, Samsung's digital magazine portal, made in partnership with Adobe, in which publishers that have high-def versions of their periodicals can show them off to their best on pixel-packed screens like that of the Tab S.
Several issues of magazines can be downloaded free, and they certainly look crisp and render quickly, though it's worth noting that you'll need to entrust your credit card details to Samsung even to simply browse the freebies.
Other tweaks and changes are more subtle. I like the way the notification bar automatically hides, particularly making best use of screen space in landscape orientation on the Tab S 8.4, and the slide-out quick launch bar is useful, though would sometimes be brought up inadvertently while I was page-turning in the Kindle app. Multi-Window – which allows you to split the display and have more than one app on-screen at a time – is more usable on the 10.5-inch model, thanks to the extra physical size, but it still makes both versions more practical when you want to get something serious done.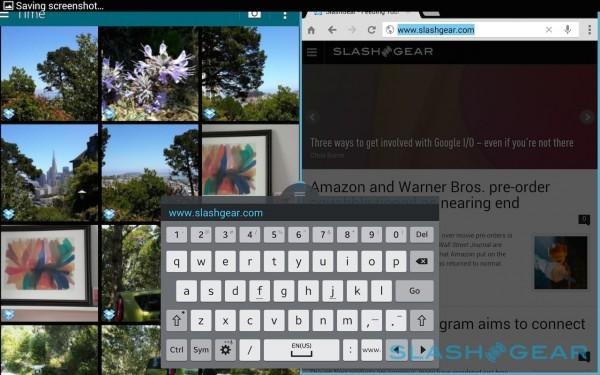 I'm yet to test the Snapdragon 800 version of the Galaxy Tab S, but the Exynos-powered version moves swiftly. At times there were very minor graphical jitters, though they were infrequent, and most of the time apps switched with no lag, webpages scrolled smoothly, and high-resolution images and video were hiccup-free.
As for battery life, Samsung quotes up to 10 hours from the 4,900 mAh battery in the Tab S 8.4, and up to 9 hours from the 7,900 mAh battery in the Tab S 10.5. I'm still running through the full gamut of power testing, though early indications are positive. In mixed heavy use – a combination of browsing, some video playback, ebook reading, and music, indoors with the display set to automatic, and I got through the day with juice to spare.
Crank up the screen brightness, though, and for all of Samsung's talk of AMOLED frugality there's still a price to pay. Reading on the Tab S 8.4 in bright sunlight outdoors, the display was certainly visible at maximum brightness, but I managed to chew through 25-percent of the battery in the space of an hour.
Wrap-Up
Samsung hasn't been short on tablet options, but it's always been phones not slates that the company's mobile devision is best known for. The Galaxy Tab S duo follow in the footsteps of the Galaxy Note Pro, distinguishing themselves with unique software features and hardware that Samsung clearly hopes will not just differentiate from the Android masses, but present a solid argument to the iPad Air and iPad mini that have, for many, become the de-facto choice in tablets.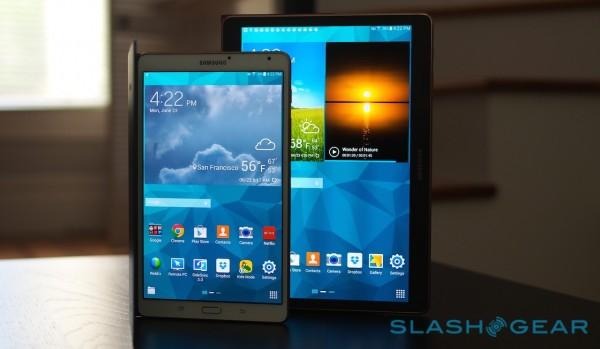 On that basis, there's plenty to like about the Galaxy Tab S. The 10.5-inch model is a beautiful movie machine, with great speaker performance and sufficiently lightweight construction that even if you're holding it for the duration, your arms shouldn't get tired. As for the 8.4-inch version, its slender build and minimal bezels fit a much bigger display into a form-factor closer to slates in the 7-inch category, balancing media consumption with the ability to fit into an overcoat pocket.
Both, of course, have that eye-catching Super AMOLED display technology and a capable camera, along with reassuring battery life to match. It's taken Samsung a while, but the Galaxy Tab S demonstrates its tablet division has finally caught up with its phones, and that Android slates needn't be the ugly cousins to Apple's iPads in either design or capabilities.