Samsung Galaxy Note Pro 12.2 LTE (Verizon) Review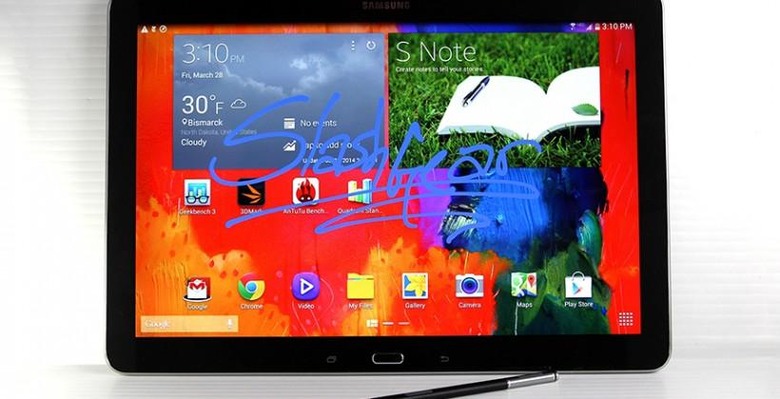 With the Samsung Galaxy Note Pro 12.2 from Verizon Wireless, users have the largest tablet on the carrier. This device is not the largest tablet on the market – that honor goes to the Panasonic Toughpad 4K UT MB4 at 20-inches – but it's certainly the biggest we're willing to go for a mobile device. This iteration of the machine also comes with Verizon's 4G LTE connectivity.
Hardware
The Samsung Galaxy Note Pro 12.2 works with a 12.2-inch display with Super clear LCD technology and 2560 x 1600 pixels of light to fill it up. This means you've got 247 PPI (pixels per inch) and more than enough to keep your eyes entertained on long plane rides. This display is both extremely bright and sharp enough to keep up with your extra-sharp eyes' desires.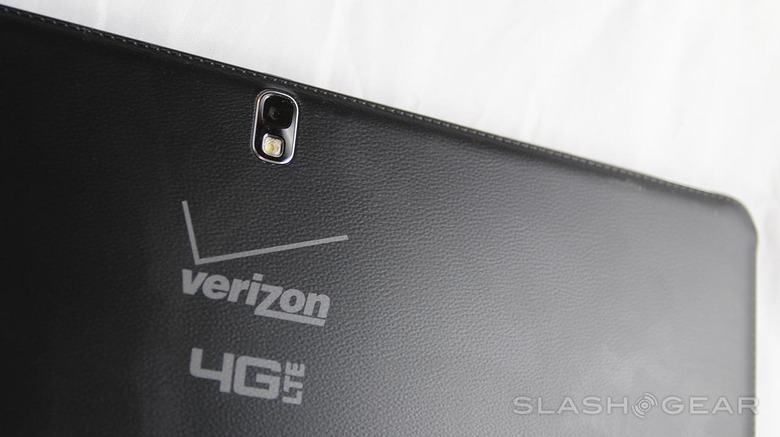 Of course you're still not up to the point that Samsung's Galaxy smartphones are at, the Galaxy S5 rolling with 1080 x 1920 across 5.1-inches of screen, ringing in at 432 PPI, but once you're up here in the 1080s and above, it really stops making a difference at a certain point. Your eyes can't really tell the difference unless you hold displays one on top of the other.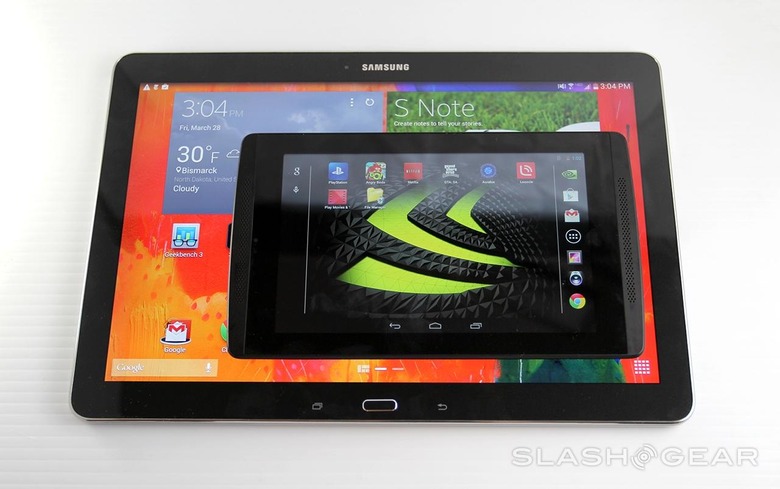 This device has speakers on the right and left, left and right facing rather than backwards or forwards. Someday we'll get to the front, hopefully! You'll be able to tell the difference in speaker sound physically when you've got a Galaxy Note Pro 12.2 next to an NVIDIA EVGA Tegra Note 7 with front-facing speakers. Directly at your face versus bouncing off walls – the difference is real.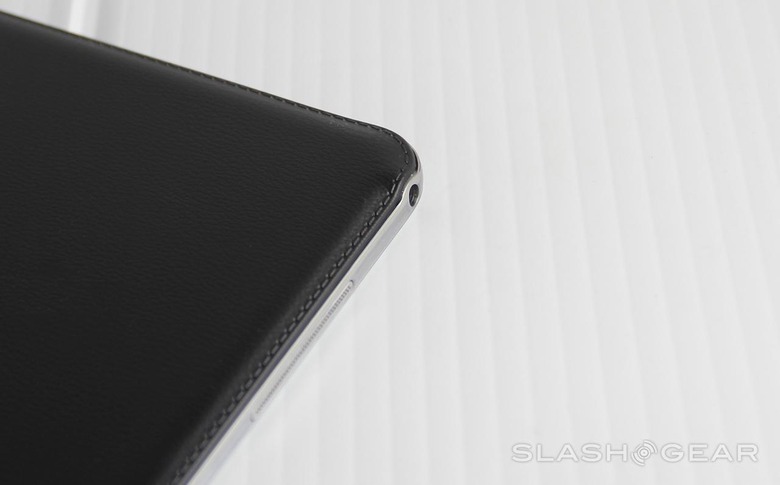 The Galaxy Note Pro 12.2 is massive. It's 295.6 x 204 x 8 mm (11.64 x 8.03 x 0.31 in) and it's not easy to get along with at first. After a few outings at remote locations though, it's difficult to say goodbye to a display so massive. This device's display is larger than my MacBook Air, for crying out loud – it's not going to be easy turning back to a lesser display.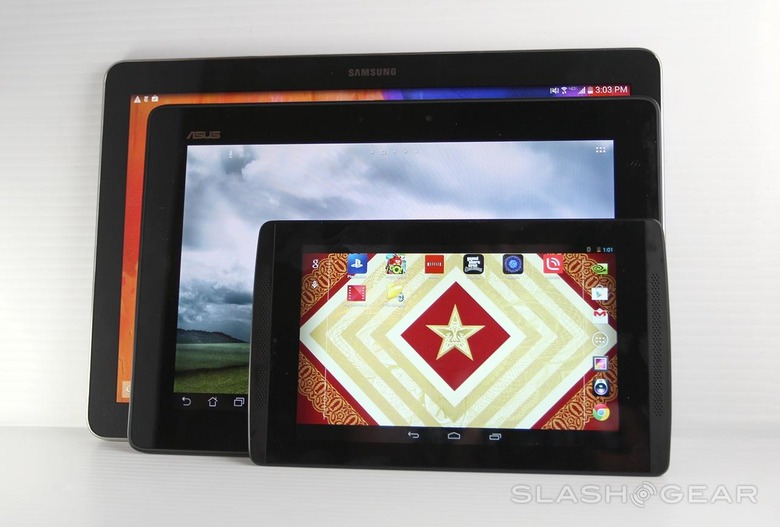 But with the good comes the bad – problems you might have had with holding up a tablet with a 9.7-inch or 10.1-inch display in the past are only amplified here. It's difficult to find a place where you're really going to need a tablet this large.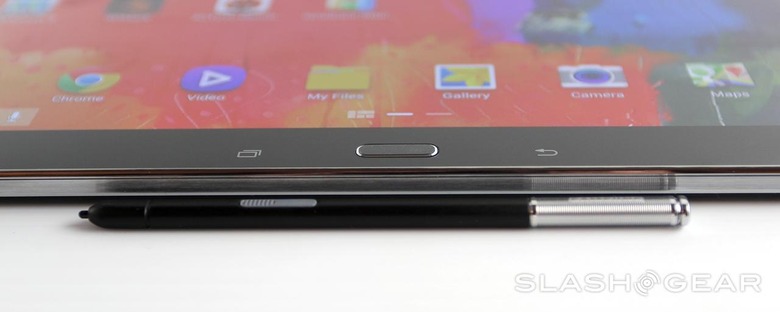 If you do, however, you've got Samsung's best bet. This device has the newest in new S Pen technology and it's slick as ever. We've been doing nothing but drawing pictures on this device ever since we started – for us, it's more entertaining to draw with this high-end piece of equipment than it is to watch a movie or browse the web.
Software
Under the hood, Samsung has provided a number of apps attuned specifically to the Galaxy Note Pro 12.2. Push the home screen collection all the way to the right and you've got a big-screen collection of organization panels: Calendar, Business (news bits), Email, and Office.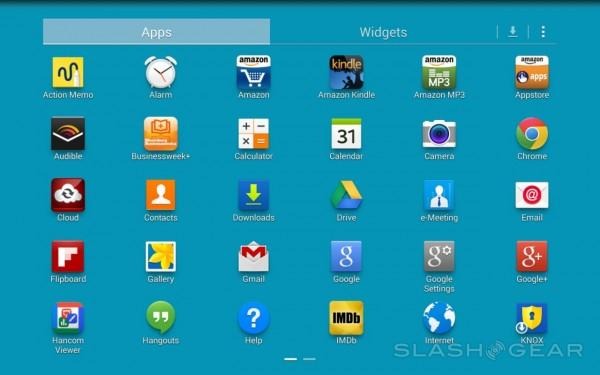 While we're not the type to go about using an email app other than Gmail (since we switch devices so often), this one works perfectly well – it's also handy having it up on the home screen without the need for an oddly-shaped widget. The same is true about the calendar – it's nice having it up front and ready for the tapping.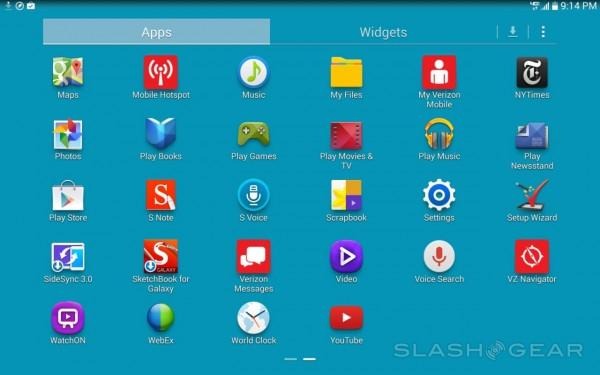 Pull your S Pen from its holster and you've got the always-friendly Air Command. We've been using this handy little command center for the Galaxy Note collection since the Galaxy Note II, and it's still fun to hear that little "cluck" sound off when the pen is pulled. From there it's all about quick-tapping.
As you'll see in the hands-on video above, the S Pen is now in the upper right-hand corner of the tablet, making it extra-easy to access. This S Pen also works with the capacitive buttons below the display, as introduced with the Galaxy Note 8.0 at MWC 2013.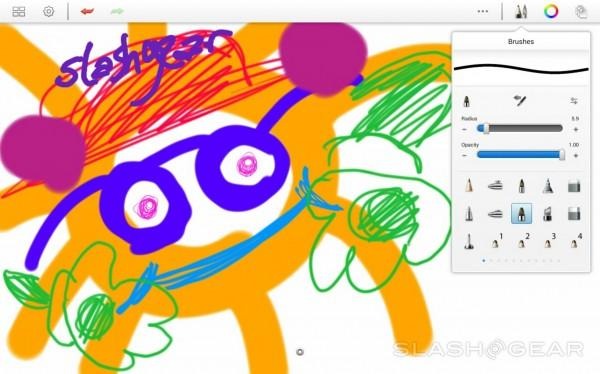 Flipboard has returned to bring unique functionality to the Galaxy Note line with story previews with the S Pen. You'll also have the rather intuitive SketchBook for Galaxy – which you'll have to download with a tap once you've opened the tablet for the first time. This is just about the easiest app for illustration we've ever used – easy with the ability to create great masterpieces of color and light, that is.
KNOX is here for security, and Verizon has added a number of apps to keep you inside their ecosystem. Helpful is the My Verizon Mobile app to keep track of your data, while odd is the addition of VZ Navigator. Just incase you want to use this tablet as your GPS device, of course.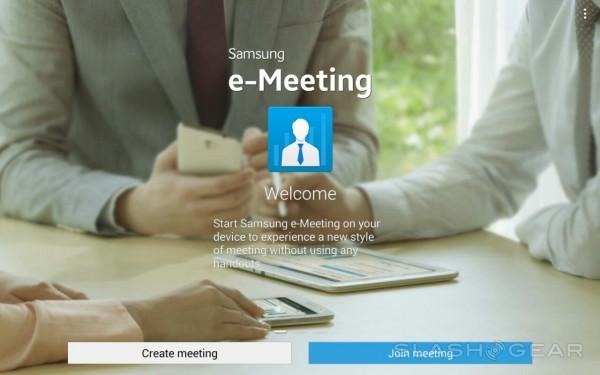 Hancom Viewer is an app that'll take care of all your document and Office needs – though Office for Android is now free as well, if you're willing to make that jump. Samsung also adds Samsung e-Meeting here to initiate your love of the Samsung-based electronic in-person meeting: rather interesting if you're in the business: every tablet or smartphone shares the same screen as you present from yours, S Pen included.
And of course no powerful tablet review would be complete without some relatively arbitrary benchmarks. Note as always that these benchmarks are in place only to show a relative view of how powerful the device is, and you'll really have to compare one device to the same device to get any sort of real helpful results.
Know here that this device is well above powerful enough to handle any and all Android-based tasks. Every test we set for the Galaxy Note Pro 12.2 it passed with flying colors in the processing department.
Camera
This device works with the nicest camera ever bestowed upon a Samsung Galaxy tablet. It's not a higher-quality setup than the most recent couple of generations of Galaxy Note or Galaxy S smartphones, but it's pretty great for a tablet. On the back of this tablet you've got an 8-megapixel shooter capable of working with 1080p resolution video recording.
Have a peek at a number of example shots and video here and see what you make of it. While it still remains awkward to take photos and video with a tablet, this massive beast of a slate does the job pretty well, considering its size and unwieldiness.
Battery
To make certain we've got long battery life, the Qualcomm Snapdragon 800 rears its head in order to conserve battery life and to use power effectively. We've found this device to work for extended periods of time with nothing but on-time: a full 4-hour plane ride had the device still up for a few more hours of playtime once we reached a hotel.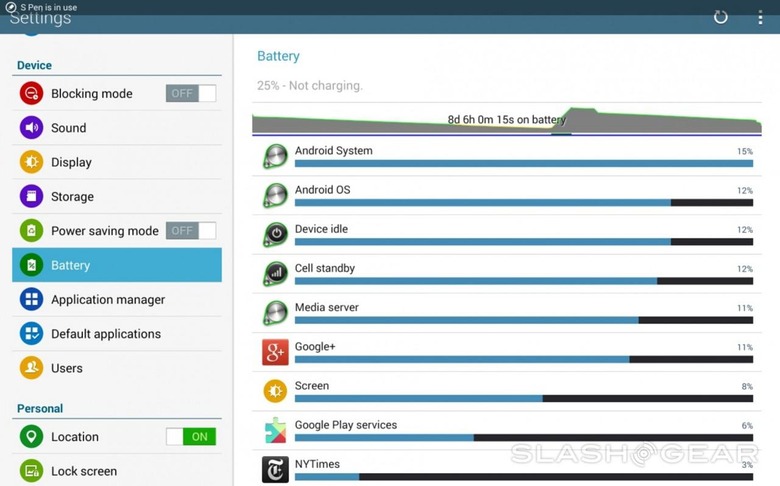 Several days of charge are easy for this device as well, just so long as you keep LTE as well as Wi-fi off for that sleepy period. Charging up is a bit faster than in previous devices thanks to Qualcomm's efforts in charging, and the USB 3.0 plug helps a bit as well. This device works with a 9500 mAh battery – far above what we've seen in smartphones and most tablets in the past, but just right for a display of this size.
Wrap-up
It's far more difficult to recommend one tablet over the other than it is to recommend one phone over the other. With Samsung, the trouble is generally telling one Galaxy Tab apart from the next – even generationally they look very, very similar. But here Samsung opens a new door – this tablet is wholly unique.
With the processing power to get every kind of Android-based task done and an S Pen that allows you to do top-notch artwork, notes, and every kind of stylus-based work you can think of, there's really no equal to the Galaxy Note Pro 12.2 in the market today. Certainly as far as displays and abilities go, this is easily the finest tablet Verizon has to offer right this minute – if you want to go big, that is.