Panasonic Toughpad 4K UT-MB4 Hands-On: 20-Inch UHD Tablet Madness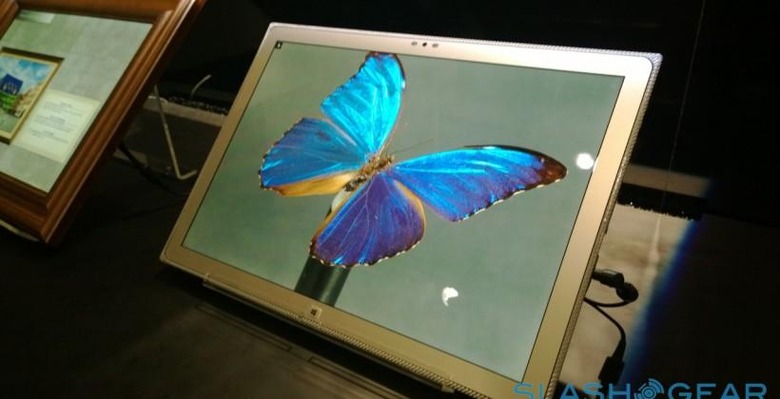 Twelve months ago Panasonic showed us a 4k display slotted into an oversized tablet and threatened to release it on the world; now, the Panasonic Toughpad 4K UT-MB4 has been born. 20-inches and 3840 x 2560 resolution, the Toughpad 4K UT-MB4 isn't being targeted at your average iPad owner – not least because it's ten times the price – but instead at architects, artists, and design studios, though we must confess feeling some lust ourselves. Read on for our first-impressions.
Last year, at IFA 2012, Panasonic used its concept slate primarily to show off its Ultra HD resolution 20-inch panel. The company wouldn't be drawn on any production possibilities, however.
That concept evolved into the Toughpad 4K UT-MB4, however, which you could perhaps describe as the vast, professional version of Samsung's Galaxy Note 10.1. Behind the display – which can be optionally paired with Panasonic's Electronic Touch Pen, supporting 2,048 levels of pressure sensitivity, and works by tracking each individual display pixel and, using an IR camera, figuring the exact angle of the nib and how much pressure is being applied, which Panasonic says is more accurate than the typical capacitive+digitizer pairing – there's an Intel Core i5 vPro processor paired with up to 8GB of memory and NVIDIA GeForce graphics.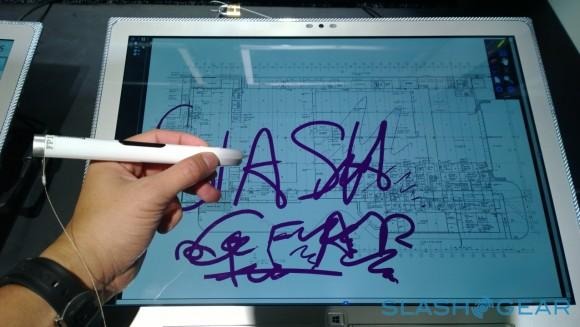 There's also 256GB of SSD storage and an SD card reader, together with WiFi and Bluetooth, and USB 3.0. However, there's also a docking stand which adds ethernet and HDMI-out. A front-facing webcam shoots at 1280 x 720 resolution.
Panasonic isn't describing the Toughpad as a regular tablet, suggesting it's more of a portable touchscreen device. However, the carbon-fiber casing helps keep weight and bulk down, relatively speaking: the UT-MB5 is 12.5mm thick and 2.35kg (5.18 pounds) in weight.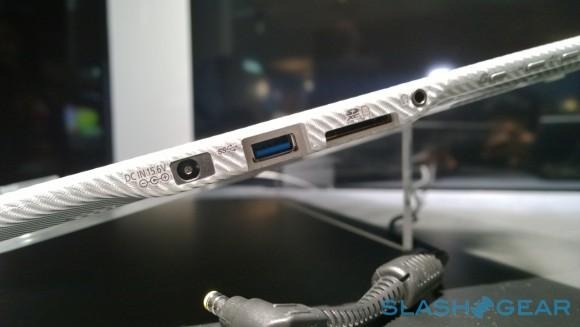 The Toughpad name, meanwhile, means ruggedness. In fact, the slate can withstand a drop from up to 76cm (30 inches) as long as it lands on its base. Not quite the resilience of Panasonic's other ruggedized models, but worth having when you're carrying around 20-inches of tablet.
Hands-on, and the Toughpad screen is incredibly detailed. Panasonic had loaded it up with a range of technical documents, such as architectural plans, and even when looking at the whole page you could still make out tiny details and text. The 15:10 aspect panel works out at 230ppi pixel density, but the expansive size makes it look much more impressive than that figure.
Panasonic 4K tablet hands-on:
As for battery life, Panasonic says the UT-MB4 should run for a little over two hours on a full charge. While that's not much in the grand scheme of tablets, the company's argument is that this really isn't a true mobility device, and that it's unlikely to ever be removed from an office or even spend much time away from a power socket.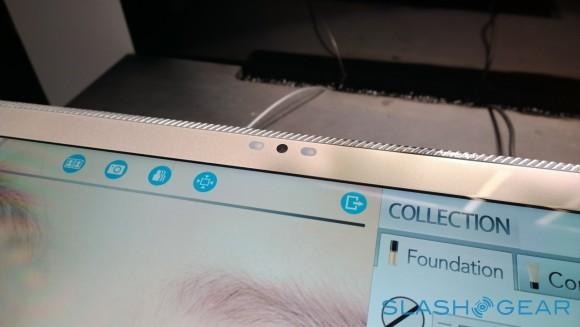 Meanwhile a second version, the Toughpad 4K Performance, will arrive in the first half of 2014. That will have a more powerful Core processor and better NVIDIA graphics, and be aimed at CAD professionals wanting to ditch their existing workstation.
Unfortunately, all these pixels and potential come with a premium price. The Panasonic Toughpad 4K UT-MB4 will run to €4,509 ($5,995) before tax when it arrives in Europe come November. No word at this stage on a US release.