Galaxy Note II: Air View and Quick Command demo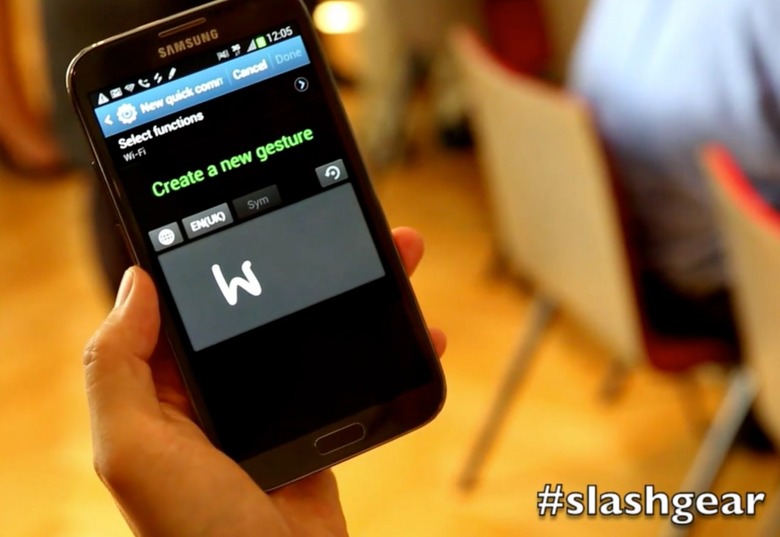 Samsung's Galaxy Note II may have some slick new hardware, but it's software where the company is making its most significant changes to everyday usability. Two of the biggest enhancements are Air View and Quick Command, using a combination of the S Pen digital stylus and gesture recognition, and taking advantage of Wacom's active digitizer technology. Head on past the cut for a video demo.
Air View also works with contacts – showing phone number, email and other details when you hover over entries in your address book – and messages, along with calendar entries and content in other apps. When you're playing back video, meanwhile, you can trace the nib across the timeline and see thumbnails of the coming scenes, which makes a big difference in finding a particular spot. Windows pen-enabled tablets have long used stylus hover to mimic hovering the mouse pointer over something without necessarily clicking, and it's a welcome improvement to the Note II's interface.
Galaxy Note II Air View and Quick Command hands-on:
Quick Command is a mashup of sketched shortcuts and quick launching: hold down the barrel button on the side of the S Pen, swipe up the screen, and the dialog loads. Samsung's most proud of how it can be used to flick off a speedy email – handwrite "@ Simon" and a quick note, and a new mail opens up addressed to "Simon" and with the message pasted into the body; if you have more than one Simon in your contacts, you're presented with a list of the options. Unfortunately it can't be used with Google's Gmail app, only Samsung's customized Mail version, though other S Pen improvements will be opened up to third-party developers when v2.2 of the SDK is released on August 30.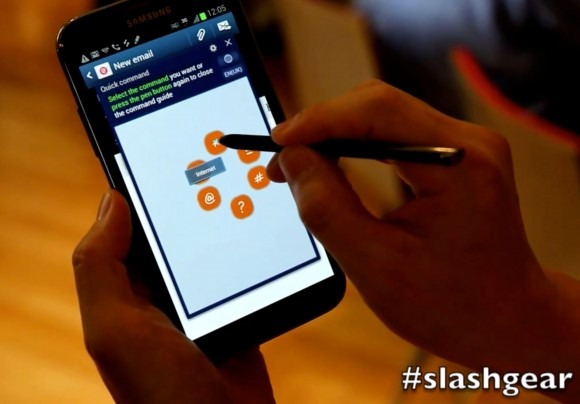 Other features of Quick Command include settings toggling or loading other apps, such as drawing an equals sign to boot up the calculator, and you can create your own with your choice of shortcut sketches. What's not clear is how much of the new S Pen functionality will be brought to the original Note, Samsung telling us that hardware differences will mean only select features will be ported back.
There's more on the Galaxy Note II in our full hands-on.