EVGA Tegra Note 7 Review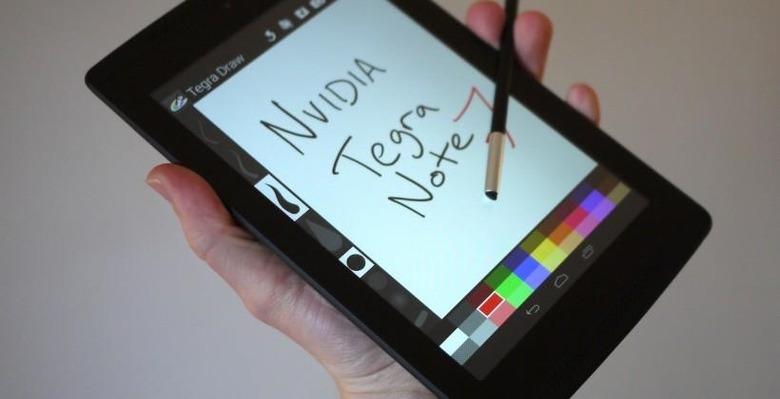 The stylus was dead, and now it's back. What once was the hallmark of cheap touchscreens and finger-unfriendly software has, thanks in no small part to Samsung's efforts with its Galaxy Note range, had a second-wind; even the popularity of aftermarket capacitive pens for the iPad suggests not every iOS user agrees with Steve Jobs that "if you see a stylus, they blew it." Now NVIDIA is wading into the fray, targeting not only pen control but a low price too, with the Tegra Note 7. Set to be sold under different brands in different countries – such as the EVGA model on the SlashGear test bench – the Tegra Note 7 claims similar functionality to Samsung's Galaxy Note 8.0 but at just $199. Over-ambitious? Read on for our full review.
Hardware
What does $200 get you in a tablet? The Tegra Note 7, as the name suggests, is built around NVIDIA's own Tegra 4 chipset, which we've seen in several other devices over the past months. It's paired with a 7-inch, 1280 x 800 IPS LCD display, 1GB of memory, and 16GB of internal storage, plus WiFi b/g/n, Bluetooth 4.0 LE, and GPS. There's no 3G/4G option, but you do get a microSD card slot, a 5-megapixel rear camera with autofocus, and a VGA front camera.
Ports include a 3.5mm headphones jack, a micro HDMI output, and a microUSB with Host support, all clustered closely along the top edge. A long groove running down the left side accepts the optional Slide Cover, which much like the iPad mini's folding cover can be twisted into a stand to prop the Tegra Note 7 up on your desk. It also powers on/off the tablet when you open it, though the hinge feels on the cheap side.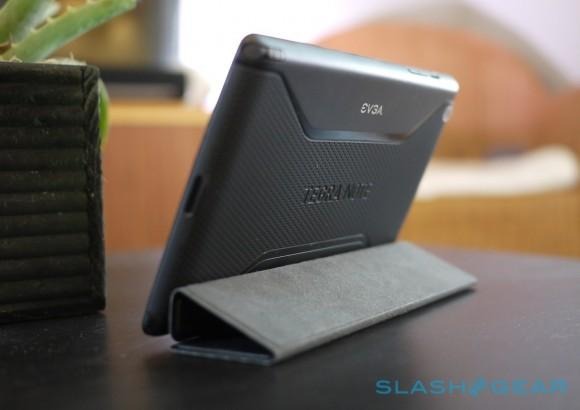 The display falls short of the number of pixels you'd get on, say, Google's 2013 version of the Nexus 7, which has a 1920 x 1200 panel. It's a reasonable screen but not an outstanding one; colors look muted, and it lacks the "floating on the surface" appearance of graphics that some of the better optically-laminated displays deliver. Above and below it (or either side in landscape orientation, of course) are the front-facing stereo speakers, NVIDIA having followed HTC in sensibly placing them so they face the user, rather than firing off to the side or the rear.
Unlike HTC, however, NVIDIA has also found room for a bass reflex port to improve the low-end sound. Overall, the Tegra Note 7 delivers one of the broader audio ranges we've heard from a small tablet, though it's not over-loud.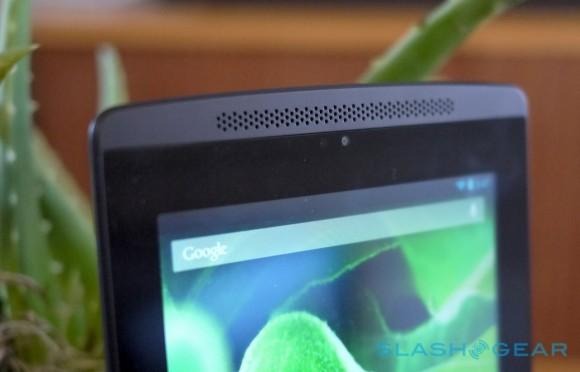 Build quality errs on the plasticy side, with the 199 x 119 x 9.6 mm, 320g chassis feeling sturdy but hardly premium (unsurprising, you might say, given the price tag). The design of the rear is particularly underwhelming, with the combination of moldings, matte and glossy finishes, and textures leaving it overly fussy.
Stylus
The magic in the Tegra Note 7 is in its stylus, which slides into a silo at the lower right hand corner of the tablet. It's a surprisingly tactile pen, too, with a ring of smoothly-finished metal around the nib where your fingers grip, and sufficient length so that it rests in your hand comfortably. What's interesting for anybody who has followed tablet design over the past few years is the nib itself.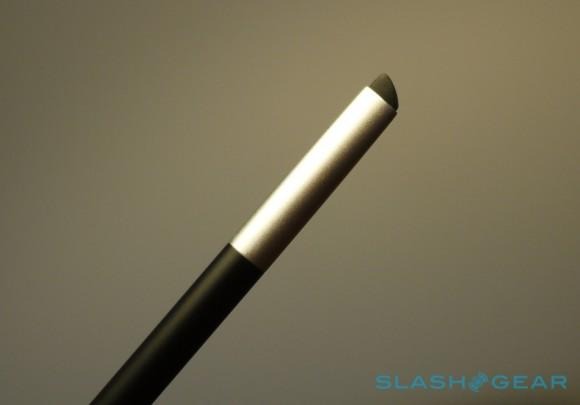 First, a quick primer on stylus technology, which generally falls into three camps. Old-fashioned phones and tablets – we're talking Windows Mobile era – used resistive touchscreens and pens that were basically sticks: they acted as a far narrower fingertip, but could get confused by your palm resting on the display, and didn't recognize pressure. More expensive tablets and phones – such as Samsung's Note line-up, and tablets like Microsoft's Surface Pro 2 – use active digitizers, which require a special stylus that wirelessly communicates with an extra layer in the display.
That communication passes position, pressure, and even angle between pen and screen, and even allows the tablet to recognize when the nib is hovering above – but not touching – the display. It's a precise technology, but an expensive one, not to mention requiring a specific stylus; Samsung's Galaxy Note 8.0, for instance, currently has a street price of around $359, considerably more than the Tegra Note 7.
In-between resistive and active digitizer pens come the capacitive styli. Since most capacitive touchscreens, such as on the iPad, lack specific pen support, these effectively mimic your fingertip with a rubbery nib. Billed as ideal for art and note-taking, they work but it's a fudge: lean the heel of your hand on the display as you write (as ergonomically you're likely to do) and it can confuse the touchscreen, while the accuracy is generally underwhelming. On the plus side, they're cheap: third-party capacitive styli come in at from $15 for a name-brand model.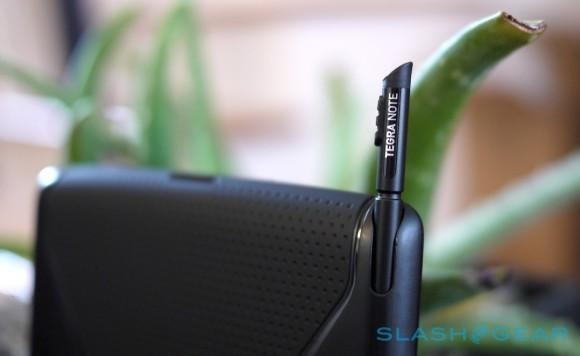 What makes the Tegra Note 7's approach interesting is that it pairs capacitive touch with software cleverness. The stylus itself has a rubber tip, just like the others, but it's considerably smaller than any such pen we've seen before. In fact, iOS devices we tried it with wouldn't even recognize it, it was just too small.
By running the touch processing through Tegra 4 rather than dedicated sensors, NVIDIA can not only speed the process up so that it's more responsive, but save money too. In effect, the chip is doing real-time signal processing – NVIDIA calls it DirectStylus – to differentiate between nib, and fingers, and palm, all in software.
It's a testament to NVIDIA's processor that it works so smoothly. The flow of digital ink is akin to what you'd find on an active digitizer, and there's even support for rudimentary pressure recognition, as DirectStylus calculates the flattening of the nib on the screen and the footprint it leaves. NVIDIA has also added what it calls "Intuitive Eraser", which replicates the ability to flip the stylus over and use the blunt end to rub out handwriting or sketches. It's not quite immediate, mind; you have to hold the tip in place for a second, until it's recognized as being the eraser – a circular symbol appears on-screen – before you can actually use it as such.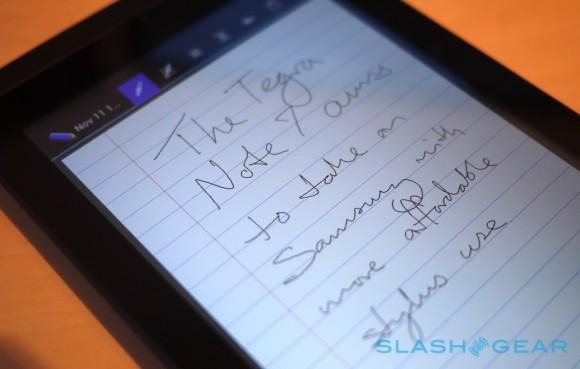 In daily use, much of the time you hardly notice the differences between the Tegra Note 7 and more expensive pen-enabled tablets. NVIDIA loads two stylus-specific apps by default – Tegra Draw focused on art, and Write for note-taking – which both pop up on a launcher when the pen is pulled out; alternatively, you can set a specific app to auto-load when you remove it. We found the ink flowed smoothest in Tegra Draw, where sweeping curves and fine detail can be achieved. In Write, in contrast, we had a little more difficulty getting precise handwriting, though the palm rejection works very well.
Meanwhile, there's support for clipping screenshots – such as products that catch your eye while browsing – and pasting them into a document, annotating them, and then sharing them in the usual Android manner.
Software and Performance
If there's one thing that distinguishes the Nexus 7, it's that it gets timely Android updates. Google's own tablet is particular in no small part because there's no manufacturer skin to delay more recent versions of the OS, and even though the Tegra Note 7 doesn't bear the "Nexus" branding, NVIDIA is aiming to give it the same timely advantage.
So, although different versions of the Tegra Note 7 will bear different branding across the globe, all of the software updates to Android will be pushed out by NVIDIA itself. These OTA upgrades will include Android 4.3 in December, not to mention refinement to the DirectStylus system: another of the advantages to opting for a software system, not hardware, NVIDIA says, is that it can be easily tweaked and improved. While we might normally take update promises with a pinch of salt, it's worth noting that NVIDIA has pushed out updates to its SHIELD handheld console on roughly a monthly basis.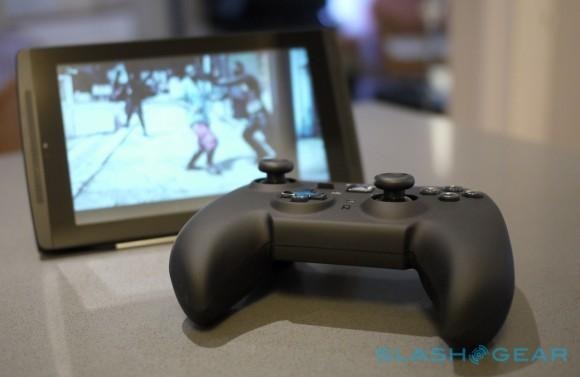 Otherwise, the OS is stock Android, with the usual Play store access. NVIDIA is expecting that to be particularly used for downloading games, given the suitability of Tegra 4 for gaming. Compared to SHIELD, the Tegra Note 7 has a bigger display but half the RAM, but pair up a third-party gamepad – we tried out NYKO's $24 PlayPad Pro over Bluetooth – and the button mapping is identical.
In fact, plug the Tegra Note 7 into your TV via micro HDMI, pair up a gamepad, and download a game like Dead Trigger 2 – NVIDIA helpfully corrals titles that particularly take advantage of Tegra's power into its TegraZone portal – and you have a decent console alternative. NVIDIA has made the tablet's full interface navigable by the gamepad's buttons, so that you can not only choose your game and play it, but browse the web, load media content in Netflix and Hulu Plus, and generally use the whole tablet. Even without the connection to a TV, propped up on the folding stand the Tegra Note 7 makes a diverting little console.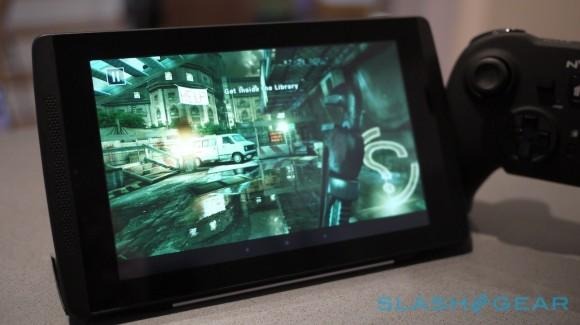 Benchmarks are only a small part of the performance story, but the Tegra Note 7 puts in a solid showing overall. It scores 34,875 in AnTuTu and 16,435 in Quadrant, along with 878 in the single-core Geekbench 3 test, and 2,309 in the multi-core test. That generally puts it just behind SHIELD, but day to day we noticed no slow-down or sluggishness in apps, browsing, or multitasking.
Camera
Five megapixels may not seem much in the grand scheme of Android cameras, but it's what NVIDIA does with them – or, more accurately, will do with them – that's important. Rather than the standard Android camera app, NVIDIA preloads the freshly-released Camera Awesome for Android, which supports features like focus tracking for moving objects (allowing you to draw a box around an object and have it followed, even if it moves out of frame and then returns) together with separating the points of focus and exposure.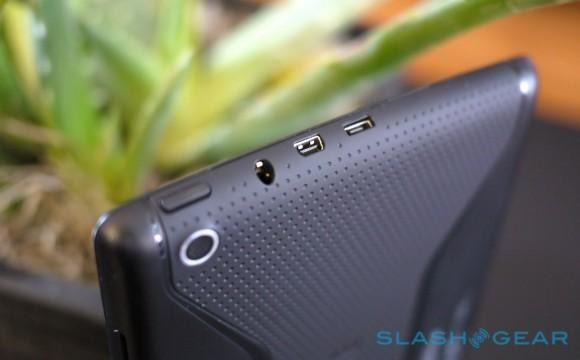 Slow-motion HD video capture, at more than 100fps, is supported too, while over on the still photography side there's the ability to take full-resolution burst photos. The usual panoramic and timer shots are possible, along with time-lapse images.
However, a firmware update expected in December will add what NVIDIA calls Always-on HDR capture, effectively real-time high-dynamic-range shots with none of the penalties the mode usually has on other devices. Rather than taking three or more shots at different exposures in rapid succession, then combining them, as other phones and tablets do, NVIDIA's AOHDR system actually captures multiple exposures simultaneously. That way, NVIDIA says, you get none of the blurring when trying to take HDR shots of moving subjects, and there's no between-frame delay while the camera does its processing.
Unfortunately, AOHDR wasn't loaded on our Tegra Note 7 unit – it'll be pushed out as an OTA update next month – though we did have a brief opportunity to try it in non-final form on a different device. In practice, it's just like using the regular camera mode, with no lag or processing time, and we did see a marked improvement in frames combining particularly bright and/or dark areas. We'll return to the camera once the update has been pushed out to see how AOHDR performs in the real world.
For the moment, though, the quality is much as you'd expect from a standard 5-megapixel camera. Colors are somewhat muted, though there's a reasonable amount of detail, and low-light introduces a fair amount of noise; there's no LED flash, of course, so you're at the mercy of the tablet's processing.
Battery
The Tegra Note 7 has a 15.17 WHr battery, which NVIDIA says is good for up to 10 hours of HD video playback. In practice, playing a looped HD clip continuously and with WiFi turned on, the tablet lasted for 9 hours 5 mins.
More mixed use, such as a combination of note-taking, media playback, some games, email, browsing, Google Maps, and a few photos, and we got through a couple of days before we had to recharge the Tegra Note 7.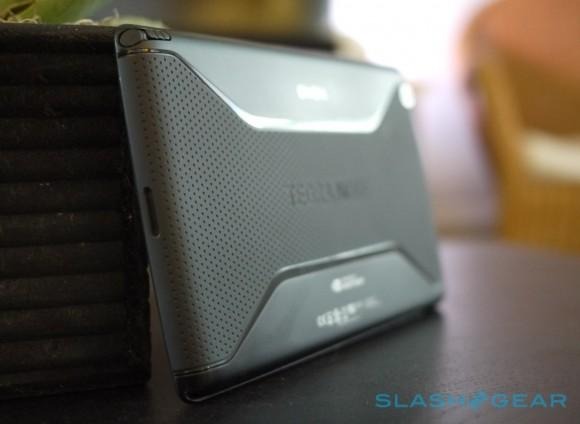 Wrap-Up
The tablet market is a crowded one: you have to offer something special to stand out. Usually that's either price, or design, or some specific functionality rivals don't offer, and interestingly NVIDIA has aimed for not one but two of those factors. The Tegra Note 7 isn't going to win any prizes for its design or the quality of its plastics, but it's impressively cheap and the DirectStylus technology is certainly clever.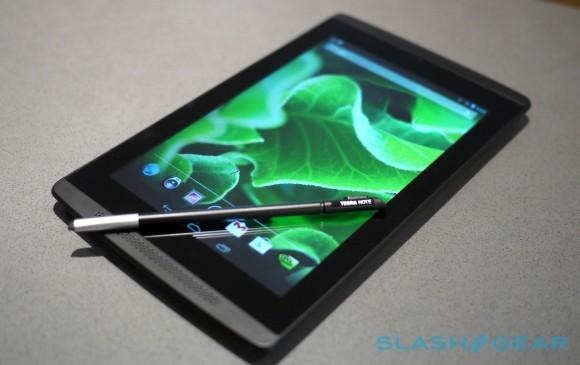 For those resolutely committed to digital note-taking or artwork on their tablet, an active digitizer is still the pinnacle of mobile penmanship. That precision comes at a price, however, and it's now one that casual note-takers needn't extend to: the Tegra Note 7 does sufficiently well at just $199. Throw in its potency as a gaming machine (and, even if you're not a gamer, the usefulness of being able to control media playback from the sofa with a low-cost gamepad) and you have a capable little slate with the flexibility of untampered Android.