Remote GameStream Review with NVIDIA SHIELD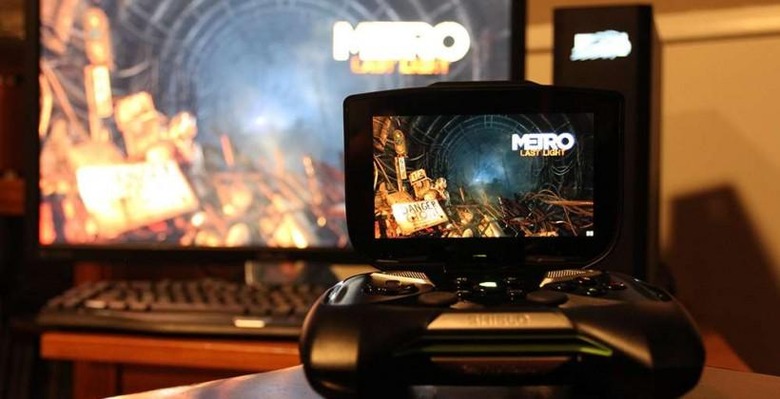 It's not often that we review the services of a device we've reviewed in the past, but the opening of the gates NVIDIA is providing here in the SHIELD, we must. When NVIDIA SHIELD was first introduced, the service that would eventually be called GameStream showed how we might mirror PC games to a handheld gaming system, and control them with that system too. Here a year and four months later, we get to see this service work outside of our own home internet network.
Hardware
The system we use works with NVIDIA GeForce GTX Titan, the highest-tier GPU from the company released in 2013. This gaming PC is manufactured by Falcon Northwest – you can see our original review back in April of 2013: Tiki.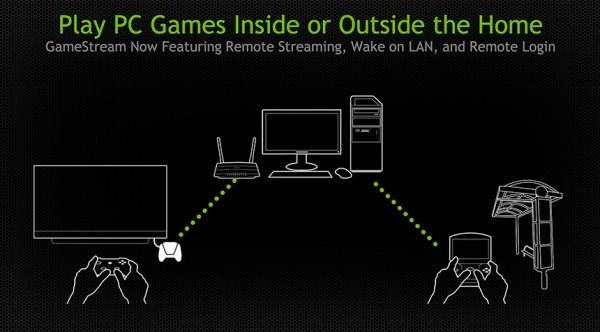 We're connecting to the web with an ASUS Dark Knight. That's also known as the ASUS RT-N66U, and it's classified as a Dual-Band Wireless-N900 Gigabit Router. This 5Ghz router is a must on the PC side of this SHIELD Remote Streaming equation, and if you're able to get a couple of them, one for the SHIELD side, all the better.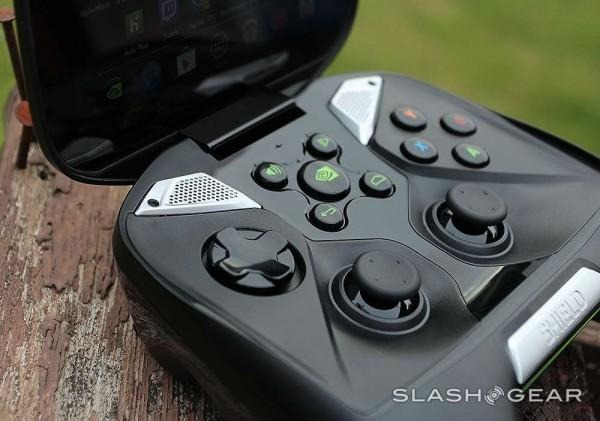 As for the SHIELD – there's only one. While we've heard whispers of a second generation of this Android-based physical-control device in the wings, there's currently no solid information on when said SHIELD 2 will be produced. For now, our original NVIDIA SHIELD Review will give you all the information you need.
Setup
If you've been streaming PC games to a SHIELD in the past, there's virtually no setup needed for Remote GameStream at all. First thing you'll need to do is make sure all your software is updated. If you try to run some GameStream action with software updated on your SHIELD without software updated on your PC, you'll see a message that says so.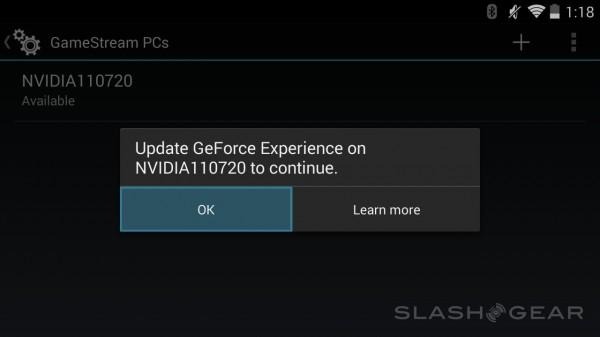 From this update forward, you'll find that you need a code to connect your NVIDIA SHIELD to your PC. You can connect multiple PCs to your one SHIELD, but not the other way around (for now). This system is in place so that you can potentially connect to your PC at home when you're at home, and another PC at another location when you're there – at work, if you dare.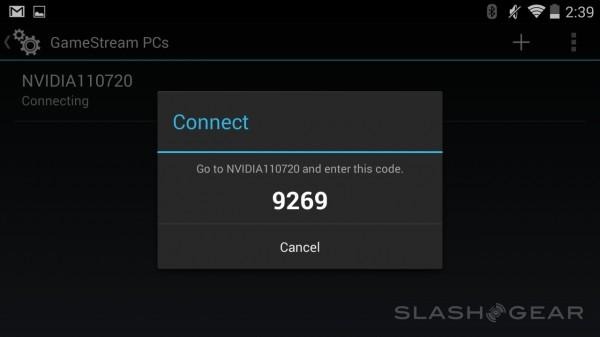 NVIDIA SHIELD's Remote GameStream introduction here also allows Remote Log-In. If you attempt to play a game remotely and your PC is asleep, you'll see a message that says so.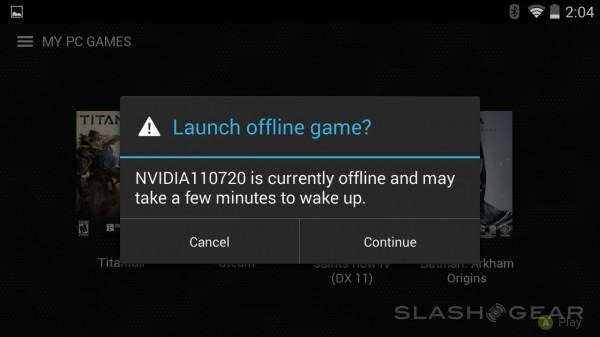 If your PC is asleep, it will show up as "offline", and it did indeed (generally) take just a few minutes to wake up when we've tried it. If you are streaming remotely and you don't have your PC set to stay awake always, this is generally the alert you'll be seeing most of the time.
NVIDIA has kept this interface with your PC open to the point where you'll essentially be able to control anything on your PC remotely. Set up right, you can launch your desktop the same as you would any other game.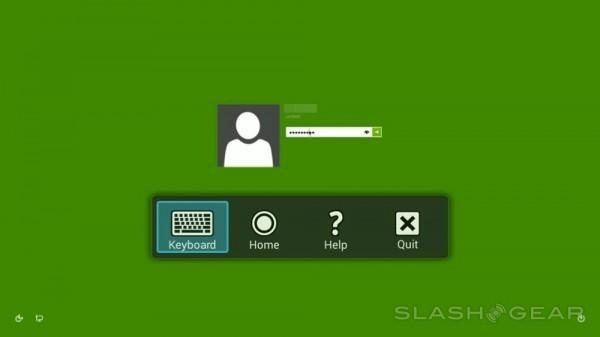 If you have a password on your PC, remote streaming may have you launch your general password page. GameStream allows you to use your keyboard, thankfully – access to this is given with a two-finger-tap on SHIELD's display or a long-press on your main SHIELD button.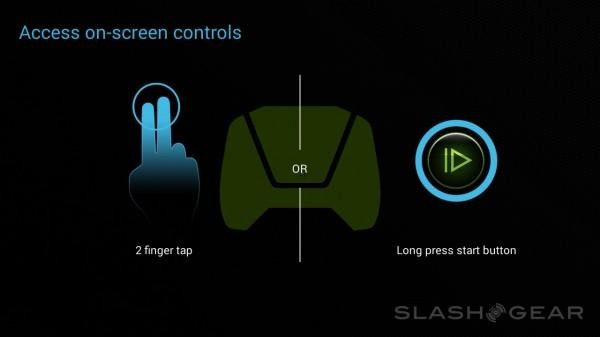 You may have to enter in to your GeForce Experience app on your PC, head to Preferences – GameStream, and check the "Allow this PC to stream games to SHIELD devices" option before you begin.

It's also possible that you'll have to allow your motherboard and router to use Wake on LAN. In Windows you'll need to head to Device Manager – Network Adapters – Your Adapter Name – Power Management. From there you'll have to check these options: Allow this device to wake the computer, Only allow a magic packet to wake computer.
Remote Streaming in Practice
It should be noted here that our first review is of the BETA for Remote GameStream for NVIDIA SHIELD. If you're still reading this in the Spring or early Summer of 2014, you're still reading a review of the BETA of this service.
That said, it's already been a fairly good service even in this first release. What you're about to read is a sort of real-life experience of Remote GameStream – for a sort of SlashGear 101 on Remote GameStream, head back to our article "NVIDIA SHIELD gains remote game streaming: outside of your network, anywhere."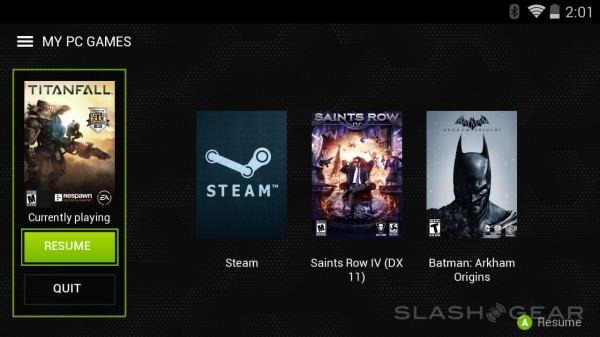 When I first fired up the SHIELD outside of the network our review PC was on, I selected Titanfall. This was to be a test above and beyond the basics, as Titanfall is an entirely online-based game.
• Windows Azure-based servers provide connectivity
• Titanfall runs on PC
• PC sends gameplay back to the web
• SHIELD connects remotely to PC through web (on separate network)
• SHIELD plays Titanfall
NOTE: Just to be clear, as NVIDIA let us know, "at the current state of the technology, we don't have a service in between your shield and the host PC. It's a direct connection."
You can also do this without Remote GameStream of course – as you'll have seen in NVIDIA's latest round of SHIELD ads most places SHIELD is written about. Our experience has been that Titanfall specifically works ever-so-slightly slower remotely than it does on the same network as our PC.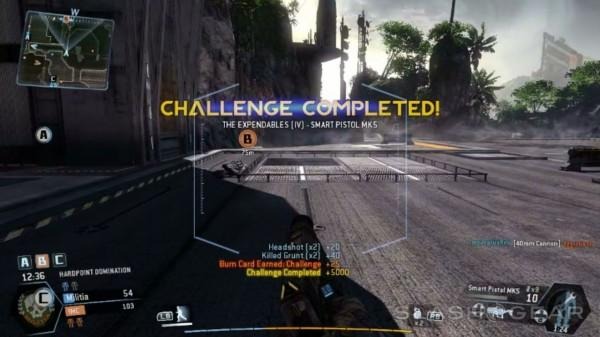 Or it did at first, that is to say. NVIDIA also adds a number of "Advanced options" with SHIELD for GameStream here with this Remote GameStream software update.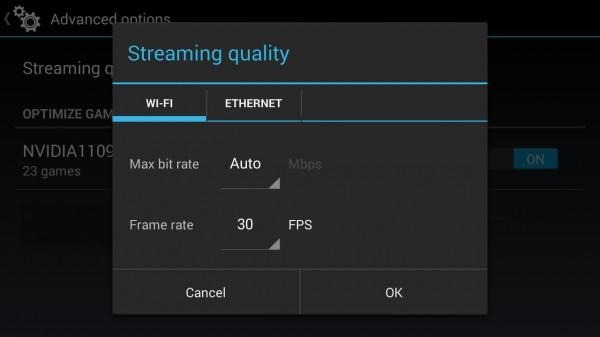 We were able to toggle both Max bit rate and Frame rate to a point where we were running remotely just as smooth as we were locally. Testing games that ran on the PC locally – like Batman: Arkham Origins and Mortal Kombat: Komplete Edition – we found little to no difference in delivery speed compared to online games like Nosgoth and Titanfall.
Remote GameStream has room for improvement – as you'll see in our demo video, the service does have its slow points when challenged with an online game like Titanfall. For a Beta service, Remote GameStream is excellent – and it gives us another reason to recommend NVIDIA SHIELD as a device more than worth its cost for gaming entertainment.
Wrap-up
NVIDIA introduced us to Cloud Gaming with NVIDIA GRID, showing us what it'd be like to roll with titles like Saint's Row and Dead Island on a remote server.
Remote GameStream is NVIDIA putting Cloud Gaming at your fingertips. Remote GameStream on NVIDIA SHIELD brings you access to your PC from a handheld device with both touchscreen and physical controls and a build-in display. Giving you that service for free by connecting your devices through the web directly – that's something we'd expect to be against the rules.
In an industry that generally aims to charge you for every pixel you access, NVIDIA deserves props for continuing to give their SHIELD device new capabilities, well over a year after it was first released. If NVIDIA's aim is to push Cloud Gaming and reward customer loyalty in SHIELD at the same time, they've done so with flying colors.