Falcon Northwest Tiki Review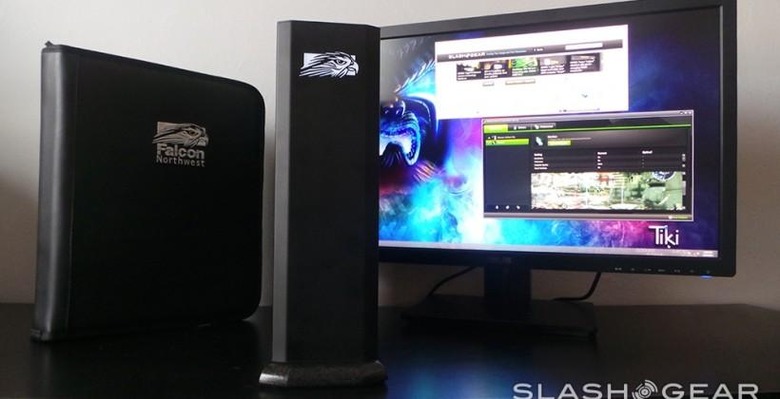 The Falcon Northwest Tiki is a custom-built pre-constructed gaming PC that emphasizes both a radically small form factor and high performance processing power. We had the opportunity to take a peek at this system thanks to NVIDIA – inside this tiny tower is the newest most fantastic consumer-aimed graphics card on the market: the NVIDIA GeForce GTX TITAN, the consumer product riding the wave of the impact the TITAN supercomputer. We'll be continuing to explore the ins and outs of the TITAN over the coming year as products such as Project SHIELD become available – for now, this review of the Tiki should serve as a primer for those of you considering a TITAN of your own – and/or a full Falcon Northwest build, of course.
Hardware
The Tiki case is one that those unfamiliar with the intricacies of custom-made computers will easily overlook. It's certainly not the flashy rainbow LED light show that some gaming PCs opt for – it's almost as if the Tiki dares those that look at it to ask what the big deal is. Up close and personal, you'll find that the Tiki boasts a fabulously simple set of aesthetics, a subtly lit Falcon Northwest logo up front, and a granite base.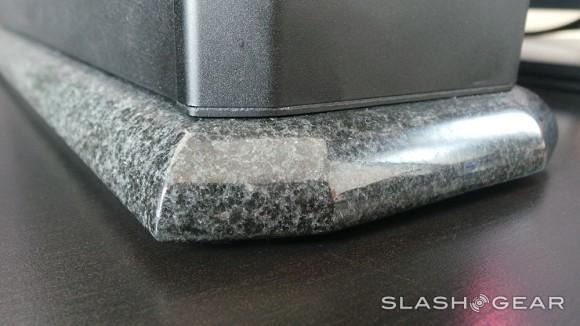 The granite base we've got here is what the company calls "Absolute Black". While you've got more than one color choice if you'd like to explore several shades, we'd certainly recommend the black if you're working with the straight-up black case – together they're quite classy. The whole unit is light enough that you'll be able to transport it to and from LAN parties with ease (if that's your sort of thing) and is perfectly well balanced due in a large part to the granite – it does its job well.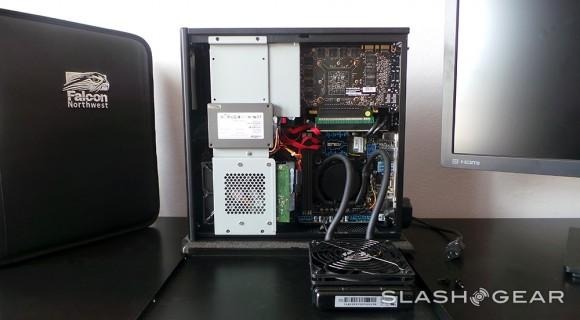 Getting inside the Tiki is just about as simple as it gets without working with magnets – here you'll be undoing two thumbscrews and pushing one side off – you'll want to be careful doing so only because the 120MM Asetek liquid cooler (550LC) is attached to it, tubes running from the casing to the main hunk of the unit. This setup works awesome for getting down into the guts of the machine as quick as possible – the fewer screws we've got to deal with for customization, the better.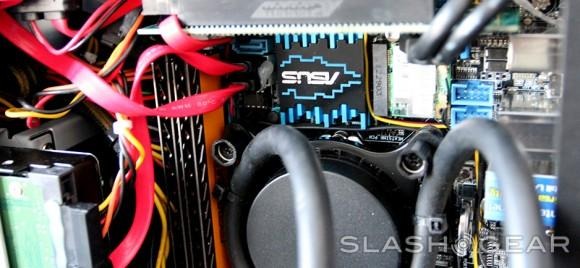 Inside this setup you'll find an ASUS P8Z77-I Deluxe mini ITX motherboard shining out in all its bluey glory amid the massive monsters that are the high-end components that this amalgamation is made of. We're working with a 256GB SSD SATA3 (Crucial M4 with M500 available soon from Falcon Northwest – check on that when you're picking up your own) as well as a 3TB WD "Caviar Green" SATA3 hard drive for all the data storage you could ask for.
Getting inside to remove / replace / give big kisses to your favorite components is only a few screw turns away. While there are wires here or there glued down for the trip between Falcon Northwest's test shop and your home, they're easily popped off and apart when you decide you want to move forward with any new components.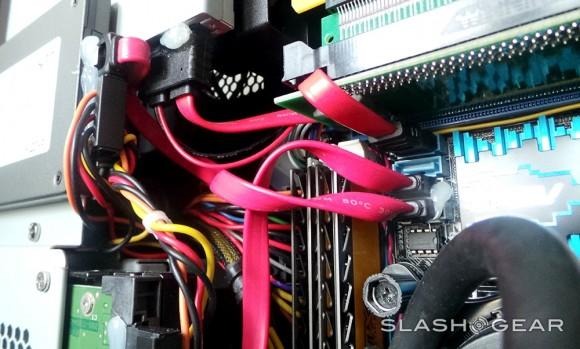 The two big monsters inside this build are the 3rd Generation Intel Core i7 processor (overclocked to 4.5GHz), and the 6GB NVIDIA GeForce GTX TITAN graphics card. When you're picking up the TITAN, you're not looking for a budget setup. You've got a beast right out of the box. Again, this isn't the last time we'll be working with NVIDIA's TITAN GPU for video game reviews and cloud gaming action – stick around our NVIDIA tag portal as well as our NVIDIA Tegra hub for the full fireworks through the future.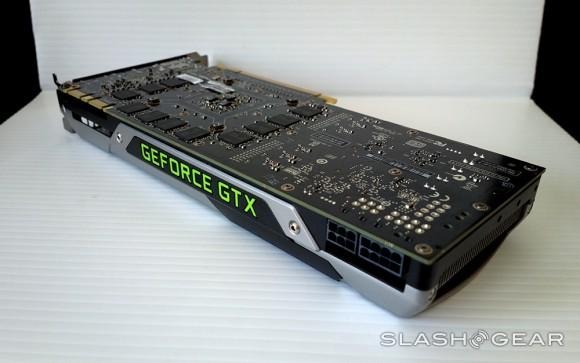 Once you're done rummaging around the insides, you'll find more inputs and outputs than you'll ever have a need for. The build we've got here works with a Sony Optiarc slot load DVD+-RW on top near a a headphone jack, microphone jack, and set of two USB 3.0 ports. You'll also see a symmetrical set of vents that, when you peek through, you'll be able to see the side of the TITAN: "GEFORCE GTX" in bright NVIDIA green lights just below the surface – only visible up close.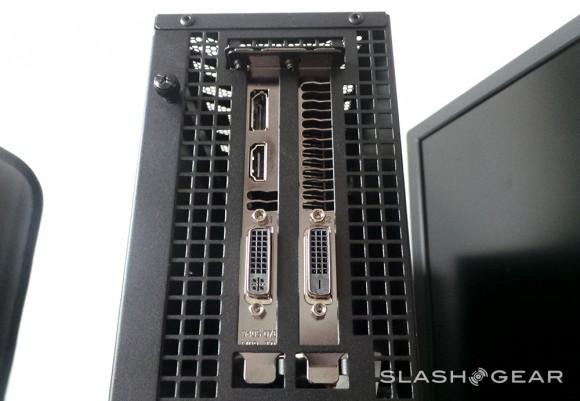 The back of this machine has its IO panel labels set in upside-down for easy reading whilst looking down over the top – as you're prone to do with such a desktop. That massive set of connections includes two eSATA ports, four USB 3.0 ports, and four USB 2.0 ports. You'll also find GigE, ASUS Wifi connections (you'll get two external antenna in your package from Falcon Northwest), and standard optical and analog audio jacks. Ethernet and processor-powered display outputs DVI, HDMI, and Display Port are also down there if you want to make use of them.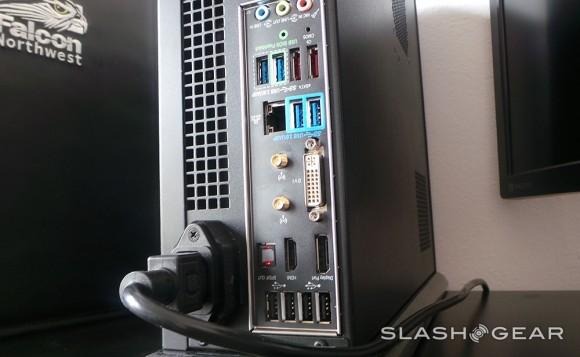 Nearer the top you've got two DL-DVI ports as well as HDMI and DisplayPort outputs bringing the heat via your GeForce TITAN GPU. Your power supply (Silverstone ST-45B 450W) sits nearest the bottom on the back. On either side of the case you'll more airflow action allowing this Tiki setup to remain impressively cool no matter what we throw at it. With that you'll still be hearing next no noise – you'll certainly not be having to dismiss a "hum" while you're enjoying the greatness of the highest powered games on the market – those being the games you're essentially obligated to test out and work with when you're rolling with Tiki.
Software and Performance
Under the hood out of the box we're working with 64bit Windows 8 Professional, and though it's still a little odd working with this operating system without a touchscreen interface, it's certainly starting to feel more natural than it did when Microsoft first pushed the system to consumers. That said, the real power here comes from the software we're using outside the standard Microsoft experience: games, games, and more games. And with a system this size, big-time possibilities!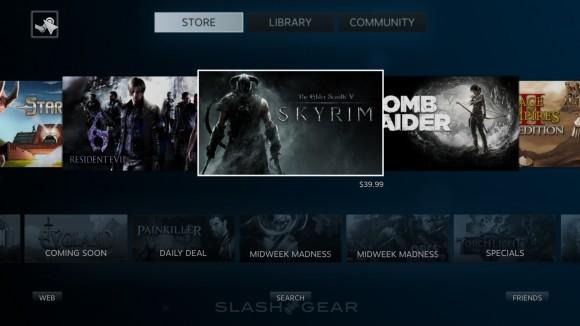 Steam Big Picture Mode
The size of this system suggests some rather unique use-cases, even before we consider the fact that NVIDIA has some big plans for GeForce and cloud computing in the home this year. The Tiki case isn't much larger than the average major-label gaming console today, and even compared to what's coming out later this year (more than likely), you can be confident you'll have a size-to-power ratio that blows any gaming console out of the water. And unless the Xbox 720 or PlayStation 4 pull some real magic out of their sleeves with regards to digital game distribution soon, Valve's Steam will continue to be the premiere destination for the universe's greatest downloadable games.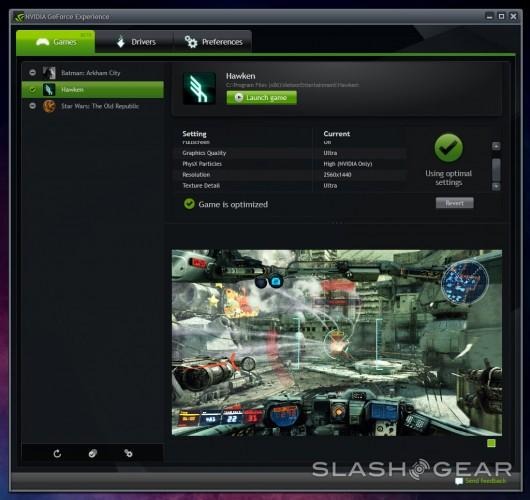 NVIDIA GeForce Experience
NVIDIA has made some rather interesting strides recently in making sure the average citizen is able to have a top-notch gaming experience. Just this year the GeForce Experience was released – an NVIDIA-powered app interface where a collection of the world's most fabulous games can have their settings optimized for your unique gaming hardware setup instantly and automatically. NVIDIA has released a new GeForce driver software update for esentially every major game delivered in the first quarter of 2013, each of them able to be accessed via this GeForce Experience with a single button click, a unique game settings interface appearing for you then if you've got said game on your computer.
[sgbenchmark id=205 show=system]
With the automatic settings optimization feature, your games will become as excellent as they possibly can be – both aesthetically and performance-wise. With the Tiki rolling with a GeForce GTX TITAN under the hood and NVIDIA optimizing settings game-to-game, we've had nothing but the best gaming experiences we've ever seen on a gaming computer.
[sgbenchmark id=205 show=score]
Right this minute we've done just our standard fare as far as benchmarks go, Geekbench showing this build to be amongst the most powerful gaming PCs we've reviewed. Also be sure to check out similar results on much larger machines, too: AVADirect Quiet Gaming PC and NEEDLETAIL SX – and have a peek at a couple relatively small machines so you know what the Tiki is up against physical size-wise: MainGear Potenza and iBuyPower Revolt.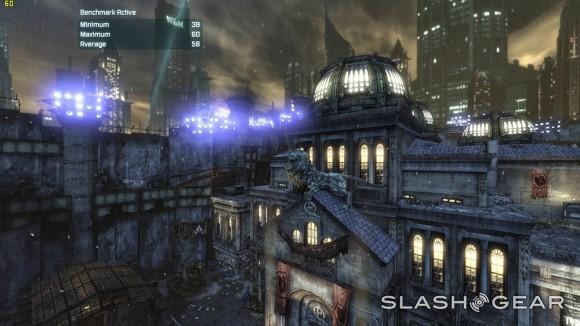 Whilst playing Batman: Arkham City, we've experienced a been a bit of a re-birth of interest with the much higher-definition display than we used when originally reviewing the game, not to mention a system that's on a whole different level than the Alienware notebook (pre 3rd-gen Intel Core processors and so-forth). While it's not that working with a beast like the MX-17 from a couple years ago is a bad thing (it's actually still quite amazing), there's just no comparing to the smoothness and detail we're getting here.
In Hawken the only thing that stops one from having the miraculous non-stop smoothness we're seeing in Arkham City is the fact that part of our experience is based online. If we'd be working with the connections our friends in Japan have with wires so thick you could drive a truck through them, we'd be golden – here we'll have to settle for just "destroys all gaming experiences we've had before this year." Have a peek at our first look at Hawken while you're at it.
Even Star Wars: The Old Republic looks great. As it's included in NVIDIA's GeForce Experience list of games that can be optimized for greatness automatically, we certainly had to give it a go. As it turns out, the difference between what you get in this game on a basic level and what NVIDIA can give you is immense. While the gameplay remains the same – you're still firing blasters at your opponents and rolling in the Force like mad – you can take part in the deepest visual details the developers intended you to see. Just look at that water ripple!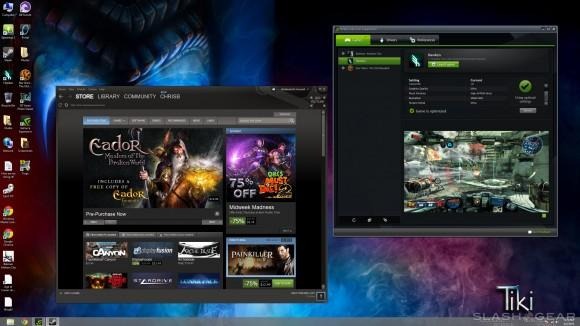 We'll be continuing to benchmark the build we've got here through the future, so be sure to ask if you've got any tests you'd like us to run. We'll be putting this setup through the punches in any and all ways you desire!
UPDATE: A tiny bit of Titanfall gameplay added. Working with the build as described above, Titanfall plays smoothly and beautifully at highest settings across the board.
Wrap-Up
The Falcon Northwest Tiki is not a machine made for penny-pinchers. If you're planning on working with any gaming PC packing an NVIDIA GeForce GTX TITAN GPU, you're going to be paying quite a chunk of change – this isn't the sort of situation where you're paying just a little bit of cash for a just-good-enough helping of performance. Instead you're going to want to save up for a couple months – the build we've gotten from Falcon Northwest here will cost you more than $3k.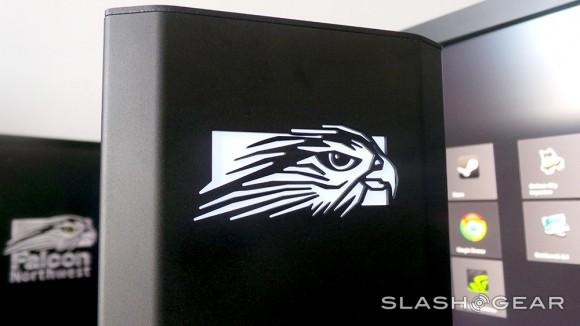 You can make your Tiki cost quite a bit less if you don't want to pack it full of the top-of-the-line components we've got here – and you'll still have an amazing build – but that's not what NVIDIA's TITAN brand is about. With the Falcon Northwest Tiki packing NVIDIA's TITAN, you've got a gaming masterpiece, plain and simple.