Batman: Arkham City PC Review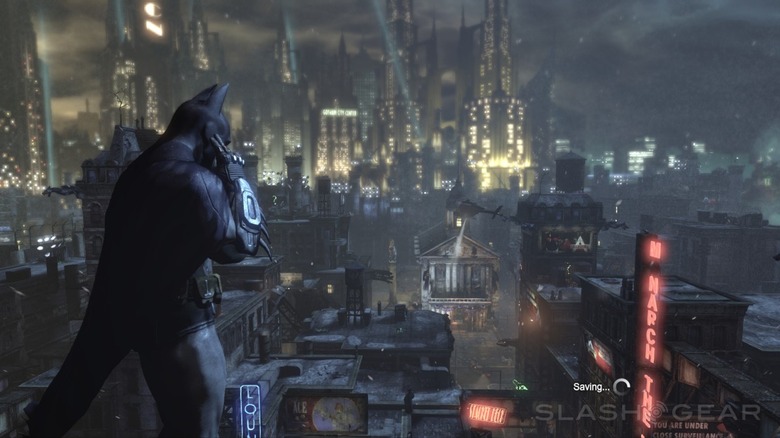 When you speak about Batman: Arkham City, you speak about not only the next chapter in a line of games that've redefined the superhero genre of video games, but have taken the ultra-immersive nature of the detective / puzzle solving game and have made it intuitive enough to be enjoyable for all – and the graphics are absolutely unmatched. What we've got here is a rig provided by NVIDIA to test this game specifically, an Alienware M17xR3 gaming laptop with a GeForce GTX 580 DirectX 11 GPU inside, this along with the newest set of NVIDIA 3D Vision 2 wireless 3D glasses. It's a very GREEN situation, needless to say, and playing the most advanced game on the market with the most impressive graphics processor on the planet, this is almost a no-brainer.
Storyline
The storyline here is one that takes place some months after the prison madness of Batman: Arkham Asylum, the first game in this series. What's gone on since then is the city government of Gotham City has created a walled-in miniature town in which all the criminals that would otherwise have been sent to the asylum for the criminally insane have been confined – this city is called Arkham City. This and the fact that a set of corrupt police officers under the orders of the fellow who's been left in charge of the city have tossed Bruce Wayne in the city to fend for himself make this storyline appear rather familiar.
This is a re-written version of Escape from New York (or Escape from Los Angeles, if you prefer), and Bruce Wayne, aka Batman, is Snake Plissken. Once you've been pulled into the city by the sinister Hugo Strange, who is running the city in this storyline, your goal is to continue the investigation you started before you were captured – and with your endless arsenal of gadgets, abilities, and skills in both the combat and detective arenas, you'll have more than an engaging time doing so. The story does aim at making this a quintessential Batman game as it does appear to try to contain each and every one of the main villains, but of course its unlikely nature is easily trumped by the vastness of the environment and your complete freedom in exploring all of your possibilities.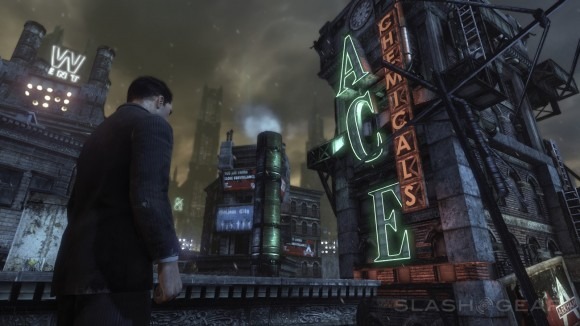 This is a Batman story, and because it takes on the story started in the first Arkham game and expands upon it by literally turning the asylum into an entire city, it's great. And not only do you get to move through the main storyline, there are side-stories and tasks you can attain as well. And of course, what good game centered around a city would be complete without Grand Theft Auto free-play, your ability to explore nearly without limit!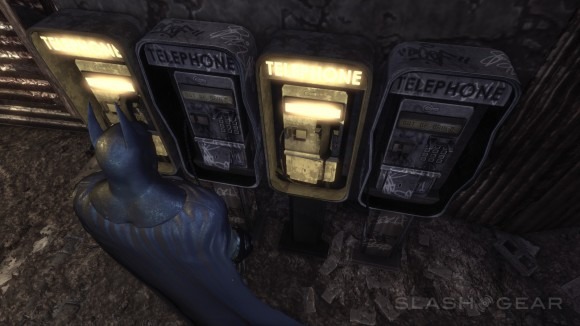 Gameplay
When you play this game, you are Batman. You'll want to put on your movie-quality Batman mask and put on the sharp gloves because you'll feel like you're the real deal. You play the part of the real detective Batman, the one with vast sets of maps, decoding tools, and your trusty pal Alfred Pennyworth (aka Bruce Wayne's butler and Batman's most valuable helper, for those of you unfamiliar). You also play the part of the fully equipped Batman, complete with every little Bat-tool you've ever heard of. Fly to the tops of buildings with your Line Launcher pulling you from the ground all the way up, glide around the town with your cape-cum-Bat-Glider, and traverse the landscape as you discover the ever-changing set of situations in the whole of Arkham City.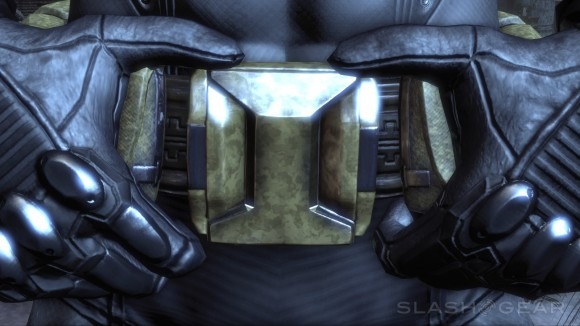 You've got levels on top of levels of ways to interact with your environment, from punching a bad guy in the face to attaching a line to a horizon scaffold to lower yourself down on top of the enemy head-first. You can attack a villain from above, flipping down to knock him out with your boot. You can make a glide-attack from a half-mile above a group of gangsters directly to a fellow's face. Toss your Remote Controlled Batarang and make it flip and fly from your hand down the aisle, around the corner, and under a table to hit a notorious fellow in the kneecap. You will know the meaning of a diverse set of views and controls when you work here in the city.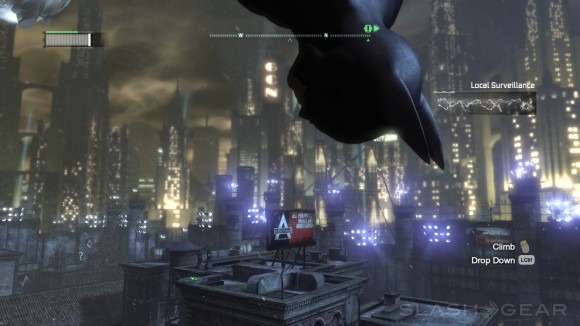 You'll want to choose your controls wisely. The folks who make the game have some special edition Batarang controllers you can use, but know this: there are many ways. When you see the demonstration video you'll see your humble narrator using the keyboard on the laptop and a plain ol' two-button and a scroll wheel mouse. You've got many choices, to say the least.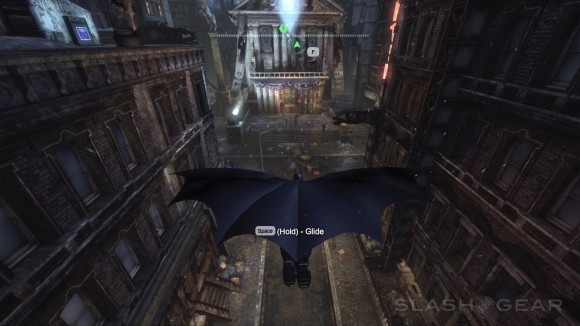 Graphics
Again I must say that this is far and away the most aesthetically voluptuous video game I've ever played, and with the setup I've got running here there's no waiting for anything. Flowing cape, purple haze, and masses of bats haunt your vision as you move through a very real (yet virtual, believe it or not) world of Arkham City. You'll walk across a collapsing set of poles over motel metal, gaze over the masses of buildings complete with weather, and move in and out of cinematics without even a moment's delay.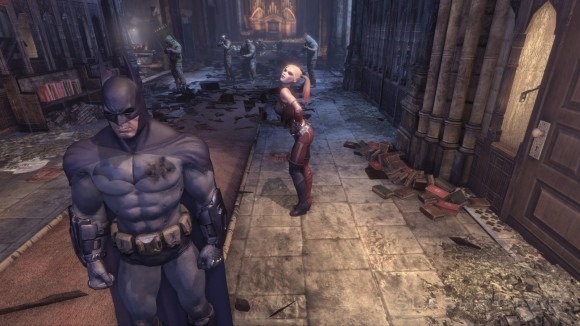 When you fight a set of gangsters, you'll know you've beaten them all because whichever ends up being your final punch or kick is swiftly zoomed in on shown in ultra slow-motion. It's just lovely. Have a peek at the enhancements you'll be working with should you play this game with the same GPU we're having a look at here – lots more floaties!
Hands-on with Batman: Arkham City on an Alienware M17xR3
The 3rd Dimension
I played this game in 3D with the NVIDIA 3D Vision 2 wireless 3D glasses you see in the hands-on video. Notice in the video that you're not seeing in 3D — that's not because the 3D glasses don't work, its because the camera can't translate the effect. What you're seeing instead is one of two frames that the glasses would otherwise send to your two eyes for the full 3D effect. And that effect is good. Where I'm by no means a fan of the 3D era we're in right this moment, these glasses fit my face, the lenses cover my eyes adequately, and I don't get a headache like I did with the ol' blue and red glasses or these no-glasses 3D effects we're seeing with some smartphones this past year.
Those are nasty, this is undeniably good.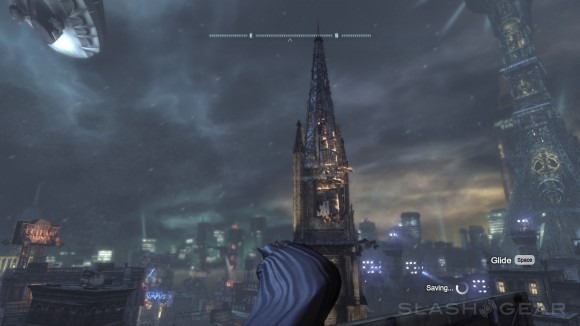 Wrap-up
This game is the one rig giants will be using as their go-to for "look at how amazing this machine is" for quite some time, without a doubt. The folks at Rocksteady Studios have done a fantastic job of both developing and delivering the game, this including promoting the game with several offers on each different iteration of the game – like Gamestop where you'll find the reviews sitting at 10 out of 10 almost without end. This game is out now for several platforms including Playstation 3 and Xbox 360, but as this PC version is without a doubt the most aesthetically powerful, this is the one you should get. Suit up now.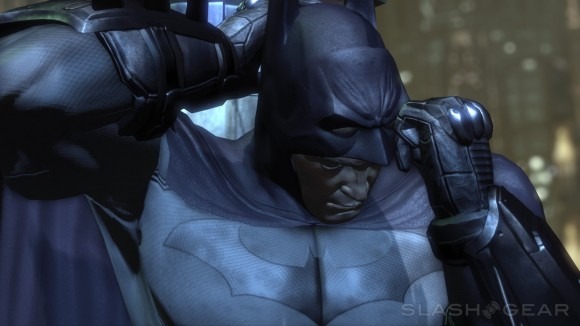 And know this – as with all of our reviews here on SlashGear of products like smartphones, tablets, computers of all types, and even the tiniest of remote control vehicles, you're welcome to continue to ask questions throughout the future that your humble narrator (or whoever did each particular review) will do their best to answer. In other words – what else do you want to know?