MAINGEAR Potenza Review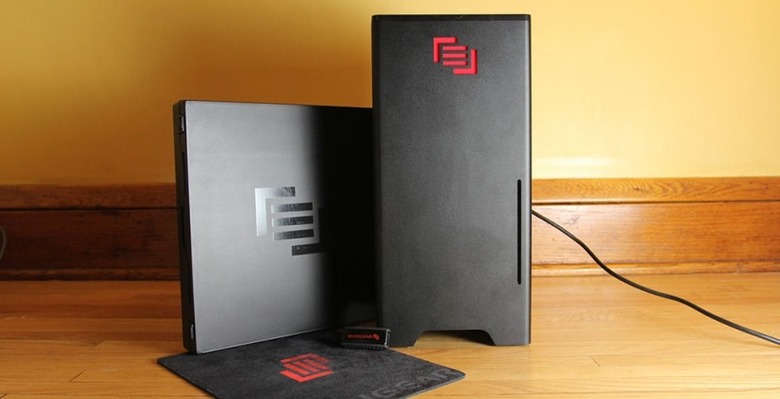 It's time to take a peek at the MAINGEAR Potenza, a desktop gaming machine that's small enough to fit under your desk if you wish, or sit right up out in the open with its powerful innards hidden by a perfectly stripped-down black and red outer metal body made of anodized aluminum with a steel frame inside. The unit we've got here utilizes the fabulous GeForce GTX 660 Ti for graphics, cutting the cost of the final build while it keeps with the Kepler power NVIDIA is known for. The Potenza is a customized (and customizable) machine that places heavy emphasis on hand-constructed and quality-assured building from MAINGEAR's own highly-skilled staff of PC geniuses – and it shows.
Hardware
This beast is not light in between 20 and 30 pounds, but it's certainly small at just 14.75 inches tall, 7.5 inches wide, and 9.25 inches deep. You've got all metal on the outside with the Maingear logo set up front in red lights cut into the surface. Everything you need to plug in to this system sits up top of the machine with a plastic grill set with large access points made perfect for securing cords as they slide through the area provided on the sides and back of the top area.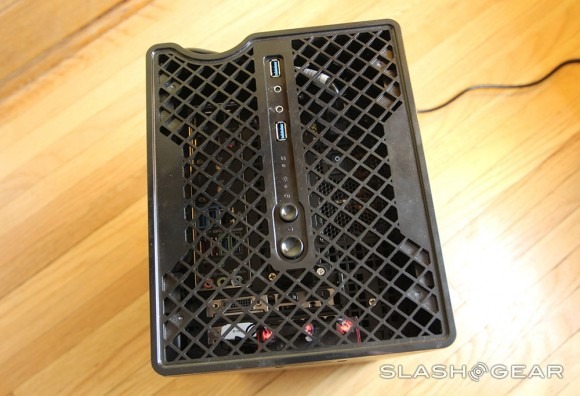 This machine was designed specifically for you to have cords coming upwards out of it and/or out the back of the top, certainly made for easy access at a floor level. Though the system can indeed be as simple as the black totem you see here, you can also get it aesthetically enhanced with laser-etched designs, automotive paint jobs, and "over 200 color combinations of internal and external colors" direct from MAINGEAR – go big with Burple, Citrus Fire, or even Organic Green if you dare!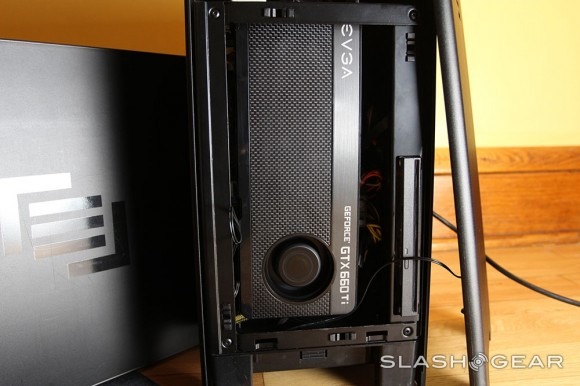 The front and the back of the setup here are easy to remove as the top with pressure-clips holding them in place until you make the effort to pop them off. Inside you'll find your hard drive and graphics card ready to look at, admire, or replace at will. Everything else is locked in tight – but if you REALLY want to un-do the precision construction here, there's a multi-tool included in the box.
In fact, the package you get this computer in also includes every bell and whistle that would normally come with the components that make up the the final product as well, just incase you might ever need them. This set of components includes a couple of external antenna that make your wi-fi signal usable – you can do wireless web without them, but the metal makes it a bit less excellent than we'd like. You can also just toss these in the corner, too, as this amalgamation is ready for action right out of the box.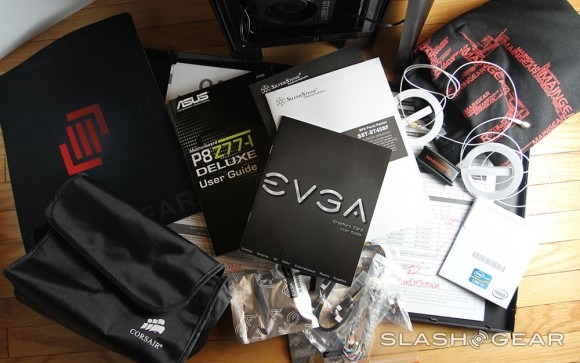 One you get past admiring the free MAINGEAR t-shirt you've likely gotten in the package, you'll be having another peek at what's under the grill up top. Here you'll find a riser cutting the array in half, with a space for the power cord to find its way up and out the back area and the power and reset buttons to stay high. This riser also has the headphone and mic ports popping out the top along with two USB 3.0 ports. All of this sneaks its way out through the top grille when its closed down tight.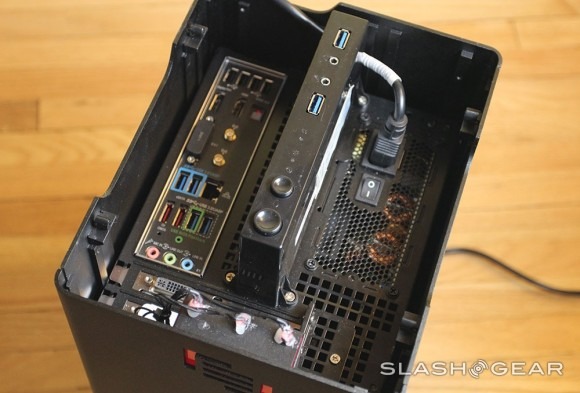 Besides the riser you've got a collection of ports of all kinds: a couple more USB 3.0 ports, four USB 2.0 ports, jacks for Wi-fi antennas, Ethernet, and a couple of powered e-SATA/USB ports. These sit near HDMI, DVI, and DisplayPort connections all ready for action. All of this is hidden if you wish it to be, but when you're making with the massive amount of connections at once, you'll have an octopus of wires attacking your desk. This isn't any different from the rest of the desktops out there, of course, but the one-ness of the system without cords can be deceivingly clean looking – you might just want to put the system up on its own on your desk just for the light. It looks that good.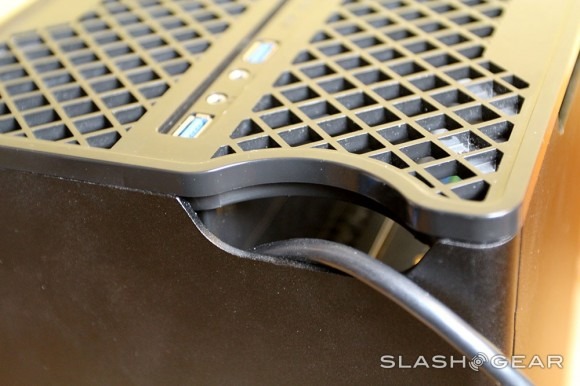 The bottom of this unit has some rubbery bumpers so you're not scraping metal against your desk or your floor, and the hardcore black power of its appearance demands that you get a monitor (or set of monitors) to match it. The way the unit is situated, you'll still be able to work with your CD/DVD slot (you can even get a Blu-ray drive if you wish) extremely easily (that's the slit up front of the unit, if you did not know), and you'll have no trouble with overheating in any respect.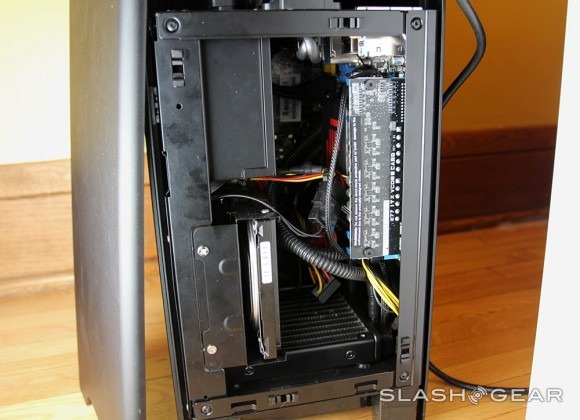 This unit uses vertical head dissipation with its motherboard rotated 90 degrees so that when heat needs to escape and rises to do so, it can come right out the top easily. It's got an intake fan mounted at the bottom as well as a self-contained liquid cooler, all of which keeps the system less than hot with only a small amount of sound overall.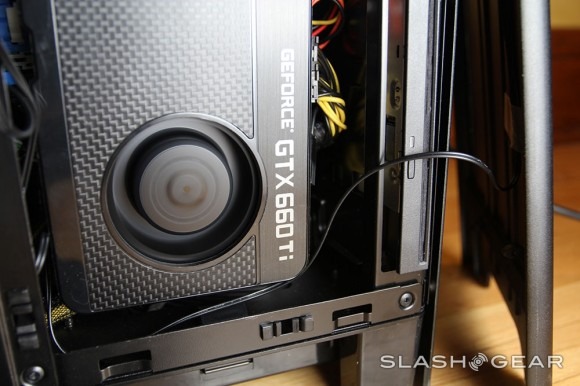 Inside this beast you've got a set of innards that've been custom installed and quality assured by MAINGEAR's finest. You've got an Intel Core i5 (Ivy Bridge, 3rd Gen) processor at 3570k clocked at 3.4GHz/3.8Ghz with Turbo 6MB L3 Cache HD 4000, for starters, and it's Redline overlocked to boot – that's a pro job, if you did not know. Keeping it all cool you've got a MAINGEAR 120 Supercooler, and right up front you've got the beast – an NVIDIA GeForce GTX 660 Ti – MAINGEAR gives you a vast collection of options in this graphics arena, and we've chosen the 660 Ti because of the waves it's made in recent news blasts. Value with power!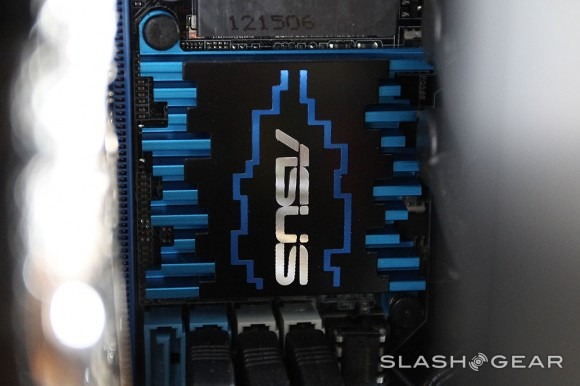 We've also got a 30GB Corsair Accelerator SSD Caching Drive, 500GB Seagate 7200rpm hard drive with 16GB Cache SATA, and up front is an 8X Dual Layer DVD RW Drive Slot Loading SATA so you can watch Lord of the Rings – or whatever you do with a DVD drive these days. The motherboard here is made by ASUS, the P8Z77-I Deluxe with Lucid Virtu MVP and those lovely USB 3.0 ports next to SATA 6G, Bluetooth, and wi-fi connections.
Software
Inside this machine you'll get a rather stripped-down version of Windows 7 Home Premium 64-bit with so little bloatware you'll wonder if someone made a mistake and provided you with a dream. You've got a couple of shortcuts on your desktop right out of the box that offer you just a bit of added security for your system if you wish, but for the most part you've got an operating system that gives you just what you payed for – Windows 7 and the basics. With this you'll have no cleanup duty to perform before getting down to business with hardcore gaming galore.
Benchmarking
With this system, as it is with all systems we test here on SlashGear, we give it the one-shot test with GeekBench. In addition to this we've tested a selection of games from Arkham City to World of Warcraft, each of which performed perfectly well, especially considering the fact that this isn't the absolute most powerful system we've ever had on the testing bench. Performance on this system with maxed-out gear inside have been extremely favorable for the Potenza, and with what we've got in this build, we certainly cannot argue the possibilities.
[sgbenchmark id=182 show=score]
If you're planning on working with this beast with Windows 7 (which is what it comes with right this minute) or with Windows 8 (coming soon), you'll be busting up skulls without a hitch. You'll be the belle of the ball with whatever you're playing too, as any limitation you've got here can be modded out if you do so please. Have a peek at some more specifications from inside this build here, as well.
[sgbenchmark id=182 show=system]
Wrap-up
The MAINGEAR Potenza has a really good chance of bringing you much more power and performance than you paid for, and the construction of the system – the attention to detail and final product – are nothing to scoff at. The MAINGEAR Potenza is without a doubt one of the finest gaming systems we've come across, especially considering the cost. While it wont destroy the gaming universe with perfectly top-tier benchmark smacks with a basic build, it's certainly one of the best mid-tier gaming desktops you can buy – that's a category not often attacked – MAINGEAR does it well right here.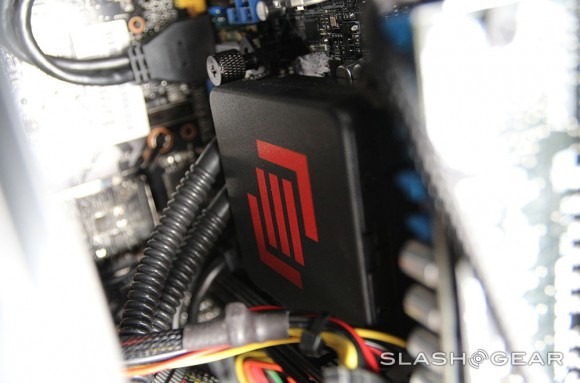 The build we've got right here will ring in at right around $2,000 – and you'll start at closer to $1,000 without adding on the beastly bits. You can also ring up quite a bit larger bill with boosts here and there in your own customizations too, so keep that in mind! You get a beast in any case!