NVIDIA GeForce GTX 660 Ti brings Kepler power with a cut on cost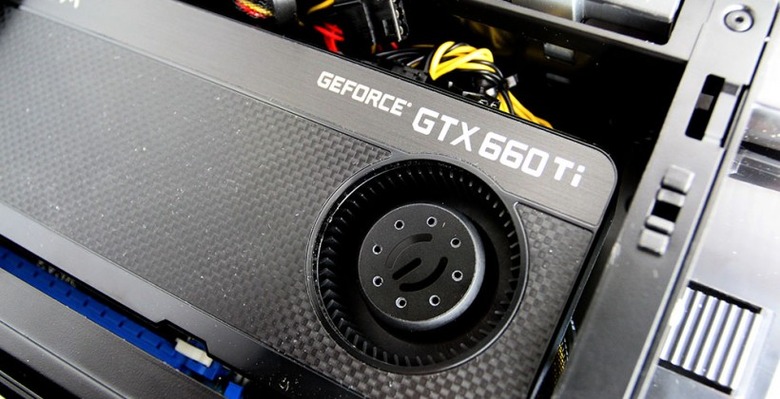 It's time for some fabulous 28nm Kepler action from NVIDIA with the GeForce GTX 660 Ti – bringing the next-generation graphics of Kepler GPU architecture in at a surprisingly affordable price. With the $299 Nvidia GeForce GTX 660 Ti you'll be rolling out with a base clock speed of 915MHz and no less than two dual-link DVI outs, HDMI, and a DisplayPort 1.2 to boot. Along with a lovely 1,344 CUDA cores in the mix, you're getting essentially the same package as the GTX 670 with a major chop-out on the cash cost.
With the GTX 660Ti you've got what NVIDIA tells us will be a lovely 150W TDP or down to 134W under "typical use". NVIDIA also notes that here in the hardware's 2GB video buffer you've got 192-bit GDDR5 RAM making it all hum nicely too – this is just below the GTX 670's configuration which is 256-bit GDDR5. Configurations will vary between brand releases, of course, but most will be popping up with a bit of a bonus – Borderlands 2!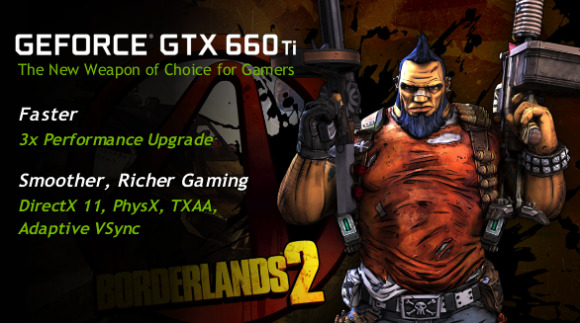 Have a peek at MAINGEAR's release and see a couple of custom built limited-edition PCs made with the 660 Ti with Borderlands 2 included as well. You'll find that NVIDIA is making an effort to come up directly against the AMD Radeon HD 7870, also on the market now, with both of them coming in at $299 standard.
NVIDIA has made claims that the GeForce GTX 660 Ti has had anywhere in between 10 and 30 percent performance gain over the AMD Radeon HD 7870, and has taken on the slightly more expensive $350 AMD Radeon HD 7950 as well. NVIDIA let it be known that in tests vs the 7950, their GTX 660 Ti came up with higher average frame rates, up to 20 percent in some cases, when testing games such as Max Payne 3.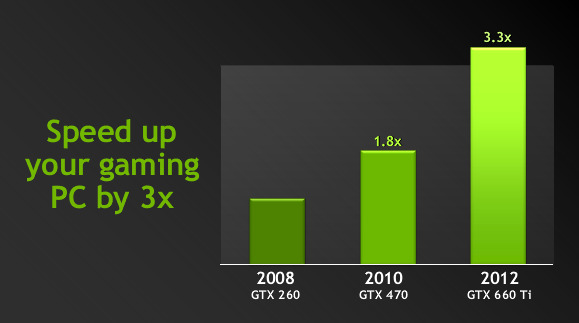 And of course, as shown above, each new generation of NVIDIA's GPU line keeps getting better and better! Stay tuned for more GTX 660 Ti action throughout the day, and stick around as we test our own build on a custom-built MAINGEAR review unit soon as well. The NVIDIA GeForce GTX 660 Ti will begin shipping today from all your favorite outlets, too, so get pumped!