NVIDIA GeForce GTX 660 Ti graphics hit MAINGEAR custom PCs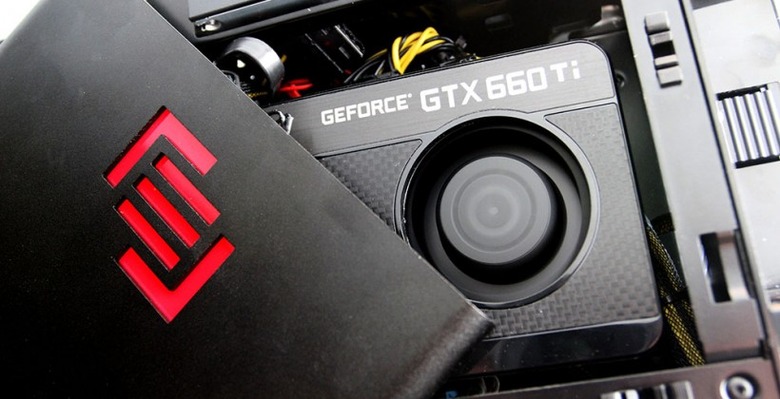 This week the folks at MAINGEAR have let it be known that they're bringing on the NVIDIA Kepler excellence with the GeForce GTX Ti graphics solution to their line of custom built PCs. You'll be able to work NVIDIA GeForce architecture for fabulous graphics here with MAINGEAR without dropping tons of cash, both companies aims here being a "sweet spot" for affordability, performance, and power efficiency. In addition to the GeForce GTX 660 Ti coming to the MAINGEAR custom desktop lineup, the whole NVIDIA Kepler family will be joining the party as well – immediately if not soon!
The MAINGEAR custom desktop line will benefit from the Kepler family right out of the gate and there's a couple of limited edition units coming here in the summer season as well. MAINGEAR is bringing on a limited F131 and Potenza class system, each of them with the 660 Ti for gaming action, and both of them coming on with the next-level beast of a game Borderlands 2 included. Check out more info on these limited edition setups on the GTX 660 Ti MAINGEAR page right this minute. The Potenza Limited Edition model with Borderlands 2 will cost you a cool $1199 while the F131 Limited Edition model with Borderlands 2 will bring you up to $1379 – they're both ready to rock!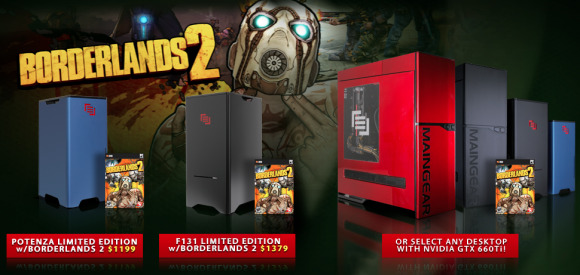 MAINGEAR notes that NVIDIA's GeForce GTX 660 Ti will bring on 1.5x faster performance than the generation that precedes it – the GTX 560 Ti. This same comparison has the new 660 working at 2x better power efficiency as well. With this solution you've got TXAA temporal antialiasing for fabulous performance and image quality no matter what game you're attacking. You've also got NVIDIA PhysX as well as Full Direct X11 support for "the best gaming experience possible".
And we'll see about that when we have a full look at one of these units next week – meanwhile, you'll want to have a peek at recent bits of news surrounding the NVIDIA GeForce GTX 660 Ti in the timeline below [DEVELOPING]. And let us know if you plan to upgrade to this new gear in the near future!