iBUYPOWER Revolt Review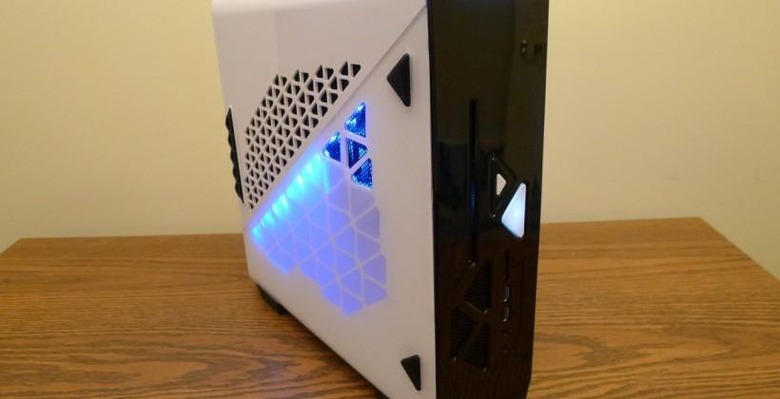 Gaming PCs usually come in huge full-size towers, while some builders can cram a decent rig into a mid-size tower. However, iBUYPOWER has managed to stuff a top-of-the-line gaming machine into a SFF (small form factor) case, which isn't completely unheard of, but very few people attempt such a feat. This new computer is called the Revolt, and it was announced earlier last month at CES 2013. The new computer is expected to start shipping sometime later this month, but we ended up getting some quality hands-on time with the new rig and ran it through its paces. Let's see how it did.
Hardware & Design
First off, the Revolt is packed with high-end hardware. This particular build is running an Intel Core i7 3770K quad-core processor clocked at 3.5GHz with 8GB of DDR3 RAM. It also has NVIDIA GeForce GTX 670 graphics, a 120GB Intel SSD, a 1TB Western Digital HDD, and a slot-load DVD burner to top it all off. I'll be covering the performance aspect of the rig later on, but in brief, this thing absolutely screams.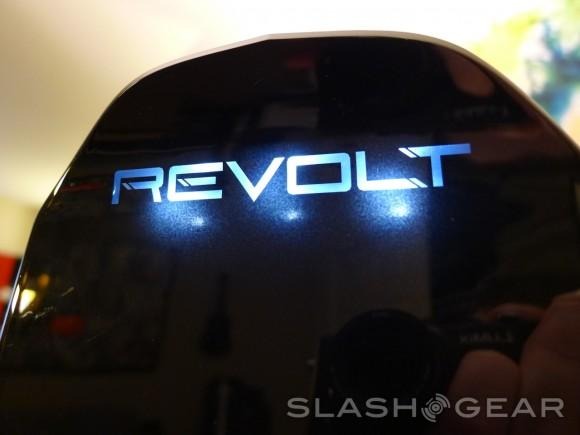 The case has a white and black theme to it, and it almost looks like it should be an official Portal computer case due to how closely it resembles the whole Portal vibe, which we really like. The front panel has a smooth, glossy black finish and has the "Revolt" name displayed at the top lit up by LEDs. You can actually differentiate each of the LEDs, which could be considered a slight design flaw for picky gamers who prefer to have a smooth and seamless lighting scheme. Other than that, though, the front of the PC has the power button, LED button (to change the LED colors on the side), memory card slot, two USB 3.0 ports, headphone and microphone jacks, and obviously the slot-load DVD drive. The LEDs on the side of the case come in Blue, Green, or Red, and you can cycle through each of the colors with the button on the front. However, it's important to note that the LEDs oscillate, meaning that they don't simply just stay on, but they fade in and out.
UPDATE: iBUYPOWER tells us that "the individual LEDs showing through the panel is something [they] are addressing with the final version of the chassis."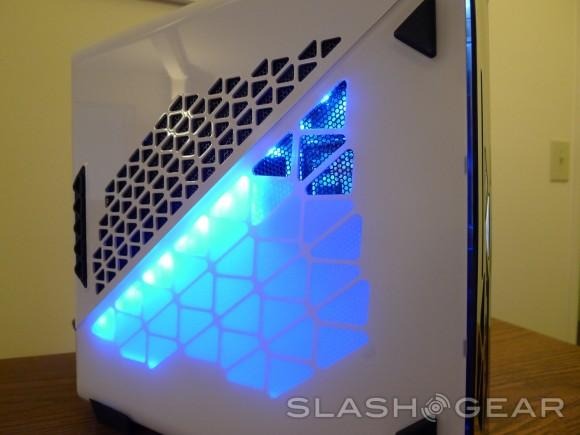 On the back, there are a bevy of connectivity options: four USB 3.0 ports, two USB 2.0 ports, eSATA, PS/2 (for older keyboard and mice), ethernet, various audio jacks, two DVI ports, and HDMI. We're not quite why this rig has a PS/2 port, since the interface is pretty much extinct, but we can't say that it's a burden to have anyway. Simply put, it's there if you need it. Now, there's not as many ports as we've seen on past top-tier gaming rigs, but most users will be happy with the eight total USB ports, as well as the eSATA and HDMI options.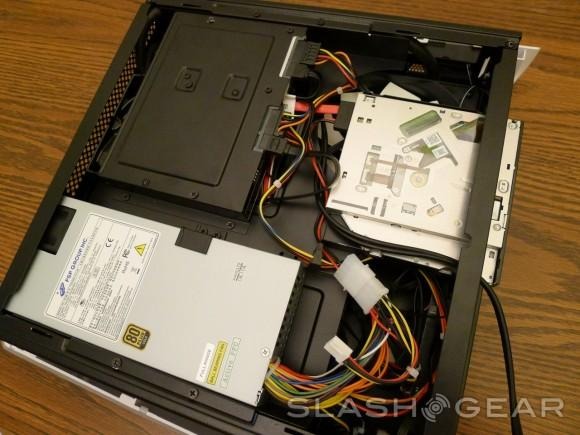 As far as upgrading the internal components and servicing the machine, iBUYPOWER says that the Revolt is user-serviceable, although we had a grand 'ole time trying to get the case opened up. However, once we figured it out, it wasn't too bad. You simply take off the front panel and then slide the side panels back just a bit and it should come right off. It's all screwless, so there's no need for tools at this point. However, when you get to the inside, it's all pretty closed down. The only components with easy access are the storage drives, optical drive, and the power supply (which looks to be similar to a mini ITX power supply, but iBUYPOWER says it's custom-built). Everything else is buried on the other side, which is accessible, but once you take off the outer side panel, there's another steel panel in your way that you have to deal with. In the end, if you plan on upgrading this bad boy at some point in the future, be prepared for a long night, unless of course you want to upgrade the storage drives, in which case it's as easy as sliding them in and out.
Software
The Revolt runs Windows 8, which didn't seem to give me much problems gaming-wise. I was able to play all the games that I wanted, and Steam seemed to work great on the new OS. Even Call of Duty 4 — which was released well before Windows 8 — played flawlessly on top of Microsoft's newest operating system. Compatibility is a huge deal for many PC gamers, so seeing Windows 8 handle everything fairly well was a good sign. Of course, Valve's Gabe Newell thinks Windows 8 is a "catastrophe," but personally I didn't have any problems.
As far as bloatware is concerned, many OEM gaming computer companies usually keep it on the down-low when it comes to pre-installed software, and iBUYPOWER is no exception, although you won't be greeted with a completely-stock version of Windows 8. There are several Intel utilities that come pre-installed, including Control Center, Rapid Storage, Recovery Agent, and Smart Connect. There's also the THX TruStudio suite, as well as the 3D Vision preview pack and Photo Viewer. Many gamers might not use these programs, but they hardly get in the way, and you can easily disable them from starting up.
Performance
We ended up conducting benchmarks with our go-to benchmarking tool Geekbench, and the results were nothing short of impressive. The Revolt ended up scoring just over a 15,000, which is quite respectable, and frankly, kind of expected thanks to the quad-core i7 and the GTX 670 graphics that we were working with.
[sgbenchmark id=199 show=system]
The PC played every game that I threw at, all of which were running on medium to high settings. Granted, I didn't get to play any of the newer games, but I ended up playing a lot of Call of Duty: Black Ops without a problem, as well as Portal 2. The Revolt was able to handle the game wonderfully with little lag or clipping, and I was able to game on for several hours at a time without a hitch. Even after an extended amount of gaming time, the fans inside the rig never picked up speed, and I never noticed the temps go above abnormal levels — it seems that while all the components are crammed into a tiny case, iBUYPOWER made sure that cooling was a priority.
[sgbenchmark id=199 show=score]
As far as the noise levels, the Revolt is relatively silent. Using my handy-dandy decibel meter app, there was a jump of about 10 decibels. A normal quiet house is just under 40 decibels, and the meter was reading around 47-49 decibels when placed next to the Revolt. Other than that, I had the rig sitting on the floor next to my desk, and I could barely hear the PC running. Granted, it was on the floor and not on my desk (where I'd be able to hear it more), which is where most gamers might put their rigs, but either way, the noise level shouldn't be a problem. I couldn't even hear the thrashing of the hard drive, which is a big plus and something that I personally hate.
Wrap-Up
In the end, the Revolt is a solid gaming rig for those that need the power in a smaller package. Of course, many dedicated PC gamers would gladly build their own machine, but for those that are just getting into PC gaming, or aren't yet brave enough to tackle the building challenge, buying pre-built is the next best option. Of course, stuffing top-tier gaming components into a SFF case isn't something that most computer builders would even attempt to do, so leaving it to the highly-trained and professional builders at iBUYPOWER may be the way to go if you're wanting a SFF gaming rig. Pricing for the Revolt starts at $499, which will land you a Core i3, 4GB of RAM, and integrated Intel HD 2500 graphics. This particular build, however, is in the $1,400 range, so you'll definitely be paying up if you want top performance.