NVIDIA Project SHIELD hands-on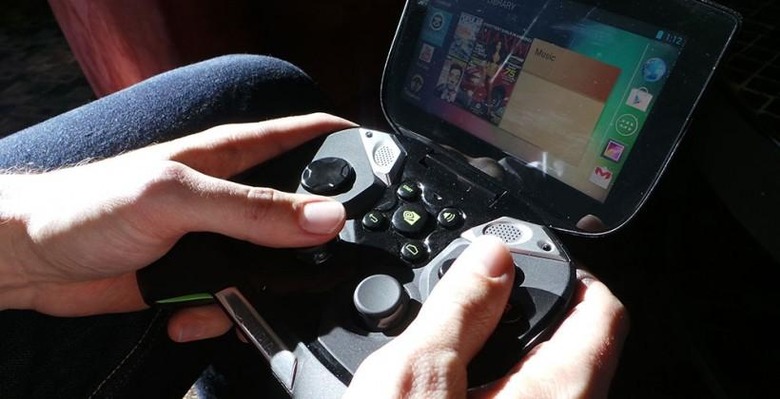 Just last night we first heard of the Tegra 4-toting NVIDIA Project SHIELD for the very first time, and right here and now we've gotten our own opportunity to get our hands on it. This machine is a large piece in a gaming ecosystem NVIDIA is bringing forth to the world combining not only Android and its brand new Tegra 4 processors, but large screen monitors like your HDTV, and PC gaming too! We've been shown this device in its current state playing an early version of the new-to-Android game Hawken, Call of Duty: Black Ops II streamed from a GeForce-packing PC wirelessly, and some interesting moves through the device's unique user interface.
As we spoke about in the initial announcement last night, NVIDIA intends this device to be not only a key device for accessing their NVIDIA Tegra Zone for Android, but to stream games from GeForce GPU-toting PCs as well. NVIDIA assured us today that until the data connectivity ecosystem is strong enough here in the USA, this machine will be streaming games from PCs only over a local area network. That said, it certainly can roll out with undeniable power completely wirelessly – over wi-fi, that is.
It was also made clear to us that developments still may be made before the final product would be launched – both in its software and its hardware. At the moment it's clear that NVIDIA has the structure ready for prime time, there's simply a few kinks to iron out as far as which situation requires what action: certainly forgivable given the fact that they've targeted Q2 of 2013 for the release – that being still relatively far off and plenty of time for software bug fixes.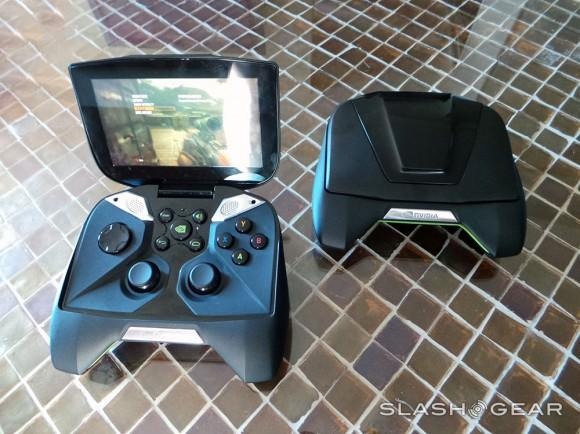 The hardware, on the other hand, is extremely close to being complete. While there could be changes to the level of hardness with which the buttons need to be pressed as well as the materials that the casing will be made of, this beast is essentially ready for action. One important point of order for controller aficionados: the now-hard-plastic surrounding the left, right and front of the machine will likely be replaced by a softer plastic in the future – so says NVIDIA. Grippier plastic for a more controlled action experience.
The speakers on this machine are immense in their ability to blast your ears off. I was personally unable to play a game without turning the sound down somewhat – it can get too loud. That's not to say that the sound is bad – not at all – in fact the sound is both full and deep, ready to be used on its own without a doubt. Another point of order: while most built-in speakers on devices like these working with heavy bass have a bit of a problem rumbling around on a flat surface, this machine's audio system is set in a way that keeps it still. High fidelity and a controlled experience, top to bottom.
We saw the game HAWKEN in its newest state: Android-based and as high powered as we've seen it played on the PC. It seems every bit as immense here on this 5-inch 720p display as it does on the big screen, and from what we've experienced, this Android version is going to turn the mobile gaming world on its ear – in the mech universe, at least.
We also saw some awesome PC-streamed gaming with Call of Duty: Black Ops II from a GeForce-packing PC in the same room with this machine's 802.11n 2x2 MIMO "game-speed" Wi-Fi. From what we've seen, game streaming from a GeForce-powered PC to Project SHIELD works flawlessly. Once you're in-game, that is. By the time this device is released, we're expecting an undeniably smooth experience start to finish.
Have a peek at the photos and videos above and below and let us know what you think about the device and the future ecosystem NVIDIA is building around it. Also be sure to tune in to our Tegra hub for all the NVIDIA action you can handle through the future!
BONUS: Hit the gallery below for larger versions of all of the photos above. Get up close and personal with this lovely new piece of hardware!