This week NVIDIA's CEO Jen-Hsung Huang spoke onstage during CES 2013 about a brand new NVIDIA push for the future of gaming, that being NVIDIA Project SHIELD. Speaking on how their engineers are gamers and how gamers want to make what's most innovative and fantastic in this universe, Huang showed a video which constructed, piece by piece, starting with the NVIDIA Tegra 4, moving on to show three 3400 mAh rechargeable li-ion batteries, and an audio system all it's own – a tuned port and custom bass reflex. From there it only gets better for this personal gaming device the likes of which we've never quite seen before.
The world's first custom-based reflex system lives inside this device, this understanding and knowing when you set the device down so it can stop rumbling around, and right on par with a dedicated Jambox – so sayeth Huang. This machine works with Android and is able to "drop back into Android" at a press of the SHIELD button right up front and center.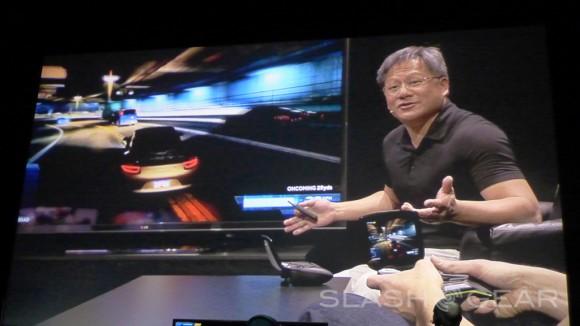 UPDATE: Have a peek at the construction video we've described right here front and center – and experience one of the more impressive looking reveal reels we've seen in recent history:
This amalgamation of gaming magic works with a 5-inch 1080p touchscreen display and has mini HDMI out, micro-USB, and a headphone jack for good measure – not to mention a microSD card slot. The whole system has one giant customizable tag on its back (or on top if you close the lid) – this being another "SHEILD" that, when this beast comes to fruition, you know good and well we'll be blasting with SlashGear and Android Community marks galore.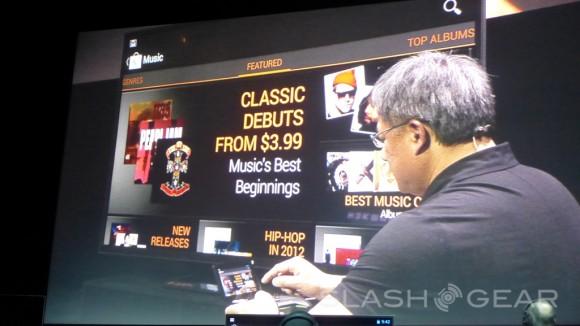 Project SHIELD is set up to work with Android, so you'll be working with Android games, of course, but it's also connected to the cloud – so you're able to play games with the same prowess we've seen made possible with NVIDIA GRID. Have a peek at more information on NVIDIA GRID from earlier today (if you've not already) in the timeline below and make sure you stick close to SlashGear for more on this device and the ecosystem that surrounds it all week long and into the future through our NVIDIA Tegra portal!