NVIDIA GRID Cloud Gaming beta hits SHIELD
Back when NVIDIA GRID was given a name at CES 2013, it was suggested that the company would change cloud gaming forever. Here near the end of the year, still inside 2013, NVIDIA has released a beta version of the first ever NVIDIA GRID Cloud Gaming app. This app allows the NVIDIA SHIELD handheld gaming device to play high-powered games as streamed from the cloud – only inside a limited area in San Jose, California for the time being.
What you're going to see here is the NVIDIA SHIELD PC streaming abilities of this handheld gaming device working in a slightly different way. Instead of relying on your own home network and your high-powered gaming PC, you'll be accessing the cloud, relying on NVIDIA's GRID cloud gaming servers in San Jose.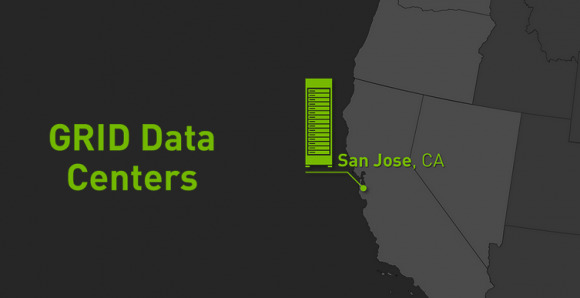 Users will need an NVIDIA GameStream-Ready router – 5GHz of Wi-Fi that is, along with a an internet connection with at least 10 Mbps download speed. And you'll need NVIDIA SHIELD too, of course.
WHY IS THE GRID BETA LIMITED TO NORTHERN CALIFORNIA?

NVIDIA GRID servers are located in San Jose, CA, and users need a ping time of 40 ms or less to the GRID data center, as well as at least a 10 Mbps Internet download speed. It's possible that users outside of this area, with a fast enough internet connection, can meet these requirements and participate but we expect the best experience in Northern California.
Users will be able to sign up for updates and see the expansion of future GRID Data Centers run by NVIDIA through their current NVIDIA GRID Server Locations page, live this month. The actual NVIDIA GRID app is also available on the Google Play app store this week, able to be found by searching "GRID Beta" or by hitting up the NVIDIA developer collection and finding the app through there.
Have a peek at our archive of NVIDIA GRID articles below and keep up – gaming is becoming more mobile by the moment!
BONUS: Above you'll see a user by the name of "Sea King" taking NVIDIA GRID for a spin with NVIDIA SHIELD – have a peek!