iPad mini Retina Display review - the holy grail of tablets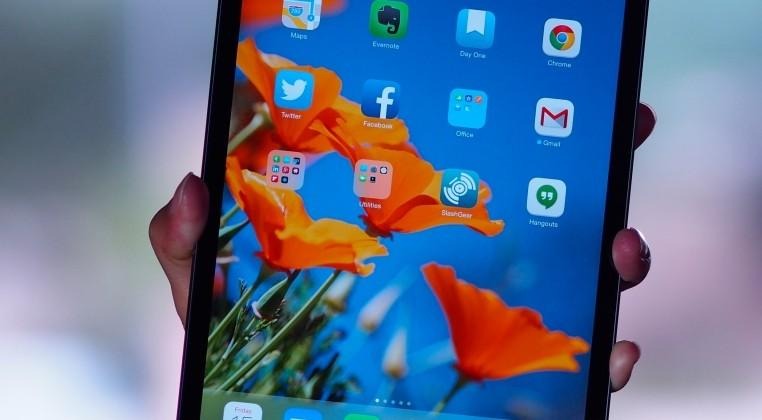 It's the iPad mini we've been waiting for: Apple's smaller tablet that, thanks to a Retina display and brand new A7 processor, now punches above its size and makes a legitimate alternative not only for compact-screen Android and Windows rivals, but Apple's own iPad Air too. That Apple has achieved all that with minimal compromises on weight and battery life seems almost too good to be true: could the iPad mini with Retina display be the best tablet in the range? Read on for our full review.
Hardware and Design
At first glance, it's hard to tell the difference between the first-generation iPad mini and this Retina upgrade, at least as long as they're turned off. Height and width are exactly the same, at 7.87- and 5.3-inches respectively, making for a short slate that can be held in the grip of one hand in portrait orientation, assuming you have average-sized hands or larger.
Thickness and weight have increased a little, primarily it seems to accommodate the higher resolution display and the battery technology it demands. Still, the differences are minor: depth is now 0.29-inches, versus 0.28-inches before, and weight for the WiFi-only model has risen to 0.73 pounds from 0.68 pounds. Opting for the WiFi + Cellular version adds another 0.02 pounds to the scale.
So, there's a difference, but you'll only really notice it if you have old and new side-by-side on your desk, and peer across them to see that point-zero-one of an inch. Still present – and still welcome – is the sturdy, smooth aluminum unibody casing, now finished in a choice of Space Gray (slightly lighter in tone than the black 2012 mini) or Silver, and which feels both tactile and reassuringly resilient; some tablets we second-guess dropping into our bag, but not the iPad mini.
The changes, then, are beneath the skin for the most part. We'll touch on the incredible Retina display in the next section, but of equal importance is Apple's choice of processor. Where the original mini used the A5 chip, a compromise between performance and longevity, the iPad mini with Retina display makes no such sacrifices.
In fact, it has the same processor as in the iPad Air and the iPhone 5s, Apple's latest A7. Apple has tweaked it just a little for the mini, though not in any way that should worry end-users, but the end result is a powerhouse that delivers performance akin to the Air but undercuts it (in both size and by $100).
All new iPad mini with Retina display models get WiFi a/b/g/n (with 2.4/5GHz support and MIMO antennas for better range, though not 802.11ac), Bluetooth 4.0, and a digital compass, along with Apple's Lightning port for charging, synchronizing, and accessories. Sensors include a three-axis gyroscope, accelerometer, and an ambient light sensor.
A 5-megapixel camera is on the back, with a 1.2-megapixel FaceTime HD camera on the front, which works well with the dual-microphones which allow for background noise cancelation. Apple now offers four capacity options, starting at 16GB for $399, and topping out with a new 128GB model for $699.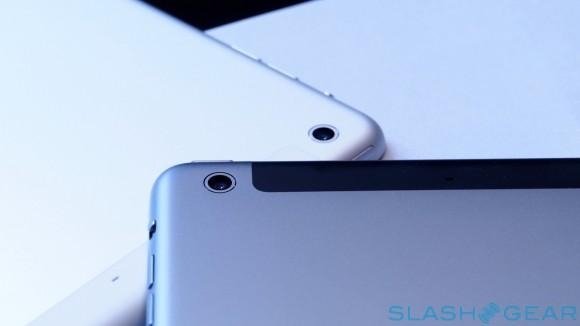 The WiFi + Cellular version, meanwhile, throws in LTE, HSPA+/DC-HSDPA, and EV-DO Rev.A, along with Assisted-GPS, for $130 more. Unlike the first-gen iPad mini, there's now a single version with cellular data baked in, rather than different versions to suit different sets of carriers: Apple has included a huge fourteen bands of LTE support which means, since it sells them SIM-unlocked, there are more places where you can drop in a local SIM card and get online without paying roaming rates while traveling. The iPad mini with Retina display is undoubtedly the tablet-of-choice for the frequent traveler who demands ubiquitous connectivity.
Display
Impressive as it was, the first-generation iPad mini always felt like the less-capable little sibling of the full-sized iPad, and a big part of that was its display. Apple opted for a 1024 x 768 panel rather than Retina resolution, and prompted a year of arguments about whether that was sufficient or made the 7.9-inch tablet feel like a compromise.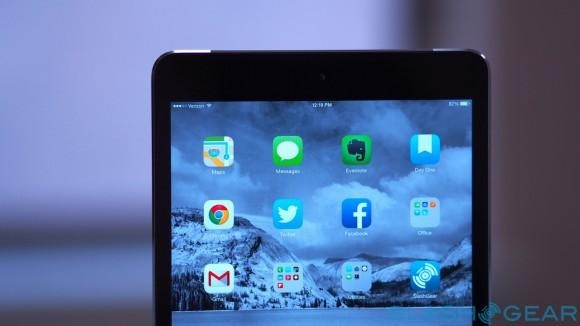 Those arguments are settled with the iPad mini with Retina display, and conclusively. Just like the iPad Air, its an LCD IPS screen running at 2048 x 1536, with hugely broad viewing angles, strong and even backlighting, and accurate colors. However, all those pixels are compressed into a smaller panel, which means pixel density is higher: 326ppi, the equal of the iPhone 5s in fact, versus the 264ppi of the Air.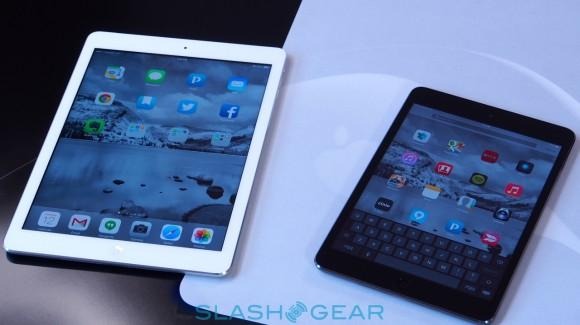 Let's be frank, we didn't exactly find ourselves disappointed by the detail the iPad Air can offer. Retina resolution squeezed into the iPad mini's diminutive chassis is practically magical, however: it leaves the display mesmerizing. Text is as crisp as in a printed novel; photos look incredible; games have a degree of detail that was simply lacking on the old model.
There's also something to be said for a 4:3 aspect display. While tablets from the Android and Windows camps have for the large part followed laptops in adopting widescreen aspect ratios – the 2013 Nexus 7, for instance, runs at 1920 x 1200 but on a 16:10 display – the resulting long, narrow shape can prove more restrictive than the arguably more flexible iPad mini screen.
A good example is usability in portrait and landscape orientation. Although there's obviously a difference when you flip things 90-degrees on the iPad mini, you don't get that narrow, pinched feeling that we sometimes feel when using the Nexus 7 or other 16:10 tablets in portrait orientation. The downside, of course, is bigger black bars top and bottom when you're watching widescreen movies on the iPad, but we still prefer its more squared-off screen in daily use.
Software and Performance
Like the iPad Air, the iPad mini with Retina display runs iOS 7, Apple's latest – and perhaps most controversial – platform for phones and tablets. Opinions of iOS 7 are divided. Some miss the "skeumorphic" design of previous iterations, with their faux leather and baize; others like the cleaner, more graphically-crisp appearance of this new version. It's a matter of taste, but then again there's no going back: the iPad mini, like the Air, were designed with iOS 7 in mind, and so that's what you get.
There are some notable improvements along the way, however. The Retina version has twice the RAM of its predecessor, which means multitasking – which looks far better than in iOS 6, with useful previews of the apps you can switch to – is faster as the iPad can keep more in its memory at one time. Similarly, where we've encountered crashes in Safari on the iPad mini as hefty webpages suck up all the spare resources, that simply didn't happen in the same way on the second-gen model.
Apple also includes a number of free apps this time around, offering its iLife and iWork suites for iOS for download as soon as you set up the iPad mini. That means iPhoto, iMovie, and GarageBand, alone with Pages, Numbers and Keynote, covering the bases from entertainment and lifestyle through to business and home office work. Of course, you also get the usual iOS apps like Apple Maps, Siri, iBooks, Photo Booth, and access to Newsstand and Game Center, and not least Apple's App Store, which still puts rival platforms to shame with the breadth of tablet-specific apps it has to offer.
Combined with the improvement in performance and the higher resolution display, however, suddenly actually using both the iLife and iWork suites seems far more practical a prospect on the iPad mini with Retina display. Whereas the lower-resolution panel and occasional breathlessness of the original version meant that processing 1080p video or doing photo editing could become frustrating after a time, the step up to Apple's A7 processor leaves the new iPad mini flying along at the same rate of knots as the iPad Air.
In fact, the second-gen iPad mini makes a strong candidate as a portable video processing studio. It'll record video itself, of course, but we found the best results came from importing footage filmed on the iPhone 5s' excellent camera, and then using iMovie to do the sort of editing we might normally have waited until we were in front of our regular computer to complete. Being able, with nothing more than a compact tablet and a phone, to piece together professional looking footage without it taking an age is hugely impressive.
With the same A7 chip as the Air and the 5s, unsurprisingly video exporting times came in roughly the same. We were able to crunch through a five minute long 1080p video in iMovie in just 2 minutes 10 seconds: on a par with what the iPad Air managed. In fact, the iPad mini was able to keep up with all of the media tests we ran on its bigger sibling, without getting more than mildly warm to the touch.
That bears out in the benchmarks, too. In Geekbench, the new iPad mini scored 2,515, more than three times what its predecessor achieved, at 757. In SunSpider, the browser-based test of JavaScript performance, the new iPad completed the trial in 414.3ms; again, that's a fraction of the 1,698.9ms the old iPad mini took to run through it.
Battery
Apple's slight increase in weight and thickness with the new iPad mini is for the large part down to the tablet's bigger battery. A Retina display and an A7 chipset make big demands on power, and so more cells have been squeezed in so as to continue to achieve the ten hour runtime Apple promises.
What's always been impressive is how accurate an estimate that usually is for the different iPad models we've seen, with many even proving Apple's numbers conservative. The same certainly seems to be the case with the iPad mini with Retina display. With everyday to heavy use, we comfortably hit Apple's figure; it took extreme use in one day to put a dint in the mini's lifespan, and even then we got more than seven hours active use and eight hours standby with juice still on the gage.
One of the particular strengths of the old iPad mini was its longevity while acting as a mobile hotspot. In fact, the first-generation tablet managed an incredible full day of use while sharing its LTE connection, besting with ease what the average standalone hotspot can manage. We'll be testing out the iPad mini with Retina display's abilities under the same conditions over the coming days, and will update accordingly.
iPad Mini with Retina display versus iPad Air
Opting for the iPad mini used to be a case of choosing size over performance. Not any more; with the same A7 chip inside, and the same Retina technology up-front, it's now a decision of size alone.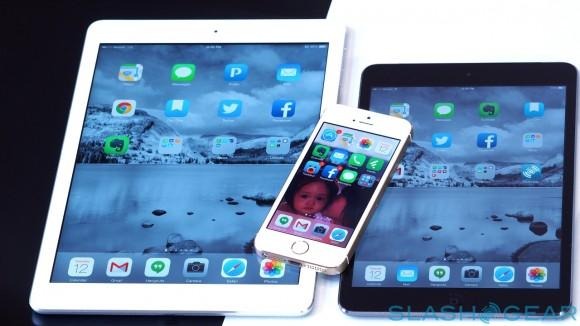 In the iPad Air's favor, it's a hugely compelling tablet. As we already found, battery life is excellent, the new design of the larger tablet is superb, and the combination of speed and display quality makes it our pick of the full-sized slates right now.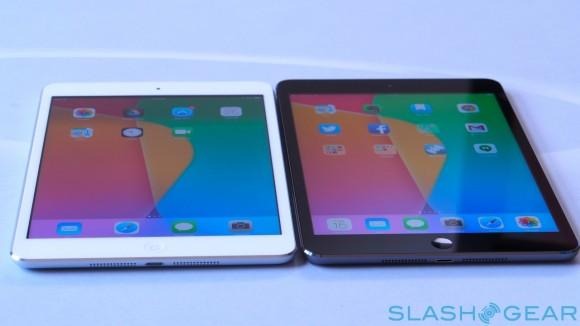 However, the iPad mini with Retina display effectively matches it on speed, is more portable, keeps up in battery life, and even undercuts the iPad Air by $100. Those who primarily watch video, or do multimedia editing, might prefer to opt for the Air's 9.7-inch screen, true. Still, it's hard not to see the Retina-blessed iPad mini as the holy grail of tablets.
Wrap-Up
As upgrades go, you can't fault the iPad mini with Retina display. Apple took the two biggest complaints – speed and screen – in hand, and returned with a tablet that looks great, performs great, and still delivers on battery life and portability. The tempting option might have been to dilute the update so as to leave the iPad Air clearly in the lead as the full-sized flagship, but Apple is obviously so confident in the equal allure of each model, it has no reason to artificially delineate the range.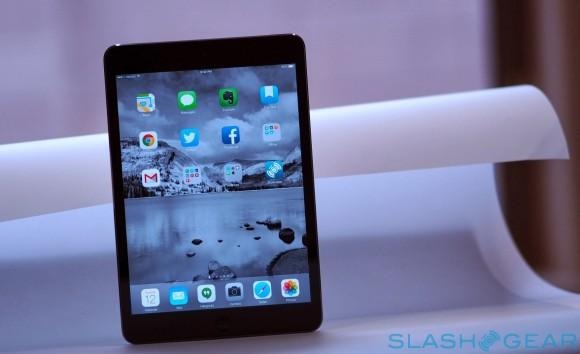 That confidence seems prescient. With specifications taken care of, we've already seen a divide forming between those opting for the Air and those who prefer the pocket powerhouse of the mini. Our own leaning is toward the iPad mini with Retina display, and we'd take that $100 saving and put it toward adding LTE for truly wireless flexibility. In doing so, we'd be buying a tablet that has, with its combination of performance, software availability, and overall quality, extended the lead ahead of its rivals exponentially.