CES 2012 Preview: handfulls of leaks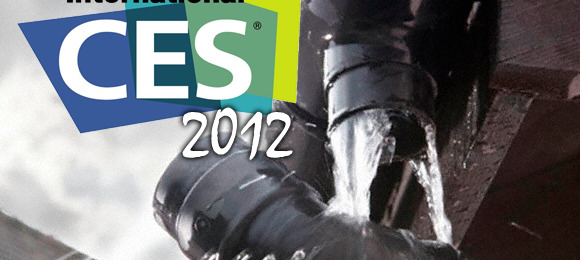 It's less than a week before we're diving face-first into the most gigantic gadget show of the whole year the Consumer Electronics Show 2012: and it's time to take a look at everything that's been teased and leaked thus far. There's official previews, invites, unofficial photos and bits let loose by people whose goal in life it is to bring you in on the good stuff before its masters reveal in ernest, and a real schedule so you can see where we'll be the whole time. Our team will be spread out like the fingers of a hand, and when we bring them together we will CRUSH the news each day for you!
Check out first the LG Google TV launch tip, it telling us that CES is very well possibly the place where LG shows Google TV 2.0 for the first time. On that note, there's the massively anticipated LG 55-inch OLED HDTV everyone's been losing their mind over, along with the LG DM92 IPS display with a 1mm bexel. That'll be a thing to see for sure – but what'll they be using to show it off? That's the real question. Of course then there's Samsung's Smart TV CES preview which assures us that LG and Samsung will be bringing out the boxing gloves for this show, no doubt.
As far as mobile devices go, Sony Ericsson's been showing off some smartphones under a sheet. There's also a 13-megapixel photo set that popped up last month said to be coming from the Sony Ericsson LT28at Android AT&T device of unknown nature. Of course AT&T will have more than just a little bit of presence with the Samsung Galaxy Note, more than likely showing up at the show right at the front door.
Intel's Medfield 32nm process chip will be there in force, not least of all in such dreams as the mystery LG smartphone they say they've certainly not got. Nokia noted that they'd have some cool bits such as Windows phones like the AT&T Ace, the regular stuff they've had over the past couple of months, but also such possible gems as this this strange little nametag that, although they probably wont sell, will be on their vests. ASUS will be bringing their Transformer Prime for some sweet Ice Cream Sandwich action I'd be willing to bet, and although they've not officially said so, a 4-inch Eee Pad may well be appearing as well.
There's a report that says Microsoft is in trouble with the CES crew, but they'll certainly be showing up at this year's event, Windows-a-blazing. Sony will be having a wedding-type event. Android will be appearing on TV. And one whole heck of a lot of other completely disparate releases will be taking place at all times of the day. We'll be going to visit such fabulous brands as Audi, Lenovo, LG, Panasonic, and Qualcomm.
SO, without giving away our whole plan of attack at once, know this: you'll be able to crunch on our whole set of coverage here on SlashGear through our [CES 2012 portal]. We'll be releasing additional previews through the rest of the week – stay tuned!