ASUS 7-inch Eee Pad reportedly leaks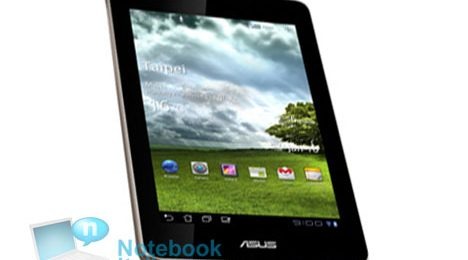 An image supposedly showing ASUS' 7-inch Eee Pad tablet, reportedly set to launch at CES 2012 next week, has emerged, along with suggestions that the more compact slate will borrow the detachable battery-keyboard form-factor of the Transformer Prime. The image, caught by NotebookItalia, shows a device very much in keeping with the Prime's aesthetic, and different from what we've seen of the Eee Pad MeMo also expected this month.
Still, it's unclear whether ASUS intends to bring two devices – the 7-inch MeMo and the 7-inch tablet shown above – to CES, or whether one of the models has been cancelled altogether. The Eee Pad MeMo was originally launched as a glasses-free 3D slate, then apparently faced the axe after delays, and most recently was said to be arriving, sans-3D, early in 2012 running Ice Cream Sandwich.
Whether this image is the final design, a fake or some render midway through the creative process is unclear. The docking port on the bottom edge might suggest that a netbook-style keyboard-dock is out of the question – on the 10-inch Transformer and Transformer Prime the connector is on the long edge – though ASUS might have a more typical dock such as Samsung offers, without the folding hinge and into which the 7-inch model docks vertically.
We won't know for sure until next week, when CES 2012 kicks off in earnest. SlashGear will be there to bring you all the news.
[via Android Community]