Samsung Galaxy Tab 10.1 accessories priced and available in Germany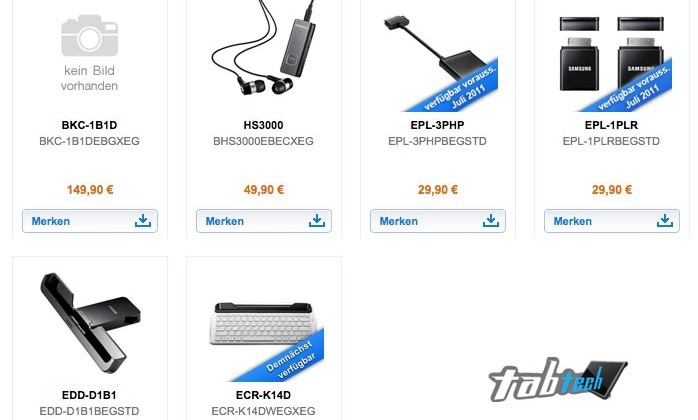 Last week we put up our review of the Samsung Galaxy Tab 10.1 Limited Edition model from Google I/O. The tablet is very cool and has some impressive features. You will be able to get your hands on the tablet before you know it, and if you are interested, you have probably been wondering about accessories. The German Samsung site is now offering up a full list of accessories for the Tab 10.1 and some of them are available right now.
The accessories include the ECF 1B1N hard case with cutouts for the camera selling for 69,90 €. A more impressive case with a part number of BKC-1B1D and lacking a photo is said to have a keyboard inside with a sales price of 149,90 €. A set of headphones will sell for 49,90 €. A docking station with HDMI output is offered at 34,90 €. One of the accessories that anyone planning to actually work on the Tab 10.1 will want to seriously consider is the ECR-K14D keyboard dock.
That keyboard dock sells for 79,90 and needs no batteries to operate. A few accessories won't land until July. That gear includes a leather case for 29,90 €, a USB adapter, and a 1080p HDMI output adapter. Each of those accessories will sell for 29,90 €. Pricing and availability for the US and other places is still unknown. What accessories do you plan to purchase?
[Android Community via Tabtech]