Archos Arnova 8 G2 Android Tablet Seen at FCC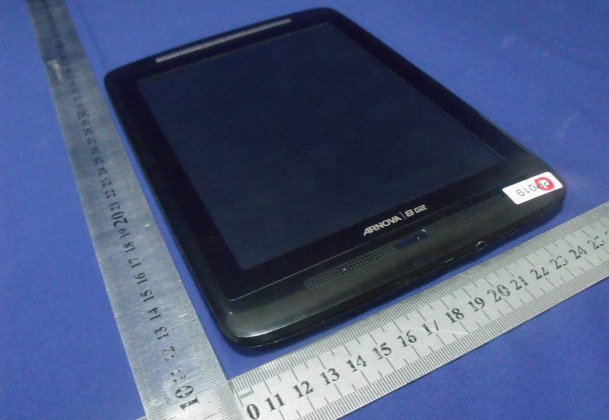 The folks at Archos have delivered their newest iteration of the Arnova 8 G2 tablet to the FCC, showing off both internal views and accessories that will be included with the tablet as it reaches store shelves in the near future. This device has appeared at the FCC previously but has not until this point been seen by the public in photos as clear as what's been seen today. Two lovely silver rulers frame the device in all its glory in the main image here in this post.
The last time we spoke about an Arnova tablet, it was the Archos Arnova 7, a device that seemed to sacrifice specs for relatively low cost. On the other hand, our sister site Android Community appears to have found the first word of this tablet, that being an announcement image back at the beginning of June, 2011. The Arnova 8 series is not to be confused with the new G9 series, the former carrying Android 2.3 Gingerbread, has a 1Ghz single-core processor, and will be aimed at the mid-range tablet market with some fabulously low pricing.
The FCC listing for the Arnova 8 can be found [here] and a gallery of images included in that listing can be found below. If you'd like more information on the Archos 80 G9 or the Archos 101 G9, you can view our full hands-on posts as done by Chris Davies, both of these tablets being Honeycomb tablets on the other hand.
Do any of these tablets seem appealing to you? Perhaps you'd like alternatives? There's the very recently reviewed Vizio Tablet, or perhaps you'd like the Toshiba Thrive, maybe the tiny BeBook Live, the nearly as small HTC Flyer, the most awesome Samsung Galaxy Tab 10.1, the fan favorite ASUS Eee Pad Transformer, the sweet silver ACER Iconia Tab A500, the 3D capable T-Mobile G-Slate, the small rounded Dell Streak 7, the first popular Android tablet Samsung Galaxy Tab 7-inch, or the classically awesome Motorola XOOM. Most of these devices run the NVIDIA Tegra 2 dual-core processor, running what's still the world's only dual-core processor sitting on an Android tablet – get power!
[via Android Community]