Vizio Tablet Review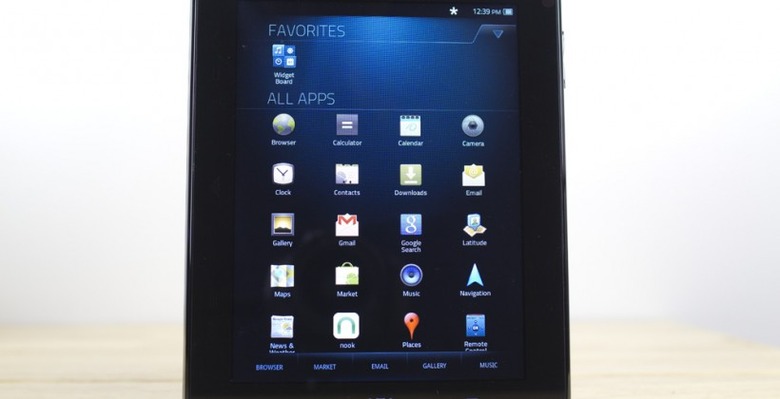 The Vizio Tablet is a pleasant surprise. Vizio is known more for affordable TVs and it has entered the tablet market with a similar value-oriented mindset, offering an 8-inch Android slate that delivers a well thought out consumer-centric experience along with unique features that even the most discriminating tablet enthusiasts can appreciate. It has its drawbacks, but if you're budget-conscious and want to find your first tablet that's the best bang for the buck, then do read on for our full review.
Hardware
When it comes to the hardware specs, the Vizio Tablet isn't going to blow your mind given its cost constraints. But, what's there has been thoughtfully selected for the least amount of compromise. The 1GHz Marvell Armada 600 Series single-core processor, along with 512MB of RAM, offers enough performance power without the battery drain, but we'll get into the benchmarks and battery life later.
The tablet measures 6.6" x 8.1" and is about 0.48" thick, weighing 1.2lbs. The edges are slightly tapered and angled such that the tablet appears thinner than it really is. Hence, it also feels heavier than it appears. But, it does have a very convenient size that's comfortable to hold and its build feels solid.
Its 8-inch capacitive touchscreen LCD display has the same 1024 x 768 resolution and 4:3 aspect ratio as the Apple iPad 2, but on a smaller screen. It's not an IPS panel and thus viewing angles are lesser on two of the four sides. Text and graphics generally look crisp, although pixels are visible on closer examination. Playing high-quality YouTube videos did reveal some blocky pixelation and jagged edges.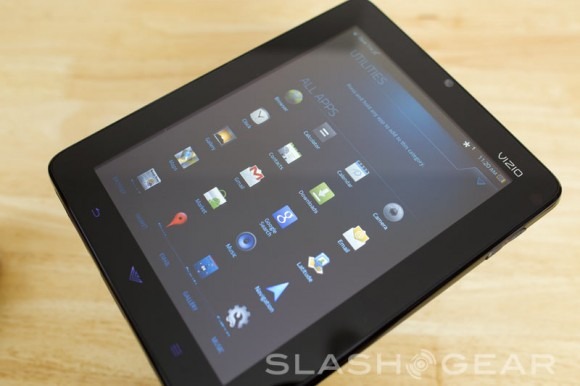 The tablet has a front-facing VGA (640x480) 30fps camera that's just barely good enough for video chatting and there's no rear-facing camera. It's a minor trade-off and for its purpose a camera's not really essential.
There are three LED backlit touchscreen buttons for Back, Home, and Settings that adjust when you switch orientations so that they're always sitting in the bottom frame of the bezel. The tablet, however, is meant to be used in only two orientations. And by that, I mean you get only one landscape option and one portrait option such that the speakers are always near the top.
And that leads us to the tablet's first standout feature—THREE stereo speakers. When you rotate the tablet from one orientation to another, the speakers adjust so that you always get right and left stereo sound. Since we just reviewed the Toshiba Thrive and it's sitting here next to the Vizio Tablet, we were able to do a side-by-side comparison. Neither one is spectacular, but the Vizio does win with louder, fuller audio and the adjusting stereo makes a noticeable difference.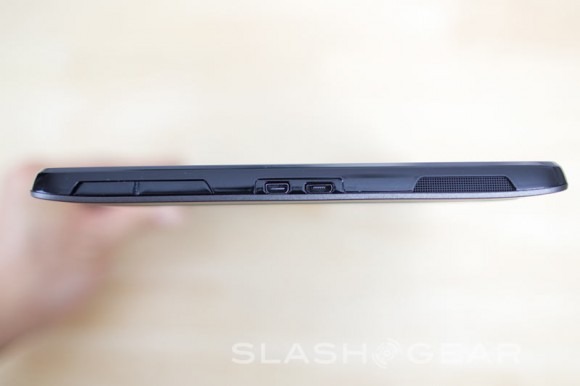 Another standout feature is the integrated IR blaster. The Vizio Tablet can turn into a giant universal remote capable of controlling up to 95% of your home theater devices using a continually updated database that contains presets for thousands of TVs, media players, and set-top boxes. Different profiles can be set up for each room to control the various entertainment devices throughout your home. It controlled my Toshiba TV and LG Blu-Ray player just fine making me feel like the true master of my domain. This kills two birds with one stone and is a great deal if you've been wanting a universal remote, since they can cost on average $150 with fancier ones fetching a few hundred more.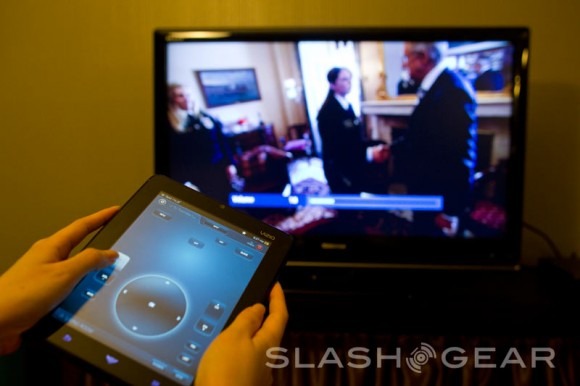 Storage capacity on the Vizio Tablet is only 2GB. This isn't much space, but can be easily expanded with a microSD card of up to 32GB. Considering that a 32GB microSD—if you don't already have one—sells for about $50, the total cost of the Vizio Tablet plus the card is still up to $200 less than a 32GB tablet. Additionally, transferring data to and from the tablet is easy thanks to its micro-USB port. A micro-USB cable is included in the box and is also used for charging the tablet.
Other connectivity options include Bluetooth, WiFi, and a micro-HDMI port that supports 1080p full HD video-out and is HDCP compliant.
[vms 097b9558efefd0ecc358]
Software & Performance
The Vizio Tablet comes running a highly customized interface called Vizio Internet Apps Plus (VIA Plus) on top of Android 2.3.2 Gingerbread instead of Honeycomb. Although this may be a gripe for some, Vizio's decision to stick with Gingerbread makes sense for a more stable experience on the smaller screen and access to a whole lot more apps in the Android Market. Vizio does assure that an upgrade to Honeycomb are in the months ahead, although no specific timeline was given.
The VIA Plus interface brings apps to the forefront, with widget windows relegated to its own app called Widget Board. The main interface is split into two sections, one on top of the other. The first section shows all the apps in a particular category. Pressing the arrow button at the top right brings up a dropdown menu for you to select which category to display. You can add/delete categories and add/remove apps from each category. The second section shows all your apps in one place.
And, along the bottom of the screen sits a menu bar that works like a shortcut dock. There's a total of five shortcuts that can be customized. Below is a quick video demo of the interface.
[vms 34354ac209f53d90c3a4]
As you can see from the video, the interface isn't very snappy and its touch controls aren't consistently responsive. This is perhaps the biggest drawback to the tablet. Vizio has already confirmed that an update would be rolling out within the next 45 days to enhance overall performance, but in its current state it can get frustrating at times.
When it comes to synthetic benchmarks, the Vizio Tablet gets killed. If the Samsung Galaxy Tab 10.1 is like a Ferrari, then the Vizo Tablet is like a 2005 Ford Focus. You can't really compare the two although they'll both take you places. And again, for general consumers the overall user experience won't be impacted much by these scores. We used synthetic benchmarking tools, including Vellamo, Quadrant Pro, and Smartbench 2011.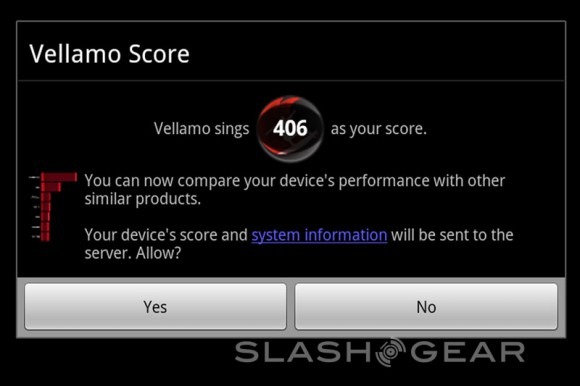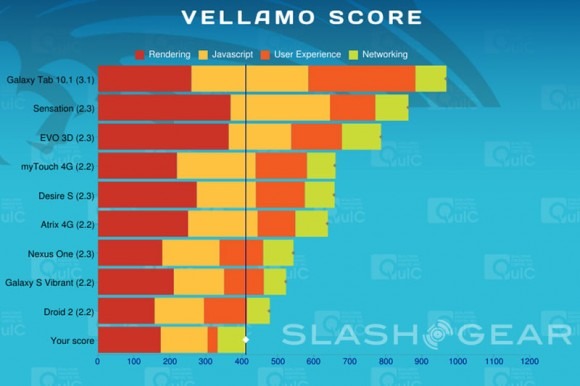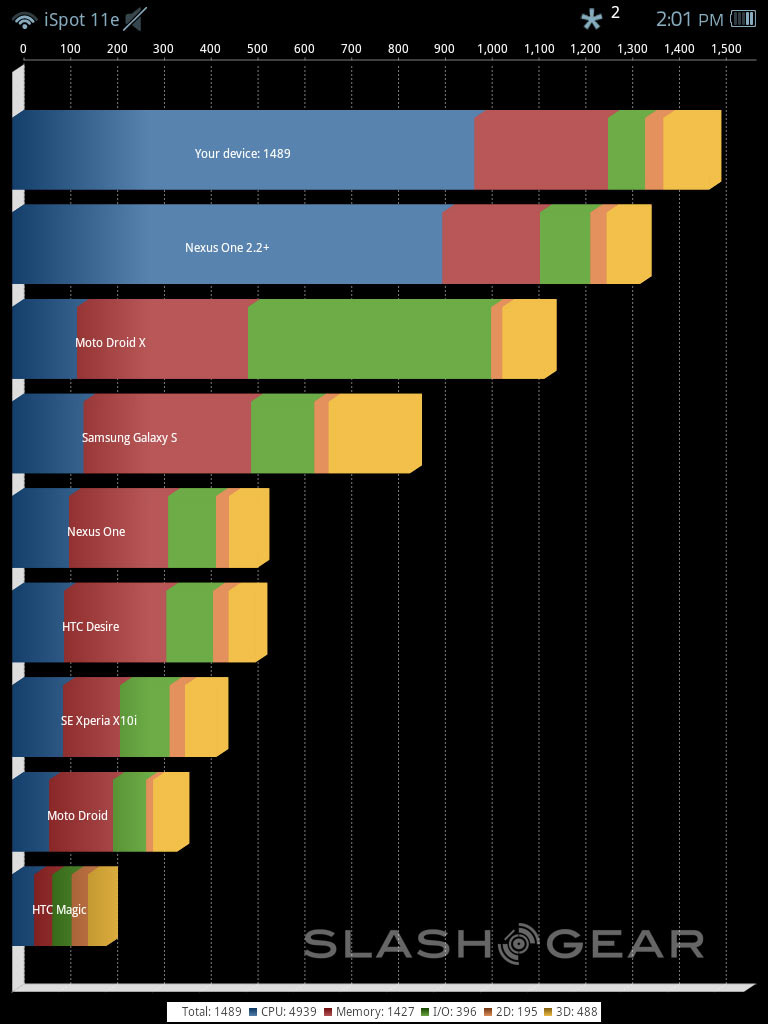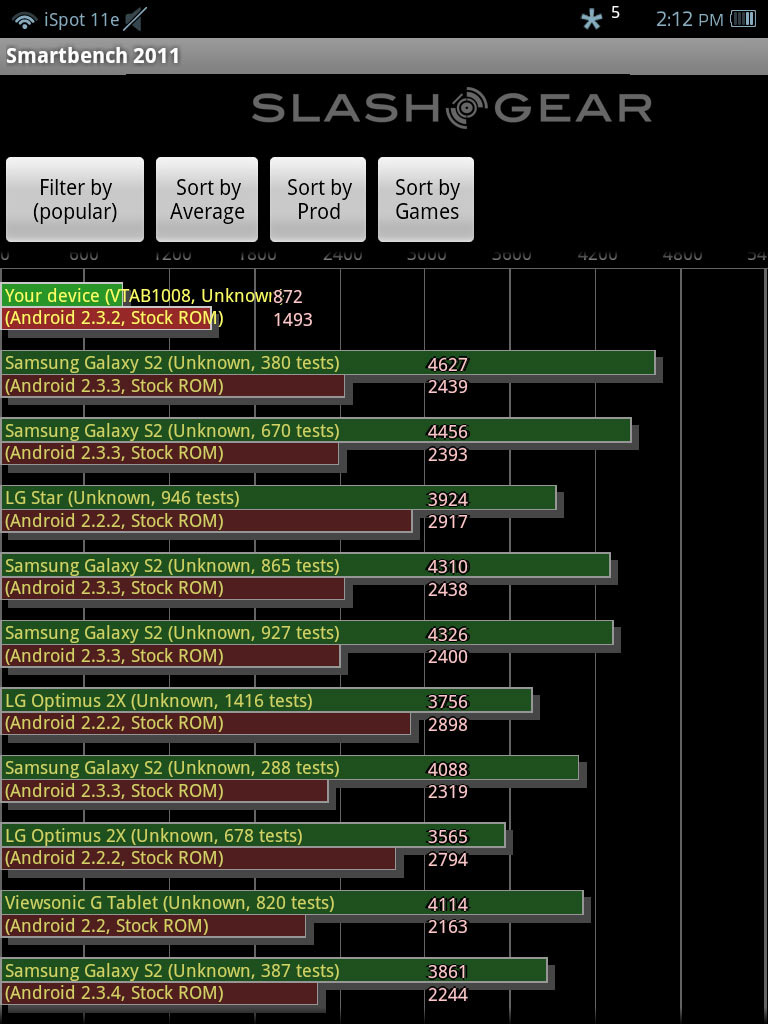 The Vizio Tablet's closest competitors are probably the 7-inch Dell Streak and the 7-inch Samsung Galaxy Tab. The Dell Streak 7 boasts a powerful 1GHz NVIDIA Tegra 2 dual-core processor in contrast to Vizio's modest 1GHz Marvell single-core processor, but battery life complaints plague the Streak, which is said to even downclock speeds to stay more efficient.
The Samsung Galaxy Tab, on the other hand, with an initial $600 price tag was far from affordable. But even now with its price cut to $349, the tablet is several months old with support waning and a thinner, lighter replacement likely on the way.
Furthermore, the Vizio's 8-inch display adds just that much more screen real estate for all your tablet-ing needs, but remains a size that's very portable and comfortable to hold. Also, if connectivity options are important, the Vizio Tablet wins with its mini-HDMI and mini-USB ports.
The Vizio Tablet also comes with Flash 10.1 support with decent Flash performance results using the GUImark 2 benchmarking tool, but it cannot be upgraded to Flash 10.3 at this time.
Battery
Vizio's decision to go with a single-core processor along with its highly customized VIA Plus layer may have contributed to a slower user interface, but it makes up for it in splendid battery life. The Vizio Tablet is rated for up to 11 hours based on standard use, while our usage, which mainly consisted of surfing the web, playing games, and watching YouTube videos intermittently throughout the day allotted us well over 9 hours.
Wrap-Up
The Vizio Tablet did have poor benchmark scores and the interface is noticeably less snappy than what we're used to on a Tegra 2 dual-core tablet. Touch controls, at times, also felt slow to respond. An update, expected within the next 45 days, should boost performance.
However, the single-core processor does afford a much greater battery life and the good looking interface makes operation more intuitive and user-friendly for the first-time tablet owner or general consumer who probably won't fuss over whether what's underneath is Android 2.3 or 3.2. But, Vizio does promise to upgrade to Honeycomb in the coming months.
Upcoming Vizio 3DTVs (models XVT-3D556SP and XVT-3D476SP) with Google TV integration will be using this same interface for a unified VIA Plus ecosystem. And the inclusion of an HDCP-compliant micro-HDMI port on the Vizio Tablet means that protected content such as movies from streaming subscriptions can be sent in full 1080p HD to your HDTV. And then there's the integrated IR blaster that lets you control your other home theater devices directly from your Vizio Tablet. All of this combine to make it the ultimate companion in the living room.
And when you want to enjoy multimedia directly on the Vizio Tablet, you'll have the advantage of a three-speaker system to enjoy proper stereo sound in both landscape and portrait orientations. Its 8-inch screen is a perfect size for all your tablet needs while remaining comfortable to hold with an overall build and look that is solid and slick.
The Vizio Tablet will be a great choice for many general consumers. It's currently selling for $329 $284.99 (at Costco), which is an excellent price for what it has to offer, especially to the first-time tablet buyer on a budget. With affordability and a broader audience in mind, Vizio made design decisions that reflect a focus on functionality, sacrificing mainly specs that shouldn't bother most consumers while adding other unique features that enhance the overall experience.