T-Mobile Samsung Tab Review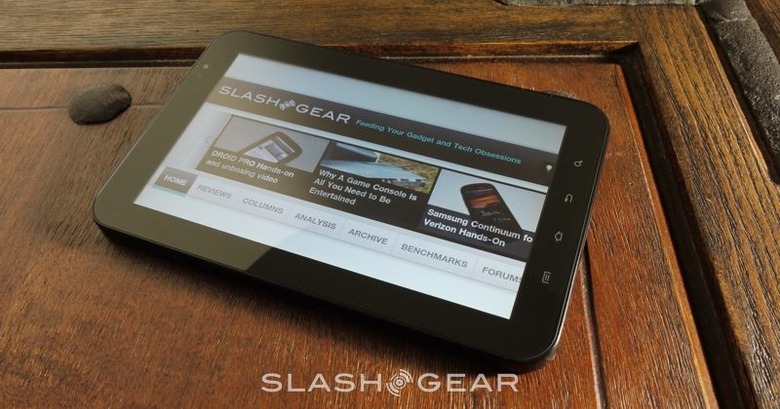 Samsung's Galaxy Tab is beginning its staggered rollout across the US carriers, and T-Mobile has been the first to make its play. We've already comprehensively reviewed the European version of the Galaxy Tab and Verizon Galaxy Tab, finding it an interesting – if expensive – alternative to the iPad; however, the North American models (and the T-Mobile version in particular) differ from what's on sale in Europe. Read on for our T-Mobile Galaxy Tab review.
Hardware
Physically, the T-Mobile Galaxy Tab is pretty much indistinguishable from the European version, bar the carrier's logo on the back of white plastic back. That means a 7-inch 1024 x 600 resolution display – not Super AMOLED, but a well-performing LCD TFT with eye-dazzling levels of brightness – together with Samsung's 1GHz Hummingbird processor, 640MB of RAM and 16GB of storage space.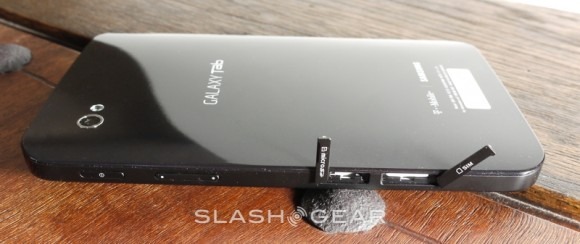 In comparison to the iPad (review), the Galaxy Tab is roughly half the size: 4.7 x 7.5 x 0.5 inches and 13.4 oz. thanks to its predominantly plastic construction.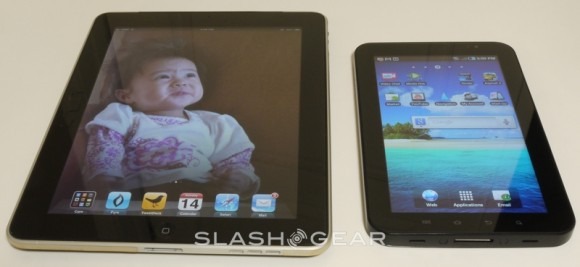 The front is a single sheet of toughened Gorilla Glass, with a front-facing webcam and a 3-megapixel camera with LED flash on the back.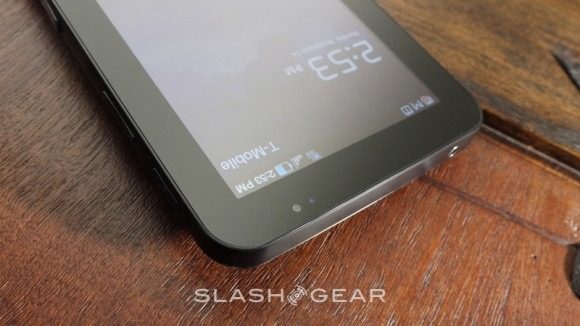 T-Mobile's Tab has quadband GSM and dualband (1700/2100) UMTS, which means it will work on international 2G/3G data networks though not AT&T 3G. It also lacks HSPA+ unlike the carrier's other recent Android devices, the myTouch 4G and G2, though you'll apparently get faster regular speeds in areas with HSPA+ service.
Software
As we've already seen, the Galaxy Tab runs Android 2.2 Froyo with Samsung's custom TouchWiz UI and a number of customized apps. The latter has proved one of the Tab's key differentiators: Samsung's software engineers came up with custom email, calendar and contacts apps – among other tweaks – which make the most of the 1024 x 600 display. For full details, check out the software section in our full Galaxy Tab review.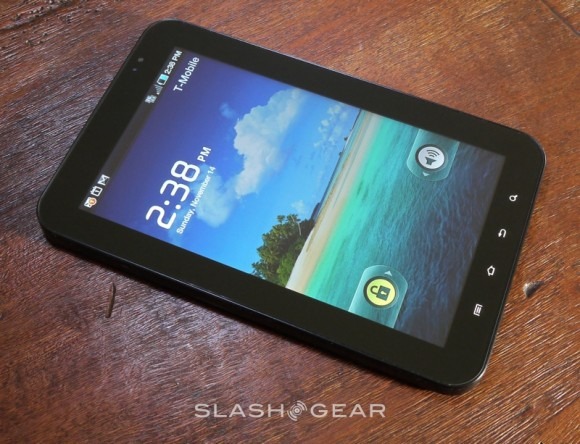 The most significant difference is that there's no phone dialer in the T-Mobile Tab – or, indeed, any of the North American versions – as voice call functionality has been stripped out. It's a decision seemingly prompted by the carriers' desire to make the sure the Tab is a companion device to your phone/smartphone rather than a replacement. What you do get is your choice of VoIP apps from the Android Market – including Skype, which allows for voice calls over WiFi connections – and T-Mobile differs from its rivals by allowing for Qik video calls (using the Tab's front facing camera) over both 3G and WiFi. The quality is very much dependent on signal strength, though, and it lacks the finesse of Apple's Face Time system, but as more Android devices gain the right hardware and software support we should see adoption increase.
Buy the Galaxy Tab with a T-Mobile data plan and you'll also get unlimited SMS/MMS messaging – a paid option on other carriers – and free 3G-hotspot usage, which turns the slate into a MiFi of sorts. Battery life takes a significant dip with the latter active, though, just as it does on cellphones. T-Mobile offer two data options, either $24.99 for just 200MB per month or, more useful to most, $39.99 for 5GB per month. If you expect to take advantage of VoIP, video calls or hotspot sharing then you'll want to choose the 5GB plan. Unlike what's tipped for AT&T's version of the Tab, there's no on-device management app for monitoring data use.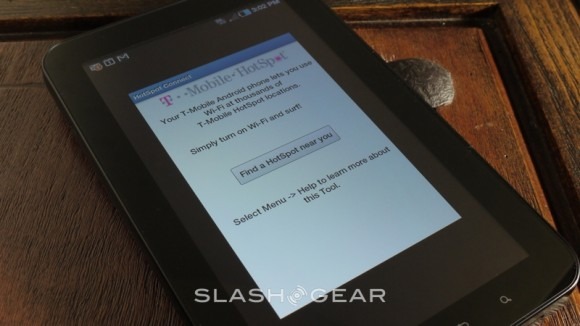 Finally, there are a few apps T-Mobile pre-load, including Slacker Radio and a demo of the Asphalt 5 HD racing game; the latter can be upgraded to the full version for $4.99. There's also full Android Market access – most apps we've tried run full-screen, though a few are left centered at their regular resolution – and optional Flash Player 10.1 support in the browser.
Wrap-Up
Without voice call functionality – also absent from the iPad – the T-Mobile Galaxy Tab is a less rounded option than the European version. Still, that's a limitation shared with all its North American counterparts, and T-Mobile does at least allow for greater 3G-use flexibility with Qik video calls and hotspot sharing. It's less consistent than Apple's tablet but balances that with greater flexibility; that may leave some users disappointed by the work-in-progress feel at times and rough edges that undoubtedly remain.
Around the corner, though, is Android 2.3 Gingerbread and, beyond that, the Honeycomb update we're told is heavily tablet-centric. There are also dual-core slates tipped for release in early 2011, and some big-brand names planning their assault on the market. The question – as always – is whether to adopt early or wait it out.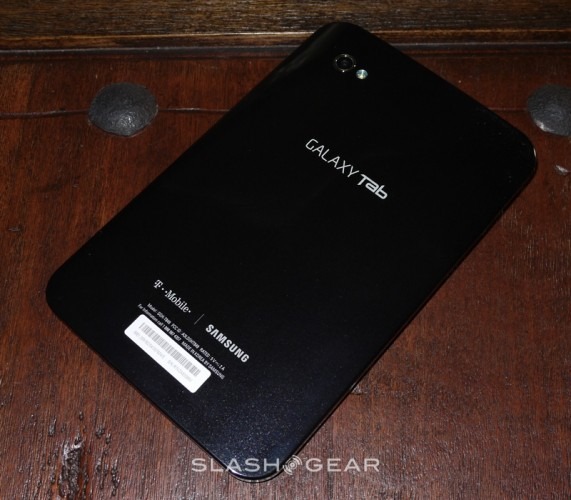 For those making the jump to the Galaxy Tab, they're getting a solid, well-built and flexible device that, while not perfect, is a compelling alternative to the iPad. Expensive, yes, and with limitations to be aware of, but they're broadly the same criticisms leveled at Apple's tablet when it launched. Apps like the Wall Street Journal's show there's a usability argument to be made for 7-inch slates, and it's likely to be the first of many as Android tablet software development gains traction. This is a niche that looks unlikely to go away, and the Samsung Galaxy Tab is a solid starting point if you can look beyond its price tag.
T-Mobile Samsung Tab unboxing and hands-on
[vms 5be01a996dc560274708]