Samsung Galaxy Tab Review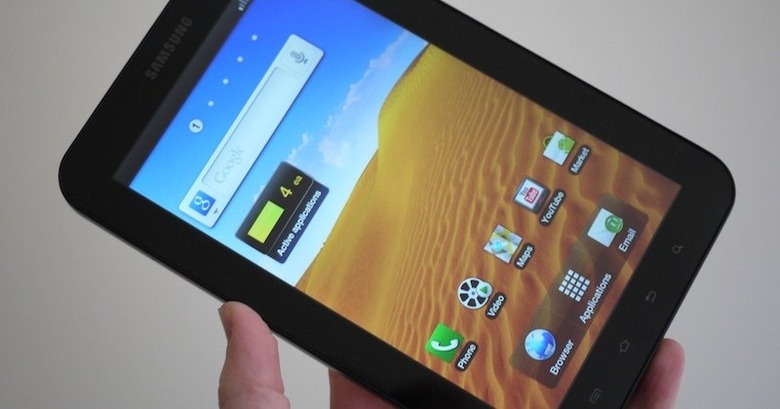 Samsung's Galaxy Tab proved to be the product of IFA 2010, and has seldom left the headlines since its Berlin debut. Seven inches of Android slate, it promises to be the open alternative to Apple's iPad and the poster-child for Google's OS done right on a bigger display. It's also prompted some significant criticism, with even Steve Jobs weighing in on how suitable the Tab's screen and OS are to tablet use. Plenty to live up to, then, not least the price tag; check out the full SlashGear review after the cut.Hardware
If the iPad is a digital clipboard, then the Galaxy Tab is a digital paperback. At 7.48 x 4.74 x 0.47 inches it's almost identical – though thicker – than Amazon's third-gen Kindle. The chassis is all plastic, unlike Apple's proclivity toward aluminum and glass, keeping the weight down to 0.8 pounds, but feels solid and creak-free; that's helped by the non-user-accessible battery, since as with the iPad the Galaxy Tab is a sealed unit. The back panel is smooth white plastic (some US versions will be black) while the front is black; both are reasonably slippery, which makes slotting the Tab into a pocket or bag straightforward, but does mean you need to keep a tight grip to avoid dropping it. An average-sized hand shouldn't have problems holding it in portrait orientation, while the roughly half-inch bezel around the display is just enough width for your thumb to lie against without accidentally triggering the touchscreen.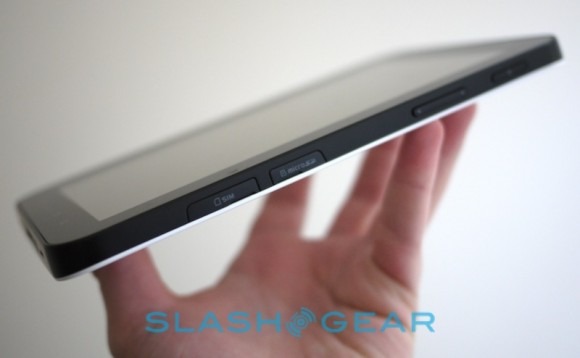 Hardware controls are limited to the right-hand edge, with a power/standby button and a volume rocker near the top. Below them there are two easily-opened doors, for the microSD card and – on the GSM models – for the SIM card. The former is hot-swappable, but the latter triggered a reboot when we attempted to swap the SIM with the Tab switched on. On the top edge there's a 3.5mm headset socket, while a small microphone is on the left-hand side. On the bottom is the proprietary dock/sync port, flanked by stereo speakers.
Samsung Galaxy Tab unboxing & demo:
[vms b2db54d55bc8bba2fad1]
The display is a 7-inch panel running at 1024 x 600 resolution, higher than any Android smartphone on the market and besting several other similarly-scaled Android tablets which have generally stuck to WVGA. It's not one of Samsung's Super AMOLED screens, sadly, but it's still almost indecently bright at its maximum setting and the viewing angles are broad. The capacitive touchscreen, meanwhile, is responsive, as are the four backlit touch-sensitive buttons running underneath the display: menu, home, back and search.
Above the screen there's a 1.3-megapixel camera – intended for video calls – and a brightness sensor for automatically adjusting the backlighting; we found the Galaxy Tab defaulted to a slightly dimmer level than we'd prefer, though we suppose that helps with the battery life. Samsung offers far more control over the panel than you'd get on an Android phone: as well as manually adjusting the brightness, which can also be done with a slider in the drop-down notifications menu, there are separate options for white and black color density, color saturation and animation, as well as a power saving mode which claims to automatically adjust the LCD backlighting according to what's on-screen at any one time.
On the back is a 3-megapixel autofocus camera with an LED flash, meaning the Galaxy Tab has two cameras versus the iPad's zero. This can snap both stills and 720 x 480 resolution video (though not 720p HD, unlike Samsung's Galaxy S family of smartphones). Storage is either microSD or the Tab's internal memory: there's 2GB of ROM (for installing apps) and 16GB of user memory (of which 12.66GB is available; Samsung will also be offering a 32GB SKU).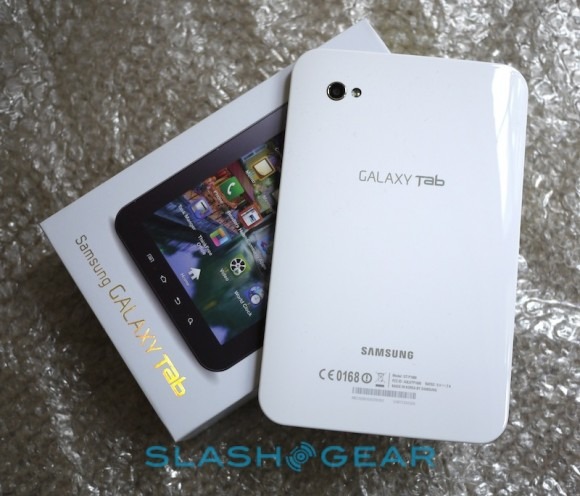 Keeping the Galaxy Tab ticking is Samsung's own 1GHz Hummingbird Cortex-A8 processor, paired with PowerVR SGX540 graphics and 512MB of RAM. Connectivity consists of WiFi a/b/g/n, Bluetooth 3.0 and – on this European version – a triband UMTS/HSPA (900/1900/2100) modem (along with quadband GSM/EDGE). There's also A-GPS, a gyroscope and a digital compass. The Galaxy Tab launching in Europe will support voice calls and 3G video calls, whereas the North American models will be limited to data and SMS/MMS messaging.
There are few omissions, to be fair, but we would've liked to have seen at least one notification LED – for new message, battery and other status indications – and a regular USB port rather than Samsung's PDMI-based dock connector. There's also no USB On-The-Go support for plugging in peripherals, though we were able to pair and successfully use a Bluetooth keyboard for text entry.
Software
Rather than, like other manufacturers, wait for Google's tablet-optimized Android 3.0 Gingerbread release, Samsung has opted to use Android 2.2 Froyo and make some customizations to suit the tablet form-factor. It makes for a generally familiar experience, if you'd spent any time with an Android smartphone, but Samsung's tweaked apps do make a significant difference.
The homescreen and main menu are TouchWiz 3.0 inspired, with a default five desktop panes (you can have a maximum of nine) which can be filled with widgets and moved between with a finger-swipe (since there's no D-pad or optical joystick). A pinch-zoom gesture shows thumbnails of all screens for speedier navigation. At the bottom of each pane is a three-button shortcut bar, with two user-definable shortcuts (browser and email, by default) and the Applications button in the middle. Unlike on Android phones, each pane supports a 5 x 5 grid of icons and widgets (4 x 4 is the norm); as well as the usual widgets, shortcuts and folders, Samsung has added a few new clocks (including examples with weather or calendar integrated), social updates with the Feeds and Updates widget, and – most usefully – a Program Manager widget.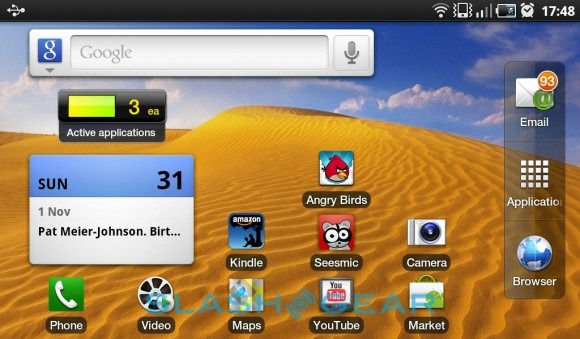 The number of currently active apps is shown, together with a colored bar to indicate memory status; tapping the widget opens a custom Task Manager, from which individual apps can be force-closed or uninstalled. There are also RAM and storage meters, offering a quick insight into what's monopolizing system resources. You can also access the Task Manager from anywhere in the system by holding down the Home button, bringing up an app-switcher that also shows the eight most-recent programs. As well as the brightness control in the pull-down notification bar, there are buttons to control WiFi, Bluetooth, GPS, put the Tab into silent mode, and lock the screen orientation.
As on Android phones, Google Maps Navigation is present with turn-by-turn voice and text directions. The Tab's screen is larger than most standalone PNDs, which makes for easy use while mobile, and the integrated digital compass can be used during Street View to pan the display according to what's physically around you.
We'll deal with Samsung's main custom apps separately, but there are several other titles loaded that bear mention. Memo and Digital Frame apps do what you'd expect, as does the World Clock app, and there's a copy of ThinkFree Office for editing documents. The Daily Briefing app – and its companion homescreen widget – shows upcoming calendar entries together with weather, news and stock headlines, while the Feeds and Updates app does the same thing for Facebook, MySpace and Twitter updates, as well as allowing you to change your own status and comment/reply to other people.
Samsung Apps is another carry-over from the company's smartphone line, though right now it's ridiculously sparse in its selection. In fact, there are a mere three apps on offer: a QWERTY touchscreen remote app, for use with Samsung's network-connected TVs, blinkx Beat for viewing online videos, and N-TV, which streams German news. Happily there's also Android Market access, more on which later.
Finally there are ereading apps, of which the Galaxy Tab has two. First is the simply-titled eBook, a basic digital bookshelf which allows you to import your own EPUB titles; The Marvelous Land of Oz was preloaded on our European unit. More comprehensive is the Reader Hub, which will offer access to Kobo's ebook store, PressDisplay's news and Zinio's digital magazines. At present, only Kobo functionality is active, with a range of free and paid titles on offer; you'll need to register an account with the service to access either. Of course, there's also Barnes & Noble's NOOK app and Amazon's Kindle app available in the Android Market, so if you've already bought ebooks from other services it's possible to read them on the Galaxy Tab as well. Whichever app you choose, the high-resolution display and strong backlighting make for a good ereader experience both indoors and in daylight.
Messaging & Calendar
All versions of the Galaxy Tab support SMS/MMS messaging, though you may need a messaging plan to send and receive texts from the North American models. The messaging app itself has a speech-bubble interface for threaded conversations, including various font sizes for the messages themselves.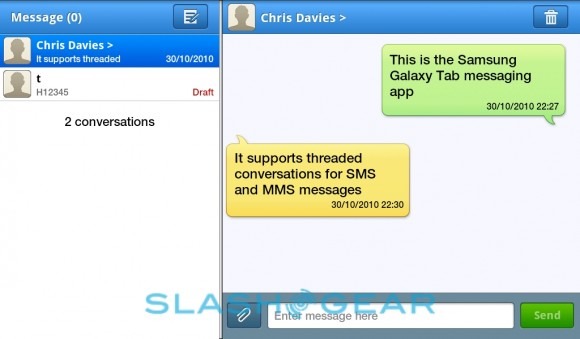 As for text entry, Samsung has loaded its own QWERTY keyboard with portrait and landscape orientation support, together with the Swype keyboard that allows you to drag your finger between letters to form words, rather than tapping them individually. Swype works well, but Samsung's keyboard benefits from various dynamic layouts: .com and prominent @ buttons in email or browser address views, for instance. It also supports auto-completion, spelling correction, next word prediction and double-tapping the space bar to automatically append a period. In general it all works very well, though we turned the default haptic feedback off as the Galaxy Tab's vibration motor makes a noticeable buzzing sound.
Text selection and navigation, meanwhile, is via a small arrow that pops up underneath the words, along with a select button that allows you to drag the ends of the highlight and then cut/copy it, look it up in Google, Google translate, Wikipedia or a dictionary, or share it in the usual Android way. We found the touchscreen to be accurate and easy to use in selecting precise blocks of text, while even the portrait keyboard layout is broad enough to allow for two-thumb typing.
Samsung's three key custom apps are their email client, the calendar and the address book. The latter splits the screen in two, with an alphabetical list of contacts on the left and a preview pane on the right; there are two tabs in the preview, the first showing all that contact's details, the second a recent history of calls and messages sent and received. Facebook friends can be imported, and contacts can be grouped or individual favorites picked out.
As for the email app, that's reminiscent of Apple's client on the iPad. In portrait orientation you can flip between a full inbox list and individual messages, while in landscape there are two (width adjustable) columns for inbox and preview. Messages can be viewed individually or grouped into conversations; the only thing missing is the ability to select multiple emails at once for mass-deletion.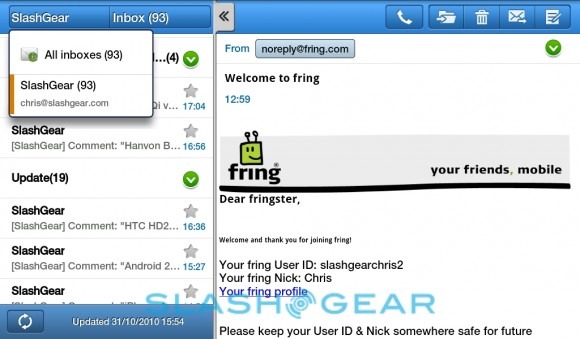 Regular POP and IMAP accounts can be added, along with corporate Exchange accounts supporting contacts and calendar sync too. The regular Android Gmail client is present too, though by using Google Sync we were able to get push support for our Gmail through Samsung's own app. It's possible to view each account inbox separately, or combined into one universal inbox, with each message color-coded to indicate where it comes from. All in all, it's a great email experience, surpassing the regular Android mail app and proving you don't need an iPad-sized display to neatly triage your inbox.
Finally, the calendar app, which looks much like a Filofax. Again, both portrait and landscape orientations are supported, with day, week, month and list views. The Galaxy Tab automatically pulled in our Facebook and multiple Google Calendar schedules, color coding them accordingly, with Facebook invites also showing a thumbnail of the user's profile picture. Again, it's considerably better than the regular Android calendar, and makes great use of the screen space on offer.
Browser
With a screen roughly half the size of an iPad's display, you'd imagine the Galaxy Tab's browsing experience would be underwhelming in comparison to the Apple slate. Still, Samsung has a few aces to play, not least Flash Player 10.1 support meaning it's possible to view streaming video and animations, and play games, all while within the browser. Underneath it's the same, capable Webkit engine we're used to, with pinch-zooming and tap-to-zoom (with automatic text reflow); you can open eight windows at a time, with a thumbnail browser to manage them.
Our voice-enabled European Tab has an extra toolbar button – a phone symbol – which jumps you straight to the dialler screen, though that's obviously missing on the North American versions. Overall, we had no problems viewing complex webpages on the Tab; the pinch-zooming is smooth and screen rotation – which works in all four directions – is fast. Best of all, despite having only 7-inches to play with, the 1024 x 600 resolution means you can still read text even at a low level of zoom.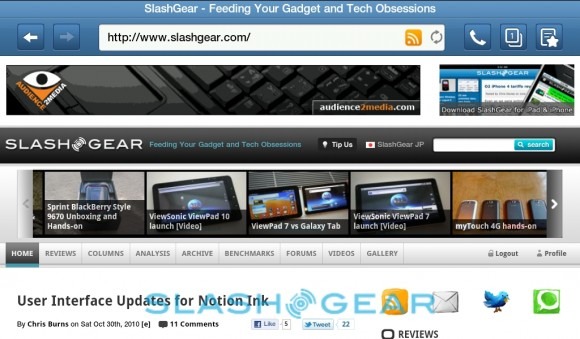 Flash is a contentious topic these days, but we still feel we'd rather have the choice to use it or not, rather than being outright told we can't. The Tab will throw up a warning message if video content has not been optimized for mobile viewing, though we still found that most clips would still play (albeit with a few dropped frames along the way). Games, meanwhile, were in part dependent on the UI their designers had anticipated, but that proved the only shortcoming. We also tried Flash-heavy site FlashEarth.com and had no issues panning the map, zooming and generally exploring.
Our main complaint about the browser is the absence of User Agent ID control, which leaves many sites defaulting to their mobile version rather than the desktop site which the Tab is quite capable of handling. Usually, though, there's an option to switch to the full version on a per-site basis; another alternative is to use the third-party Dolphin browser, available through the Android Market.
Android Market
While Android as a platform is broadly available for manufacturers to use, Google has been stricter with access to its Android Market download store. Simply by having official Market support, the Galaxy Tab differentiates itself from a sea of rival Android slates branded and otherwise. Google now claims over 100,000 titles on offer – with a roughly 50/50 split between free and paid – so that's a significant benefit.
Matters are complicated by the Galaxy Tab's larger-than-average screen resolution and titles designed for WVGA displays at most, a problem faced by the iPad when it first launched. As Apple did, Samsung's approach is to enlarge apps to suit the display, and in general it works well. Twitter app Seesmic, digital note-taking app Evernote, popular game Angry Birds, Amazon's Kindle app, Facebook, Skype and Spotify all "zoomed" to suit the larger display, with no noticeable artefacts or jagged edges. Some apps will have more issues, and then – as on the iPad – simply run in their native resolution in the center of the Tab's screen.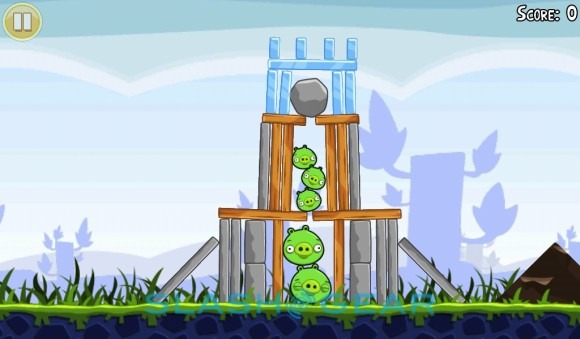 There's a difference, though, between an app running and an app running well. The 1GHz CPU is certainly capable of keeping the Tab multitasking nicely, but – as we've seen with the custom Samsung calendar, mail and contacts apps – the difference between software designed for a smartphone and software intended for a bigger screen is primarily one of how best to use the pixels on offer. The iPad has a time advantage in tablet-centric third party software, but we're expecting Android platform developers will soon be looking to making their apps more appropriate for tablet-scale devices, if they aren't already.
Camera
Samsung has given the Galaxy Tab two cameras, a primary 3-megapixel autofocus unit on the back, paired with an LED flash, and a 1.3-megapixel camera above the slate's display, intended for video calls. The camera app itself is pretty standard fare, with buttons for shooting mode, scenes, flash on/off/auto, exposure and settings running down the left side of the display, and a camera/camcorder mode toggle, shutter release button and gallery shortcut on the right side. Icons along the top of the display show image/video resolution, GPS status (if the optional geotagging is switched on), number of shots left, where they're being stored (to the Tab's internal memory or to microSD) and battery status.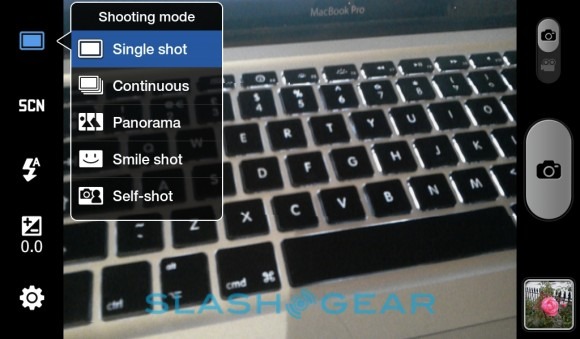 For photography, five shooting modes are on offer (single, continuous, panorama, smile shot and self-shot, the latter flipping to the front-facing camera) and five scene modes (portrait, landscape, night, sports and off). From the settings menu it's possible to change white balance (auto, daylight, cloudy, incandescent and fluorescent), effects (normal, negative, black & white and sepia), ISO (auto, 100, 200 and 400) and image quality (normal, fine and superfine). The main camera can shoot up to 2048 x 1536 stills.
As for video, there are unsurprisingly fewer options, with a choice of limiting recording length to suit MMS messages, no scenes, manual control over the LED flash (which works as a camera light), and exposure. There are also the same white balance and effects options as for images, and a toggle for audio recording. The main camera can shoot up to 720 x 480 30fps footage; it's not possible to flip to the front-facing lens and record video from the secondary camera, at least with the Tab's regular app.
Image quality is unsurprisingly less impressive than, say, the output from Samsung's recent line of Android smartphones, which generally get 5-megapixel sensors. The primary shortcoming is detail, with color balance and exposure generally good. As with all LED flash units, there's a relatively narrow sweet-spot outside of which subjects are either overblown or hopelessly under-illuminated. There's also no touch-focus support, and we couldn't get as close to subjects for macro shots as we would've liked. Video, meanwhile, lacks the detail of 720p content, but the reasonable 30fps rate means there's not too much blur in fast moving subjects. Still, the Tab isn't going to replace a point-and-shoot camcorder.
Samsung Galaxy Tab video sample:
Plug the Galaxy Tab into a PC or Mac and you can browse its content as you would a regular external drive; you have to set it to Mass Storage mode first, however, as it defaults to working with Samsung's own Kies app (PC-only) out of the box. Alternatively you can set the Tab to save recorded content to microSD, and use the memory card in a standalone card reader.
Multimedia
Samsung's excellent LCD panel comes into its own with multimedia playback, and while it lacks the superlative blacks and zinging colors of a Super AMOLED screen, it's still among the better LCDs we've used. The company has modified the standard music and video apps, again to suit the larger screen, and they're generally good.
If you're a PC user, you can rely on Kies to manage the media content on the Tab; alternatively it's straightforward to drag files over in Mass Storage mode. Alternatively, our European Galaxy Tab has a music download store preloaded, courtesy of 7digital, which offers primarily DRM-free MP3 files, though you can also download Amazon's MP3 store from the Android market. The slate re-indexes content when disconnected, which took only seconds. The music app can show songs by title, playlist, album, artist and genre by default (composer and year are optional, and you can hide any category you don't use), and supports album art if present; tapping the search button allows you to quickly dig through all tracks. A long-press on any one track gives options for adding it to favorites, sharing it in the usual Android manner, deleting it or setting it as the voice call, video call or specific-caller ringtone, or as the default alarm tone.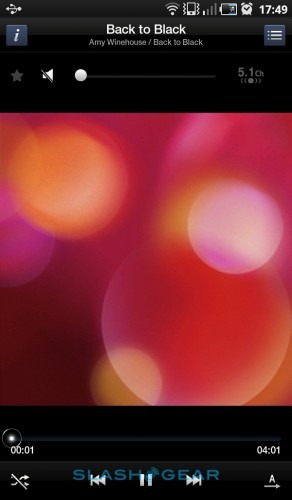 Playback buttons appear in the track browser when a track is selected, or you can stick with the regular now-playing screen that shows huge album art, control buttons, volume, optional track info, shuffle and repeat mode. Swiping across the screen skips tracks. There are various equaliser modes and sound enhancements, but no option to automatically download missing album art. If you leave the music app during playback, a shortcut is automatically added to the drop-down notification menu (complete with the name of the currently playing track).
Audio quality is strong, both from the regular headphones socket and, surprisingly, the Tab's stereo speakers. These fall short in left and right channel separation, given their close proximity, but manage to sound reasonably full-bodied despite their small size.
As for video, it shows content by individual title, those recorded with the Galaxy Tab's own camera, and sorted into folders, useful if you've a collection of individual TV episodes. MP4, WMV, DivX, Xvid, H.263 and H.264 files are supported, at up to 1080p resolution, though there's no on-device way to purchase content on the European model. The North American versions of the Tab will have access to movie and TV rentals and purchases through Samsung's Media Hub app. Video quality is excellent, with broad viewing angles and bright colors; all we missed was a kick-stand on the back to prop the Tab up during playback, though its relatively light weight (in comparison to the iPad) meant holding it was less of a chore.
Alternatively, there are a number of external output options on offer. Samsung's AllShare app is preloaded, making DLNA wireless streaming over WiFi straightforward; it's bi-directional as well, so as well as sending content from the Galaxy Tab to your WiFi-enabled TV or set-top box, you can access photos, music and video stored on a network server or shared PC and play them on the tablet. Samsung also offer a number of accessories for directly hooking up a TV; there's a composite TV Out cable (which doesn't support HD resolutions) and a more comprehensive Multimedia Desk Dock with HDMI, a 3.5mm speaker output for audio playback, and a power connector to recharge the Tab. Unfortunately neither was available in time for this review.
The YouTube app for Android is preloaded and works well, though updating to the newer version in the Android Market had even better results. Playback at maximum resolution is smooth and clear.
Phone & Video Calls
The phone abilities of the Galaxy Tab obviously depend on which regional variant you have. North American versions on Verizon, Sprint, AT&T, T-Mobile and others lack voice call functionality, and are limited to data and SMS/MMS messaging; in contrast, the European Galaxy Tab can be used as a regular phone, albeit with a caveat or two.
The dialler is just another tab in the Contacts app, and shows a shortcut list of any numbers you've set as favorites as well as the usual numeric keypad. Since 3G video calls are supported there are actually two dial buttons, the regular voice call key and a video call key. If you've installed a third-party VoIP app – such as Skype or Google Voice – Android will offer you the usual choice of calling routes when you hit dial.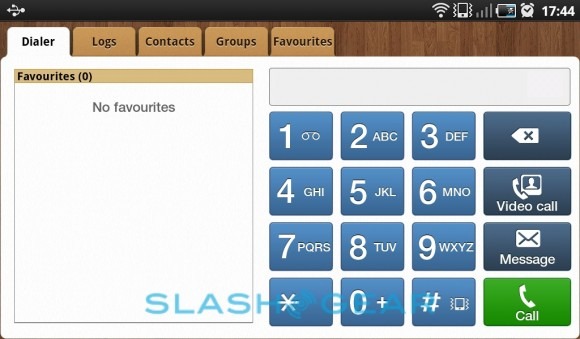 Samsung has obviously decided that holding the Galaxy Tab to your face is unlikely to be the way users want to make calls, and so there's only a speakerphone option, no regular earpiece. As with music it's loud and full-bodied. Alternatively, you can plug in the (bundled) stereo headset for more privacy, or pair a Bluetooth headset; we had no problems using either option. If you don't already have a Bluetooth headset, Samsung have an unusual Bluetooth stylus which not only works with the Galaxy Tab's capacitive touchscreen but also works as a phone handset with an earpiece and microphone. It supports Bluetooth multipoint, too, meaning you can have two simultaneous connections at one time: your Tab, for instance, and another cellphone or laptop.
Unfortunately, it's not currently possible to make full use of the front-facing camera for app-based video calls. Qik apparently intend to have an updated version of their app with support for video calls ready for the debut of the T-Mobile USA Galaxy Tab; the current version only offers real-time video streaming. Meanwhile we were able to initiate a Fring video call between the Galaxy Tab and a Galaxy S, but the in-call UI was mangled on the Tab and it wouldn't send video.
Skype, meanwhile, worked for VoIP calls but there's still no Android video support. In short, until Qik release their app (and Fring update theirs) video calls on the Galaxy Tab lack the simplicity of FaceTime, support for which is expected to be added to the second-gen iPad predicted for 2011.
As with other Android 2.2 devices, it's possible to turn the Galaxy Tab into a 3G hotspot, sharing the slate's cellular data connection with up to five WiFi-connected devices (such as netbooks and notebooks). There's also USB tethering support. US carriers will likely charge extra for this functionality, though with our unlocked European Tab we were able to turn on the capability with a regular SIM.
Battery & Portability
The non-accessible battery in the Galaxy Tab is a 4,000mAh unit good, Samsung claim, for up to seven hours of solid video playback. According to Android's native battery meters, the display is unsurprisingly the greediest element of the slate; hence, we're assuming, the relatively low default auto-brightness. With a mixture of use – media playback, browsing, push email turned on, some camera use and both 3G and WiFi enabled – the Tab was still claiming around 50-percent battery left at the end of the day; standby, meanwhile, is on the frugal side too. It won't last as long as an iPad, which has a significantly larger battery, but then the Tab is half the size overall, too.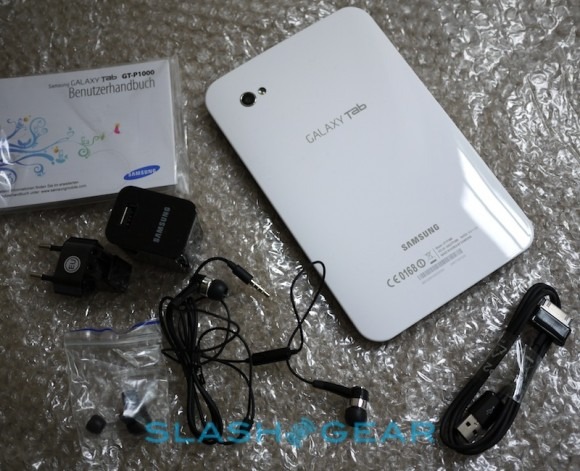 Like with the iPad, Samsung supply a heavy duty AC adapter with the Galaxy Tab, rated at 10W rather than a regular 5W PSU you'd normally see with a cellphone. That does mean charging the Tab from a regular USB adapter or port takes longer than from the supplied adapter.
In terms of size, the paperback-scale Galaxy Tab will fit into the front pocket of our (non-hipster-tight) jeans with the top corner still visible. It's also narrow enough to fit into the inside pocket of an average jacket. Handbags or small messenger bags will have no trouble accommodating it whatsoever. The non-voice-enabled North American versions fall somewhere in-between phone and tablet, however, seeing as most people will still want to carry a cellphone of some sort. Nonetheless, the Samsung is definitely more portable than the iPad.
Accessories
Samsung has a range of official accessories for the Galaxy Tab, a side-effect being that you don't get much in the box with the slate itself: a power adapter, USB sync cable, stereo headset and some printed documentation. We'd like to have seen a case or pouch of some sort, at the least.
There are three official cases – a slip case and a leather Filofax-style wallet, together with a "Diary Carry Case" that also props the Tab up at an angle, like the iPad's folio case – as well as screen protectors, in addition to a keyboard dock with full QWERTY, a power port and 3.5mm headphones socket. There'll also be a vehicle dock, for using the Galaxy Tab as a PND.
Wrap-Up
Listen to Steve Jobs and you'd automatically discount the Galaxy Tab as simply too small for a tablet; the Apple CEO is convinced 9.7-inches is the optimal size for a usable slate. Our time with the Tab suggests otherwise. Its 7-inch display may offer only half the usable area of the iPad, but the high resolution and responsive, accurate capacitive touchscreen add up to a user experience that's significantly better than a regular smartphone for browsing, multimedia and – thanks in no small part to Samsung's custom apps – messaging.
You also get more flexible hardware, with two cameras, voice-call support in the European Tab, HDMI connectivity with an optional dock, and a form-factor that's more portable, without a significant impact on usability or battery life. The value of Samsung's own apps can't be understated, however; they're what lift Android 2.2 on the Galaxy Tab from being an oversized phone to a proper tablet. Right now, third-party titles don't have that same polish, but given Google, carriers and OEMs alike are looking to bigger screens we imagine developers will be up to speed with them sooner rather than later.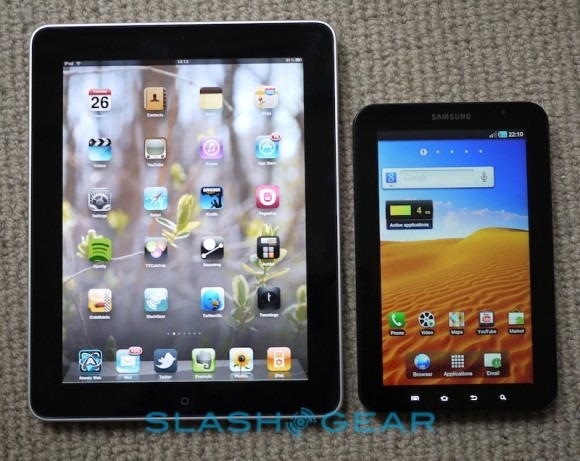 Price, then, may be the most contentious aspect of the Galaxy Tab, and early hopes that Samsung would significantly undercut the iPad have been disappointed. In the UK, various vendors are offering the Tab at around £530; there's little in the way of subsidies right now, with most carriers instead pushing contract-free month to month data plans instead. In the US, Sprint and T-Mobile will offer the Tab at $400 with a new, two-year data plan, while Verizon is asking $600 with no minimum agreement; AT&T is yet to confirm pricing. A WiFi-only version, the GT-P1010, is also on the way, and though official pricing is yet to be confirmed, it's expected to cost around $500.
It's certainly not cheap, then, and on paper other Android slates look far more competitive; however, they also lack the Galaxy Tab's various refinements. Samsung has confirmed that multiple Tab variants are in the pipeline, with larger and smaller displays and some with higher resolution cameras: this first model is merely the leading edge of a significant push into the slate market. Their investment in software customization will act as a significant differentiator when it comes to usability, just like having official Android Market access adds to the Galaxy Tab's appeal.
There'll be plenty of people left unconvinced by the first Galaxy Tab, but Samsung seems willing to pick off different user groups with different models along the way. If the iPad's iTunes dependence, the controlled nature of the iOS ecosystem and the Apple slate's sheer size have put you off, Android's relative openness and the Tab's relative scale are highly appealing. Perhaps most telling, with both the iPad and the Galaxy Tab on the table, we found ourselves reaching for the Samsung for quickly checking email and browsing. That might change once iOS 4.2 is released for the iPad – early reports are certainly glowing – but for now the Apple behemoth has some serious competition.