Verizon Galaxy Tab Review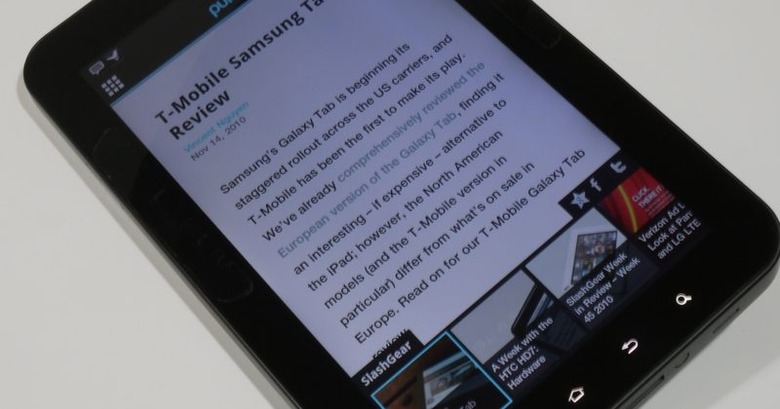 You can't accuse Samsung of lacking ambition with their recent mobile device launches. After pushing out versions of the Galaxy S across all the major US carriers, they're doing the same with the Samsung Galaxy Tab. We've already looked at the original European and T-Mobile USA versions of the 7-inch Froyo slate; now it's the Verizon Wireless model on the SlashGear test bench. Read on for the full review.
Hardware
Compared to the European and T-Mobile versions of the Galaxy Tab which we've already reviewed, the Verizon model marks the most significant hardware changes. Even then, they're relatively minor, though enough to boost the Verizon Tab into pole position when it comes to everyday use.
Out goes the UMTS/WCDMA modem, replaced by a CDMA/EVDO Rev.A modem for data and messaging use on Verizon's network. The relative benefits of CDMA and GSM service are well-argued; most important is whether your carrier of choice has coverage in the areas you'll be looking to use the Tab. We've not noticed any specific differences in data performance between the T-Mobile and Verizon Tabs.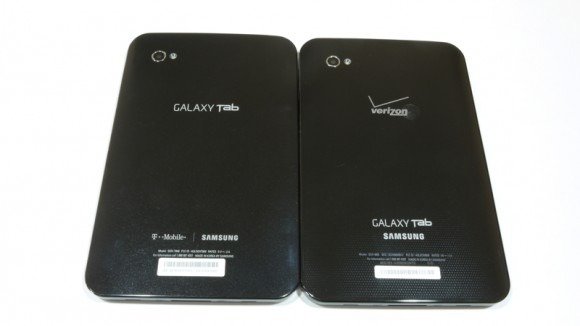 Unfortunately, it does somewhat limit the Galaxy Tab's mobility, since the Verizon version isn't one of the carrier's "Global" devices with both CDMA and UMTS/WCDMA connectivity for use abroad. Worth bearing in mind if you're looking to the Tab as a netbook replacement for European travel. It's also not voice enabled, like the other North American models but unlike the European Galaxy Tab. We've already seen a hack to enable voice functionality on the T-Mobile Tab – which requires a different SIM to the data-only card the carrier provides – but unlocking voice calls on the Verizon version may be trickier. So far we don't know which modem has been included, and enabling the functionality will also depend on convincing Verizon customer support to activate voice service on the line.
The better changes, however, are in the Tab's physical design. The hardware is still ostensibly the same – a 7.48 x 4.74 x 0.47 inch slate weighing 13.58 ounces – but Verizon has given their Tab a more textured back-panel which left us more confident gripping the tablet. The regular Galaxy Tab's gloss finish is surprisingly slippery. We also added a couple of self-adhesive textured pads, on the left and right of the tablet, which made a significant difference.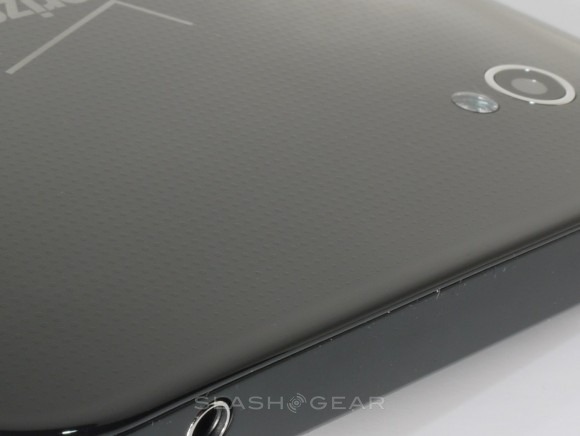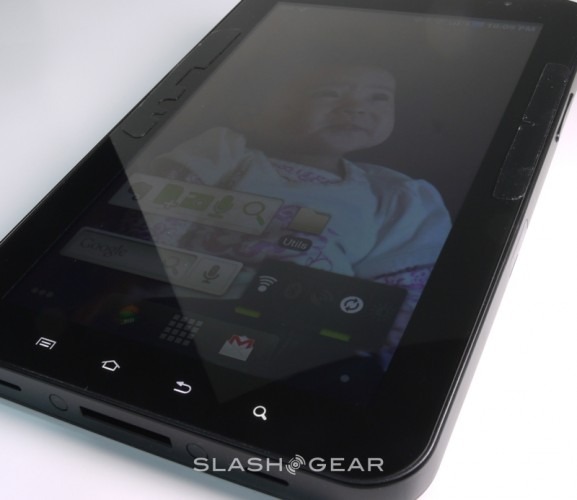 Otherwise, the Verizon Galaxy Tab uses the same 7-inch 1024 x 600 LCD TFT display with a capacitive touchscreen, 1GHz Samsung Hummingbird processor, microSD card slot, 3-megapixel rear camera with autofocus and LED flash, and 1.3-megapixel front-facing webcam. Connectivity includes 3G, WiFi b/g/n and Bluetooth 3.0, along with a PDMI port for charging and synchronizing; unfortunately there's no microUSB port. For full details on the Galaxy Tab's hardware, check out our original review.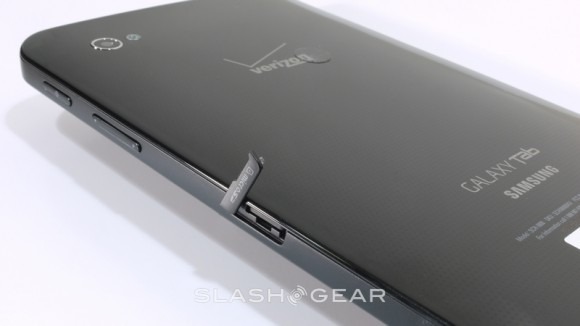 Software
The overall Galaxy Tab experience is pretty much the same as from the original European version that we tested; rather than retread old ground, we'll point you in the direction of that original review. As with T-Mobile, Verizon has attempted to differentiate its Galaxy Tab using various preloaded applications. Unfortunately, the one app we'd like to have seen – the carrier's custom Skype software – is missing; you can download the regular Skype app from the Android Market, but that only allows WiFi VoIP calls in the US, whereas the custom app supports 3G calls. It seems Verizon really isn't keen on Galaxy Tab users replacing their existing phones with the Froyo slate, though Google Voice runs over 3G and works well.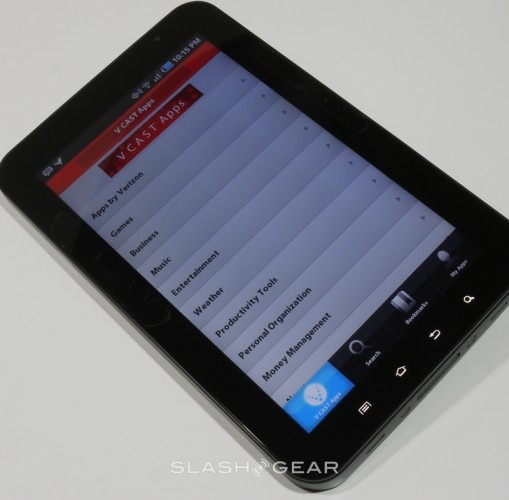 What you do get is VZ Navigator, V CAST Music and V CAST APPS, the latter being Verizon's own app store. That joins the Galaxy Tab's regular Android Market access, together with Samsung's own (sparsely filled) software download store. There's a demo of the V CAST APPS store in the video above, along with V CAST MUSIC ($9.99 per month); the latter is certainly easier to use than Samsung's own Media Hub app, which currently has a relatively limited selection of audio and video to download. So far Apple still has the upper hand when it comes to on-device media downloads, though Verizon loading Blockbuster On Demand and Slacker Radio do fill in the gaps a little, if you prefer streaming content.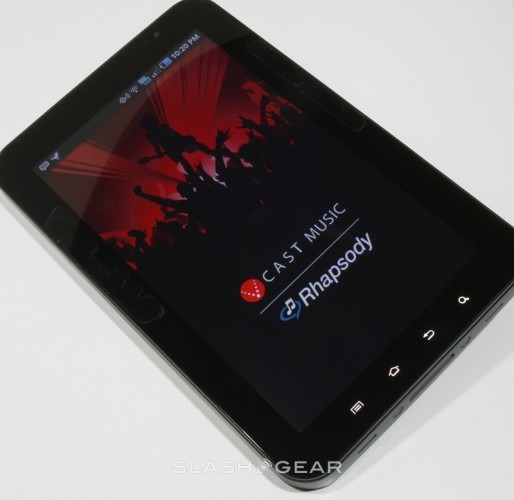 VZ Navigator works well on the large screen, though for most people Google Maps Navigator will be sufficient (and has the benefit of being free versus VZ Navigator's $9.99 per month subscription). The integrated digital compass supports Street View panning, which is an eye-catching way to show off the Tab's abilities. ThinkFree Office is also loaded, complete with a PDF viewer, and Verizon has changed Samsung's custom on-screen keyboard to a (very similar) layout of their own. You still get Swype as an option, however.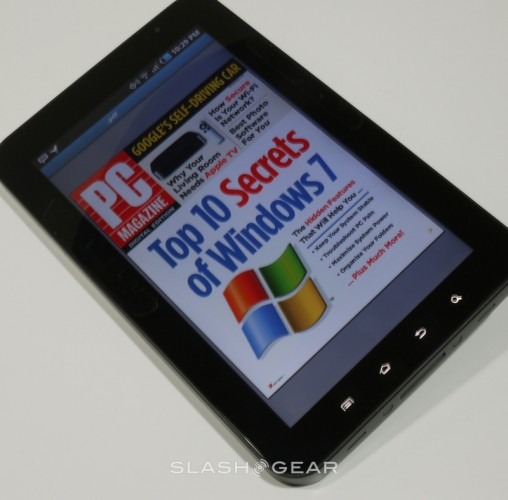 The grippier casing comes into its own when you're using the Galaxy Tab for ebook reading, and indeed Verizon preinstall Amazon's Kindle app which works well on the 7-inch display. At 1024 x 600 across a smaller panel than the iPad's 1024 x 768 resolution, the Samsung actually has a higher pixel density; that adds up to crisper text. The Tab is also light enough to comfortably hold one-handed above your head, such as when lying in bed, whereas the metal and glass iPad soon gets tiring.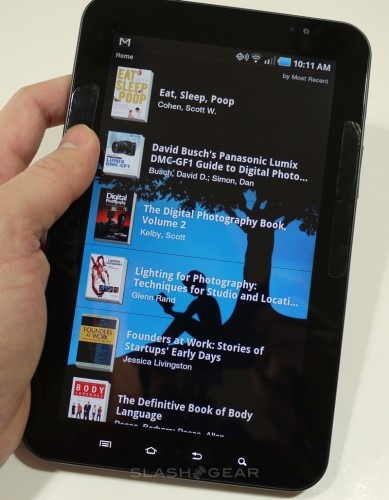 Verizon's Galaxy Tab isn't cheap – it's $599.99 with no subsidy option – but you're also not getting locked into a minimum agreement. There are two month-to-month data plans on offer, priced at $20 for 1GB of data per month, or $35 for 3GB. That's cheaper than T-Mobile's data options, but does not include their unlimited messaging; instead you can pay per SMS/MMS message sent/received, or for a bundle (250 messages for $5; 500 messages for $10; or 5000 messages for $20 per month). There's no extra charge for using Froyo's mobile hotspot functionality, either, letting you share the Galaxy Tab's 3G connection with up to five WiFi-connected devices, though their data use still comes out of your allowance.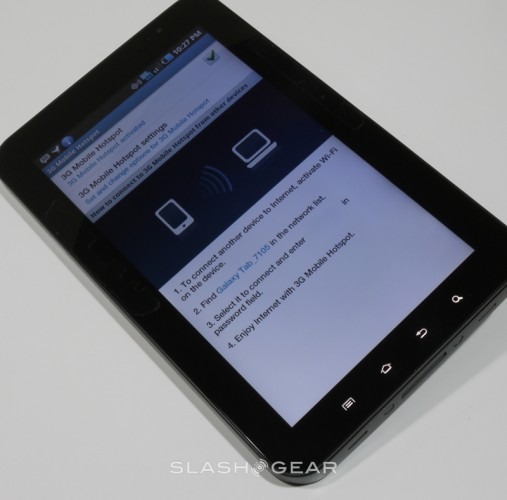 Wrap-Up
It's ironic but, for all Verizon's work on custom apps, it's the textured casing that makes the biggest difference to day to day use of their Galaxy Tab. A slightly more reassuring in-hand feel left us feeling far happier grabbing the Tab and using it for casual reading; of course, that's something which a silicon case could address on other versions of the slate, or indeed some self-adhesive pads as we applied.
The same Galaxy Tab frustrations still remain from the T-Mobile version, the lack of official voice support being top of our list. We're a little less confident in hacks for the Verizon version opening that up, however, though VoIP support remains good. Verizon could score a significant win over its carrier rivals by allowing the Skype 3G app for use on the Tab; it seems, however, that the fear of users downsizing to a single device is too great for that to happen.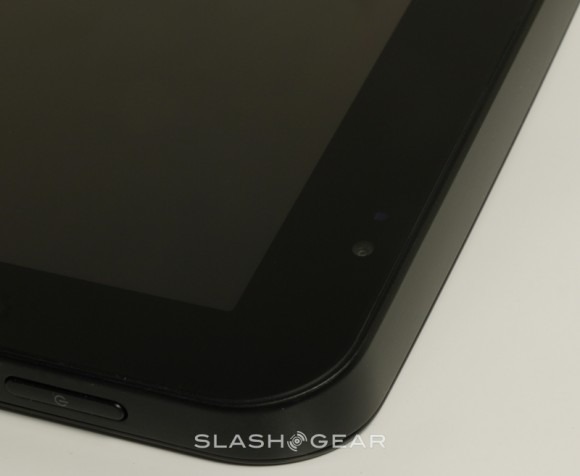 Data costs are less than T-Mobile charges – albeit for 2GB less on the more expensive plan – though if you're a frequent text message user the bundle fees will likely outweigh any difference. Unlike T-Mobile's $399.99 Tab with a two-year agreement, Verizon isn't offering any subsidy; that makes the $599.99 slate more expensive upfront, but cheaper in the long-term and with more flexibility in opting for mobile data. Unfortunately managing a data plan on the Verizon Tab isn't quite as straightforward as on the iPad WiFi + 3G with its AT&T control panel.
The longer we spend with the Galaxy Tab, the more we find ourselves using it. That, perhaps, is the definition of a companion device – something which gradually works its way into your daily life, becoming your go-to gadget for ereader, browsing or messaging. It's still a relatively narrow niche, and there's undoubtedly plenty of competition from Apple's iPad, but if Google's is your OS of choice, the Samsung Galaxy Tab remains the best 7-inch Android tablet around.
Verizon Galaxy Tab unboxing & hands-on:
[vms def21792e6d8e590244e]