Apple iPad Review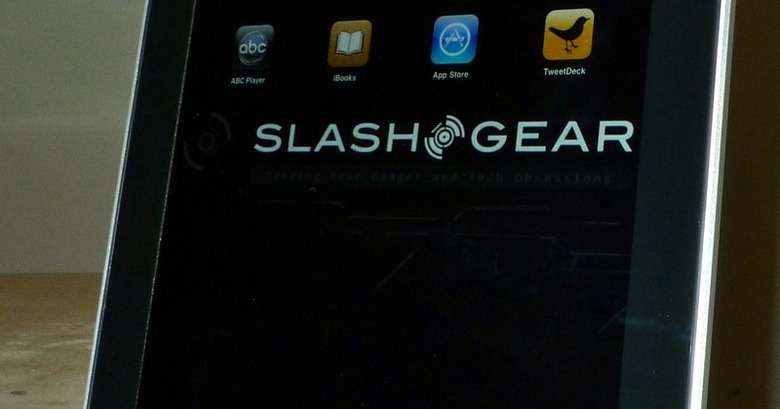 The Apple iPad is here, and if ever there was a contentious gadget, this is it. We met with Apple this past week to pick up one of a few iPads let out into the wild early, and have been playing with it ever since. Already the subject of countless discussions, arguments and parodies – not least because of what it doesn't do rather than what it's actually capable of – there's also a grudging expectation that, if anyone can make tablets wildly popular, it's probably Apple. So, does the iPad live up to its promise, or is this really just an oversized iPod touch too big (and too expensive) for your pocket? Check out the full SlashGear review after the cut.
We're a long way from the days where Apple included half the accessories you might ever need in the box with your new gadget. In with the iPad there's a USB to Dock Connector cable, an AC adapter that plugs directly into a mains socket, and some sparse documentation. Most conspicuously absent are Apple's regulation white headphones, which even the lowliest iPod is bundled with, though given their mediocre quality they would've been the first thing we'd suggested replacing anyway.
The iPad itself takes the design concept of a slate and boils it down to pretty much the bare minimum. Measuring 9.56 x 7.47 x 0.50 inches and tipping the scales at 1.5 pounds, the front is basically all glass and the back all brushed aluminum. Apple has always been for paring down ports and hardware controls, but the iPad is perhaps a new extreme. Up top there's a 3.5mm headphones jack, a discrete microphone hold and the power/lock button, while the volume rocker and a switch to freeze automatic screen rotation are on the right edge. The small speaker and standard 30-pin proprietary Dock Connector are underneath, while an ambient light sensor lurks almost invisible under the glass fascia.
That means no USB ports, no HDMI and no memory card slot, all well worked-over by Apple's fans and critics since the iPad's specifications were first confirmed. Similarly critiqued has been the roughly 1-inch black bezel surrounding the 9.7-inch, 1,024 x 768 capacitive touchscreen, with plenty of questions as to why Apple didn't opt for an edge-to-edge display. The answer – as any slate-format tablet user has been saying, and as becomes plainly clear once you actually have the iPad in your hands – is that it gives you a place to actually grab and hold the iPad, without your fingers accidentally touching the edge of the screen.
As for the screen itself, it's surprisingly bright and color-rich. We're used to manufacturers ratcheting up the default brightness to nigh on 100-percent to ensure a glowing first impression when you first power on, but the iPad actually settles on just 50-percent and is still ample. It's also great for collaborative sharing, thanks to Apple's use of an IPS (In-Plane Switching) panel which supports viewing angles of up to 178-degrees. In practice, graphics are readily watchable even when looking at the iPad askance.
Durability is an obvious concern, though the glass display feels tough and resilient to scratches. It also has an oleophobic coating, like the iPhone, which means that while it will collect fingerprints just as well as any frequently touched glass panel, they can be wiped off more readily. Still, the sheer size of the iPad over the iPhone means it's a little trickier to quickly wipe it on your sleeve. The rest of the aluminum-clad casing seems similarly sturdy, though it's so endearingly slim and well engineered that even the mildest of scratches could prove disappointing. Since there's no case in the box – not even a cheap fabric sleeve as many gadgets are packaged in for shipping – we imagine most iPad owners will want to coddle their tablet in either Apple's case or a third-party example.
Power on, and the experience is instantly familiar to anybody who has used an iPhone or iPod touch. The homescreen is laid out in the usual grid of icons, with eleven possible panes that can be flipped between with a finger-swipe, and four fixed icons at the bottom. It seems a missed opportunity not to have re-examined the desktop paradigm when faced with a new, larger display; we can't help but think that dashboard-style widgets would look great (and provide handy at-a-glance information) on the iPad's homescreen.
Still, you can't complain about the speed at which navigation takes place. Apple has been coy about the iPad's hardware specifications, only confirming that it uses their own custom 1GHz A4 chipset with a PowerVR SGX GPU. The latter is of the same family, certainly, as found in the latest-gen iPhone 3GS and iPod touch, but without specific model numbers it's unclear whether the iPad packs the same or improved graphics performance. Shake away our geeky need for hard facts and instead looking at how the iPad actually holds up to daily use, though, and there's little to disappoint. Homescreen panes flip with zero lag, apps open instantly and pop-up menus – which iPhone OS 3.2, currently exclusive to the iPad, makes increased use of rather than shuttling you between settings and menu screens – leap up beneath your fingertip. There's no waiting around, tapping on an app and then counting the seconds before it's ready for use as you can often find on low-powered netbooks. Undoubtedly this is in no small part down to the absence of multitasking – more on which later – which means the processor is really only ever asked to do one thing at a time.
Connectivity, meanwhile, includes WiFi b/g/n and Bluetooth 2.1+EDR as standard. The latter supports the A2DP profile, for using wireless stereo headphones or speakers, together with certain HID profiles; you can, for instance, use a Bluetooth keyboard, such as Apple's own, but not a Bluetooth mouse. As of late April, select iPads will also offer integrated 3G connectivity, for use on AT&T's network in the US. A $130 option on top of the standard $499, $599 or $699 iPad price (for the 16GB, 32GB or 64GB models respectively), the 3G chip also comes with A-GPS support. Unlike an iPhone 3GS contract in the US, however, which demands a two-year agreement with AT&T, Apple has negotiated a far more flexible data plan. Contract-free, there'll be a choice of 250MB of data allowance per month for $14.99, or unlimited data (with, of course, a fair-use policy) for $29.99. Best of all, these are both managed from the iPad itself, rather than demanding you speak to AT&T: you can choose to enable 3G for one month and then deactivate it the next.
Twelve applications are preloaded onto the iPad, and at first glance there's nothing out of the ordinary for the Apple-familiar. Calendar, Contacts, Notes, Maps, Videos, YouTube, iTunes, App Store, Safari, Mail, Photos and iPod all make an appearance, and as usual you can reorder their icons on the homescreen by tapping and holding. Happily, none have gone without some iPad updating for iPhone OS 3.2, primarily to make best use of the screen real estate on offer.
A good example is Mail, which now looks more like a desktop email client than the iPhone version. The screen is split into two columns, with the familiar list of emails (showing read status, sender, date/time, subject, a brief excerpt from the body text and whether or not there's an attachment) on the left and a preview pane on the right. Attachments like photos are shown in-line with the open message, and a row of icons along the top right hand side allow you to delete or reply to a message, or to start a blank one. As on the iPhone, tapping a name brings up contextual options such as replying to them or viewing their Contacts entry, but you can also easily save attachments in the same way, which are automatically organized according to file type. Images, for instance, are slotted into the Photos gallery.
In fact, integration between the Mail client and other apps on the iPad is particularly slick. If you have one or more of the titles from the newly offered iWork suite – Pages, Numbers or Keynote, for documents, spreadsheets or presentations, respectively – then the iPad can automatically convert, say, Microsoft Word files to the Pages format. We had mixed results with conversion, generally depending on the complexity of the formatting in the original file; most simple documents opened without issues, though. From Pages, meanwhile, it's also straightforward to send a file – either newly created on the iPad, or one which you've been emailed and have edited – via Mail, including converting it to the more common Word format along the way.
Like on the iPhone, Mail supports Microsoft Exchange, MobileMe, Gmail, and Yahoo! Mail and AOL accounts with easy wizards for setup. You can also manually add POP/IMAP account details separately. Unfortunately, only one Exchange account can be used at a time, which means you can't have, say, your company Exchange messages come through via push together with push Gmail messages, since the latter uses an Exchange gateway. Given how easy the Mail app makes triaging even hectic email accounts, we found that to be more of a frustration than it is on Apple's smartphone.
iPhone email replies can generally be quite terse, the "Sent from my iPhone" footer shorthand for "typing on an on-screen phone keyboard isn't conducive to lengthy messages." We were keen to see, then, how Apple's iPad onscreen 'board might hold up. It's a mixed bag, to be fair; in portrait mode, the keys are relatively cramped – though still usable – and more suited to either two-finger pecking or holding the iPad with one hand and stabbing with the other. Landscape mode is easier, though touch-typists will obviously miss the tactile feedback of a true keyboard. The experience would be far worse without Apple's well-esteemed auto-correction, which – as on the iPhone before it – suggests words, corrects spelling mistakes and automatically slots in common punctuation, learning new words as it goes along. For longer bouts of text entry, though, we'd reach for either Apple's iPad Keyboard Dock, which is more on a scale with their regular desktop 'board, or a Bluetooth alternative. No USB port means no wired keyboard connectivity, and it's worth noting that you can't plug in a printer either, should you want a hard copy of something.
If email is newly streamlined on the iPad, then Internet browsing takes a real leap over the already-decent mobile Safari experience. The iPad's browser is fast, responsive and, frankly, one of the best aspects of the whole tablet experience. Multitouch gestures, like pinch-zoom, are supported, along with intelligent rendering – which automatically scales columns of text or photos to fit the screen – and a satisfying lick of speed. Rotate from portrait to landscape and it's an instant change, and in fact the iPad will flip around all four positions; flip the tablet end-over-end to show something to the person sitting opposite, for instance, and they'll see it at the correct orientation.
As has been well-rehearsed in the run-up to launch, Safari on the iPad lacks Flash support for streaming video and animations, and – given Apple have failed to approve it for all three generations of iPhone – it doesn't look likely to arrive any time soon, if at all. Similarly frustrating is the absence of tabbed browsing, something that maybe makes sense on a smaller-screen device but less so on the iPad. Instead, you have to hit the window button and choose from a page of thumbnails (or tap the X on each to close them). The browser Homescreen, onto which – like Safari on the desktop – echoes that layout you can pin shortcuts to commonly visited sites.
What you get instead of Flash is HTML5 support, and if you're not quite sure what that means then you're not alone. Currently in working draft status, HTML5 takes the core HTML language with which the web is written and – boiled down for our purposes here – introduces new, standardized audio and video functionality. What that means is that sites compliant with HTML5 can deliver streaming audio and video to the iPad's mobile Safari browser, pretty much indistinguishable from their Flash equivalents from the user's perspective. Of course, it also demands that websites support the new language, which puts HTML5 at a disadvantage compared to the semi-ubiquitous Flash. Apple's continued dominance and the presumed success not only of the iPad but also of the next generation iPhone, though, are doing wonders in driving content providers to at least consider HTML5, but right now there are still plenty of empty gaps in websites.
Maps should feel just like Google Maps on a desktop computer – the same experience stretched over a bigger display – but there's something far more intuitive about being able to put the iPad in your lap and pore over it as if it was a paper map. There's a lot less swiping around than on the iPhone version, simply because you can see more of the map at any one time. Standard, satellite and terrain cartography are available, together with Google Street View (which can be navigated using the integrated digital compass), and all the usual search features are present. Since A-GPS won't be available until the WiFi + 3G iPad models later in the month, the WiFi-only iPads use WiFi triangulation to figure out their position, just like the first-generation iPhone. We can't help but wish Apple had included a GPS chip in every model, though the basic triangulation does work reasonably well (in more urban environments, anyway).
Media consumption is definitely high on the iPad's list of priorities, with the various types of content split across Photos, iPod and Videos. Each uses the same initial grid layout for browsing through content: in Photos, different albums are presented as stacks of photos, on which you can tap or pinch-zoom to open up the individual images, while in iPod and Videos there are thumbnails of album art or DVD covers. A somewhat curious omission is Cover Flow, sweeping through which we would've thought made ideal sense for the iPad's expansive touchscreen. Still, you can browse music by playlist, genre, Genius mix or by artist/album, while video content is split into movies, TV shows, music videos and more.
Like iPhoto on OS X, Photos on the iPad has the same search options: Events, Faces and Places. You can organize images by whereabouts they were taken – including viewing them on a map – or, via face recognition, pick out only those shots in which certain people feature. Slideshows are easy to establish – complete with an optional audio soundtrack – and Apple envisage the iPad being used as a digital photo frame; in fact, the optional iPad Keyboard Dock has a shortcut button to activate that mode.
In the iPod app, everything from your desktop iTunes – including playlists, Genius mixes and playlists, and all the content itself – is synced straight across, with the same sort of split-screen interface. Just as on an iPod touch, once you start playing an album the screen is filled by the related cover art, which you can tap to call up the tracklist. Audio playback through the small, integrated speaker is surprisingly strong, though it unsurprisingly lacks any real bass or mid/treble definition. Most of the time, though, we plugged in some headphones (or hook up a pair of Bluetooth headphones); the sound was hiss-free and nicely balanced. Various EQ presets are available, though there's no user-customization. Supported file types include AAC (including DRM tracks from the iTunes store, which is also accessible directly from the iPad), MP3, MP3 VBR, Audible, Apple lossless, AIFF and WAV, though we can imagine the absence of lossless FLAC may be a frustration to some.
Switch to Video, meanwhile, and the iPad's display really comes alive. Where the iPod functionality arguably doesn't especially benefit from the larger screen, there's a tangible benefit from having all those extra inches (and pixels) above and beyond, say, an iPod touch. The iPad falls short of true 720p HD (1,280 x 720) resolution, which means content in that format – such as HD movies bought from iTunes – are sandwiched top and bottom with black bars. Alternatively you can tap the screen once to zoom in, losing not only those bars but also a chunk of the action on each side. Just like the latest version of QuickTime on OS X, playback controls float over the video when needed, fading out after a period of inactivity; as well as chapter skipping you can scrub through the whole clip using the timeline bar at the top.
Video supports MPEG-4, M-JPEG and H.264 content at up to 720p 30fps, and if you stump up for Apple's $29 iPad Dock Connector to VGA Adapter you can output 1,024 x 768 footage to your desktop monitor (or a flat-panel display) instead. Unfortunately there's no video editing functionality, which is a shame since whittling down home movies and throwing together clips with basic titles and transitions seems ideal for the iPad. We'd rather have an iMovie-style video-editing suite than iWork, frankly.
Apple's step into the ebook market was causing waves in the industry even before the iPad was officially announced, and so we had high hopes for the iBooks app. In contrast to the current popular ebook readers – such as Amazon's Kindle or Barnes & Noble's nook – the iPad of course has a regular LCD display, rather than an e-paper screen. The benefit is color graphics and support for video, where e-paper is currently monochrome-only and suffers too slow a refresh rate to make video possible. As ereader manufacturers insist, however, the potential drawbacks are in battery life and long-term reading comfort; E Ink panels, being non-backlit, are said to be more comfortable on the eyes than a backlit LCD screen.
In practice, while e-paper may remain the display of choice for hardcore readers, we can well see the iPad's screen winning everybody else around. Apple have given iBooks its own specific brightness control, so you can tone down the backlight and not blind yourself if you're reading in bed; it's too early to say whether the longer term experience of reading on the iPad will leave us with aching eyes. Still, the ability to view embedded color photos and video within ebooks – such as in the Winnie the Pooh story preloaded onto the tablet – is likely to be a big hit with casual readers, as is the deft touchscreen integration. Page transition animations – such as the turning leaf exactly following your finger – feel natural, and the ability to tap on a word and either bookmark it, get a dictionary definition or even look it up in Google or Wikipedia are further example of how well integrated the whole iPad ecosystem is.
Unfortunately, despite Apple's best efforts the iBooks experience still lags behind that of the Kindle in some ways. Not least is the range of titles on offer: currently there are around 60,000 ebooks available in the iBookstore, with prices typically ranging from $9.99 to $14.99. As with Amazon you can browse a summary online or download a sample containing a few teaser chapters, but unlike the established retailer the iPad is the only place you can actually consume your iBooks content. Apple are yet to release an OS X ereader app, and nor do they have an iPhone or iPod touch version (ironically, perhaps, Amazon have all three, together with a freshly announced iPad version), though we'd imagine it's more a matter of time than inclination behind that.
Also, while the iPad's 1.5 pound weight may compare well to a full-sized notebook, it's significantly heavier than a dedicated ereader like the Kindle; this is generally a two-handed reading experience, and probably not something you'd want to hold over your head while lying on your back in bed. Speaking of which, Apple's screen hold switch is particularly handy to lock the page orientation, meaning your ebook won't flip about even if you're resting one side of the iPad on your pillow. Something Amazon could learn from iBooks, meanwhile, is the app's native ePub support (as long as they're DRM-free), though you'll have to load them via an iTunes sync as the format isn't among those accepted as viable email attachments and you can't save them direct from webpages.
Apple's biggest weapon, though, is the App Store, already the most popular software distribution system for current smartphones and now gradually filling with tablet-happy titles. A significant reason for choosing iPhone OS for the iPad rather than, say, a slimmed down version of OS X was the wealth of existing third-party software for the platform; Apple reckon around 150,000 iPhone titles will be iPad compatible. Since the iPhone display runs at 480 x 320 resolution, however, regular apps are centered in the iPad's display, swimming in a sea of black. Apple have added a workaround, which in effect zooms the app to double size – and leaves it a little blurry, but functionally unimpaired – but they're encouraging developers to pick up the new platform with custom versions.
That's something developers haven't been slow to do. Apple have said there will be over 1,000 titles suited to the iPad's native resolution available on launch day (though previous leaks have put it closer to 1,300+), made up of existing apps reworked to take advantage of the extra pixels together with completely new software. Prices for these new versions vary; some companies are giving away free iPad-specific upgrades to those who bought iPhone versions, while others are being distributed free of charge. Many, though, are higher priced than their iPhone counterparts, and filling those eleven homescreen panes could be a significantly more expensive task than before.
Still, there's no doubting that the new real estate makes for – potentially – a far more immersive experience. Gaming in particular benefits well from the iPad's larger display, with racing titles whipping along nicely thanks to the 1GHz CPU, while art apps are significantly more usable. The barrage of iPad app press releases we've seen over the past seven days leave us in no doubt that the App Store isn't likely to lose its variety any time soon.
Of course, all the functionality in the world is no good if your device lacks stamina, and managing to combine battery longevity with usability has been the bugbear of rival tablets in recent years. Apple quotes 10 hours runtime from the iPad's non-user-replaceable battery pack, but early reviewers have generally found the slate is capable of exceeding that by an hour or even two. It's too early in our time with the iPad for us to make that call, so we'll be revisiting battery life after having put it through its paces a little longer.
So, it looks great, it lasts ages and there's a wealth of software available for it: what's not to love about the iPad? Apple's new products are probably among the most critiqued on the market, and it's safe to say that there are aspects in which it is lacking. Aside from the absence of Flash in the browser – which is partially made up for by the standalone YouTube app, and the support for HTML5 – perhaps the biggest frustration is the absence of a webcam and a native instant-messaging client. The iPad makes such a good media consumption device, it would be great to be able to share that experience with a persistent IM app (such as Apple's own iChat on OS X). Without the webcam, too, it means there's no provision for video calls, whether through Skype or other platforms, despite the iPad being the ideal form-factor for impromptu video conferencing.
Running close second is the absence of multitasking, though having lived with the iPad for a while we're not entirely sure how well it would work, even on this bigger display. Yes, the ability to run third-party media apps – such as Pandora or Spotify – in the background would be nice, but generally multitasking would mean two apps on-screen at the same time, and that would require such a fundamental change to the iPhone OS that it might end up feeling more like OS X. You'd gain functionality, yes, but you'd lose some usability in the process. Still, it does mean that while third-party IM apps – such as AOL's – offer text-based messaging, the absence of multitasking support means the experience isn't as elegant as it could so easily be.
Of course, there are other underlying issues that to some extent effect all Apple's products. Like the iPhone and the iPod, it's a closed ecosystem: Apple control the hardware – you rely on them to change the battery, even – and they control the software, both the iPhone OS loaded on your device and the third-party titles available through the App Store. Even if you're content living with what Apple's doormen allow through into the party, the lashings of DRM mean it can be an expensive, wasteful proposition considering jumping the Apple ship. You leave behind applications bought, songs and videos downloaded, and now – with the introduction of the iBookstore – ebooks acquired.
To be fair, that's not a prospect limited solely to Apple's customers. There are plenty of, say, Kindle owners who have spent considerable amounts on Amazon ebooks, and who won't legally be able to read them on anything other than the company's hardware or software. Still, it's something to bear in mind: the flipside, perhaps, of such a controlled, "safe" and unchallenging device.
We've a feeling, though, that such concerns may not prevent the iPad from being a sales success. Although preorders have apparently been wildly successful, this is a device that really comes alive when you pick it up and touch it: when people start walking into Apple Stores and feeling the iPad for themselves, that's when the real sales rush is likely to start. The iPhone already showed a legion of users that, just because a smartphone is smart, it doesn't have to require a degree in order to make the most of it. The iPad, meanwhile, demands compromises just like its cellular sibling, but in return it delivers a user experience that borders on the enchanting. Cynics have had a field day with Steve Jobs' repeated use of "magical" in the iPad keynote, and while we perhaps wouldn't go quite that far, what we would say is that it's a tremendously joined-up experience. Apple have taken core elements of the tablet/touch paradigm and made them work smoothly, and if that sounds underwhelming then you need to remember that it's something Tablet PCs – although finding some niche and vertical success – have struggled to achieve over the past decade.
Yes, there is a sense that in the process they've simply left out anything they couldn't polish to the same standard – whether it is Flash, multitasking or a webcam. This is a first generation device, though; look how long it's taken Apple to deliver on some of the more common phone functionality in their three-generation-old mobile platform. You might not like the way they do it – holding off until the user experience, the market, or the combination of both is right – but millions of happy iPhone owners are evidence that there's certainly an audience for it.
For everyone, then? No, of course not, but that's a pretty unrealistic criteria for success. Ask, instead, whether Apple have succeeded in delivering the elusive middle device, the thing that slots into the tricky niche between smartphone and notebook. Remember, too, that such a niche isn't necessarily so small as to accommodate only one product – this isn't a case of "the iPad way or the highway" – but more of a satisfying one core criteria: do you choose to pick it up and put it in your bag when you go out, do you choose to carry it from room to room with you around the house? For some, that device is a netbook; for others, there's no such device at all. It's not perfect, but the Apple iPad certainly fulfils that criteria for us.
Unboxing Apple iPad
[vms 739141292a5429b952fe]