Motorola XOOM Review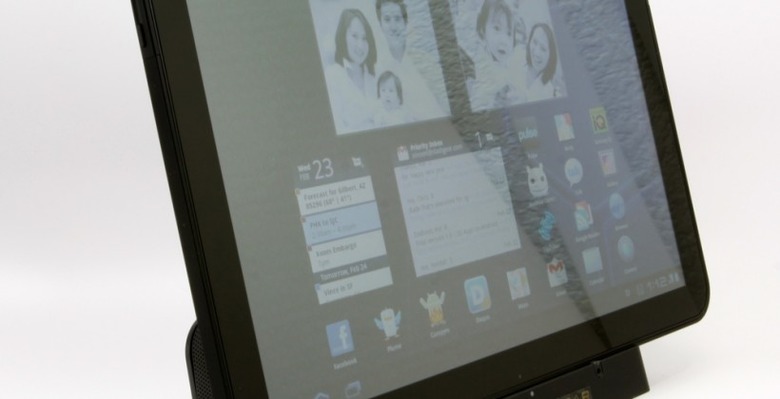 Motorola's big launch of CES 2011 and the first Android 3.0 Honeycomb tablet on the market, the Motorola XOOM has a lot to live up to. In its haste to reach Verizon shelves, the XOOM could seem a little half-baked; it doesn't get Flash Player support for another few weeks, and won't have 4G until an update sometime in Q2. Still, as the iPad has shown, there are undoubtedly benefits to being first out of the gate, and there's undoubtedly plenty on offer. Can the XOOM bypass pricing skepticism? Check out the full SlashGear review after the cut.
Hardware and Performance
Motorola's design is sober and discrete, and where the iPad shows off its brushed metal the XOOM seemingly prefers to let the 10.1-inch display do the talking. It's a 160dpi, 1280 x 800 WXGA panel with a capacitive touchscreen supporting multitouch gestures, and while it doesn't use the same IPS technology as the Apple slate, it still manages decent viewing angles. We've had no issues with touchscreen responsiveness, though at 9.8 x 6.61 x 0.51 inches and 25.75oz it's a somewhat heavy device, and one-handed use can get tiring.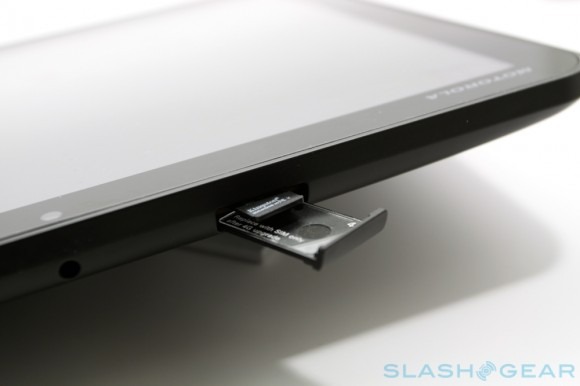 Inside, NVIDIA's Tegra 2 is calling the shots, a dual-core 1GHz SoC paired with 1GB of DDR2 RAM and 32GB of integrated storage. Although the XOOM has a microSD card slot, currently the tablet doesn't support it; similarly, there's an LTE SIM slot – filled with a blanking card – but that won't be used until Verizon updates the tablet to 4G in Q2 2011. Instead, you get EVDO Rev.A, WiFi a/b/g/n and Bluetooth 2.1+EDR, along with USB 2.0 and mini HDMI ports. Motorola is readying a WiFI-only XOOM, but that isn't expected until later in the year.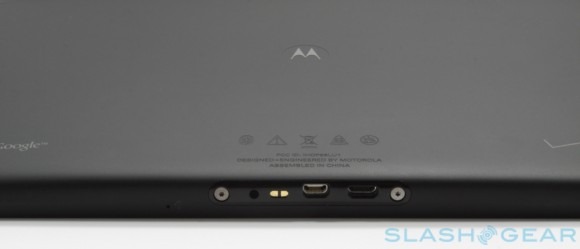 We've seen sensors of various types proliferate on smartphones, and the XOOM ups the ante. As well as GPS, an accelerometer, digital compass, ambient light sensor and gyroscope, there's a barometer for measuring air pressure. So far there's no actual use for it in Honeycomb, but since it's available for third-party developers to tap into via the Android 3.0 APIs, it's only a matter of time before somebody takes advantage.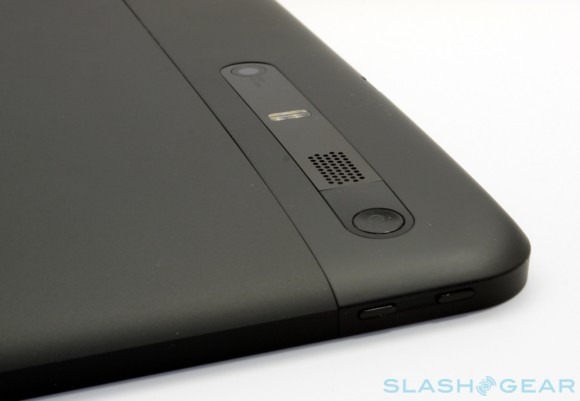 On the front is a 2-megapixel fixed-focus camera and a tricolor notification LED, though no physical controls, while on the back is a 5-megapixel autofocus camera with a dual-LED flash. It's flanked by stereo speakers and the power/standby button. The only other hardware control is the volume rocker on the left hand edge. A 3.5mm headphone socket is on the top edge of the slate.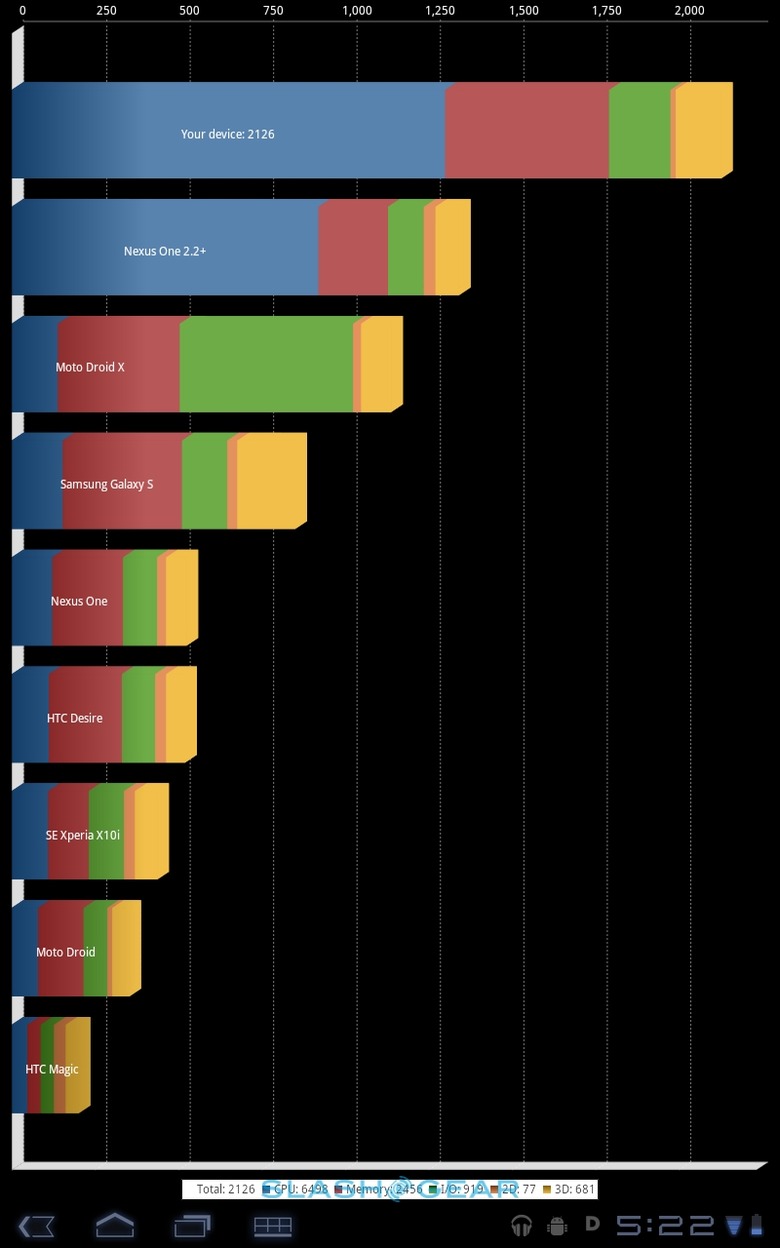 Benchmarking Android devices is something of an inexact science, with various tools – synthetic and real-world – in common use and lingering issues around multicore compatibility. We ran Quadrant on the XOOM, and the Tegra 2 based slate scored 2,126. Meanwhile, in Linpack the XOOM managed 36.166, and BenchmarkPi crunched through in 559 milliseconds.
Perhaps more importantly, however, the XOOM whipped through everyday tasks with hardly a pause. Panning through the 3D-style homescreen was lag- and jerk-free, the app menu opened without delay, and apps themselves sprang to life as fast as we've seen on an Android device. In comparison, the single-core 7-inch Galaxy Tab feels sluggish. The healthy chunk of RAM meant that heavier webpages still rendered successfully and panned/zoomed without protest, even with multiple tabs open.
Software
We've already covered Android 3.0 Honeycomb in our separate review of the new tablet OS, and – in keeping with a Google Experience device – Motorola has left the software well alone on the XOOM. It's a sensible decision, given Honeycomb's degree of polish. In fact, the hardest part for most people has been finding the power button, which Motorola has put on the back of the slate.
The untampered OS should also mean that, as Google rolls out newer versions of Android, the XOOM is hopefully first in line to receive them, something that can't be said the same for Motorola's smartphone range. Considering the attention Android fragmentation gets, that's a big element in the XOOM's favor.
Cameras and Multimedia
Motorola has outfitted the XOOM with two cameras, a 5-megapixel unit on the back, complete with auto-focus and an accompanying dual-LED flash, and a 2-megapixel fixed-focus camera on the front that's primarily intended for video calls. They take advantage of Honeycomb's new camera app, complete with various effects and shooting modes, and are easily controlled with the new circular shortcut wheel (though there's no dedicated camera shortcut key on the slate).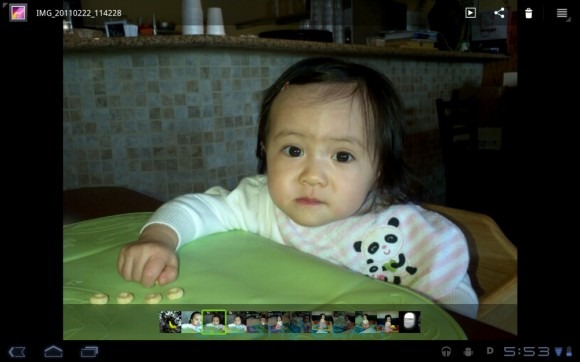 Stills from the 5-megapixel main camera are good, though not outstanding. The biggest surprise was how comfortable taking photos is on a tablet; while the 7-inch Galaxy Tab felt like a somewhat ridiculous, oversized smartphone, the 10.1-inch XOOM doesn't feel awkward, and the large on-screen controls make it straightforward. Currently the Motorola tops out at 720p HD video recording at 30fps, though an update to support 1080p HD is promised at some point in the future. Clips are on a par with Motorola's smartphone range, with generally jerk-free footage that only shows smearing on faster pans. The dual-LED flash can be used as a video light, but it's only really of use in mildly darker environments.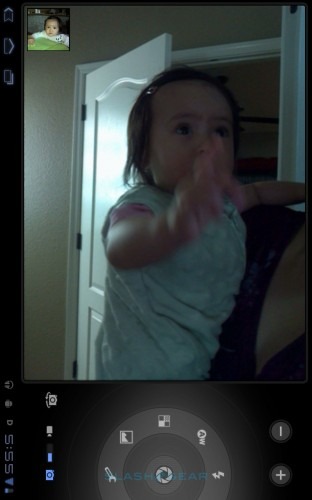 As for the front camera, while it can be used for stills and video, it's unsurprisingly not adept at either. Motorola has tuned it for video call duty, and in that it does well, producing a reasonably crisp picture that manages to keep detail even when compressed for a 3G stream. The fixed-focus does mean you lack sharpness, however, not so noticeable in video but making vanity shots unimpressive.
Photos, video and audio can be played back either on the slate itself – with the XOOM's stereo speakers proving underwhelming for all but the most casual of listening – or, using the HDMI 1.4 output and bundled cable, on a nearby big-screen TV. The entire interface is mirrored on both the external display and the touchscreen, making for easier control, and the XOOM can handle up to 1080p Full HD playback. We've commented on Android 3.0's paucity of native codec support in our OS review, but thankfully there are various third-party media players in the Android Market that do a better job with video content other MP4, WebM, 3GP and H.264/H.263. Footage is crisp, as you'd expect, and with 32GB of onboard storage there's a decent amount of capacity for media. It's worth noting that, if you're a Mac user, you'll have to install the new Android File Transfer tool, since Honeycomb won't be recognized by OS X as a USB drive without it.
What you don't get, at this stage, is Flash support. Adobe is busy working on Flash Player 10.2 for Honeycomb, but right now there's not even 10.1 for backward compatibility. It's another reason the XOOM feels somewhat rushed to market, and it knocks an important selling point from the Motorola's roster. Yes, Flash is on its way, but with the iPad 2 launch imminent, Motorola really needed all its strengths in one place to take on the iOS slate.
Connectivity and Battery
The XOOM isn't short on connectivity, with EVDO Rev.A, WiFi a/b/g/n, Bluetooth 2.1+EDR and USB 2.0, along with a 4G LTE update in the pipeline, but it's worth noting that it won't make voice calls. Verizon's agreement is for data only, which means that if you want to actually talk with someone using the XOOM you'll have to pick a VoIP client. Still, with Skype, Fring, Qik and others in the Android Market, and Google Talk preinstalled in Honeycomb, most users should find something to fit that gap.
As well as using the 3G connection for onboard surfing, Honeycomb comes with a mobile hotspot app that can be used to share the data out with up to five WiFi-tethered clients. It'll likely incur a surcharge, however: Verizon has only said that data access will start from $20 per month for 1GB, and we're assuming that, like the carrier's phones, hotspot service will be a higher-tier package.
Verizon is also yet to detail the 4G update, which means we don't yet know how early-adopters of the XOOM will convert their 3G tablet into an LTE one come Q2 2011. It's possible that this is a modem firmware update, which could be released OTA or as a sideloaded install, or alternatively owners may have to take their XOOM into a Verizon store or even send it off. Still, Verizon has said it will be a free update, though it hasn't confirmed whether there'll be a 4G surcharge on top of the regular 3G data package.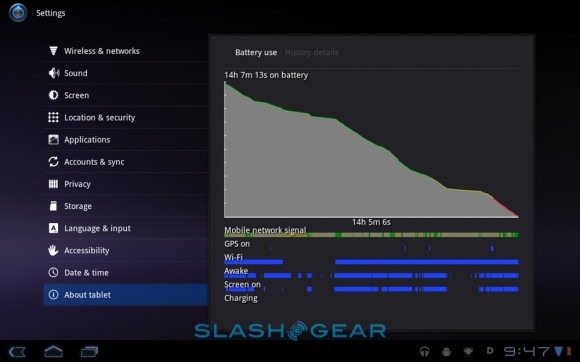 Battery life, meanwhile, has been very impressive. With very heavy use, the XOOM lasted over 14hrs – over 8hrs of which the screen was on – before shutting down. Bear in mind that's undergoing testing for this review, meaning a combination of browsing, media playback (both using the XOOM's display and via the HDMI output), both WiFi and 3G connections, streaming media and photography. With more casual use, especially if predominantly browsing, we'd expect to see 9hrs or more. That's a little less than an iPad, certainly, but still enough to be considered a strong showing in our opinion. A full recharge takes around 3.5hrs.
Accessories
Verizon provided two official accessories with our review unit, the Speaker HD Dock and a Bluetooth Keyboard. The dock is, surprisingly, more basic than that offered for the Motorola ATRIX 4G, having only power and mini HDMI connectivity. It will charge the XOOM and allows you to have a wired connection to your HDTV permanently hooked up, but we'd have preferred it if Motorola had used a full-sized HDMI port. We're guessing the choice of a mini connector was so that the cable bundled with the tablet could be used with the dock as well, but given most users aren't going to want to keep swapping a single cord between their bag and the dock, opting for the more common (and cheaper) full sized HDMI would have been a more sensible decision. The integrated 5W stereo speakers are more powerful than the XOOM's own, which makes for stronger audio during video playback together with more easily audible video chats.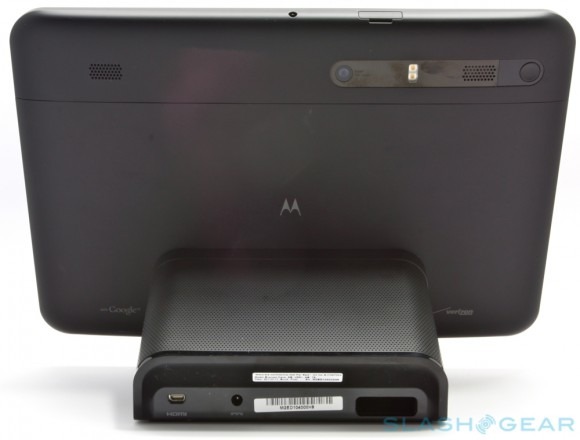 As for the Bluetooth keyboard, that also works as you'd expect it to, hooking up wirelessly with no issues and then allowing for easier text entry than the on-screen 'board. It's worth noting that, since the XOOM supports the standard Human Interface Device (HID) protocol, you can use a non-Motorola Bluetooth keyboard you might already have. Motorola's 'board is actually the same as offered for the ATRIX 4G, which means it adds in shortcuts to various Android apps. It's also reasonably comfortable to type on.
Motorola also offers a Portfolio Case for the XOOM, though we didn't have that on hand to test. As with similar examples for other tablets, it basically allows you to prop the XOOM up for easier on-screen typing or watching videos, as well as folding around to protect the display during transport. Finally, there's a Standard Dock, which props the XOOM up and recharges it, which we also didn't have in to test.
[vms 03d8252c9c4ba75ddbf6]
Pricing and Value
Cost is likely to be the XOOM's most contentious aspect. Verizon and Motorola have priced the slate at $799.99 without a contact or $599.99 with a new, two-year agreement on a data-only plan. With the cheapest data package Verizon offers – $20 per month for 1GB – that adds up to almost $1,080 over the course of the contract.
In contrast, Apple's 32GB iPad WiFi + 3G is $729. That's less than the unsubsidized XOOM, but more than the on-contract version; however, AT&T allows iPad owners to activate and deactivate 3G service as they see fit, rather than locking them into a monthly commitment. You also get more for your money on AT&T, with iPad 3G plans offering either 250MB per month for $14.99 or 2GB for $25.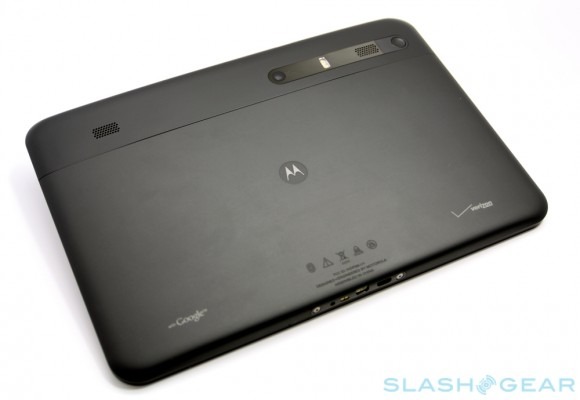 The XOOM is likely to fall in price after a couple of months – there's always an early-adopter premium to be paid – but it's not the home-run we'd hoped it might be. It's worth remembering that, even if you don't want to use Verizon's data and only rely on WiFi to connect, you'll still have to pay for a month's worth of service and the activation fee.
Wrap-Up
Despite the absence of Flash support and the absence of 4G, there's a lot to like about the Motorola XOOM. It's a solid, discretely handsome slate, with strong battery life and whip-crack performance. Against it are the premium price tag and the ridiculous mandatory first-month data fee; frankly, Verizon have missed a trick by not giving buyers a free first month in the hope of getting them hooked to the convenience of 3G.
Much of the XOOM's strength comes from Android 3.0 Honeycomb, and there's little doubting that Google's tablet-centric OS is the star of the show here. As we found in our full software review, it's a convincing and polished platform, which brings a highly usable multitasking environment to the tablet marketplace, neatly distinct from the "oversized smartphone" accusations levied at previous Android slates.
Until Samsung's Galaxy Tab 10.1 and LG's G-Slate reach shelves, the XOOM has the Honeycomb space all to itself. Still, neither Motorola nor Google can afford to rest on their respective laurels. The iPad 2 is expected to debut a mere week after the XOOM goes on sale, and considering the first-gen version is still the benchmark by which new tablets are measured, the second-gen model is only going to raise the table stakes.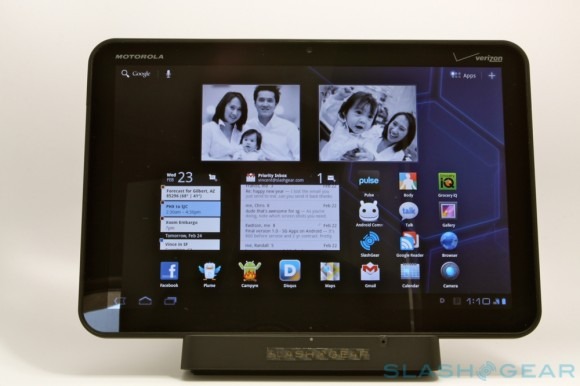 Nonetheless, we're impressed by the XOOM, and by Honeycomb. Neither feels like a compromise, and with the heft of the Android Market behind them, the gap between Android and iOS has narrowed drastically. The XOOM may only be the first Honeycomb slate, but it's a strong start to what's going to be a fiercely competitive race.
ALSO have a look at our Android Honeycomb Review as well as an informative post by our sister site Android Community: Motorola XOOM and Honeycomb Review [All Questions Answered].
BONUS: Tricked out!