Samsung Galaxy Tab 7.7 for IFA 2011 in a Bit More Detail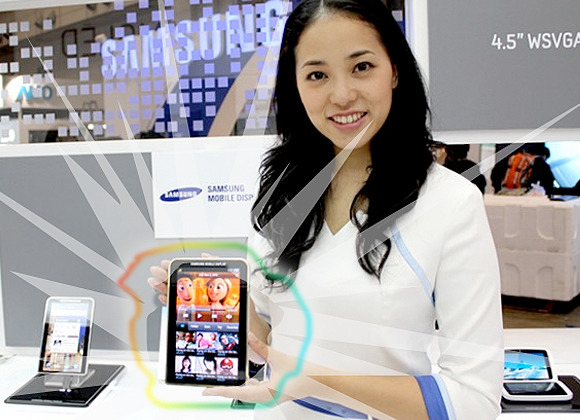 The team at Samsung blew the top off of the Android world back in November of 2010 when the released the first real Android tablet effort across the world – what the tech world's next big convention IFA 2011 may hold is the next generation of this very model with an added 0.7-inches and a Super AMOLED display. As we know from leaked details contained in Samsung's own official "Unpacked" app for IFA in Berlin, they certainly will be releasing what's called the Galaxy Tab 7.7. Aside a "Galaxy Note" device that'll likely have something to do with a stylus for mobile devices and the "Wave 3," a Bada device with a 4-inch Super AMOLED display,, the Galaxy Tab 7.7 would be the second reported upgrade to a device already out on the market with slightly lesser specifications.
What we can expect from the Galaxy Tab 7.7 was revealed earlier this month on August 11th where we got our hands on a leaked roadmap of Samsung devices which also let us in on possible specs for the first Ice Cream Sandwich device, the Nexus Prime (though we don't call it that in the roadmap article, learn about how it was confirmed twice just yesterday on our sister site Android Community.) What this leaked roadmap tells us is that the tablet will be the next Android tablet in line to run Google's official tablet-ready mobile OS Android 3.x Honeycomb.
In addition, this same roadmap lets us in on the idea that this tablet will come in two versions: P6200 and P6210 (or P6100), the latter being a Wi-Fi only device while the former will be an HSPA+ device (we're hoping for the 4G LTE version sooner than later, if you know what I mean.) Next we believe this tablet will have a 3 megapixel camera on the back, a 2 megapixel camera on the front, and will have a rather impressive display to tote along.
Possible Galaxy Tab 7.7 Refresh for IFA 2011 via DroidLife
Note that the photos above (at least one of them) have the Android menu row of soft keys, this indicating that the device will not be running Android 3.x Honeycomb.
Now here's where it gets a bit more interesting: this device is said to have a 1024 x 600 pixel display – that's all well and good on it's own – but what we MAY be looking at here is a massively impressive (compared to current tablet-sized displays) Super AMOLED screen. Though back on the 12th of August the folks at Samsung insisted that the roadmap and some other details of future devices seen on several blogs were not accurate, we've got to keep considering what was noted:
Some media have been reporting that Samsung is preparing to launch nine new smartphones and two new tablet devices. While Samsung is continuously working on new devices for our customers, the details being cited are not accurate in this case.

We appreciate the interest in our upcoming mobile devices and will share more information once its available.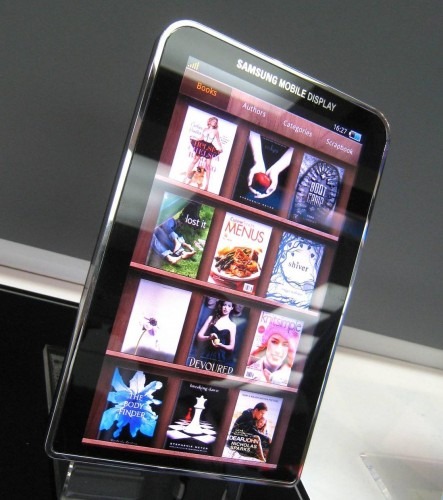 Prototype 7-inch Super AMOLED Samsung Mobile Display at FPD 2010
Beyond (or perhaps in spite of) Samsung's words here, details on a 7-inch Super AMOLED display have been popping up since November of 2010. Inside that month we got to see a lovely glance at an early vision of a 7-inch Super AMOLED Galaxy Tab-style display. On the other hand, on May 2nd, 2011, we were again told by Samsung that there'd be no Super AMOLED tablets inside 2011. We shall see!
Note that we will of course be up and ready at the Samsung event (and many other events) during IFA 2011 in Berlin next week. Stick with us for coverage galore!
UPDATE: also note that Samsung's official IFA 2011 website is now up and running – at the moment with just a placeholder image, fully functional soon I'm sure.
[via OLED-Displays]