Samsung roadmap leak tips 720p I9250 Android ICS phone, more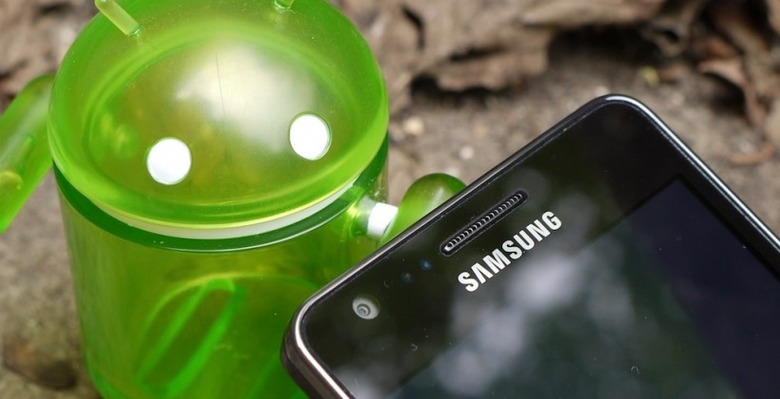 Details of upcoming smartphones and tablets purportedly from a leaked Samsung roadmap have emerged, with retailer Mobili linija spilling the beans on not only a 7-inch Galaxy Tab replacement but a pair of supersized Android handsets one of which runs Ice Cream Sandwich. Samsung's 7-inch slate, the P6200, is tipped to run Android 3.x Honeycomb on a 1024 x 600 display, with HSPA+ and twin cameras, a 3-megapixel shooter on the back and 2-megapixels up front. It will also apparently be available as the P6210, a WiFi-only version.
Meanwhile, in phones, the GT-I9250 is probably the most exciting. It's said to have a 4.65-inch 1280 x 720 resolution display and a 5-megapixel camera, and run Ice Cream Sandwich on an unspecified processor which, we're guessing, will be a dual-core. Its sibling, the GT-I9220, is even bigger, with a MID-rivaling 5.29-inch 1280 x 720 Super AMOLED Plus panel, a dual-core 1.4GHz processor, 8-megapixel camera and Android 2.3 Gingerbread.
The rumored 1.4GHz GT-I9200 upgrade to the Galaxy S II isn't mentioned, but the I9210 gets a look-in, with a 4.5-inch 800 x 480 touchscreen, 4G connectivity and an 8-megapixel camera. There's also supposedly WiFi b/g/n, Bluetooth 3.0, GPS and a 2-megapixel front-facing camera, Full HD video recording support and a 1750 mAh battery, all in an Android-running 128g package.
The last of the particularly eye-catching devices is the GT-I8150, a 3.7-inch WVGA TFT LCD Android handset with 4GB of internal storage, HSPA+ connectivity and a 5-megapixel camera. It will have a VGA front-facing camera, Bluetooth 3.0, WiFi b/g/n, GPS and an FM radio, and support 720p 30fps HD video recording, according to the leaks.
All the rest are various entry-level devices, including the Android-based B5510-W41 codenamed "Luisa" with an 800MHz processor, 2.8-inch touchscreen and QWERTY keyboard. Samsung also has some bada phones in the line-up, apparently, such as the S8600 Wave III with bada 2.0, a 5-megapixel camera, 4-inch Super AMOLED display and 3GB of internal storage. Finally, there's a single Windows Phone 7 device, the Omnia W, said to have a 3.7-inch display, 5-megapixel camera and 1GHz processor.
[via Telefonio - thanks Antonio!]
Update: The source site has been pulled, and some details such as the suggested screen size of the I9220 were changed prior to that.