Dell drops Windows RT as XPS 10 tablet quietly discontinued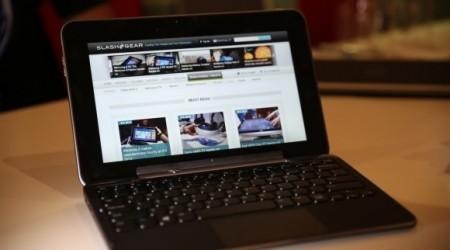 Dell has quietly axed its XPS 10 tablet, the Windows RT-based 10-inch slate that offered a keyboard dock and ARM processor architecture for longer battery life, though it's not certain whether it's a final shift for the company away from the ailing Windows 8 variant. Announced in August last year – in fact we first went hands-on all the way back at IFA 2012 – the XPS 10 promised up to 20 hours of runtime on a single charge thanks to its frugal Qualcomm chipset, but sales proved disappointing and Dell was left unimpressed by the spot Windows RT was carving in the market.
Initial sales of the XPS 10 – and its Latitude 10 sibling, which offered Windows 8 on an Intel Atom processor – amounted to just "hundreds of thousands of units" according to one Dell exec, though the company tried to remain buoyant on Windows 8's potential for enterprise users. That doesn't exactly fit well with Windows RT, however, which Microsoft was positioning more as a consumer OS to challenge the iPad and various Android slates.
In fact, "the market is still pretty negative" another Dell exec admitted about Windows RT specifically. Some of that was down to poor communication, it was suggested. "The amount of market information about it is not good enough," tablet chief Neil Hand argued.
It's unclear at this stage whether Dell's decision around the XPS 10 is because of poor reception to Windows RT, or because it plans to launch a new version running Microsoft's platform. At more than a year old, and with faster Qualcomm Snapdragon chips on the market – such as the 2.2GHz quadcore Snapdragon 800 in the new Kindle Fire HDX range – it's possible that the XPS 10 has simply bowed out so as to leave room for a successor.
That may well not be the case, however. Dell was critical of Microsoft's Windows RT plans from the outset, it's been reported, with PC division head Jeffrey Clarke supposedly talking to Microsoft CEO Steve Ballmer to ask him not to use the Windows branding as the OS lacks compatibility with regular apps for Windows 8. Ballmer, however, believed the brand was too important to be missed out.
It's hard to argue that the absence of the XPS 10 is a great loss to consumers, and the Windows RT niche is still catered for with Microsoft's own new Surface 2, announced earlier this week. The new model will have the shelves pretty much to itself, however; Samsung axed its Windows RT launch plans citing low demand, while Acer has been dismissive of the OS describing it as lacking influence in the segment.
The pull-back has supposedly forced Microsoft to slash its licensing fees for Windows RT, though there could be a renewed push involving "tweener" devices between phone and tablet size. This rumored phablet focus might, its suggested, see RT and Windows Phone brought further together.
VIA Engadget