ASUS Transformer Pad TF300 Review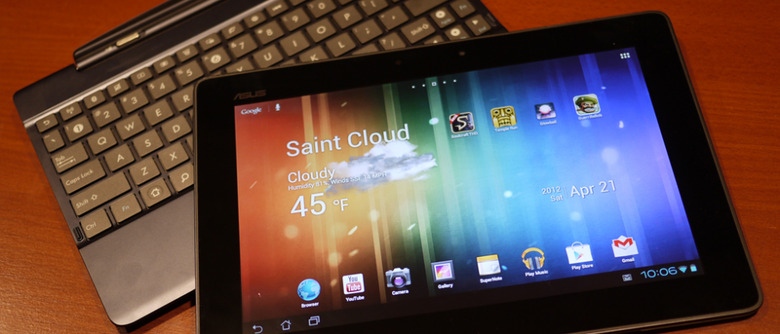 If the ASUS Transformer Prime seemed like a masterpiece of a 10.1-inch Android tablet to you but you decided to wait and see if ASUS would release a slightly lower-cost model of nearly the same thing – you're in luck. What we've got here is the ASUS Transformer Pad TF300, This 10.1-inch tablet comes with Android 4.0.3 Ice Cream Sandwich right out of the box, has its own unique keyboard dock (sold separately) and comes in Royal Blue (which we've got here,) Torch Red, and Iceberg White. Let's have a look at what makes this model cost a bit less than the Prime and if it still seems appealing without the added frills.
Hardware
This device is a tablet computer but is able to turn into what's essentially considered a notebook computer – or Wi-fi connected netbook, if you prefer. The keyboard dock here is reminiscent of the Transformer Prime and the original Eee Pad Transformer before that, and continues to be a pleasure to use like they were. The touchpad still needs tweaking if its going to have anywhere near as much quality as OS X does with the MacBook or the MacBook Air, but this has as much to do with the software – which really isn't quite fully prepared for a desktop mode as such – as it is about the pad hardware itself.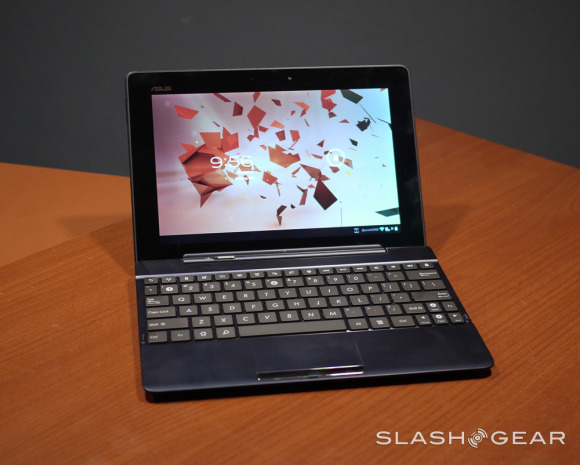 If you plan on gaming on this machine with games that require you to have a mouse, I suggest finding a compatible USB mouse – which will plug in nicely as this units dock does indeed have a full-sized USB port. The dock itself also has a full-size SD card port and a port where you'll be able to plug power into the wall or into your PC for desktop connectivity. The tablet then has a microHDMI port, a port for a microSD card, volume, power, and a headphone jack. ASUS doesn't quote any special augmentation or especially fine quality parts for its headphone port, but it does sound perfectly fine for the basic media and gaming you'll be experiencing with it.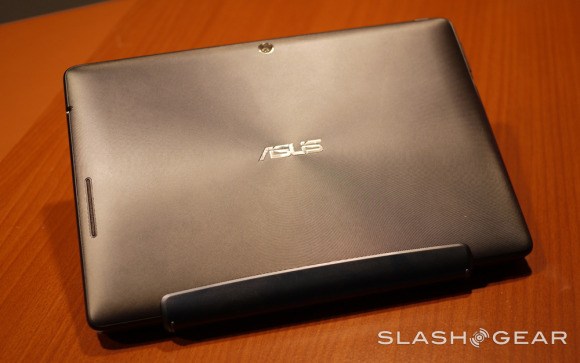 There are two models per color, again we've got Royal Blue here in its 16GB configuration. There's also a 16 and 32 GB configuration for each model, the Torch Red and Iceberg White models coming in June – pricing on all of these models is always $379 for the 16GB tablet, $399 for the 32GB model, and $149 for the keyboard dock. The Royal Blue version is expected to be delivered on the 30th of April with online retail availability starting the week of April 23rd.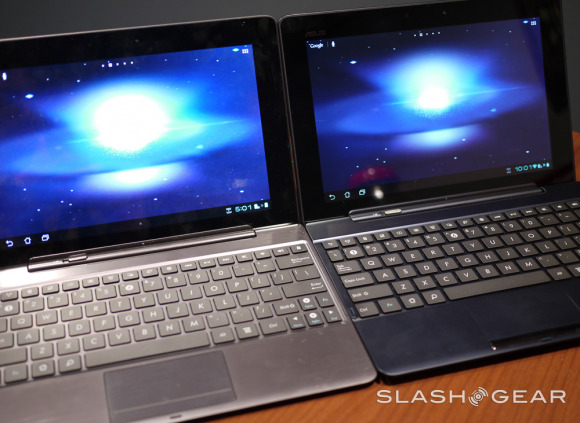 With prices like these, expect this Transformer to sell as well as the Galaxy Tab 10.1 given that ASUS and NVIDIA decide to advertise it at least as well as the Transformer Prime. This is key as there is of course still significant confusion in the Android tablet market as to the difference between tablets and the simple understanding that yes, it's possible that you could be doing things on one tablet that you wouldn't be able to on another. That said, this Transformer is going to be the top performing tablet in your house if you've only ever had Android tablets before and haven't yet picked up the Transformer Prime.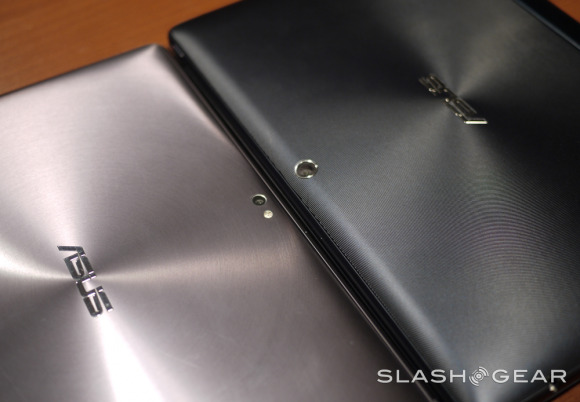 According to ASUS, several hardware upgrades have happened since the Transformer TF101 including the camera and video capabilities of the unit. You've got an F2.2 aperture on this 8 megapixel camera and a slightly different camera interface out of the box to bring the quality up to a level that's ready to take on the rest of the tablet industry easily. Head down to the Camera portion of this review to see the quality of this machine's shooter. Also note that there's no flash this time – so watch out for the dark!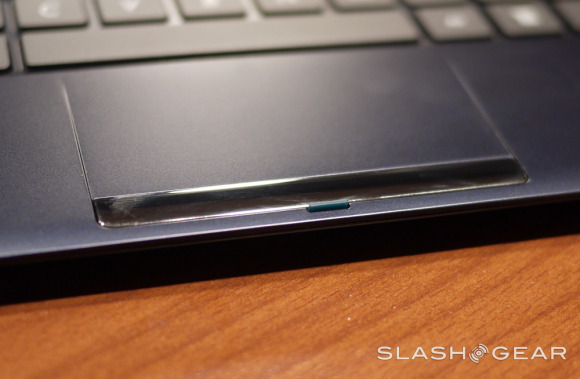 Inside you'll find Bluetooth 3.0, RAM at 1GB using new DDR3, and the tablet alone weighs in at 1.30 lbs. The dock weighs about half that, so expect about 2 pounds in your backpack with the full package. The tablet and keyboard together are just a bit thicker than the original Transformer Prime but are essentially the same dimensions otherwise – the tablet alone is 7.11 x 10.35 x 0.38-inches.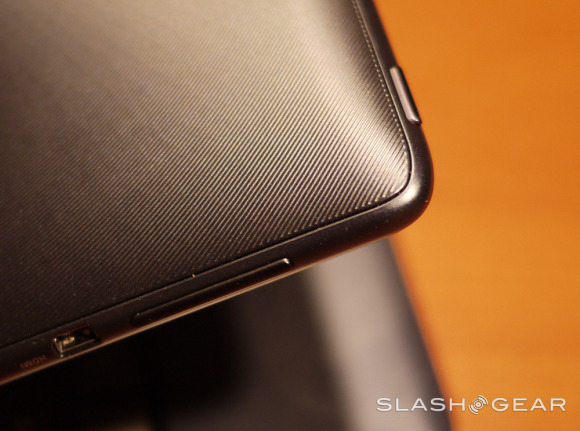 Aside from the slightly awkward nature of having the display half of your notebook being the heavier of its two halves, this product is extremely similar to the Transformer Prime. With the prime you've got metal, here you've got plastic. This unit isn't completely made of plastic, of course, but big portions of its casing are – this for some will be a low point compared to the Prime as the Prime's metal looks and feels high quality. For others though, the decrease in weight means an easier to handle unit.
[vms c5b8a9663cb21fb8ebf4]
The display is also very similar in that it's also an IPS technology-based panel, but here you've just got IPS and not IPS+, so you can't burn your eyes out quite as easily here with this new model. This is another place where a feature has been cut to make way for a slightly lower price for the unit. Each of these small changes makes for a product that is still certainly high-end but just ever-so-slightly less impressive than the Prime. Have a peek at the hands-on video above to see both units side-by-side.
Software / Benchmarks
The software experience you'll have here is strikingly similar to what we see on the current most updated version of the Transformer Prime. Both units work with Android 4.0 or higher and both use a version of ASUS user interface additions to that base software experience that makes them advanced beyond all non-ICS tablets in the market and unique in and of themselves for their hardware-specific features. ASUS leaves Android's basic Android 4.03 Ice Cream Sandwich experience alone for the most part, adding only a few changes that make the experience, again, ASUS' own.
[vms 9ed25912dff5b0669f2c]
Have a peek back at our hands-on with Ice Cream Sandwich on the Transformer Prime as well as the gaming video below to see what you're working with on the tablet version of Ice Cream Sandwich as well as NVIDIA's Tegra 3 processor. This chipset is quad-core with 4-PLUS-1 technology meaning it has a fifth low-power CPU core that turns on only when the other four cores are not needed. With this ability, Tegra 3 devices are able to conserve energy and preserve battery live in a very efficient way. See the battery section below for details on power.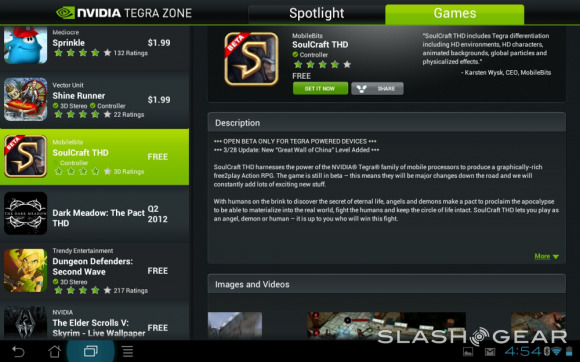 The games you'll be playing here come from the Tegra Zone, an app and ecosystem which NVIDIA provides all Tegra-toting devices made with Android. This isn't the only place you can find games, of course, the Google Play app store being packed full of them, but NVIDIA has created this portal for you to find games developed with their crew to be optimized for the Tegra 3 multi-core environment. Have a peek at a few examples in the hands-on video with the TF300 here:
[vms ca09a626eeddefd1b74c]
NVIDIA pushes Gaming as one of the best ways to experience the full power of their quad-core processor here in the TF300. You'll be seeing Glowball, Guerilla Bob, Soulcraft THD (beta) and Temple Run. Compare these two the same and similar games on the Transformer Prime Gaming Hands-on and you'll find a very similar experience.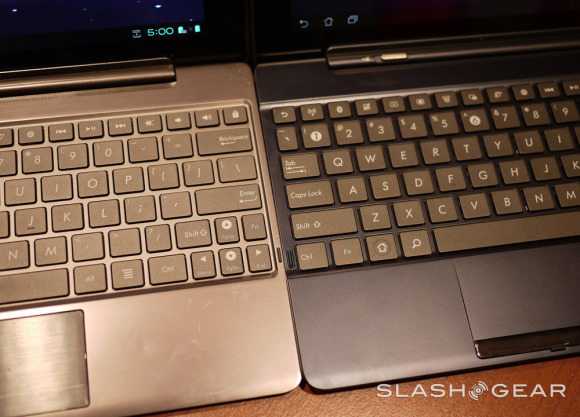 You've also got to consider high-powered tasks from all corners of the software world, on the other hand – the Tegra 3 able to handle each of these as well, each of them quite well. Have a peek at a set of benchmarks here that are not to be missed, and remember to compare them to the Transformer Prime review as well!
Camera
The camera on this device is, as stated above, an 8 megapixel shooter with the ability to record 1080p video as well. There's an F2.2 aperture for sweet snapping and the camera interface has changed ever so slightly from the original build on the Transformer Prime. Have a peek at the camera interface here: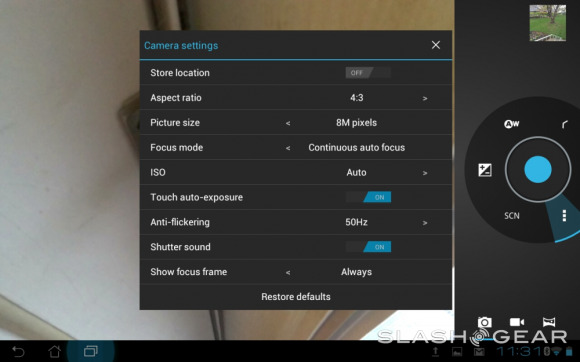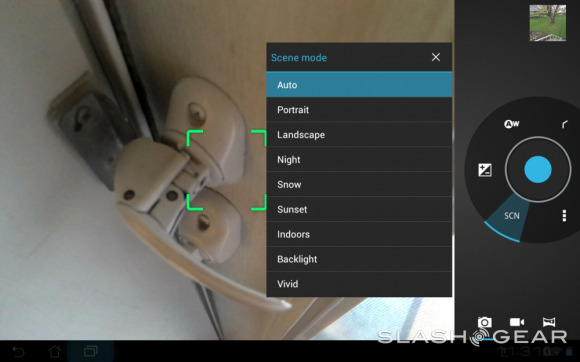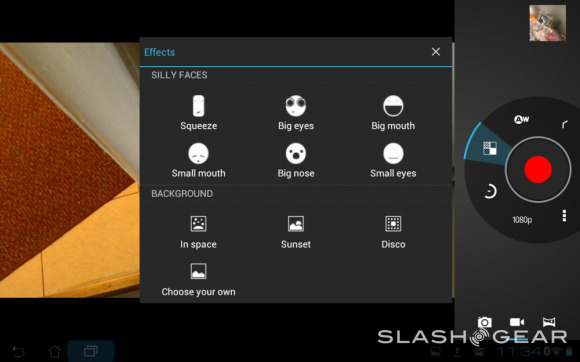 Next have a look at some 1080p video as well as several snapshots taken in various conditions with the back-facing camera on this device. Again compare and contrast them with the quality of the Transformer Prime which has essentially the same setup but with no flash for taking photos in the dark.
[vms 6a1802925ca009f3ebb6]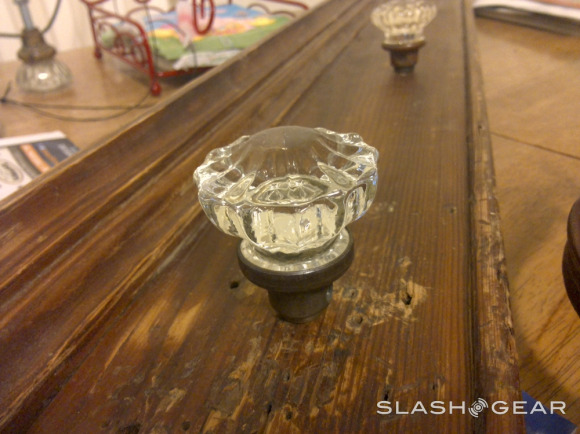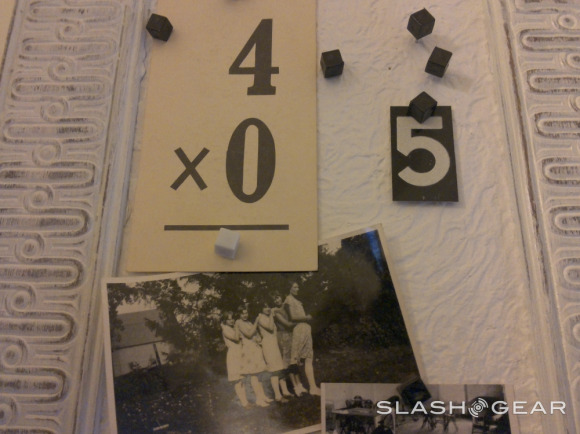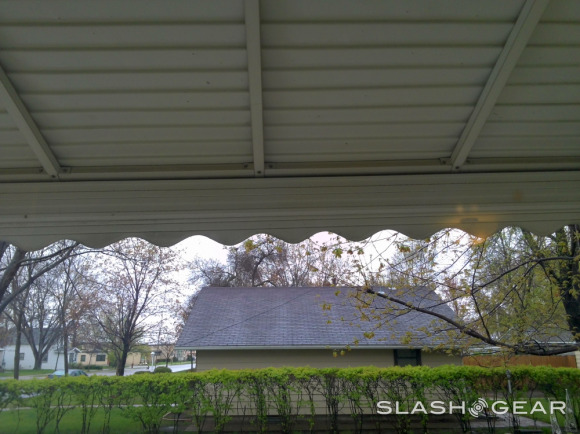 Battery
The TF300 is no exception to the rule that Tegra 3 devices are able to conserve energy very effectively. Because of the fifth low-power core here, the TF300's battery is able to last it a fantastic amount of hours both with and without the bonus battery housed in the keyboard dock. ASUS quotes eight and a half hours for the tablet alone and a bit more than 13 hours with the dock doing normal "Real World Testing". We've found similar results, getting more like 7 hours of streaming video and/or playing games and 10 to 12 with the dock attached. The real "wow" factor is in, again, the power-saving mode and the ability of the 5th low-power core: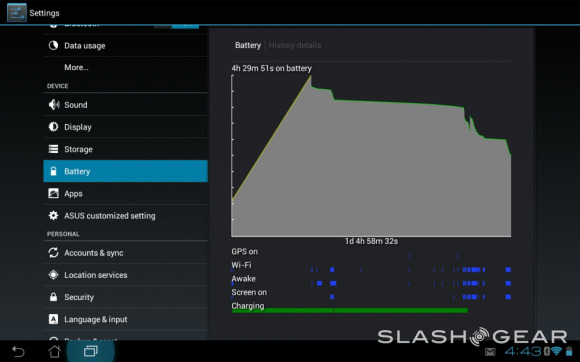 Also note that the times this battery chart shows the tablet as "charging" are when it's plugged into its keyboard dock only – not into the wall. Having two slates of hardware to hold big batteries in makes this device as one big whole an intensely battery-sensitive machine.
Wrap-Up
Here we have the slightly less expensive version of the most well-rounded and powerful Android tablet on the planet. The qualities that allow this model to cost significantly less than its bigger brother are not bothersome to me, and I see no reason, save for one, why a person wouldn't just go with this TF300 model over the Transformer Prime. That reason is, of course, the flash for the camera – I think it's safe to say that most people don't use their tablet as their primary photo and video machine, but if they do, that little LED can make or break a purchase.
After that though, everything on this device is high quality and ready for action. Even the plastic casing which replaces the fabulous ring-spun aluminum on the Prime is of a quality high enough to run with the top tier of the Android tablet world. It even has a ring-spun texture so you know it means business. ASUS hasn't just created a lower-cost model of the Prime here, they've re-done the Prime with the essentials it needed to be the top-quality Android tablet in the field and offered it here with the name ASUS Transformer Pad TF300 with a much more pleasing price tag. Pick one up right now!