NVIDIA Tegra 3 VSMP technology renamed 4-PLUS-1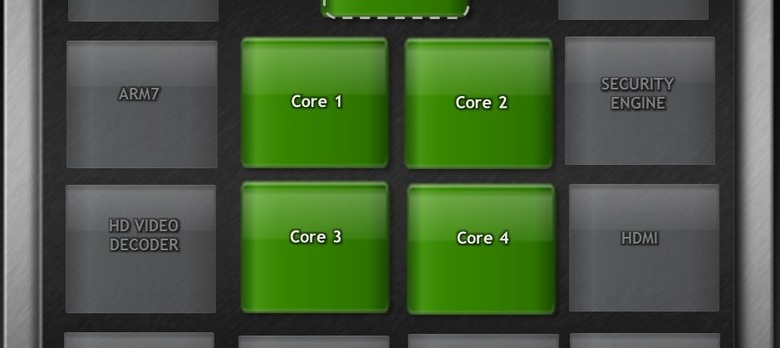 Back when we were first learning about the amazing technology in the system-on-chip architecture of the NVIDIA Tegra 3 quad-core processor, the term "VSMP" was used to describe the "ninja core" it included. That extra core, the fifth core, also known as the "companion core" is now set to be described in a much more "everyman" term: 4-PLUS-1. What the NVIDIA 4-PLUS-1 quad-core architecture here does is the same thing we described all those weeks ago, it's simply much more clear with a brand new name attached to it.
Though there are four main cores to ever NVIDIA Tegra 3 SoC, there's also a fifth chip that has the ability to perform tasks separate from the four. This architecture allows for exceptional processing power as well as excellent battery life because of how it functions. This system uses its main four CPU cores for such giant tasks as gaming, while the fifth core is only called upon when it's just processing email or sleeping that needs to be done.
UPDATE – have a look at some awesome 4-PLUS-1 games on the way soon!
We've seen this process working wonderfully in the first device to be released with the NVIDIA Tegra 3, the ASUS Transformer Prime, a full review of which you can view here: with an extra review for the updated version here: Ice Cream Sandwich upgrade review. This architecture will be showing up more than once in devices at Mobile World Congress 2012, which you can follow in our own [MWC 2012 portal] all week long.
[via NVIDIA]