2024 GMC Hummer EV SUV First Drive: Still A Cartoon Off-Roader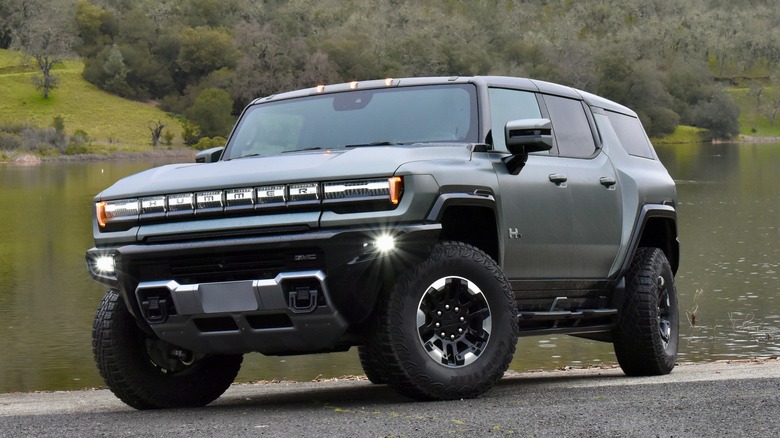 Stephen Edelstein/SlashGear
Even roughly a year after the start of production, the idea of an electric Hummer, let alone one with supercar-like acceleration and physics-defying off-road capability, seems like a drug-induced hallucination. Yet the GMC Hummer EV is very real—and it's not a one-off.
The 2024 GMC Hummer EV SUV is the follow-up to the Hummer EV pickup truck introduced for the 2022 model year. It has the same gimmicks as the pickup—from CrabWalk to Watts to Freedom mode—enabled by the same Ultium battery architecture, but now in a body style more reminiscent of the time when Hummer was a separate brand peddling gas guzzlers inspired by the Middle East wars that helped fill their tanks.
The SUV version brings some practical benefits like more covered storage space and (slightly) tidier proportions that make off-roading easier, but it also brings the Hummer EV closer to traditional off-roaders like the Ford Bronco, Jeep Wrangler, and Land Rover Defender, while sidestepping comparisons to electric trucks like the Ford F-150 Lightning that embarrassed the original Hummer EV pickup.
A drop of sense in a bucket of madness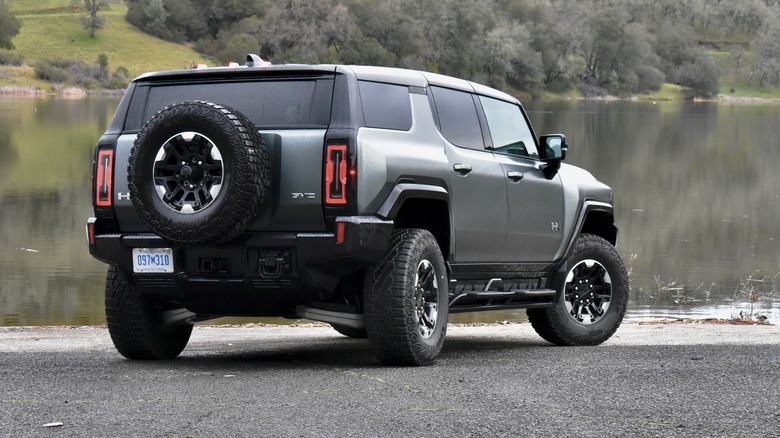 Stephen Edelstein/SlashGear
Most of the styling carries over from the pickup, including a wide illuminated grille that looks like an oversized version of Geordi La Forge's VISOR, chunky fender flares that give the appearance that the entire vehicle was milled from a solid block of steel, and a T-Top roof with removable panels. The SUV loses the pickup's bed and reconfigurable MultiPro tailgate, but still gains a bit of utility.
The squared-off back end, seemingly lifted straight from the 2000s-era Hummer H2 and H3, helps shorten the Hummer EV SUV by 20.0 inches compared to the pickup. The wheelbase is also 8.9 inches shorter. This means that, using the four-wheel steering system (another carryover from the pickup), the SUV's turning circle is smaller than that of a Ford Mustang Mach-E, GMC claims.
The right angles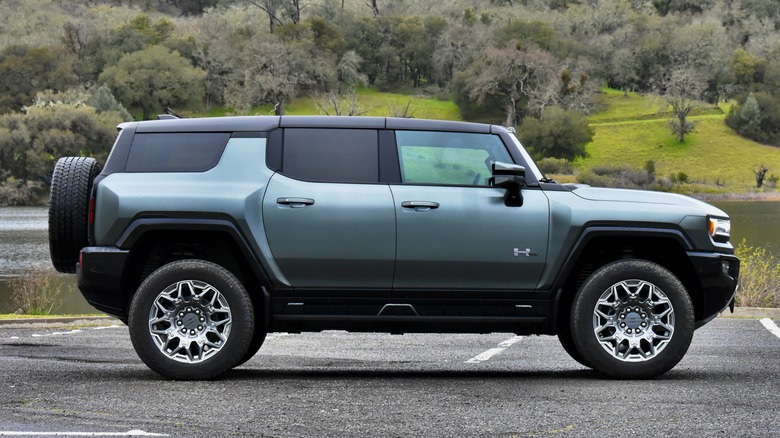 Stephen Edelstein/SlashGear
The Hummer EV SUV also gets an important feature the pickup lacks: a standard spare tire. That seems like something you would want while off-roading, but space constraints meant GMC couldn't include one before. In addition to possibly saving you from being stranded in the wilderness, the spare looks cool, hanging off the tailgate in old-school fashion.
However, you have to remove the spare tire to achieve the SUV's maximum departure angle of 49.0 degrees, the main area where this body style has an advantage over the pickup. The 34.4-degree breakover angle is also better than the pickup's, but by a smaller margin, and the approach angle of 49.6 degrees is basically unchanged. Those figures still top the Ford Bronco Raptor and Jeep Wrangler Unlimited Rubicon Xtreme Recon, as well as the electric Rivian R1S, though.
(Virtually) locked in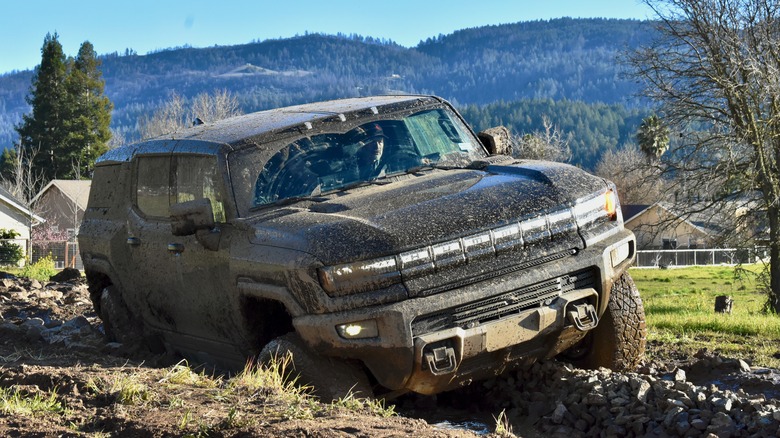 Stephen Edelstein/SlashGear
Unusually rainy weather prevented us from doing any off-roading ourselves, save for a short ride-along with a GMC engineer through deep mud in which we did not get stuck. That's admittedly expected in a vehicle with 35-inch mud terrain tires, part of the optional Extreme Off-Road Package, which also adds more underbody armor and underbody cameras.
Like the pickup, GMC is launching the Hummer EV SUV in three-motor form, with one motor powering the front axle and two at the back. Also carrying over (again, as part of the Extreme Off-Road Package) are a front electronic locker and "rear virtual locker," which uses software to adjust the output of each rear motor to simulate a locked differential, but without the maneuverability penalty of a mechanical locker.
GMC didn't do a quad-motor powertrain, a la Rivian, because engineers believed the single front motor would be more efficient for on-road highway driving; it does most of the work in that scenario, allowing the rear motors to draw less power. That's why the Hummer EV still has a conventional locker for the front axle. Forthcoming dual-motor versions will have just one motor at each axle, meaning they'll do without "virtual" lockers entirely.
Complicated capability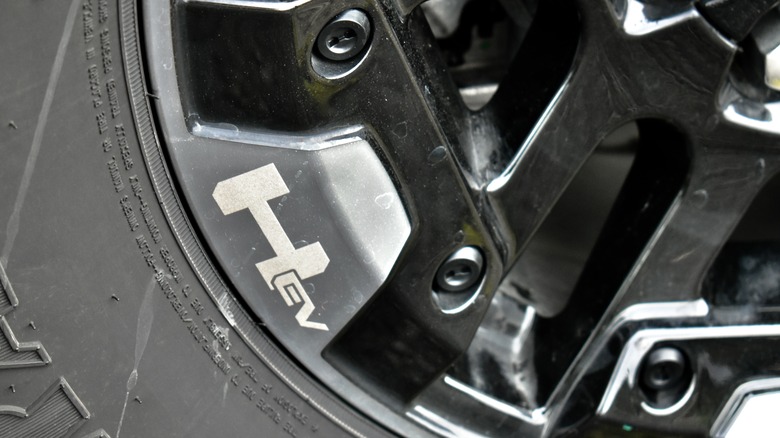 Stephen Edelstein/SlashGear
All of this makes for a very capable vehicle, but one that might not be well suited to off-road newbies. You still have to press buttons to lock the front and rear axles like in a gasoline SUV, as well as decide when to deploy the Hummer EV's other off-road features. Extract Mode raises the air suspension to allow for 16.0 inches of ground clearance, while CrabWalk allows the Hummer to move sideways by turning the rear wheels at the same angle as the fronts. It also helps keep the rear end in line with the front on loose surfaces that might otherwise cause it to slide, the engineer chauffeuring us through the off-road course explained.
GMC is giving experienced drivers a lot of tools to work with here, but with so many of them being software-based, it might be even better if they were streamlined into specific drive modes that automatically select some of the many settings, similar to what Rivian has done with its vehicles. You do get Off-Road and Terrain drive modes, designed for higher-speed running and low-speed rock crawling, respectively, but nothing based on the specific type of terrain you might be driving through.
Yes, it's big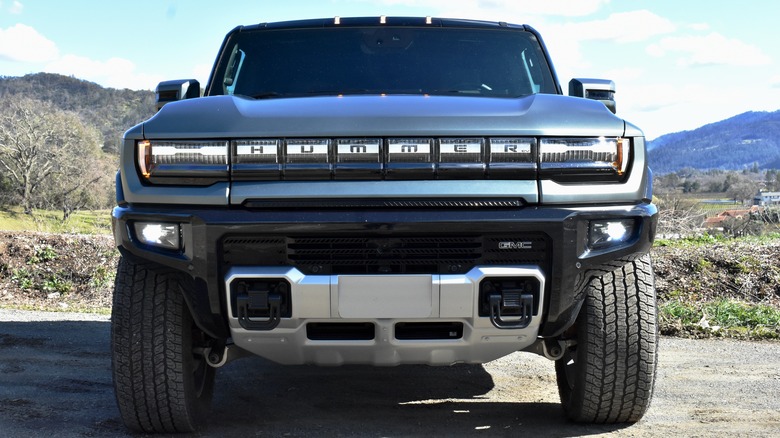 Stephen Edelstein/SlashGear
Hummer has a reputation for building vehicles that revel in how ill-scaled they are for normal roads, and so it is with the Hummer EV. Its sheer width—at 93.7 inches wide, it rivals some heavy-duty pickups in girth—makes interstate lanes feel like narrow country backroads.
There's nothing technically wrong with the steering, and the air suspension copes admirably well with the Hummer's considerable weight while delivering a comfortable ride. Considering that it's technically a convertible, and riding on noisy off-road tires, the interior was also impressively quiet at highway speeds. But the most memorable thing about driving this vehicle is its size.
Helping mitigate that somewhat is the still-impressive Super Cruise driver-assist system for hands-free highway driving, and the four-wheel steering which, in low-speed situations, really is as good as GMC claims. We made U-turns in this truck that we wouldn't have dared to make in most ordinary SUVs. Forget CrabWalk, this is the Hummer EV SUV's real party piece.
It still turns watts into freedom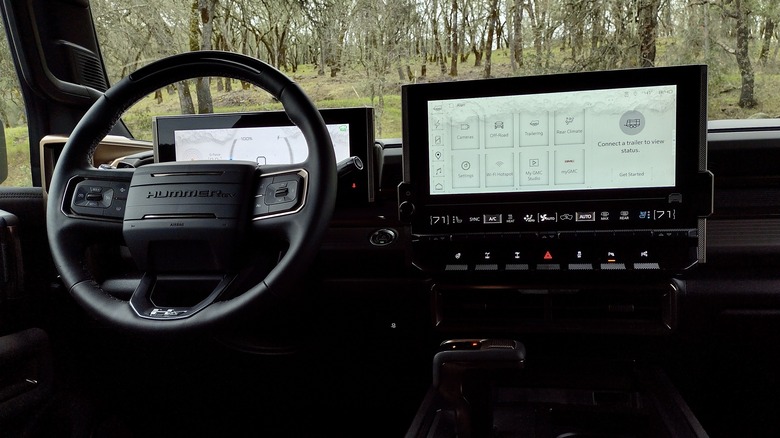 Stephen Edelstein/SlashGear
The three-motor Hummer EV SUV models available at launch are rated at 830 horsepower. That's less than the pickup's 1,000 hp, but still quite a lot, even in a vehicle expected to weigh over 9,000 pounds. Torque is also unchanged at 11,500 pound-feet (measured at the wheels), and GMC claims a zero to 60 mph time of 3.5 seconds with the Watts to Freedom (which abbreviates to WTF, in case you didn't get the joke) launch mode.
The Hummer's acceleration is mostly impressive because of the vehicle's size, and how visceral the experience of turning watts into freedom really is. Lots of cars can match that zero-to-60 time—Rivian claims its R1S will beat the Hummer by half a second—but none are this heavy. And Watts to Freedom delivers the physical, organ-rearranging sensation of acceleration that's normally the domain of supercars.
That's great until you need to stop. Mashing the brake pedal is accompanied by plenty of nosedive and body shimmying as the Hummer fights its own bulk. It's a good thing the Hummer EV still allows for true one-pedal driving, which makes deceleration a much more dignified experience in most driving situations.
Now with bidirectional charging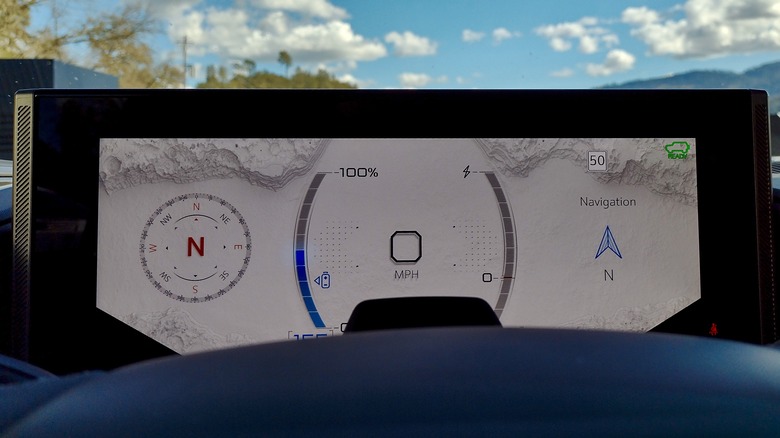 Stephen Edelstein/SlashGear
GMC retained the double-stacked battery pack layout from the Hummer EV pickup, but the SUV has 20 modules instead of 24, likely bringing total capacity to just below 200 kilowatt-hours (GMC hasn't disclosed a specific figure). That's because GM's Ultium strategy makes the battery pack a part of the vehicle's structure, so the pack's dimensions are determined in part by wheelbase length. The SUV's shorter wheelbase means less space for battery modules, although GMC still estimates roughly 300 miles of range.
GMC is also rolling out some charging upgrades with the SUV version of the Hummer. A more powerful 19.2-kilowatt AC charger can take the battery from 20% to 100% charge in a claimed eight hours. The Hummer EV can also DC fast charge at up to 300 kW (we briefly saw 280 kW in less-than-ideal conditions), adding a claimed 100 miles of range in 14 minutes at max power.
The SUV also rolls out bidirectional charging. Using the included charge cord and attachment, it can charge another EV at up to 6.0 kW, or power appliances and other electronics through an accessory at up to 3.0 kW. These features will be added to the Hummer EV pickup as well for 2024.
Tech is still form over function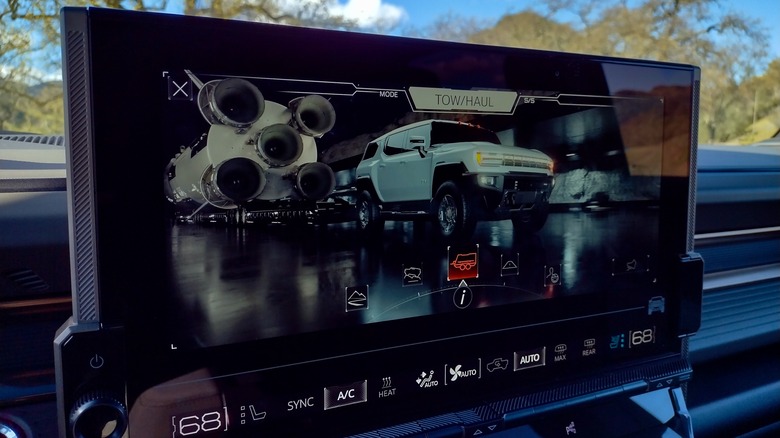 Stephen Edelstein/SlashGear
Everything else is pretty much identical to the first SUV, including an interior dominated by a 13.4-inch infotainment touchscreen, 12.3-inch digital instrument cluster, and materials that seem cheap in a six-figure truck. That means owners won't have to be precious about them when using the Hummer EV as intended, at least.
While the SUV's width creates some feeling of spaciousness, headroom isn't exactly generous, owing to the thick floor and removable roof panels. That spare tire also cuts into rear visibility, so you'll be relying heavily on the Hummer's digital rearview mirror most of the time.
The UX graphics, made using the Unreal Engine, remain impressive. The lunar surface texture of the instrument cluster display and the animation of a Hummer EV towing a Saturn V rocket for the Tow/Haul drive mode are cute references to GM's role in the Apollo space program (the lunar rover was the automaker's first electric off-roader). It's nice to see an automaker going bold with graphics, rather than installing a large screen for bragging rights and filling it up with something boring.
Nice graphics don't make the interface any easier to use, however. The amount of icons and menus is still fairly dense, although the use of Google Built-In means navigation will at least be fairly familiar for anyone who has used Google Maps.
An off-roader first, an EV second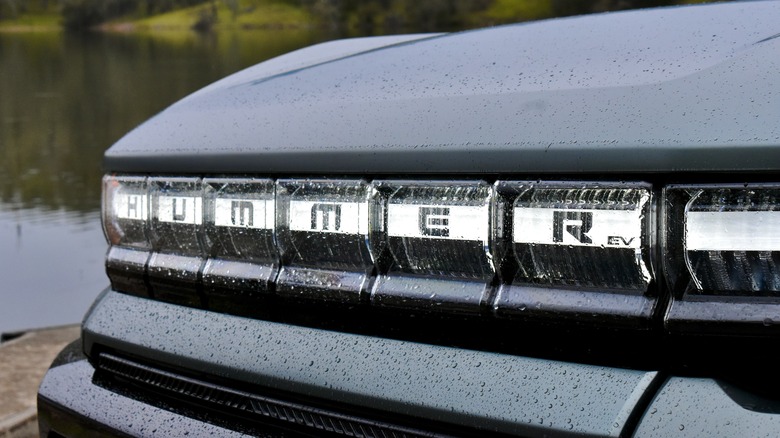 Stephen Edelstein/SlashGear
The SUV brings the reborn Hummer into greater focus. The pickup has never fared well in comparisons to other trucks due to its underwhelming towing capacity and payload rating, but those things aren't as important in the SUV market. The Hummer EV SUV is just focused on off-roading, finally giving GM a competitor to the most hardcore Ford Bronco and Jeep Wrangler models—one that happens to be electric.
GM may have gone too far in trying to make the Hummer EV—in both pickup and SUV forms—true to the Hummer brand. In addition to off-road ability, it imbued them with hilarious inefficiency (we saw around 1.4 miles per kWh through most of our time in the SUV) and gluttonous size. It's almost as if someone designed the electric models ironically based on Hummer stereotypes. While that makes the Hummer EV hard to ignore today, it could be a problem when more electric off-roaders—like the Jeep Recon, Mercedes-Benz EQG, and Volkswagen's new Scout EVs—appear and the shtick gets old.