2022 Ford F-150 Lightning First Drive: Big Risks, Big Rewards
It's still an F-150. That's high praise for the 2022 Ford F-150 Lightning, when you're talking about American's best-selling vehicle for four decades, and its best-selling pickup for even longer still. That's a whole lot of credibility and cachet to risk, as you launch headlong into electrification, though the potential rewards are no less significant.
Clearly, Ford's pitch struck a chord. Hundreds of thousands of reservations in less than twelve months, an ambitious upscaling of production to meet that demand, and a race to deliver as many electric trucks as possible before hitting the US government's phase-out ceiling for the EV tax credit. All while doubling-down on the message that the Lightning isn't just an alternative to a gas or diesel F-150, but a genuine advance beyond it. Ford knows it has one opportunity for its EV pickup to make a good first impression, and it's leaving nothing to chance. 
Familiar styling with a frunk twist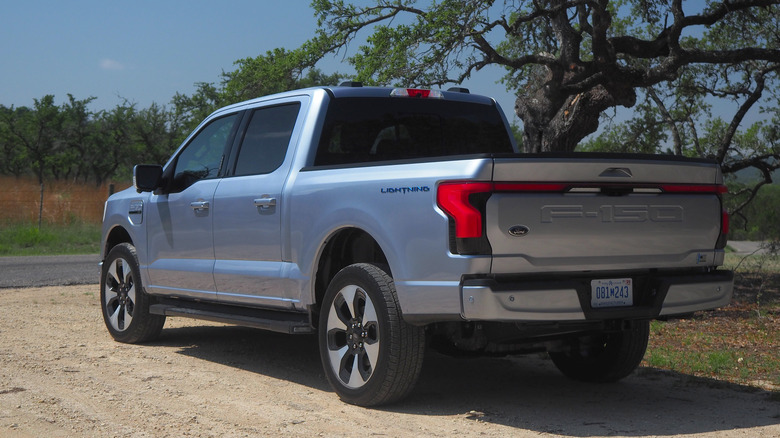 Chris Davies/SlashGear
Compared to some of the ostentatious electric trucks we've seen, the F-150 Lightning's design is positively restrained. That's absolutely intentional, too, and not simply to avoid deterring any of Ford's more traditional customers.
It's the most aerodynamically-efficient F-150 yet, but even then it doesn't lose any of the instant recognition: even with a slightly smoother hood, blanked-out grille, and striking front and rear light bars, this is clearly an F-Series. More importantly, it means broad cross-compatibility with existing accessories. The bed is the same size and shape, for instance, which means if you already have a tonneau cover or tool chest, it should slot right in. That's a particularly big deal for companies wanting to mix gas and electric trucks in their fleet.
What Ford hasn't done, though, is allow that backward support to stop it from taking full advantage of the flexibility electrification brings. The most obvious evidence of that is the frunk, the huge storage area under the power-operated hood. Now, most EVs have something like that, but the F-150 Lightning's is another level in terms of capacity: 14.1 cu-ft alone, wide enough for two golf bags, and waterproof with a drain hole in the bottom.
To make it, Ford didn't just have to ditch the gas engine but shift everything else that's typically under the hood: In fact, the engineers say, it was the hardest single design element of the whole truck. Frankly, though, the effort was worth it. With AC and USB power outlets it's a perfect place to keep bags and laptops secure and charged up.
From $40k before incentives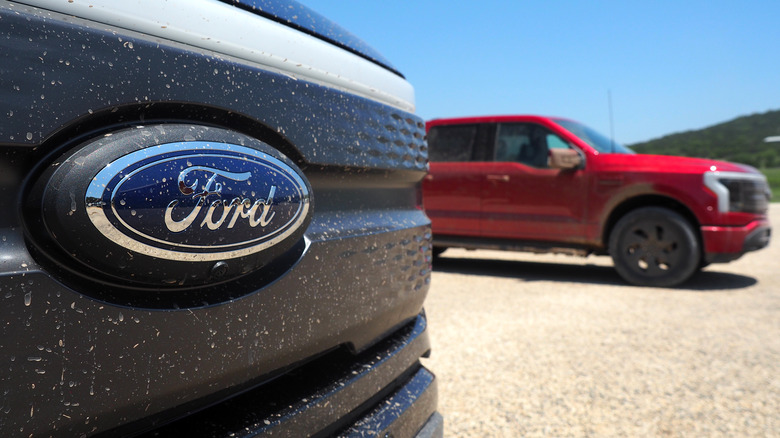 Chris Davies/SlashGear
Unlike other electric trucks we've seen, Ford isn't kicking off with the most expensive configurations and only bringing out cheaper versions later on. Instead, the 2022 F-150 Lightning arrives in everything from a $39,947 Pro configuration, through to a $90k+ Platinum trim. That's before the $7,500 federal tax incentive for EVs, though it's worth remembering that Ford is pretty close to the point where that credit starts to taper off and, eventually, disappear altogether.
Still, for the moment it means the F-150 Lightning could potentially be under $33k, before destination fees and any further state or local incentives. That gets you the standard battery, rated for 230 miles of range on the EPA's test cycle; the extended battery is rated for 300 to 320 miles, depending on trim. We'll need to do proper testing to see how close the truck gets to that in practice, though 2.0-2.2 miles per kWh seems typical from my early experience.
The most torque of any F-150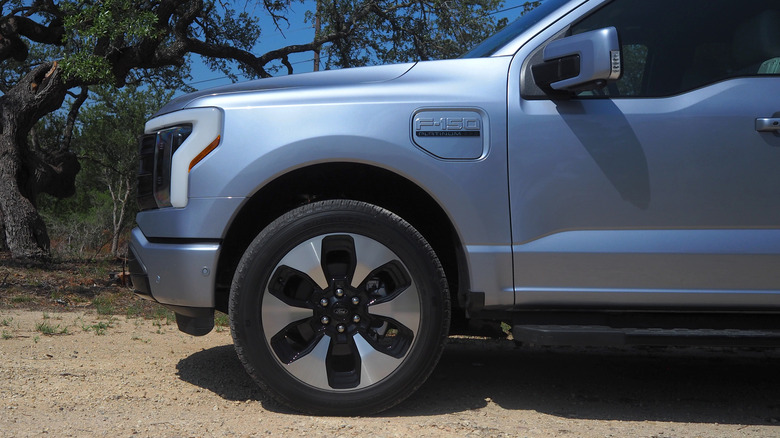 Chris Davies/SlashGear
Dual motor, all-wheel drive is standard, as is 150 kilowatt DC fast charging support. Figure on around 54 miles of range per 10 minutes plugged in. With the standard battery there's 452 horsepower, rising to 580 horsepower with the extended battery; either way, there's 775 pound-feet of torque. That makes this the most potent F-150 so far, eclipsing even the Raptor.
Even with the not-inconsiderable curb weight, then, the Lightning has some hustle. The standard battery gets you a 0-60 mph time of 5.0 seconds; the extended battery trims that to mid-4-seconds, Ford estimates. As with all EVs it's deceptively speedy from a standing start, and there's never a shortage of overtaking power.
On the road, the lower center of gravity and Ford's unique suspension for the Lightning help avoid some of the shimmy and bounce that can be disconcerting in regular full-size pickups. There's no height-adjustable air suspension as you get in a Rivian R1T — and Ford's Sport drive mode doesn't show quite the duality of aggressive personality as the R1T unlocks, either — but it makes for a comfortable cruiser nonetheless.
BlueCruise for the highway, AWD for the rough stuff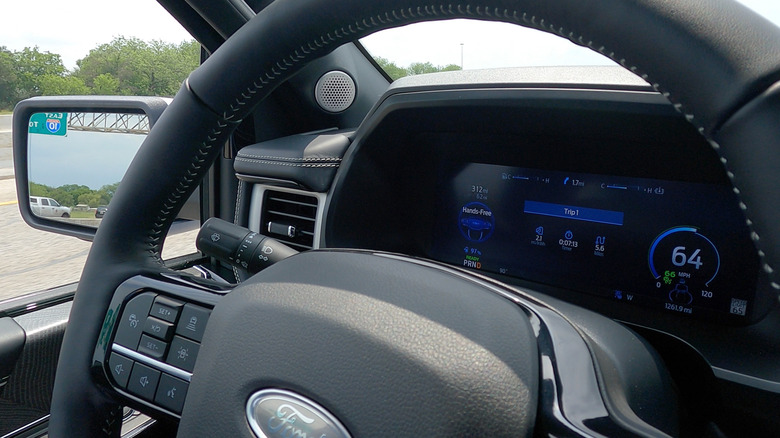 Chris Davies/SlashGear
BlueCruise, Ford's hands-free driving assistance tech, is available on the Lariat and standard on the Platinum trims. It's definitely worth considering if you do a lot of highway driving, with twin cameras watching to make sure you're paying attention even as the F-150 handles speed and lane-keeping on stretches of divided highway in the US and Canada which Ford calls "Blue Zones."
I like BlueCruise, though it's definitely still a work-in-progress. It's fairly conservative, as I found with Lincoln's version of the tech, and will sometimes throw the responsibility back to you in sharper corners, for example. Ford can, at least, update it later on with over-the-air improvements, but it's worth remembering that — like all systems of its type — this is not autonomous or self-driving, and you're always responsible even if your hands aren't physically on the wheel.
At the other extreme, the Lightning's Off-Road mode underscores just how adept electric vehicles can be off the asphalt. An e-locking rear differential — which physically locks the rear wheels together, overruling the normal brake-based torque vectoring — is activated in the settings menu. One anomaly is that you can't use one-pedal driving in Off-Road mode: Ford says it's to avoid accidental lurching if you're bouncing around and your foot moves unexpectedly, but also so that it can maximize the full use of the accelerator travel for precise motor control.
Individual preferences on that aside, the F-150 Lightning certainly held up on Ford's off-road course. Steep inclines, unstable gravel, and muddy ditches proved no real challenge, and the instantaneous torque delivery makes gauging maneuvers far easier.
A tow rating to be proud of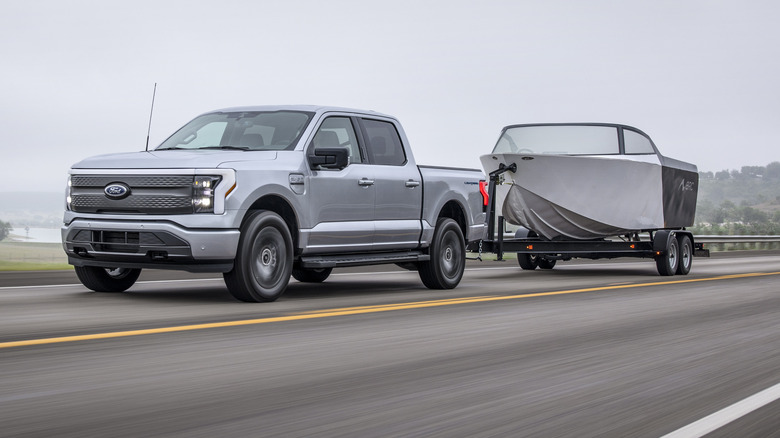 Ford
As for towing, with the standard range battery and the Max Trailer Tow package, the Pro, XLT, and Lariat trims can handle up to 7,700 pounds. That rises to 10,000 pounds with the extended range battery. The Platinum, which only comes with the bigger battery pack, tops out at 8,400 pounds.
Contrary to some assumptions, Ford insists, electric vehicles aren't inherently less efficient than their internal combustion counterparts when it comes to towing. The same goes for payload, the Pro, XLT, and Lariat rated at up to 2,235 pounds, and the Platinum at up to 1,850 pounds. Honestly, if I was going to be towing for extended periods, I'd probably still opt for a gas truck — the speed and convenience of filling up has an edge, there — but for weekend jaunts this is all more than sufficient.
Big buttons, big touchscreens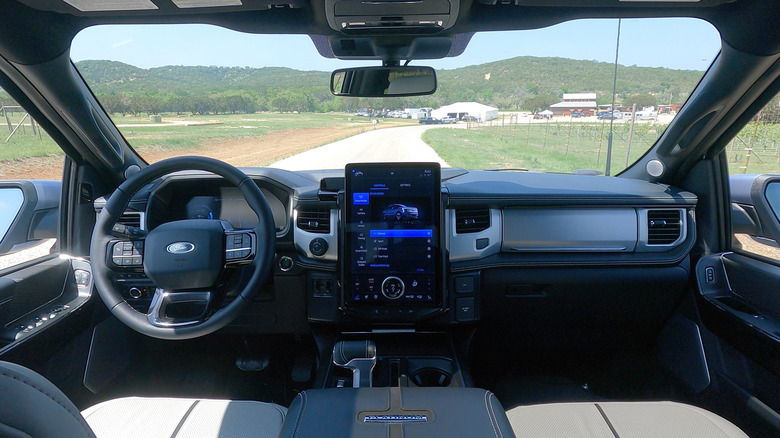 Chris Davies/SlashGear
Inside, if you've been in a recent F-150 then the Lightning's cabin will come as no real surprise. The more affordable trims put the focus on durability; the Lariat and Platinum get fancier, with leather and some wood-style deco, though there's still plenty of plastic. It all feels sturdy, and Ford doesn't make the mistake of doing away with all the physical controls like in some EVs. They're nicely sized, too, which is important if you're wearing work gloves.
The clever fold-out work table from the gas F-150 is present here, complete with the fold-flat transmission shifter. The Platinum's massage seats are a vast improvement over Ford's old system, too: they no longer sound or feel like a recalcitrant traction engine trying to juggle you. Lariat and Platinum models get B&O audio systems, a power tailgate, wireless phone charging, and 9.6 kW Pro Power Onboard, while blind-spot warnings are standard across the board and everything from XLT up has the 360-degree camera.
Pro and XLT get SYNC 4 on a 12-inch landscape-aspect touchscreen, while Lariat and Platinum have the 15-inch portrait touchscreen familiar from the Mustang Mach-E, and SYNC 4A. The latter mixes persistent controls with configurable "dash cards" and plenty of menu pages. There's also wireless Apple CarPlay and Android Auto on both systems. I think familiarity would temper some of the feelings of UI overload, though I wouldn't argue with some programable shortcut buttons to quickly pull up things like the camera.
Ford Intelligent Range promises to ease a big EV anxiety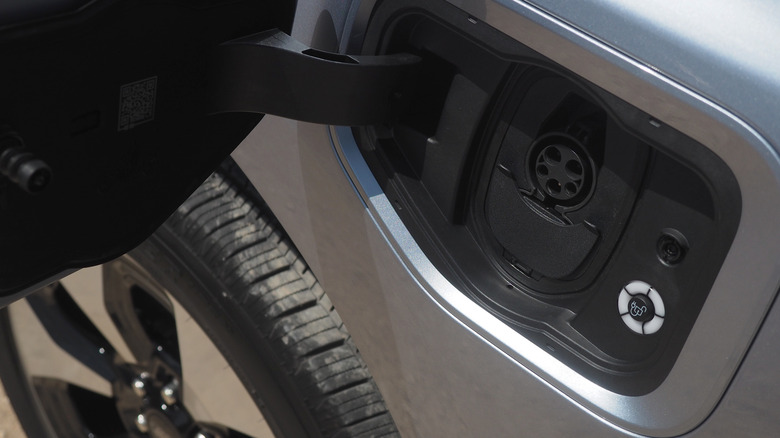 Chris Davies/SlashGear
The real smarts are in how SYNC 4 works with the rest of the Lightning, and Ford's cloud, to better calculate range. Range anxiety understandably still ranks as one of the most off-putting aspects of EV ownership, and making sure the number on the dashboard is as accurate as possible is something every automaker is trying to get right.
Ford's approach combines your own, historic driving style with the wisdom of the crowd, based on the route you set in Lightning's navigation system. It compares that with anonymized data from other EV owners, to better predict how the battery will hold up, even on routes you've never taken before, and if you get the Onboard Scales option — which shows exactly how much load is in the bed or on the tow hitch — Ford Intelligent Range will take that into account too. If there's not enough charge for the trip you have planned, it'll suggest when and where to plug in along the way, and how long you should be waiting.
What you won't see while you're there is a Ford-branded charger. Instead, the BlueOval Charging Network brings multiple third-party networks like Electrify America under its umbrella, with over 70,000 chargers currently in the system. The upside is a single way to initiate and pay for charging when you're on the move, though it still means the experience of F-150 Lightning drivers at those chargers is dependent on the upkeep of the individual networks. As we've seen all too frequently, that experience can be undermined by slow or just plain broken stations, though Ford does check out locations where drivers of its EVs have subpar experiences. Particularly problematic chargers will get left out of route planning.
Equally useful when it's in park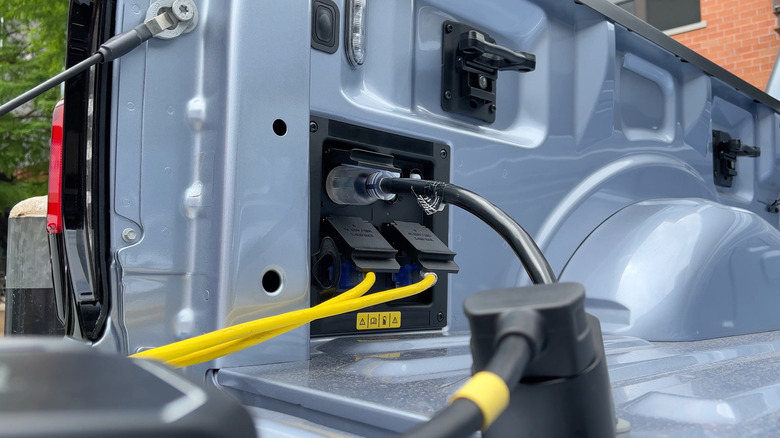 Chris Davies/SlashGear
Tempting as it is to take full advantage of all that horsepower and torque, the F-150 Lightning's battery is arguably just as useful when the truck is parked up. Depending on trim there are as many as eleven outlets spread around the cabin, bed, and frunk. That includes 120 volt, 240 volt, and USB, with up to 9.6 kW to play with.
It's enough to run the tools for a worksite, a pretty epic tailgate party, or a hotel-quality campground, without having to worry about the noise or fumes from a gas generator. Cough up the roughly $4k (plus installation) for the Intelligent Backup Power system, meanwhile, and with the right wall charger — that Ford includes with the extended battery — the F-150 Lightning can instantly start supplying power to your home in the case of an outage.
Ford says it can run the average home for three days, or up to ten if you're more frugal, with options in the app to control how much juice is kept in reserve for actual driving. Later on, software updates will allow the home to automatically switch between grid and Lightning power, depending on how expensive electricity rates are. That's something no gas or diesel truck can do, and — given the reaction of everyone I've explained it to — could well end up being the surprise killer feature, especially when you consider a typical, traditional home backup generator could run $10-20k alone installed.
Lightning strikes before the key rivals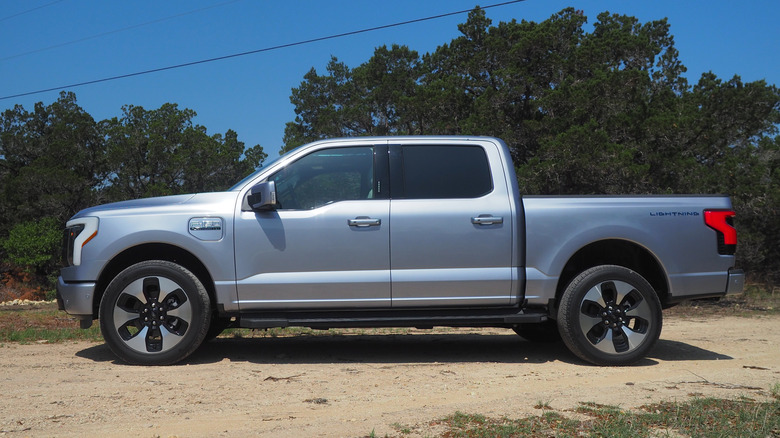 Chris Davies/SlashGear
Though the EV market isn't exactly new any more, Ford's electric truck arguably makes the biggest splash. Rivan's R1T is on sale, but production numbers are still very low and it's more expensive than many of the F-150 Lightning configurations. Ford — which is actually a Rivian investor — also sees the target audience as being pretty different, too, and I don't disagree.
The same has to go for the GMC Hummer EV, both in short supply and for the moment six-figure costly. Tesla's Cybertruck, Chevrolet's Silverado EV, and Ram's 1500 EV are all potential competitors, but none are in production yet. That gives Ford a decent window of opportunity.
Actually taking advantage of that window will arguably be Ford's greatest challenge. With 200,000 or more reservations under its belt, interest in the Lightning far exceeds the current production capacity. Having whet the market appetite for a legitimate electric F-150, the irony is that it could take two years or more before Ford can actually come close to sating that initial demand.
A huge risk, a huge payoff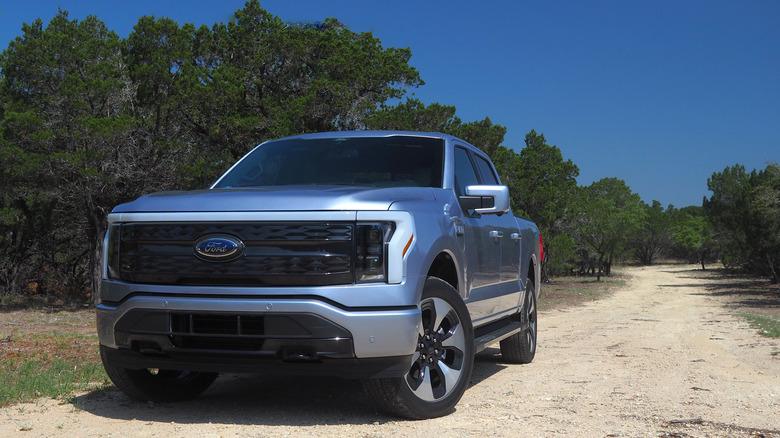 Chris Davies/SlashGear
For all it has plunged head-first into the F-150 Lightning, then, Ford is still being rational. The EV will go on sale alongside, rather than replacing, its gas and diesel cousins. For some, it'll be the perfect fit. For others, a wait-and-see attitude may make more sense, and Ford will happily sell you an internal combustion F-150 — or maybe a PowerBoost hybrid — while you ponder the path to full electrification.
Make no mistake, though, Ford has clearly thought through that path too. What stands out is just how cohesively the electric drive fits the F-150 generally. Nothing feels half-hearted or compromised; there are no gimmicks here. My only real frustration is the price delta between the standard and the extended range batteries, which adds a whopping $19.5k to the XLT or $10k to the Lariat.
With demand as it is, Ford will undoubtedly sell every F-150 Lightning it can make for the foreseeable future. Beyond that, though, the electric truck is a compelling blueprint for what comes next in EVs. Like with the Mustang Mach-E, Ford took a gamble with one of its biggest nameplates, and it's an ambitious risk that looks to have paid off.