2022 GMC Hummer EV First Drive - Embracing Excess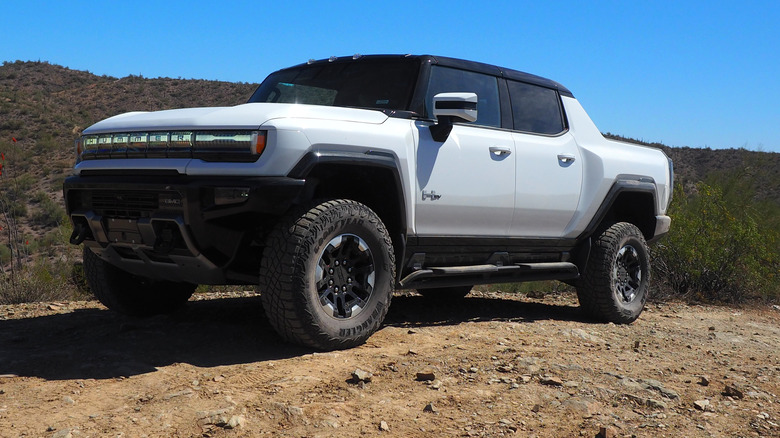 Chris Davies/SlashGear
Trying to make a rational argument for the 2022 GMC Hummer EV pickup's existence is an exercise in madness. It also misses the point. This six-figure all-electric "supertruck" doesn't just greenwash the gas-guzzling Hummer brand, it upends pretty much all expectations for EVs and the reasons we should be buying them.
It's also our first taste of the GM Ultium platform, though GMC's record-setting 26-month development means it's not entirely indicative of what we can expect from that. Beneath the slab-sided styling is a blend of Ultium and old, a reminder that though General Motors may not be new to EVs, it's still teetering on the edge of a truly mass-market push for the technology.
What you see here, then, is an ostentatious amuse-bouche not just expecting but hoping to cause controversy, not least from its badge. The gas-thirsty drivetrain may have been left behind, but the borderline ridiculous size memorable from the original Hummer remains. GMC has leaned into that with the Hummer EV Edition 1, which will only be offered in orca-aping white and black.
Yes, it turns heads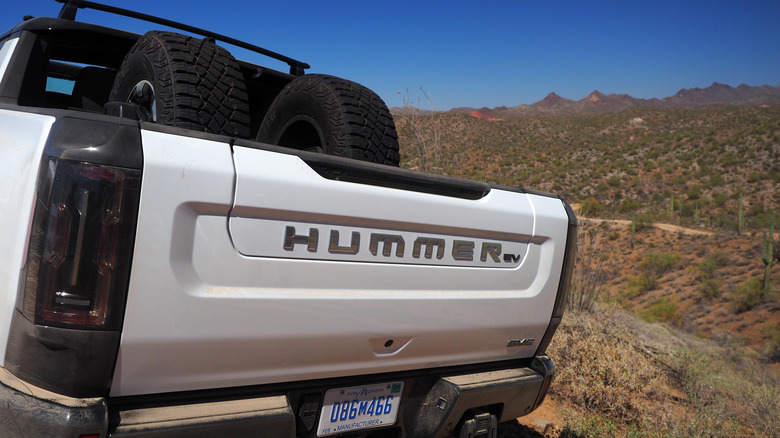 Chris Davies/SlashGear
Spanning the fascia is "Hummer EV" picked out in six illuminated blocks — a nod to the grille of the original — flanked with animated clusters that also show segmented charging status when the EV is plugged in. Ironically, that glitzy light bar is entirely concerned with melodrama: the functional lights are lower down, to comply with height regulations.
The hood powers open to reveal a sizable cargo space, though unlike in Ford's EV pickup there's no 110V outlet in there, just a 12V socket. By default, GMC fills the frunk with a stack of four holders — unofficially referred to as the pizza boxes — for the removable Infinity Roof panels. The tinted sections are easy enough to unlatch, stow, and then latch into place again, though if you want to take out the crossbars you'll need to use the supplied hex key set.
At the other end, meanwhile, there's a 5-foot bed with a retractable cover. GMC's MultiPro tailgate is as clever as always, origami'ing into various different positions to encompass steps and more, though the Hummer EV's sheer height means there's still quite a way to climb. The cargo space itself has AC outlets but none of the built-in air compressor usefulness that Ford and Rivian offer.
A high-tech, design-first cabin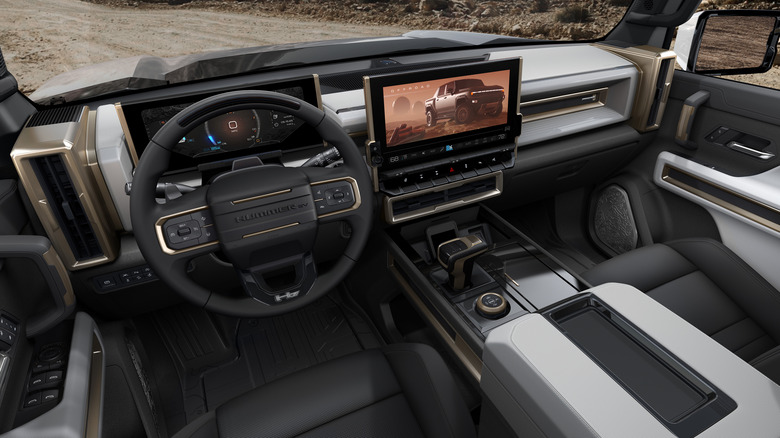 GMC
Clamber inside – aided by the useful fixed running boards – and you'll find a cabin like no other GMC model. It's more high-tech for a start, with a 12.3-inch driver display and a 13.4-inch central touchscreen, but the designers have clearly taken the liberty to express themselves. There's lots of knurling, etched buttons, and an angular custom font for a UI built atop the same Unreal engine familiar from AAA console games.
There are some usability niceties, certainly. Despite the big touchscreen, GMC still gives us a physical volume knob; there's a dedicated display spanning the HVAC toggle switches to show things like temperature and seat heating/ventilation settings. The shifter is refreshingly absent of weird design flourishes, and there's a big, easy-to-use drive mode dial.
Twist that, and you get fancy animations of the various settings on the display. It's all very playful and eye-catching, but there were definitely moments when I was reminded of the "early production" nature of these particular trucks. Some graphical sluggishness at times, along with some UI glitches, which hopefully over-the-air (OTA) updates will take care of in due course.
The Hummer EV is no TARDIS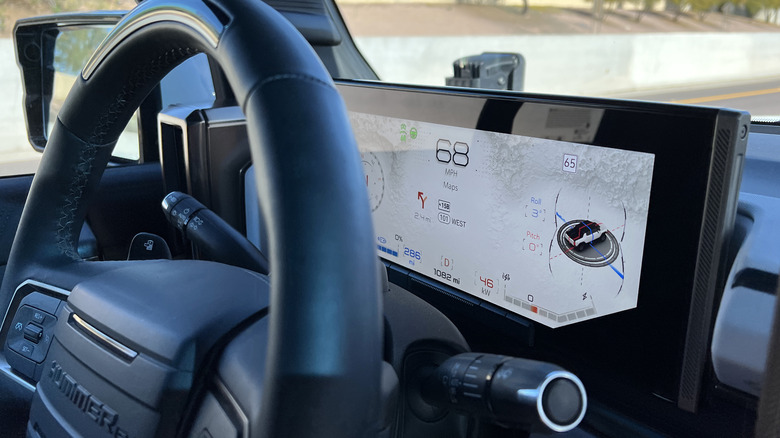 Chris Davies/SlashGear
Less likely to change is the fact that the digital interface is all fairly complex to interact with. Figuring out which icon is for which of the 18 UltraVision cameras — including some under the truck's body — required more deciphering than I'd prefer, and the heavily stylized UI can feel overwhelming. On the flip side, some of the mundane-but-necessary graphics like the Super Cruise set-speed are needlessly small.
The cabin itself is spacious, but not excessively so. Certainly not what you might expect, given the exterior dimensions, something this electric Hummer has in common with its gasoline predecessors. GMC has squeezed in functionality where it could, though. Pop-out center cushions in the rear seat-backs, for example, reveal extra storage cubbies, and there's a generous sprinkling of USB ports (in both Type-A and Type-C flavors) along with wireless charging. 4G LTE is baked in, too, for WiFi hotspot, OTA update, and remote app monitoring purposes.
A huge electric SUV needs a huge battery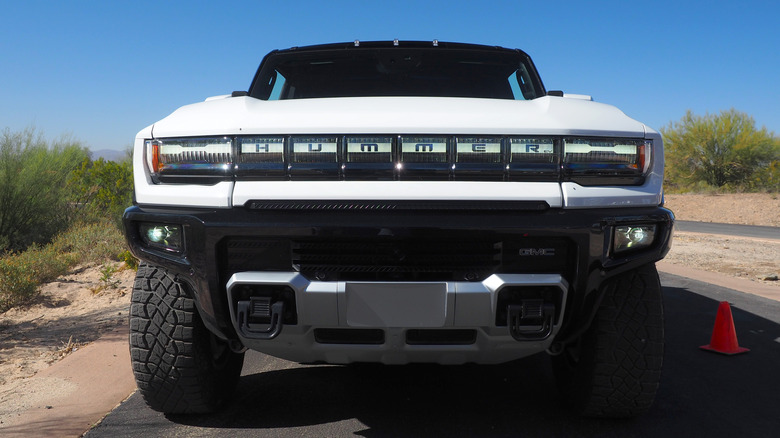 Chris Davies/SlashGear
It comes as no surprise that a vehicle 18 feet long, 7 feet wide, and 6.5 feet high is heavy. Chasing scale, speed, and range, GMC locked itself into a Faustian bargain for battery pack size. The resulting 205 kWh slab is more than three times what you get in a Kia Niro EV, or a little over twice what Tesla's Model S totes.
Despite that, GMC expects an EPA rating of 329 miles for its truck. It's enough to make it one of the least efficient EVs on the market, in miles-per-kWh-total, if not the least efficient, while that sizable battery is a significant contributor to the Hummer EV's 9,243-pound curb weight.
The 329-mile range is, as GMC rightly points out, more than the 320 miles an F-150 Lightning Extended Battery will take you, or the 314 miles an R1T Large Battery will last. To achieve that slight advantage, however, the Hummer EV has to carry significantly more battery capacity than the Ford's 131 kWh or the Rivian's 135 kWh.
The focus is the power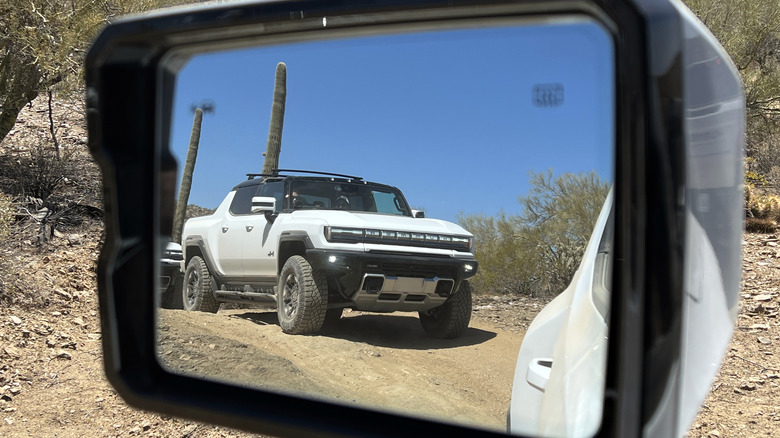 Chris Davies/SlashGear
It's not the only head-scratcher. The maximum payload is 1,307 pounds, while in Edition 1 the trailer rating is 7,500 pounds. They're fine numbers but hardly scaled to match the Hummer EV's own heft. More galling is the fact that, unlike with the Ford, there's no support to use that big battery to power a whole home during an outage. That seems like a massive missed opportunity.
Then again, the F-150 Lightning doesn't bring 1,000 horsepower and 1,200 lb-ft of motor torque to the party. They're supercar-besting figures, and even-tempered by the Hummer EV's mass they leave it feeling exceptionally quick.
A true off-road electric superstar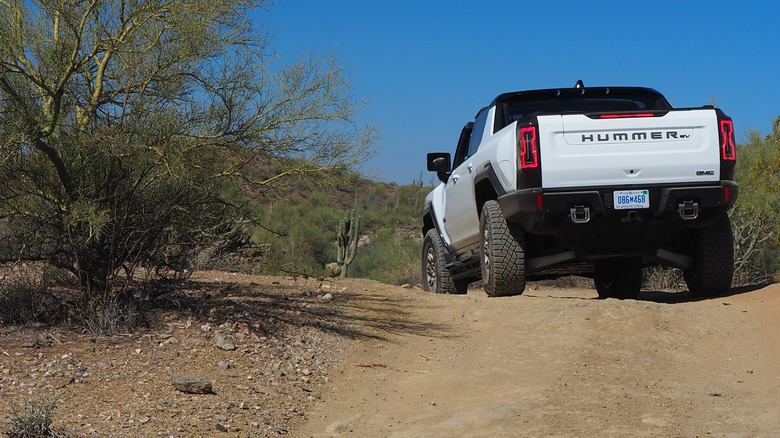 Chris Davies/SlashGear
GMC hasn't just made a drag racer, but a proper off-roader, too. Special 35-inch Goodyear Wrangler Territory tires are standard, and they put in a capable showing out in the trails outside Phoenix, AZ. The loose gravel riverbeds, twisting sand and rock courses, and steep inclines make it popular among ATV and motorcycle riders, not to mention a fair number of Wranglers and the like: a convoy of near-identical black and white Hummer EVs looked otherworldly among the cacti and scrub.
We spent our time switching between the Off-Road and Terrain modes, which harness the various electronic and mechanical systems. Extract mode, which will crank the Hummer EV to its tottering near-16 inch maximum ride height, will arrive as part of an OTA update at some point in the future. Still, it's tough to imagine actually requiring it.
It's easy to become glib about driving the Hummer EV away from the asphalt. There are niceties like a front physical e-locker and a virtual rear locker, not to mention the Crab Walk party trick which sees the pickup sashay diagonally, but most of the time it's a case of point-and-shoot. Even if you're a lackluster off-road driver, GMC's tech and power combine to rescue you in most situations.
Legitimate talent, even if few are likely to use it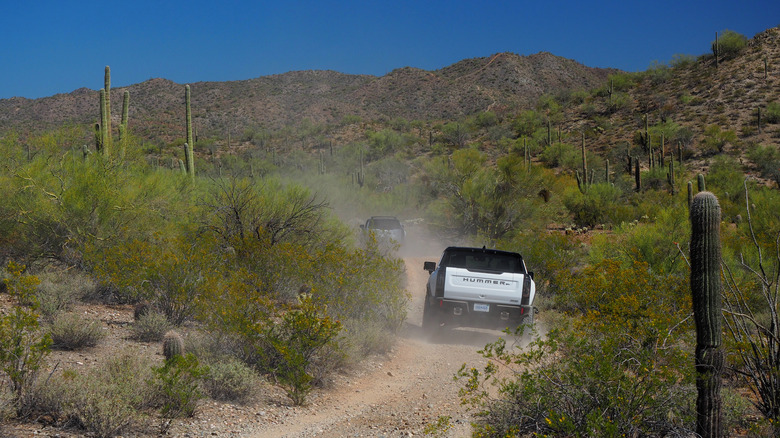 Chris Davies/SlashGear
With its vast rubber and plentiful torque, you're never short on grip. A combination of the extended ride height and the flat underbody makes avoiding errant rock snags simple, too. Only the realities of weight and looser sand were really of concern: the Hummer EV is not a friend to more delicate trails. If you manage to burst a tire, too, be prepared for a wait: there's no full-size spare, so you'll be using sealant and a comically small compressor to perform a temporary repair.
GMC has clearly done a huge amount of work to ensure the Hummer EV is no pretender off the asphalt. Even if, frankly, just a tiny percentage of owners are likely to take on any more challenging terrain than inadvertently climbing a parking lot curb.
A beast on regular roads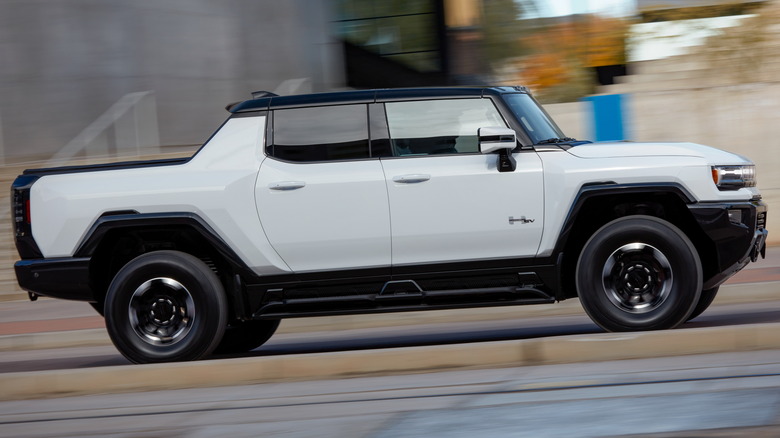 GMC
Out on public roads, meanwhile, the Hummer EV's size is undeniable. Like most modern SUVs and trucks, its blind spots are prodigious: never mind overlooking children who dare walk too close to its slab sides, I lost a whole Chevy at one point. All the parking sensors and 360-degree cameras in the world don't save you from a perpetually heightened sense of paranoia about where the GMC's edges are, and frankly nor should they. Operating something of this scale rightly comes with a sense of absolute responsibility.
Nonetheless, with its all-wheel steer, the Hummer EV is oddly nimble even in more crowded urban settings. Yes, it just about fills a lane on the highway, dotted line to dotted line, and yes, I had the tendency to hold my breath as I squeezed through narrower gaps in traffic, but the pickup itself is unexpectedly agile.
By counter-rotating the rear wheel angle to that of the front wheels, GMC can effectively shorten the truck's wheelbase and thus make for tighter turns. That's hardly new, and it's a trick many luxury automakers have tapped for their lengthy sedans, but never have I seen it work with such effectiveness as on the Hummer EV.
Watts to Freedom packs an unexpected lesson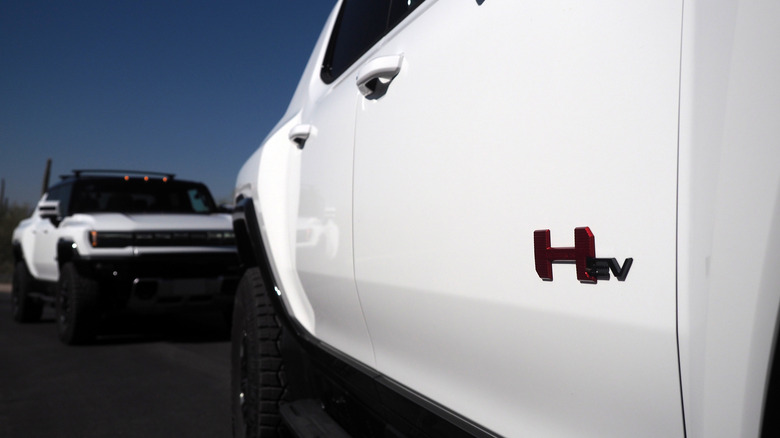 Chris Davies/SlashGear
The same goes for the brakes, which blend regenerative braking — which feeds power back into the batteries as the EV slows — with physical discs and pistons. GMC subtly blurs the distinction between the two, but the takeaway is that they're more than capable of hauling the big truck to a halt. Little demonstrates that better than the "Watts to Freedom" launch mode.
Basically, a way to send the Hummer EV rocketing from zero-to-60 mph in about three seconds, it's a talent more commonly seen in sports cars. There's all manner of fanfare to go with it, both in animations on the EV's displays and a rousing, burbling soundtrack cooked up by Bose, and of course, the sheer sensation of pace is remarkable. What's truly astonishing, however, is how well the GMC stops at the other end.
No squirming, no fish-tailing, and a lot less dive than you'd expect. Instead, the Hummer EV just claws its way to a halt. It's genuinely impressive.
An expensive lesson in electric excess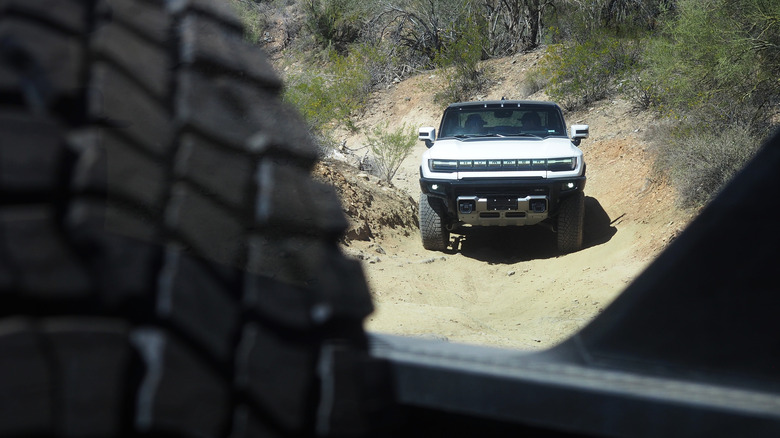 Chris Davies/SlashGear
As is so often the way with the Hummer EV, though, just when you're starting to praise its features, you realize that they're solutions to problems of its own creation. Those vast and capable brakes? GMC made its own bed there, with the truck's size and weight. Nimble all-wheel steer and Crab Walk? They're only really necessary because the damn thing is so huge.
It is far from the most efficient electric vehicle on the market. Then again, we don't expect a Bugatti to get the same fuel economy as a Volkswagen Golf. GMC has been charmingly upfront with its "supertruck" billing and its blunt commitment to giving the Ram 1500 TRX and F-150 Raptor owners of the world an electric alternative that can't be dismissed as fey or milquetoast. Sure, those of us already convinced by electrification can roll our eyes at the marketing and bravado, but 66,000 reservations and counting for the pickup and its SUV sibling suggest it's an argument that has landed in some quarters, at least.
That includes a wait-list for the Hummer EV Edition 1, the order books for which are full. In return for their $110,295 (plus destination), buyers will get a fully-loaded truck, including the latest iteration of Super Cruise with auto lane change. A driver-monitoring camera sits atop the steering column, tracking attention and in return for it allowing you to leave your hands off the wheel on pre-mapped divided highways. It's one of my favorite driver-assistance systems on the market right now, even if it can be a little disconcerting when a vehicle of the Hummer EV's scale decides it's going to automatically pull over to the next lane.
A monstrous showcase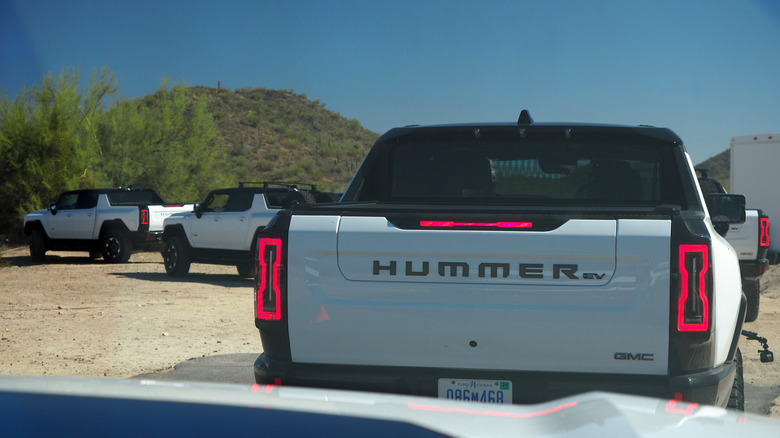 Chris Davies/SlashGear
There is something undoubtedly alluring about the Hummer EV, about its expression of unmitigated excess. In the same way that the showmanship of Marvel superhero movies is beguiling; the way that makes ordering a dessert billed as "The Ultimate Chocolate Challenge" in a restaurant so appealing. American appetites for vast trucks will undoubtedly make GMC's most beastly EV an equally monstrous success, though I can't help but feel like that misses the point.
As General Motors' first outing for Ultium, the Hummer EV is a bombastic showcase for just what the electric platform can do. Maybe it'll even supplant some single-digit mpg gas trucks in garages, though I suspect it'll join those fleets rather than replace them. Beyond that, however, it'll undoubtedly be Ultium-based models like the Cadillac Lyriq and Chevrolet Silverado EV which make the real inroads into the market and get Ultium to anywhere near the scale that GM needs it to achieve.
There is a place for an electric trophy-truck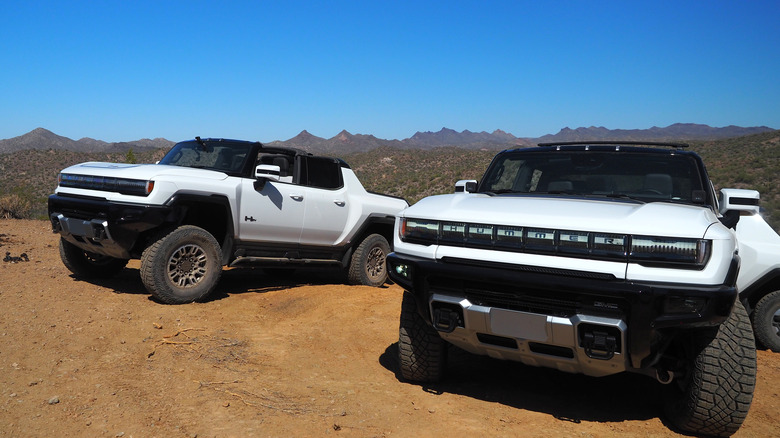 Chris Davies/SlashGear
The GMC Hummer EV, in contrast, feels like a prototype that GM decided to put into limited production. In due course there'll be more affordable versions, beginning with the $99,995 Hummer EV 3X later this year; eventually, GMC says, it'll have an $80k model, too. All the same, I do wonder if the sweeter spot might be a Hummer H2 EV: something a little smaller, with all the advantages in price and efficiency that would unlock.
It's not hard to get sucked into eco-piousness about this "supertruck" and question its existence. What I came to realize, seeing it among Raptors and TRXs so popular in Arizona, is that if a shift to electric in the auto industry is to work, then all vehicles will need to go EV. Not just earnest hatchbacks and crossovers, but trophy trucks and everything else. The Hummer EV is General Motors' bullhorn for Ultium and, laughable as it may seem at times, its profligacies could end up doing as much for broadening electrification's appeal as Tesla's Model S and Toyota's Prius did before it.