Ford F-150 Lightning's EPA Range Estimates Outpace Expectations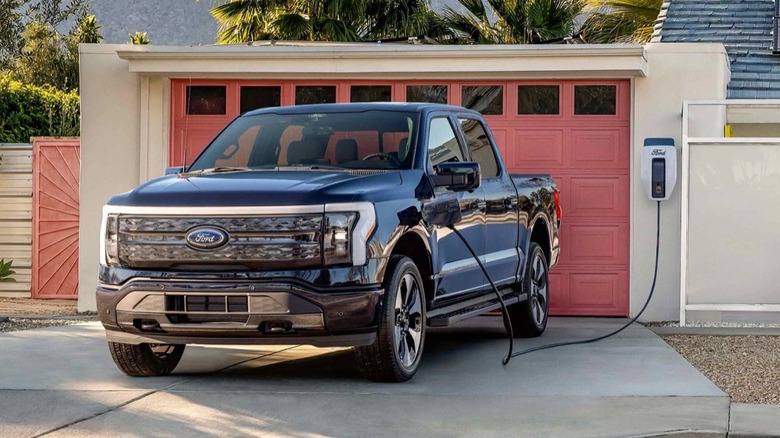 Ford
Ford has confirmed the final range estimates for the F-150 Lightning — the American automaker's fast-approaching all-electric pickup truck — and it's good news for drivers hoping to spend more time on the road than plugged in and charging. Although the final EPA figures aren't yet ready, Ford CEO Jim Farley tweeted out updated estimates for both the Standard and the Extended Range battery packs today.
When Ford unveiled the F-150 Lightning back in May 2021, the company said that it expected the Standard Range battery to be capable of traveling 230 miles under the EPA's testing. The Extended Range pack, meanwhile, was believed to be sufficient for 300 miles on a full charge.
Those estimates have held for the Standard Range pack, which Farley says should be good for 230 miles of driving in the more affordable F-150 Lightning configurations. It'll be offered on the XLT, Lariat, and Pro trims.
Ford's Extended Range battery is better than expected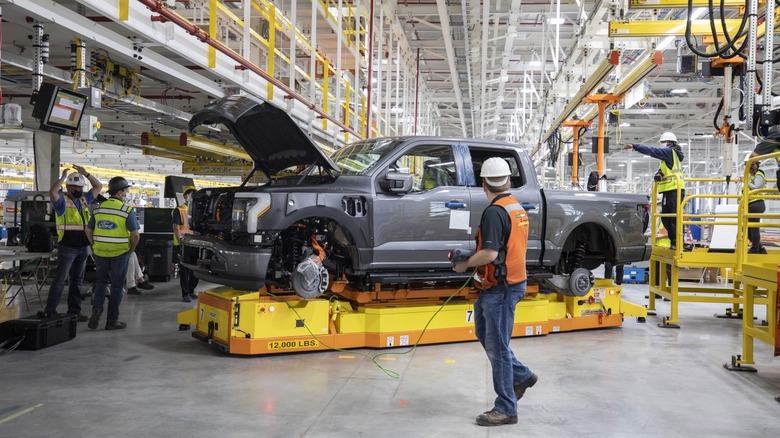 Ford
However, those three trucks will also be offered with the Extended Range battery as an option, and here's where things have improved. Now, Farley says, Ford expects them to drive up to 320 miles on a charge, 20 miles further than the original prediction. The F-150 Lightning Platinum, meanwhile — the highest-spec configuration of Ford's EV truck, at least for the moment — will still be rated at 300 miles, the automaker expects, likely a reflection of the more lavishly-equipped cabin.
It leaves the EV even more competitive in what is currently still a fairly small segment. Rivian's R1T electric pickup, for example, is rated at 314 miles of driving with its Large battery pack. Price adjustments by the startup earlier this month pushed the Rivian R1T price up to around $79,500, depending on final configuration, though it's worth noting that it includes four motors — one for each wheel — unlike the Ford's dual motors. Rivian will have a cheaper version of the R1T, with two motors, priced from $67,500 with a Standard battery good for an estimated range of at least 260 miles.
Bigger range, but still in short supply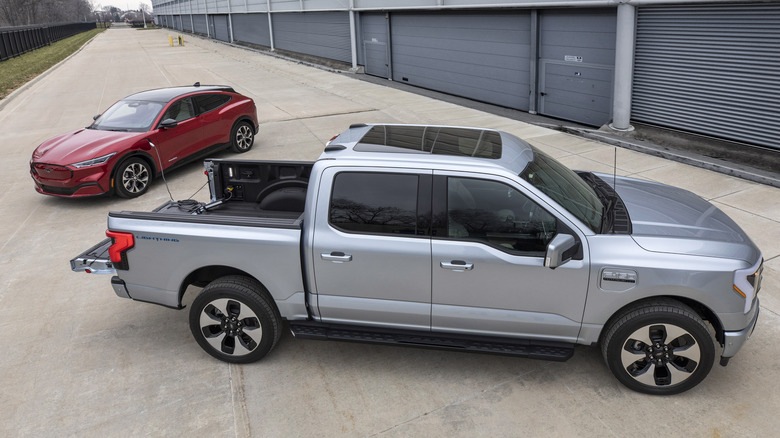 Ford
Elsewhere, GMC's Hummer EV — an all-electric trophy truck that initially will only be offered in very high-end configurations — is expected to have potentially more than 350 miles of range, again depending on the final trim level. Nonetheless, it's tough to describe the Hummer EV pickup as a direct rival for the F-150 Lightning, when GMC's initial versions carry six-figure price tags. The Ford, in contrast, starts from around $40,000 for the worksite-focused Pro trim, while the F-150 Lightning XLT starts at $52,974 before destination and incentives for the Standard Range battery. The same truck with the Extended Range battery starts at $72,474 before destination and incentives. A top-spec Platinum trim truck starts at $90,874.
For those swayed by Ford's new range estimates, the bad news is that F-150 Lightning demand continues to outpace supply. Ford has Ford has increased its F-150 Lightning production capacity several times now, but current reservation holders are unlikely to get their EV until 2023 at the earliest.