2023 Ford Bronco Everglades Review: Ready To Rumble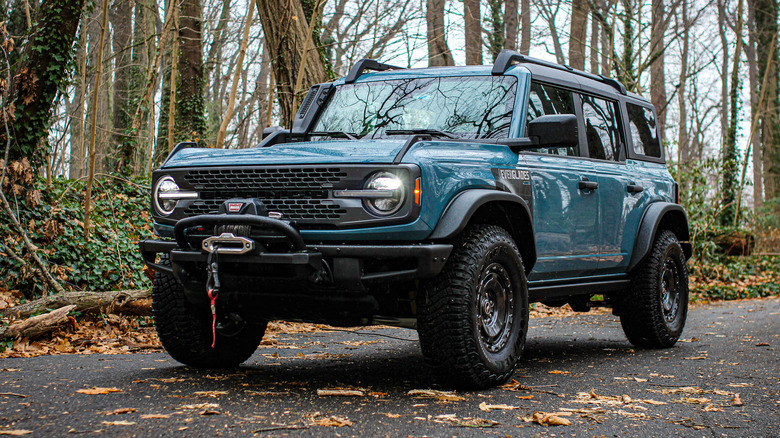 Alex Kalogiannis/SlashGear
After keeping the badge dormant for 25 years, Ford's eagerly awaited plaything, the Bronco, has been effortless in its overlanding assault on the imaginations of would-be off-roaders everywhere since its return last year. In a very short time, the challenger to the Jeep Wrangler's title as the ultimate American off-roader has maxed out online orders and hit the ground running, with Ford making sure everyone can find their flavor of Bronco with a dazzling array of trim levels.
After spending time with one of its higher-tier trims, the Bronco Everglades, it's very easy to see the appeal. While the Bronco Raptor remains the pinnacle powerhouse of the lineup, don't let its presence persuade you to write off the rest of the trims. Even with the smallest engine option Ford currently has to offer, the Bronco is rugged and ready to fulfill everyone's wilderness-traversing desires.
Hot to trot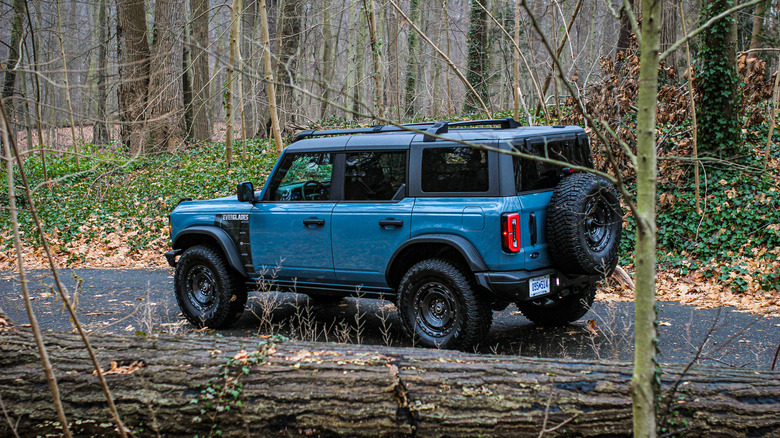 Alex Kalogiannis/SlashGear
The Ford Bronco is the American automaker's off-road adventure-focused utility vehicle. There are a stunning amount of ways customers can configure the Bronco, but here are the basics: The SUV comes in a 2-door or 4-door body-on-frame box that sits on a high-performance off-road suspension system. It's powered by one of two engines. The first is a 2.4-liter inline-4 EcoBoost engine that whips up between 275-300 horsepower depending on fuel grade, and 315-325 pound-feet of torque depending on configuration. The other is a 2.7-liter EcoBoost V6 that has an output of 315-410 horsepower and 330-415 pound-feet of torque. Now, there's also a third — a 3.0-liter EcoBoost V6 – that's exclusive to the Bronco Raptor, but that version is in many ways it's own vehicle outside of the base lineup.
Power is sent to all four wheels by way of a 10-speed automatic gearbox or a 7-speed manual, the latter of which is only available to Broncos sporting the 2.3-liter engine. While all are built to go anywhere, the myriad trims cater to different needs, with some more suitable for daily driving while others are kitted out to be the most confident in the dirt. These changes range from 16-to-18-inch wheels, 7 different tire options, and numerous upgrades to the suspensions and powertrain to make it even more off-road capable, all of which are bundled together in the "Sasquatch" package.
Saddle up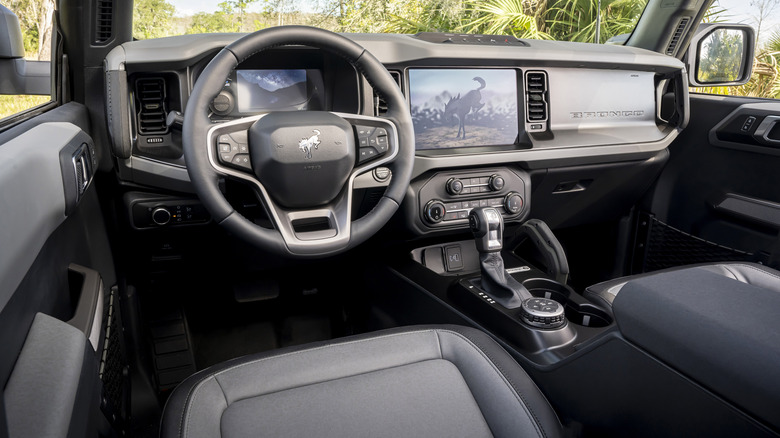 Ford
The Bronco's exterior design is meant to evoke the look of the utility's first generation in a very strong way, which it does while still looking like a modern vehicle. Time will tell how this holds up, but from our current perspective and with six generations of Bronco behind us, its signature boxy dimensions give it a timeless feel and make this current iteration feel like a very natural evolution.
Inside passengers will find seating for four, with the rear seats being quite snug, even in the longer 4-door configuration which accommodates more cargo rather than giving passengers additional legroom. Wherever they're seated, occupants are treated to a very durable interior meant to hold up to lots of abuse, with an assortment of handles worked in for climbing into the car, out of it, or just hanging on when climbing over a treacherous section of earth.
It may be built for the wilderness but there is still plenty of contemporary civility baked into the Bronco. Ford's Sync 4 infotainment system is standard on all trims, and is accessed through either an 8-inch or 12-inch touchscreen. Higher packages include adaptive cruise control, 360-degree cameras, lane-keep assist, and emergency braking for pre-collision safety. All versions come ready to rock with the Goes Over Any Type of Terrain or "G.O.A.T." terrain management systems. These modes allow drivers to dial in the Bronco's appropriate behavior depending on the conditions. Depending on the trim levels, these can include modes for mud, sand, ruts, rock crawling or "Baja" which, as we've seen in the Ford F-150 Raptor R, primes the vehicle to be as fast as it can off the road.
Pining for the Fords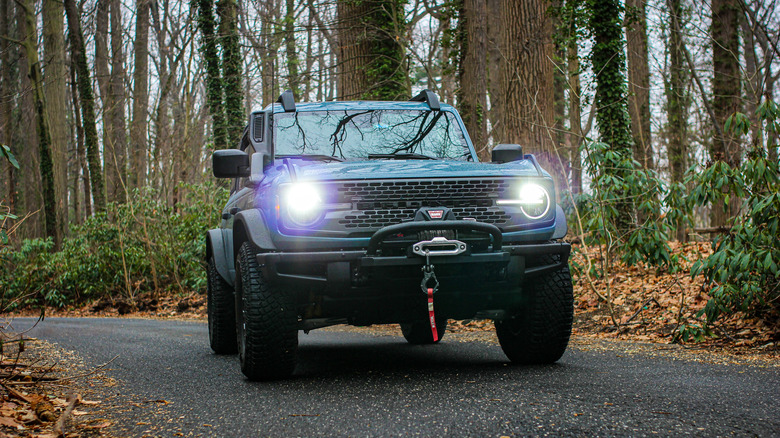 Alex Kalogiannis/SlashGear
There are two reactions to climbing into the Ford Bronco, particularly if it's the Everglades trim, with its factory-installed Warn winch, exhaust snorkel, and decals acting as depth markers for river wading. The first is to roll your eyes at how silly and unnecessary it all is. When would you need to use any of this, realistically? What fantasy are you trying to indulge in with all of these accessories?
The second is feeling a rush of excitement as you can't wait to put all of it to use. Your mind instantly thinks of all the attaching you could do with the tow hooks, you think about the last terrible storm in your area and how handy this Bronco would have been if you had it then. Think of the trees you could've moved out of the road, you'd be a hero. When was the last time it flooded, around here, come to think of it? Having a truck with a high wading depth would be pretty nice if that happened again. Oh, and that snorkel! All it reminds me of is fording a river in Oregon Trail. We should find a river. Let's ford it. We have to! This is a Ford!
... and so on. Like many off-road-capable vehicles, particularly with a strong overlanding legacy like the Land Rover Defender or Jeep Wrangler, the potential for all the extraordinary capability the Bronco comes with is the general appeal. It's not practical in a civil environment, but go beyond the boundaries and it's right at home. In that regard, buying a utility vehicle feels rebellious, adding to the allure.
Let 'er buck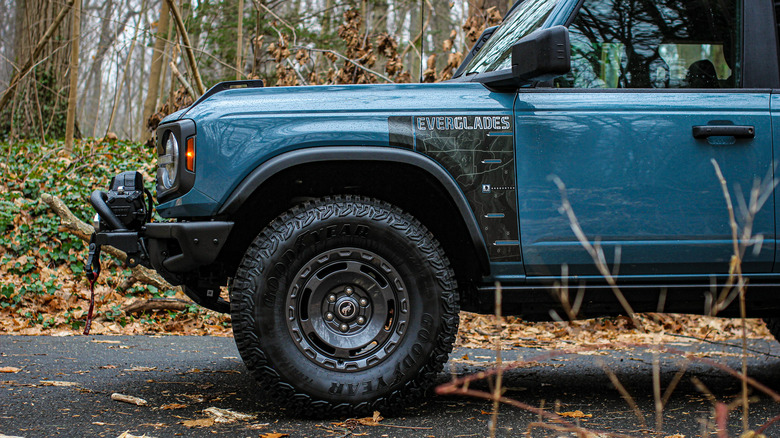 Alex Kalogiannis/SlashGear
Apart from that, the Bronco feels as it should feel, in that it's not luxurious by any means but it's comfortable enough to get by. That's despite it feeling like a crate on springs, which is intended and, indeed, desired. Unlike automakers who make vehicles designed to take their luxuries out into the wilds with them – looking at you, Bentley Bentayga – the Ford Bronco is a back-to-basics ride where drivers are connected to the experience, warts and all.
Even still, the trade-off for being off-road ready isn't particularly high in terms of day-to-day driving. Steering is quite solid and consistent, providing plenty of road feel and lacking any dead zones, something diehards of its direct competitor, the Wrangler, will have to begrudgingly acknowledge as a leg-up in the overlander wars. The high-riding Bronco leans into turns expectedly, though it avoids feeling wobbly. 
Make no mistake, it's not a performance SUV. Regardless of engine choice, it's not going go get anywhere in a hurry, at least so long as turns and tarmac are involved. In a straight line, even the turbocharged I4 can get up to speed relatively quick, with "sport" mode making a big difference in throttle response and gear select, though it goes around bends with care, not deftness. Drive the Bronco with its more knobbly wheel offerings and the on road confidence plummets, making you wish a blizzard or sandstorm would come in to even things out.
High horse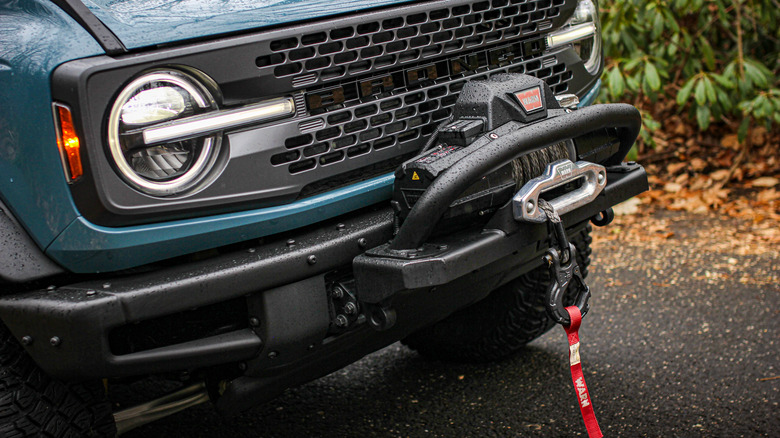 Alex Kalogiannis/SlashGear
Even with the roof on, riding up in the Bronco feels like driving a firewatch tower on wheels, with amazing views all around, except behind and sometimes immediately in front. There's little to do about the rear visibility, but the optional 360-degree cameras help for tight maneuvers, parking or rock-scrambling. The trouble here is that this is only available on the higher-tier trims, leaving the rest to contend with just the rear camera and parking sensors. 
Those front sensors are also compromised by accessories like the winch, making parking tough to judge, particularly around other cars and high-up winch damage is difficult to blame on somebody else. The Bronco's low roofline, when it's on, also makes the visibility both very narrow and impossible to hide from the sun during any time that isn't high noon. Huge visors do too good of a job, working more like Luke Skywalker's helmet blast shield, blocking out the sun, the road, the traffic lights and, well, you get the picture.
Rough riders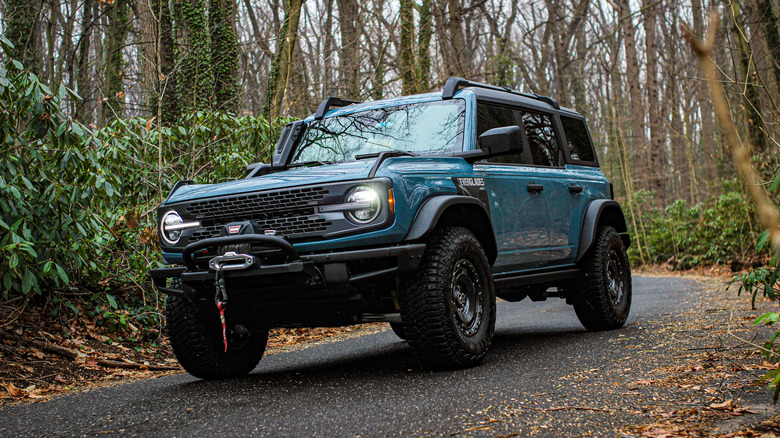 Alex Kalogiannis/SlashGear
The Ford Bronco is incredibly effective in tickling that part of the brain that longs for a big, real-life toy truck that also happens to facilitate practical, day to day functionality. The modular nature of the utility vehicle makes it configurable to each individual's needs or even mood. Sunny and breezy? Take the roof and doors off. Powering through the elements? Its attachments got you covered. This is especially true with the Everglades trim. While it may look like the most audacious version of the Bronco when it sits in the suburbs wearing a snorkel and winch, it's the most off-the-shelf version that's ready for any adventure.
That's not to say it doesn't have its quirks. Though its rough edges provide much of the charm, they are nonetheless issues to be dealt with, regardless of how much they contribute to the Bronco experience. The lack of cabin sealing makes it a loud environment at any steady speed, and the rough, rattly ride puts into question what an hours-long excursion out into the outskirts would feel like. This trade-off of quality-of-life elements for rugged capability is something to keep in mind when compiling your dream Bronco on Ford's configurator page. So long as you can make sense of it, at least. While being spoiled for choice when it comes to options is typically a good thing, there's something to be said about having a streamlined lineup. With ten whole trims currently on Ford's model page, including the Raptor, it's very difficult to know where to start and to determine what differentiates each offering from the other.
With all that said, meticulously ticking through the options is part of the fun for some, and incredibly rewarding once their Bronco of choice lands in their dealer lot. When it's time to drive off with it, they'll surely be all smiles. In terms of the Everglades trim, the attention it receives is overwhelmingly positive, and knowing it's kind of ridiculous makes it all the more enjoyable.