2022 Bentley Bentayga S Review: Money Torques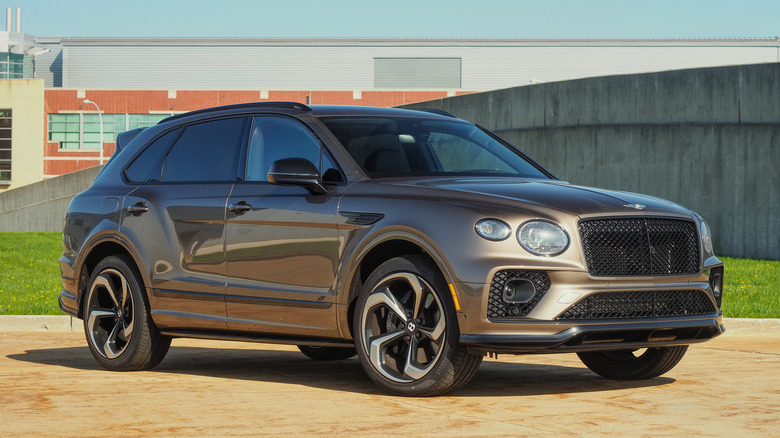 Chris Davies/SlashGear
Love 'em or hate 'em, luxury SUVs are big business, and when the well-heeled want plenty of speed to go with their lashings of leather, Bentley's Bentayga is usually high on the shortlist. The 2022 Bentayga S leans into that niche nicely, branded "the enhanced sports" version but really just a reminder that big torque means big fun. Doubly so, in fact, if it comes with a cabin that amply illustrates why Bentley is pretty much top of the interiors game right now.
The Bentayga line-up has grown to become the widest in Bentley's portfolio, a reminder that — for all the superlative Flying Spur and the shapely Continental GT epitomize its luxury and style credentials — the big money is in lush SUVs. None are exactly cheap, nor for that matter lacking in power or presence, but the range now encompasses everything from the most potent Bentagya Speed to an extended wheelbase variant for those that demand more rear legroom.
Torque, torque, torque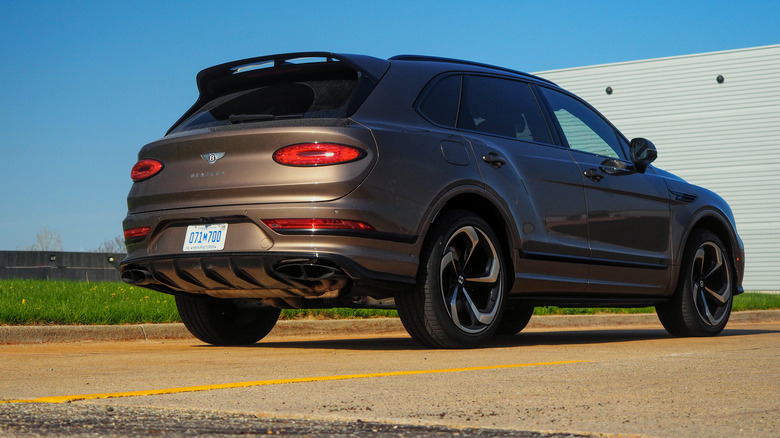 Chris Davies/SlashGear
Among that array, the Bentayga S slots in just below the Speed. It therefore misses out on the glorious (and exceptionally thirsty) W12 engine, with its 6.0-liter displacement and twelve cylinders, but it's $36k cheaper and it's not like you can really call the 4.0-liter twin-turbocharged V8 a disappointment. Anybody left saddened by a "mere" 542 horsepower and 568 lb-ft of torque should probably take a few moments in the time-out corner to check their privilege. 
All that grunt is funneled through an 8-speed automatic transmission to a permanent all-wheel-drive system, with Bentley adding air suspension, continuous damping control, and its Dynamic Ride anti-roll tech. The stability control gets revamped, leaving it more friendly to eager drivers, while the brake-based torque-vectoring is massaged for improved cornering. Optional is the All-Terrain Specification, which adds low-traction surface drive modes to the usual Bentley, Comfort, Sport, and Custom — along with extra underfloor protection — just in case you want to risk the standard-fit 22-inch wheels on something other than clean, crisp asphalt. 
Meaner and more purposeful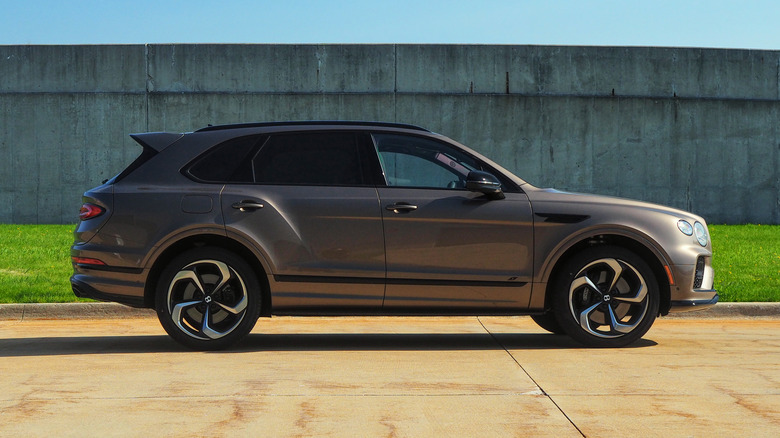 Chris Davies/SlashGear
They're not the only visual drama. Bentley swaps the Bentayga's standard exterior brightwork for black versions, throws on a body kit with black side sills, bumper details, and matching rear spoiler, and adds dark tints to the lamps front and rear. The result looks meaner and more purposeful than the standard SUV — though, it has to be said, its sedan and coupe stablemates remain more graceful designs — while the black "S" badging gives a hint to what makes it all so special.
Few automakers command the array of paint finishes that Bentley provides, from its standard and extended collections to Mulliner's generous — and generously-priced — offer to match pretty much any hue you might desire. As a result, the Bentayga S can be had in eye-searing reds, blues, yellows, and greens for the shouty, all the way through to more subtle options like the Dark Cashmere of this review car.
Cabin fever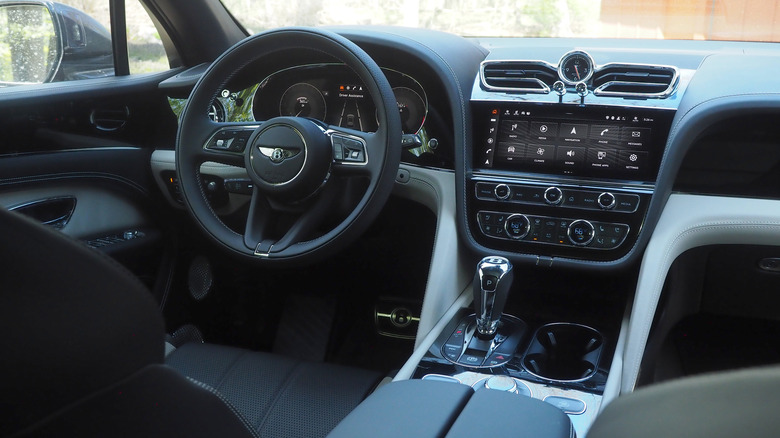 Chris Davies/SlashGear
Really, though, it's inside that Bentley shows its true colors. Skeptics of the British automaker's corpulent price tags may question some of the Porsche and Audi similarities under the sheet metal, but it really only takes a few minutes in the cabin to understand what you're paying for. In fact, I'd go so far as to say that you almost appreciate a Bentley most when it's parked up and you can focus on where, exactly, you're sitting.
As with the exterior, there's a huge selection of hides, wood veneers, and metal options. In Bentayga S form, which includes a duo-tone color split and splashes of Alcantara; my review car had paired Portland dark blue leather with a creamier contrast, Piano Black trim, and real metal for the distinctive vent pulls and other controls. It all looks — and feels, and even smells — like craftspeople were involved in its construction, and with good reason. They were.
The second-generation Bentayga addressed most of the tech quibbles lingering around its predecessor, including a 10.9-inch touchscreen running a variant of Audi's infotainment, while those in the back get a diminutive pop-out tablet remote for control over their seats, climate, lighting, and other features. This particular Bentayga S came in the five-seat Comfort spec, with a three-seat rear bench; you can also get a four-seat version with two, more upscale rear seats, divided by a center console.
Speed and poise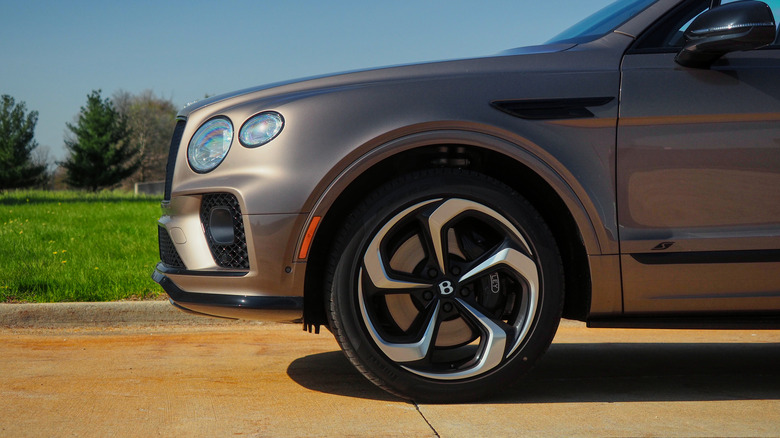 Chris Davies/SlashGear
Bentayga owners, though, tend to use their SUVs as a daily driver, Bentley says. Better, then, to leave the chauffeur spec to the most recent Bentayga Extended Wheelbase, and focus on this S-badged version's success as a family rocket.
0-60 mph arrives in 4.4 seconds, and it'll thunder on until a top speed of 180 mph. They're serious numbers, and the Bentayga S feels damned serious as it sets its sights on them. Plant your right foot and it's as though the burly V8 takes a breath, squints with bullish fury at what's hopefully a long straight ahead, and then launches itself forward in a move not unlike the process for deploying a new battleship.
The waves from a freshly-dunked destroyer, though, are lacking, a testament to Bentley's clever anti-roll system. Effectively a big, electrically-powered torque bar, it helps keep the SUV flat and undulations at arm's length. The result — in Sport mode, at least — is something that shows its heels to potent-but-portly rivals like the Rolls-Royce Cullinan and Mercedes-Maybach GLS. While they need to slow come the corners, the Bentley feels surprisingly nimble.
Reluctantly relaxed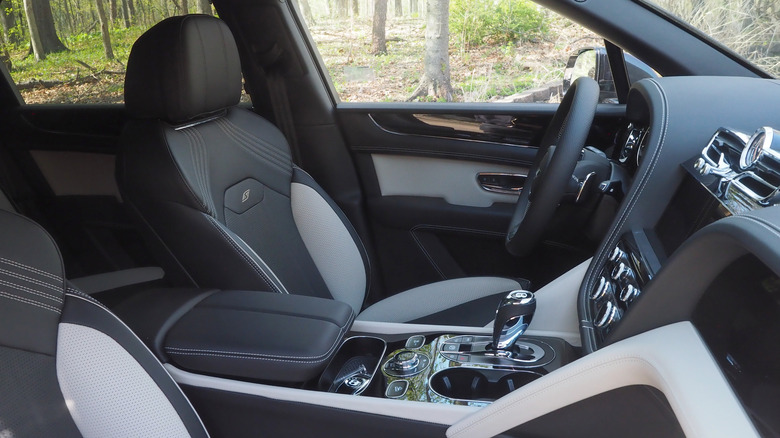 Chris Davies/SlashGear
Dial over to Comfort mode, meanwhile, and the trick underpinnings do their best to convert the Bentayga S into something more surreptitious. The roar of the standard spot suspension is tempered, and everything gets softer and more pliant. Maybe a little too much, in fact, as there's a fair amount of bouncy wallow on rougher surfaces.
Bentley mode — the default setting — attempts to strike an everyday balance, even if it still errs on the stiffer side. Really, though, if you opt for the S then you know what you're getting.
The same goes for the optional Naim for Bentley audio system, one of the most eye-watering extras at nearly $9k alone. 20 speakers share 1,920 watts of power, almost enough to distract you from the incongruous Audi switchgear on the steering wheel and the humdrum indicator stalks. Would the Flying Spur's sublimely-damped versions be too much to ask, given the SUV's starting price of $219,800 (plus $2,725 destination)?
Goodbye, gasoline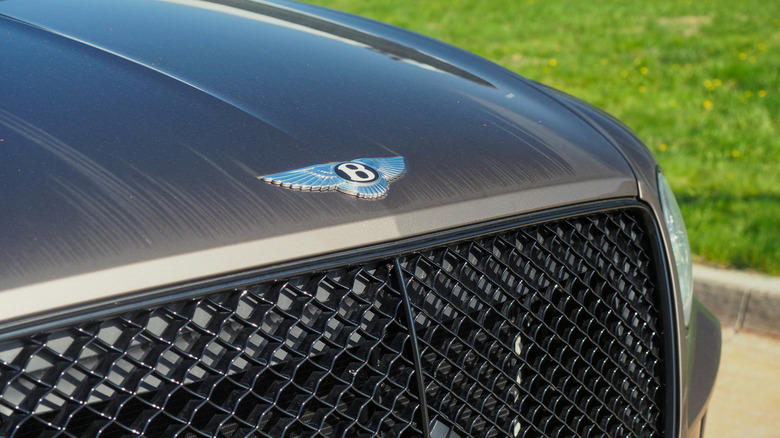 Chris Davies/SlashGear
In fact, with options, fancies, tricks, and trinkets, this particular behemoth nudges giddily close to $270k. A drop in the ocean in Cullinan world, for sure, but a cool $100k or thereabouts above a well-equipped Maybach. Mercedes' fanciest truck can't match the Bentayga S' sporting prowess, and at times it stumbles into — dare I say it — nouveau riche territory, but it's hard to argue that Stuttgart's offering isn't solid value for money.
Bentley, of course, is looking ahead to the automotive industry equivalent of the Moon colliding with the Earth. Gas engines are being retired with electrification taking their place, as the top dog in the Volkswagen Group picks up the luxe EV torch and waves it directly at the wallets of the rich and spendy. The Bentayga has been instrumental in that transition, with the SUV the first of Bentley's line-up to go plug-in hybrid, but it does mean models like this S-badged brute feel like they're on borrowed time.
Bentley Bentayga S Verdict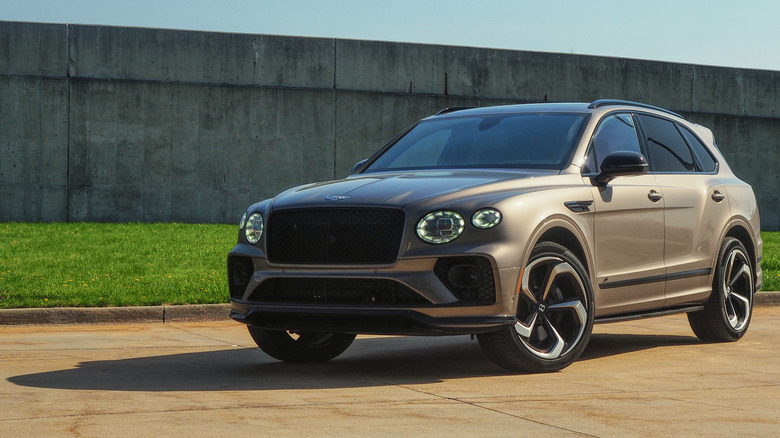 Chris Davies/SlashGear
Or, perhaps, not so much. What stands out from the Bentayga S experience isn't so much the grunt and bellow of the V8 — charming as that may be — but the torquey way in which it manifests. There is melodrama galore in a Very Big Thing suddenly going Very Fast Indeed. A reminder that, though physics may always have the last laugh, that doesn't mean we can't squeeze in a few giggles of our own before that point.
As electric vehicle fans know (and love), that torque tsunami is even more so the case when you ditch internal combustion for a handful of juicy electric motors. Bentley has been coy about what form its first full BEV will take, promising only something "incremental to the current Bentley range" debuting in 2025, but a fully-electric Bentayga is on the roadmap.
Does that knowledge dilute the Bentayga S' charm? Not nearly, I'd argue. If you're waiting on the electric revolution, there are worse places to do it — and celebrate the status-quo — than at the wheel of a gasoline brute in crisp tailoring.