Ford Bronco Review: Beyond Nostalgia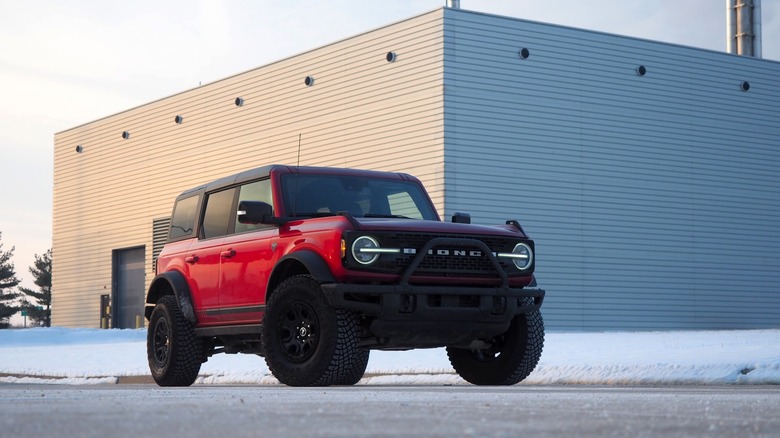 Chris Davies/SlashGear
Heritage isn't enough, even if the glowing reception to the new Ford Bronco might convince you to believe otherwise. Sales of the reborn truck have proved to be more than healthy, with a long waiting list (and, admittedly, some production slow-downs) leaving Ford struggling to meet demand. Stroll onto the forecourt of a dealership lucky enough to have a Bronco in stock today, and you'd be lottery-winner-lucky to not find several thousand dollars in "market adjustments" slapped onto the sticker.
Then again, that's the case for almost every new car out there, as the ongoing supply chain crisis continues to load complexity onto vehicle production and logistics. Fulsome demand alone, then, isn't evidence enough that the Bronco succeeds as a modern interpretation of a classic nameplate. For that, it has to deliver on more than just badge nostalgia.
The Bronco is a Serious Off-Roader, not least in Sasquatch package form. 17-inch beadlock wheels with beefy Goodyear Territory 35-inch tires; a chunky front bumper; steel bash plates; front and rear tow hooks; and front and rear locking differentials are included, along with Bilstein monotube shocks and high-clearance fender flares. I confess, beyond some snow heap clambering I didn't really put that outback talent to the test, but you can't deny it looks the part.
Tonka truck appeal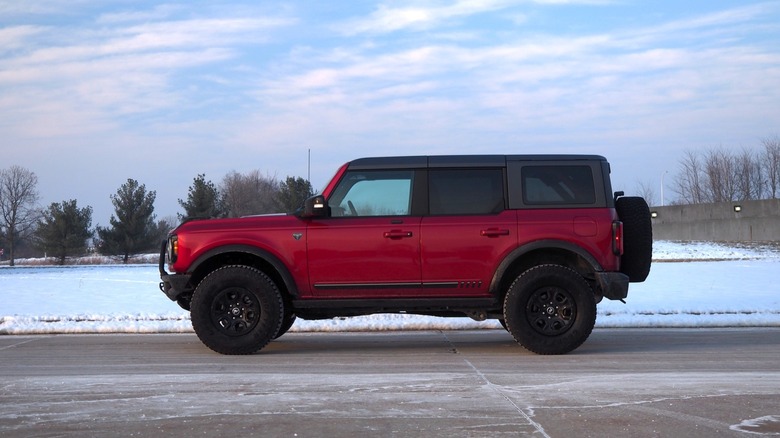 Chris Davies/SlashGear
While I'm sure there are Bronco owners who do take advantage of their trucks' full capabilities, I suspect they'll also be in the minority. After all, there are a lot of SUV buyers out there — including of Ford's big rival in the segment, the Jeep Wrangler — and most are reserved for asphalt duty. There's no particular shame in that, and aesthetic appeal is just as valid, but it does mean Ford has to make some important decisions overall.
For a start, the Bronco can't sacrifice on-road manners simply because that might improve off-road performance. The doors and roof may be removable, but that doesn't mean the cabin can be pared-back, hose-down-friendly, and spartan: everyday drivers still want their tech and creature comforts. Squeaks and rattles may be drowned out on the trail, but that's not the case during regular highway cruising.
The good news starts with curb appeal. It may not be brand spanking new out any more, but the Bronco still turns heads. UPS and FedEx delivery drivers paused to check out its sturdy lines and peered in through the windows; other motorists flashed grins and thumbs-up gestures. It seems to make people happy, even if they don't have much affinity to the Bronco brand itself; I guess looking like an oversized Tonka truck will do that for you.
Tech and toughness inside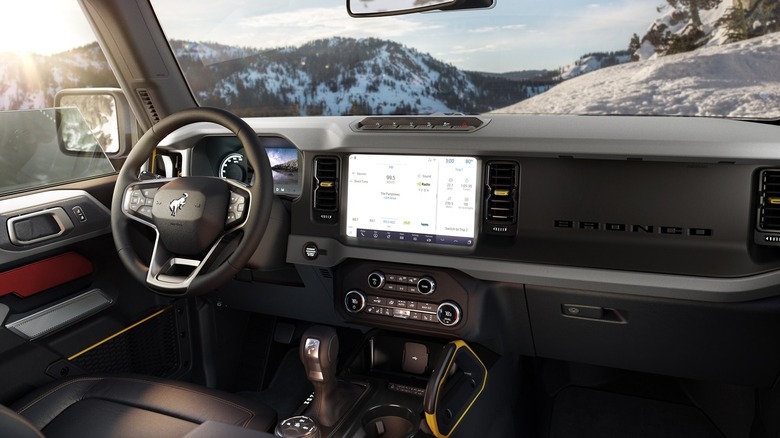 Ford
Inside, Ford strikes a balance between rugged and refined. The dashboard is slavish and upright, with plenty of storage nooks and materials that feel sturdy but not cheap. Toggle switches and sizable HVAC knobs make things easy to adjust, as does the big, simple drive mode dial down in the center console. Are the molded-in grab handles a little bendy if you pull on them? Sure, but not to the point where I'd worry that they're going to snap any time soon.
Sandwiched within all that is a 12-inch touchscreen, running Ford's SYNC 4 infotainment system. It's a big display, and Ford makes pretty decent use of that real-estate. If you're running Android Auto or Apple CarPlay, for example, that dominates a sizable box on one side, but you still have room for a sidebar and shortcuts along the bottom without anything feeling cramped. The whole thing is responsive and easy to use, though the rubbery buttons on the multi-function steering wheel lack the pleasing feel of their center console counterparts.
Playful on the road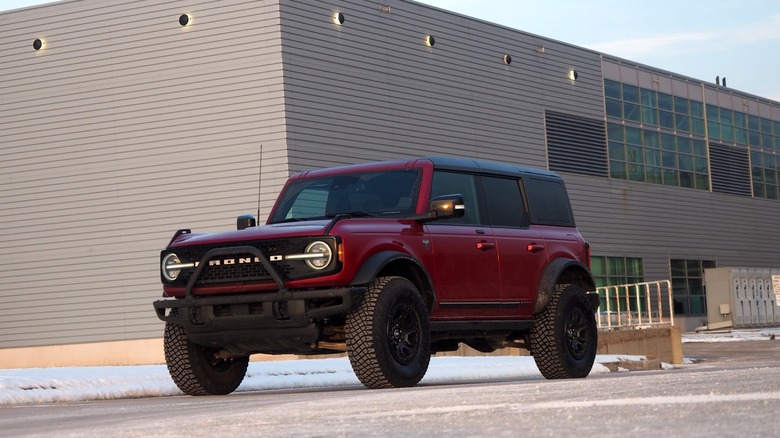 Chris Davies/SlashGear
Ford offered Sasquatch buyers a treat, and now offers the 7-speed manual option with the package. Still, I find myself thinking that most drivers would do better sticking to the 10-speed automatic that comes paired with Ford's optional 2.7-liter EcoBoost V6 twin-turbo gas engine (and which sadly you can't get with the stick shift – only the 2.3L inline-four turbo). With 330 horsepower and 415 lb-ft of torque the V6 is an unexpectedly punchy drivetrain, even if the Bronco isn't particularly set up for speed.
Out on the open road, things are jouncy and playful. Look, refinement is never going to be your number one concern with wheels and a suspension setup like this, and there are obviously other Bronco configurations and trims that are more obliging when it comes to things like trimming body roll and smoothing over bumps and potholes. Saying that, I prefer how the Ford handles to, say, how a similarly-equipped Jeep Wrangler or Gladiator does.
At the risk of bringing the Jeep faithful down on me with their collective ire, those SUVs feel less polished than the Bronco does. The Ford requires less steering adjustment, in a straight line, compared to the wavering Wrangler, and it's quieter too. Sure, the removable hard-top has some squeaks at times, but cabin refinement is still noticeably better than its Jeep counterpart. Things feel rough-and-tumble at times, but never to the point of unruly or disconcerting.
For more eager driving, grip isn't so much the issue as the general height and suspension squish. There's a moment, when you first hit the gas, that the turbo takes to spin up, and then you're lunging ahead. On a practical front, Ford rates the Bronco for up to 3,500 pounds of towing – assuming you have the Class II Trailer Tow Package fitted.
Daydreaming of Bronco EVs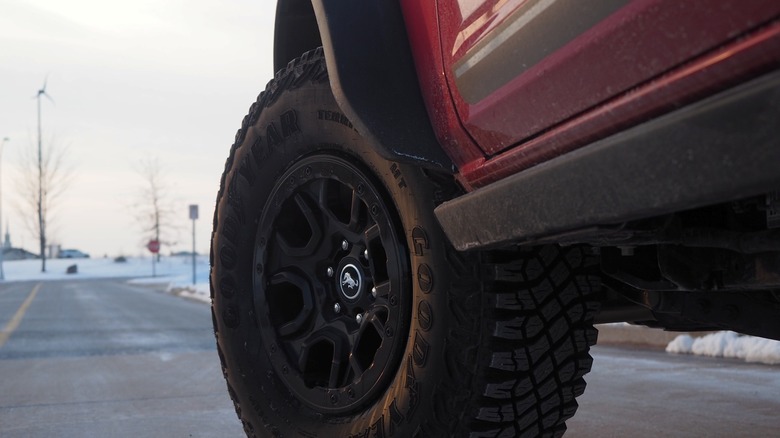 Chris Davies/SlashGear
I might be an outlier, but I couldn't help but wish Ford offered an electrified Bronco. At the moment there's no hybrid option, not even a mild-hybrid, whereas Jeep has its unexpectedly popular Wrangler 4xe PHEV. The idea of a Bronco Mach-E, borrowing the electrification of the Mustang-badged crossover EV, fills me with an unexpected degree of lust
Yes, I know, Bronco purists may scoff at such an idea. It's worth remembering, though, that not everyone will be arriving at Bronco ownership with its heritage in mind: several people stopped me to ask what it was and whether it lived up to its eye-catching looks, and a couple of those questioned its electric credentials. Maybe an electric Sasquatch isn't quite the right fit for that, but a Bronco EV generally seems like a no-brainer. Particularly when you consider the 17 mpg EPA combined fuel economy rating here, and the fact that I settled a few points under that with my own mixed driving.
Just plain fun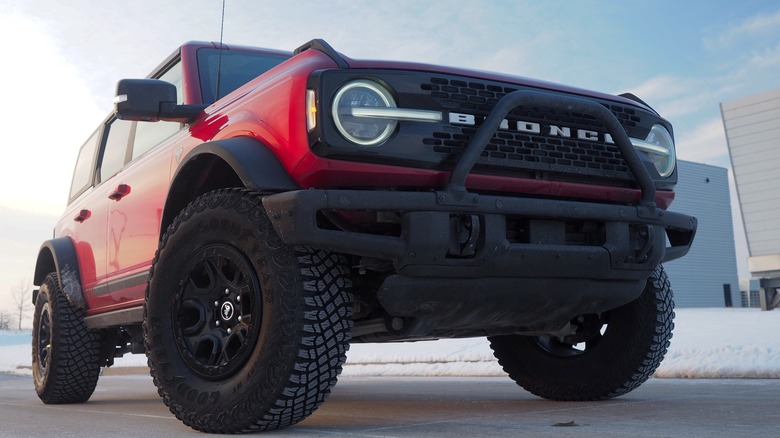 Chris Davies/SlashGear
Overall, it's the balance of heritage with modernity that stands out. The Bronco looks, and feels, fun. The design is charming and practical; I loved how easily its tough rubber mats and sturdy leather-trimmed vinyl seats shrugged off Michigan snow and mud. The 35.6 cu-ft of cargo space (in 4-door hard-top form) is decent, and easily accessed with a side-swinging door and lifting glass; the rear bench is spacious enough for adults and sturdy enough for boisterous pets.
Not having grown up in the U.S., a lot of the nostalgia for older vehicles passes me by. My memories of family cars growing up are filled with Peugeot station-wagons, not rough and ready Ford trucks. It can leave me scratching my head when faced with new cars and SUVs which are clearly designed with pleasing existing fans rather than converting new ones to the cause.
That the new Bronco doesn't feel that way, that it doesn't leave me bemused but instead eager for Ford's roadmap to expand and encompass things like PHEV and BEV, feels like a success beyond just offering the Wrangler a solid rival.
Ford Bronco verdict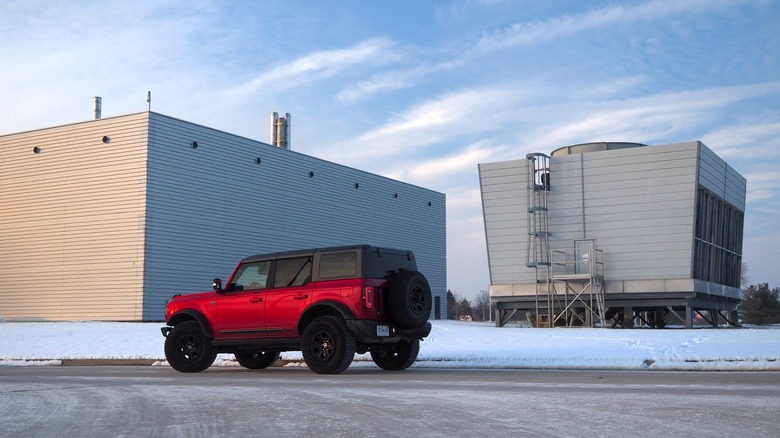 Chris Davies/SlashGear
There is a price to pay for that, of course. The base Bronco – complete with charming steel wheels – starts at $28,500; this maxed-out Bronco First Edition, all examples of which are snapped up, begins at $56,915. That's Land Rover Defender territory. Throwing the Sasquatch package onto the Badlands trim (and taking the $44,840 4-door truck to $54,425 plus destination in the process) is a good alternative, though you'll still need to budget for First Edition niceties like the $1,900 engine upgrade and at least $1,500 for the Mid Package for some of the cabin improvements. 
Cheap? No, especially when a $60k Badlands configuration on sale at a nearby Ford dealer is currently listed for $80k thanks to market adjustments. 
Such is the nature of the car market right now, albeit exacerbated by the Bronco's specific popularity. Quite honestly, unless you're really desperate for some new wheels right now, the wisest option is to sit it out. Here's hoping that in the meantime Ford can keep ramping up production while that happens, because at the moment only scarcity really dims the new Bronco's appeal.