2022 Ford Bronco Raptor First Drive: Wider And Wilder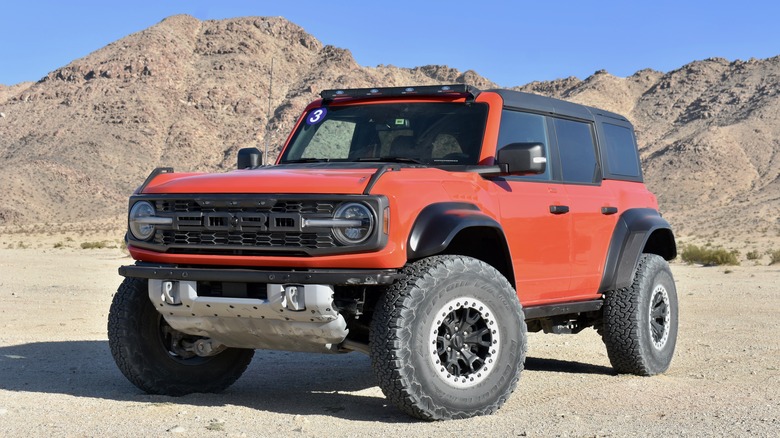 Stephen Edelstein/SlashGear
The Ford Bronco returned in 2020 to much excitement from nostalgic car enthusiasts and shoppers looking for a Jeep Wrangler alternative. Few car launches attract this level of attention, and it's not something automakers want to see dissipate. To keep the hype going, Ford is introducing a new version of the Bronco with even greater off-road capability. The 2022 Ford Bronco Raptor should keep everyone talking.
Inspired by off-road racing and engineered by the same Ford Performance division responsible for the F-150 Raptor and Shelby GT500 Mustang, the Bronco Raptor gives drivers more of everything. It has more power, bigger tires, and an upgraded frame and suspension to match. That means you can take it well beyond the boundaries dictated by common sense.
Ford was confident that these upgrades added up to a do-it-all machine, inviting us to California's Johnson Valley for a full day of off-roading across some of the trails used by the Ultra4 racing series that inspired the truck. From rock crawling to high-speed desert running, the Bronco Raptor never broke a sweat which, thanks to 100-degree temperatures, is more than we can say of ourselves.
Gene splicing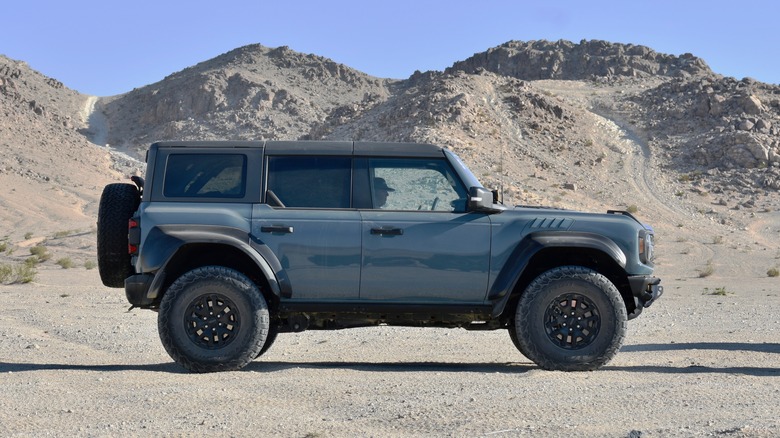 Stephen Edelstein/SlashGear
As the name implies, the Bronco Raptor is a product of genetic experimentation. Ford sought to combine the standard Bronco's proficiency with low-speed, technical rock crawling and trail driving, with the F-150 Raptor pickup truck's emphasis on high-speed driving.
While chimeric, the name makes sense from a branding perspective. Customers will think of the F-150 Raptor and know exactly what this truck is about. The Bronco is actually the third Raptor model, after the F-150 and Ranger Raptor. The latter isn't currently sold in the United States, but is slated to come here in 2023. Ford likes to turn recognizable names into mini-brands, and this is just another example of that.
A high-performance Bronco is also a nice nod to the SUV's heritage. While Ford cites the modern Ultra4 series as inspiration, the Bronco has a long racing history that goes back to the 1960s. Parnelli Jones' heavily modified "Big Oly" Bronco won the legendary Baja 1000 in 1969, and became the template for modern off-road racers.
Wide load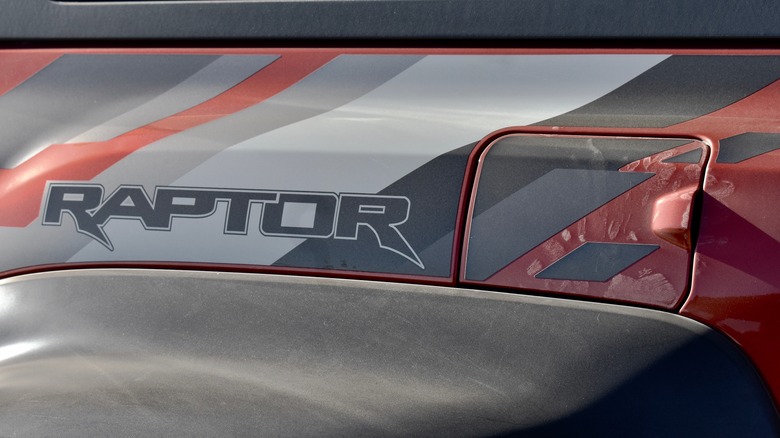 Stephen Edelstein/SlashGear
The Bronco Raptor does its best race-truck impression with standard 37-inch BFGoodrich KO2 all-terrain tires with standard beadlock-capable wheels, shrouded in massive fender flares. They leave the Raptor 9.8 inches wider than the standard Bronco, and 85.7 inches wide overall. So, like the F-150 Raptor, Ford had to fit amber marker lights legally required for vehicles over 80 inches across.
The result is a cartoonish looking vehicle that seems like it came off the SEMA aftermarket-trade-show floor rather than an assembly line. Still, it's all for a purpose. Bigger tires make off-road driving easier, after all: they allow you to simply drive over things, and have larger contact patches, so increasing traction. The Raptor also has 13.1 inches of ground clearance, a 4.8-inch increase over the standard Bronco, while Ford claims the 8.6-inch increase in rear-track width improves off-road stability.
Plus, you can still remove the roof and doors, if you're so inclined. However, the Raptor is only available as a four-door, and only with a removable hard top. It doesn't get the two-door body style or folding soft top available on other Bronco models.
An engine that doesn't shout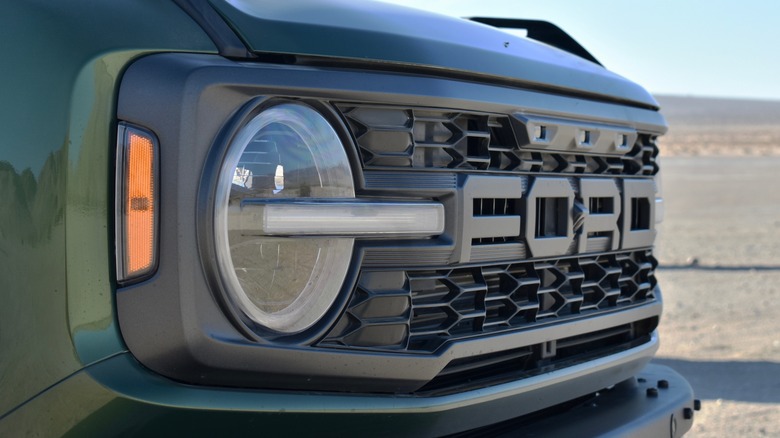 Stephen Edelstein/SlashGear
To give the Bronco Raptor the speed of its namesake dinosaur, Ford installed a larger engine. The 3.0-liter twin-turbocharged V6 produces 418 horsepower and 440 pound-feet of torque on premium fuel, increases of 88 hp and 25 lb-ft over the base Bronco's optional 2.7-liter twin-turbo V6. The Raptor can also two up to 4,500 pounds when properly equipped—1,000 pounds more than the standard Bronco.
Surprisingly, the engine is probably the most subtle aspect of the Bronco Raptor. Where the rest of the truck aims for drama, the twin-turbo V6 works in the background to give you power when you need it without making a fuss. It proved remarkably flexible, supplying copious low-end torque as well as plenty of thrust higher in the rpm range, depending on what was warranted. The sound from the Raptor's performance exhaust system was also pleasant rather than just loud. But the engine wasn't foremost in our thoughts as we drove, overshadowed by other aspects of the vehicle.
The V6 also has the thirst of a larger engine. EPA-rated fuel economy of 15 mpg combined (15 mpg city, 16 mpg highway) means you'd better hope for a gas station near your favorite off-road trail.
A 10-speed automatic transmission (no manual gearbox here) and four-wheel drive system carry over from the standard Bronco. The Raptor gets the Bronco Sasquatch package's 3.06 low-range ratio and 67.7:1 crawl ratio as standard equipment, though. These lower gear ratios provide the crawling capability that's crucial for low-speed off-road driving.
The secret's in the suspension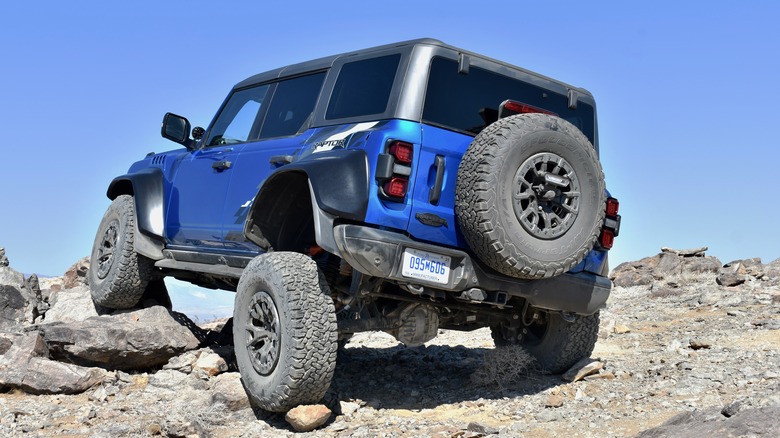 Stephen Edelstein/SlashGear
A fully-boxed frame, upgraded Dana 44 front and Dana 50 axles (both with locking differentials), and long-travel suspension complete the changes. The Raptor has the same independent front suspension/rear solid axle combination as the standard Bronco, but upgrades like new shock towers and Fox Live Valve internal bypass dampers enable greater wheel travel.
The Raptor's suspension allows for 13 inches of front wheel travel and 14 inches of rear wheel travel, increases of 60 percent and 40 percent, respectively, over the standard Bronco, according to Ford. That lets the wheels drop down and follow depressions while traveling over uneven terrain, maintaining traction and composure. It's the Bronco Raptor's secret weapon.
Flying Bronco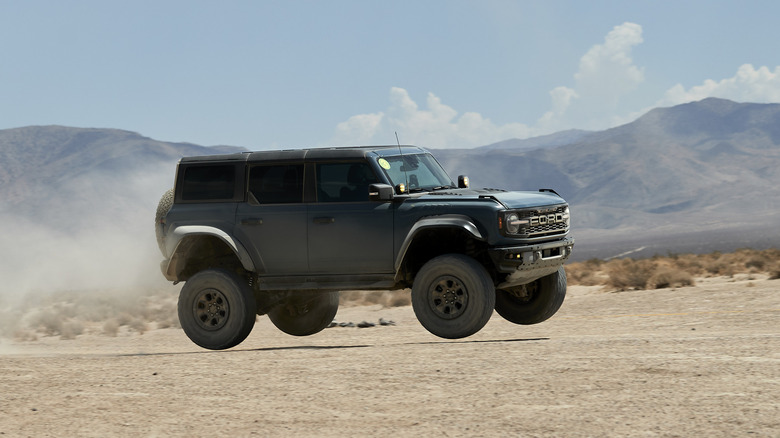 Ford
Most off-road vehicles are at their best at single-digit speeds, carefully negotiating obstacles. Not the Bronco Raptor.
Unleashed in the open desert, The Raptor literally leaves other off-roaders in its dust. Thanks to that long-travel suspension, we drove over undulating, rutted sand at highway speeds, leaving a cloud of dust in our wake like we were fleeing Immortan Joe.
Despite a heavy body perched atop that elongated suspension, the Bronco also felt fairly stable in corners. We had lots of fun sliding the Raptor around in the dirt, treating it like an oversized drift car. The brakes' stopping power and pedal feel were also worthy of a sports car. However, the suspension settings that enable this performance don't provide the most comfortable ride—even by off-road vehicle standards.
Even a 60-mph jump didn't phase the Bronco Raptor. We could barely tell that the wheels were off the ground, and the landing was softer than many commercial-airline touchdowns we've experienced.
Rock crawler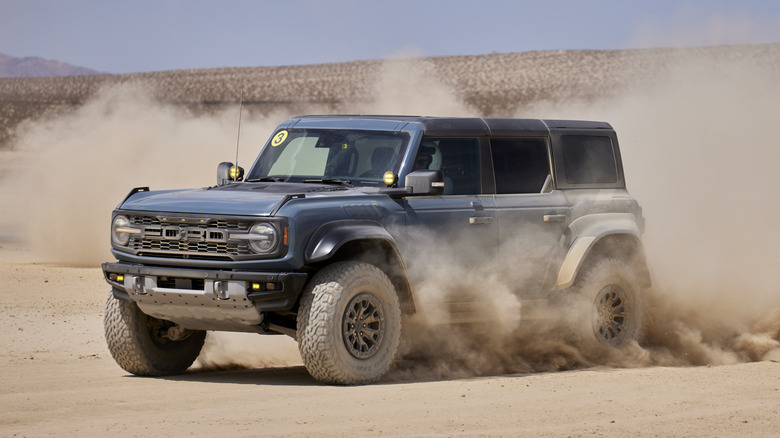 Ford
The Bronco Raptor isn't a one-trick pony (or dinosaur). At slower speeds, it can clamber over boulders just like the standard Bronco and other off-roaders. Again, you can thank the Raptor's massive tires and ample ground clearance. A disconnecting front sway bar also allows for greater axle articulation when needed, helping to keep at least some of the tires in contact with the ground while negotiating obstacles.
Whether it was negotiating a field of boulders a human would have struggled to cross on foot, or charging up a sandy slope, the Raptor was unflappable. It responded predictably and without drama, leaving us the mental bandwidth to concentrate on driving, rather than wondering how the truck might react. This lack of bad habits means even novice drivers should be able to get the most out of the Raptor.
Tech for the trail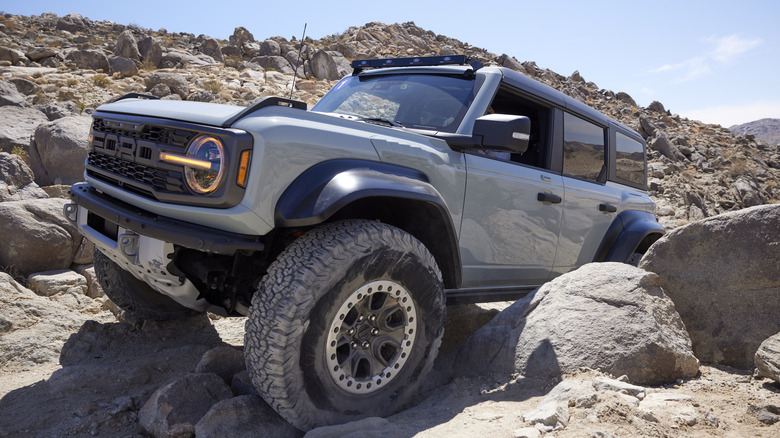 Ford
Some tech features contribute to the Bronco Raptor's drama-free character. Besides being part bronco and part raptor, this SUV is also part goat. That's G.O.A.T., as in "Goes Over Any Terrain," Ford's name for the Bronco's drive modes referencing an internal nickname for the original Bronco during its 1960s gestation. As in the standard Bronco, these modes cover different types of terrain as well as on-road driving. But the Raptor also gets a Baja mode for high-speed running.
Ford also included Trail Control (essentially low-speed off-road cruise control), Trail Turn Assist (which drags the brakes on the inside rear wheel for tighter turns), and Trail One-Pedal Drive. This allows the driver to decelerate without touching the brake pedal—not unlike regenerative braking in electric cars and hybrids. But here, the amount of braking is keyed to the behavior of your right foot. Pull it straight off the throttle, and you'll get sudden deceleration like you'd get from a teenager that's just gotten their learner's permit. We found this a bit disconcerting and preferred conventional two-pedal driving.
Civilized animal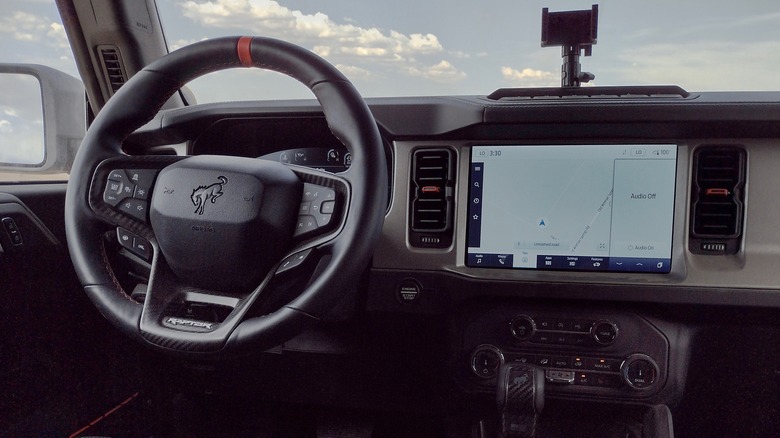 Stephen Edelstein/SlashGear
We've heaped a lot of praise on the Bronco Raptor, but we also must mention its excellent on-road manners. Big all-terrain tires and a removable roof are usually a recipe for lots of noise, but the Raptor's interior was impressively quiet on highway transits between trails. Ride quality was decent as well, although, as noted above, that level of comfort doesn't translate to off-road driving.
While not luxurious, the interior also includes a few creature comforts. The Raptor comes standard with Ford's Sync 4 infotainment system, including a 12.0-inch touchscreen, 12.0-inch digital instrument cluster, and wireless Apple CarPlay/Android Auto connectivity. The Raptor-grade seats had enough bolstering to keep us from falling out while bouncing over rough terrain, and enough cushioning to make impacts from said terrain tolerable.
The whole interior is also designed to be hosed out, and was logically arranged. Buttons for the differential locks, sway bar disconnect, and Trail Turn Assist, were placed atop the dashboard within easy reach, the digital instrument cluster was easy to read, and Ford kept analog controls for important functions like audio volume and temperature.
A successful experiment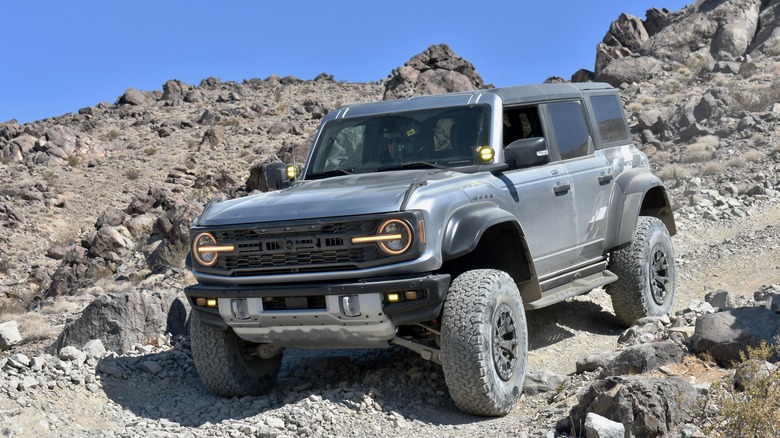 Stephen Edelstein/SlashGear
All of this capability doesn't come cheap. When it goes into production this summer at Ford's Wayne, Michigan factory, the Bronco Raptor will have a $69,995 base price (including a mandatory $1,495 destination charge). For reference, a four-door Bronco Wildtrak—previously the top Bronco trim level—costs $52,820. Add-ons like leather/suede upholstery and an optional carbon fiber interior pack can push prices to just under $75,000.
Unless you live near a wide open space where you can stretch the Raptor's legs, the Wildtrak or another Bronco model is likely a more sensible choice. If you're careful with options, it's also possible to get into a Jeep Wrangler Rubicon for less. The Rubicon is amazing off-road, but lacks the Raptor's high-speed capability. Jeep does offer the Wrangler Rubicon 392, sporting a 470-hp 6.4-liter Hemi V8, but at over $80,000 it makes the Raptor look like a bargain. The Land Rover Defender is a more polished off-roader, but it's not quite as hardcore as the Raptor.
The Bronco Raptor's breadth of capabilities also make it a standout at any price. It can cross the desert at speeds that would leave a standard Bronco and most other 4x4s winded, and negotiate tight trails that would likely have the larger F-150 Raptor shedding bodywork. Genetic experimentation is normally a bad idea, but in the case of the Bronco Raptor, it's all just good fun.