New Ford Ranger Raptor Airplane Stunt Signals Full U.S. Market Launch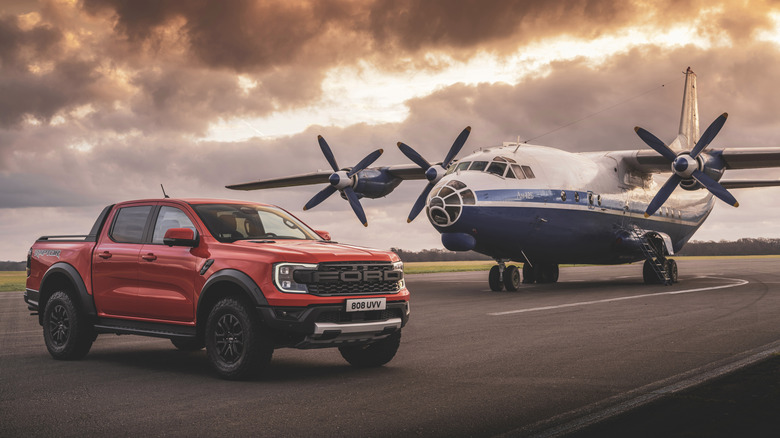 Ford
Ford has just revealed the upcoming next-generation Ranger Raptor pick-up. Announced in an impressive stunt video, the Ranger Raptor comes with a host of features that have the potential to make it a real off-road beast capable of withstanding rough conditions. It seems that Ford has covered all the bases in order to make the new Raptor viable not just for off-road purposes, but also for day-to-day life on the road by adding selectable drive modes and adjustable engine sounds.
The new Ford Ranger Raptor busts right in via a 2-minute stunt video, right off the bat showing off how much it can do. The car actually leaps out of a plane, lands safely, and maneuvers around various terrain without a hitch, only to safely get back on the road and park flawlessly. Ford markets the car as a refreshed version of the current-gen Ford Ranger Raptor, this time equipped with extra smart-tech capabilities and tougher-than-ever hardware.
According to Dave Burn, the Ford Performance chief program engineer, the car is going to be significantly faster and bring with it a number of new features. Perhaps more importantly, Ford claims that the new Ranger Raptor is the toughest it has ever made. What exactly does the new Ford pick-up have to offer?
Twin-turbo engine gives the Ford Ranger Raptor extra power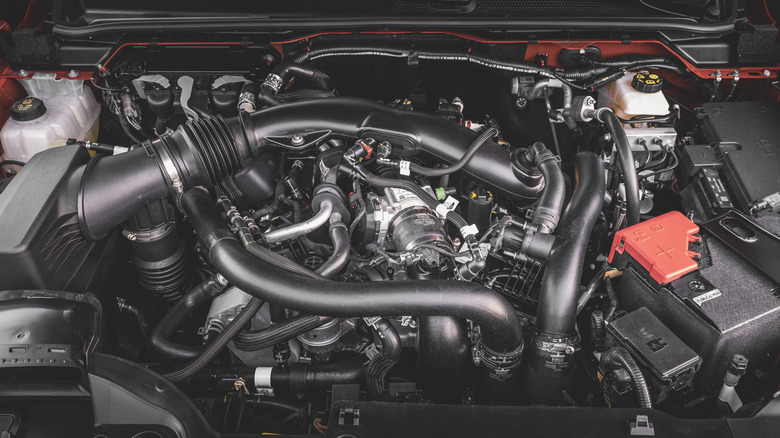 Ford
The new Ranger Raptor comes with a twin-turbocharged 3.0-liter EcoBoost V6 petrol engine, capable of delivering up to 392 horsepower and 430 pound-feet of torque. The engine itself has gotten significantly tougher, boasting a compacted graphite iron cylinder block that Ford claims should be up to 75% stronger and stiffer than the plain iron cylinders found in most casings. The vehicle should also feel more responsive in comparison to the previous Ranger Raptor thanks to the new race-bred anti-lag system that Ford likens to the one first seen on the Ford GT.
Being an off-road car that also needs to function in urban settings, the Ford Ranger Raptor comes with an active exhaust system that can be controlled through the steering wheel. It has four modes, including Quiet, Normal, Sport, and Baja. Quiet is, unsurprisingly, the most urban-friendly mode of all, with lowered performance and much less noise for when you drive through the suburbs. Normal mode balances noise and performance and is intended for daily use. Ford says that Sport mode "offers a louder and more dynamic note," presumably making it too loud for street driving. Baja mode is the loudest of them all and should only be used off-road.
The car is suitable for all kinds of terrain, and it stands victorious against all manner of bumpy roads thanks to the 2.5-inch Fox Live Valve shocks, adding a little cushion to every jump and fall the car might have to face. The suspension was completely redesigned and now relies on lightweight aluminum upper and lower control arms. Combined with an updated Watt's link rear, these hardware improvements should grant extra control even under punishing conditions.
The Ford Ranger Raptor is coming to both Europe and the U.S.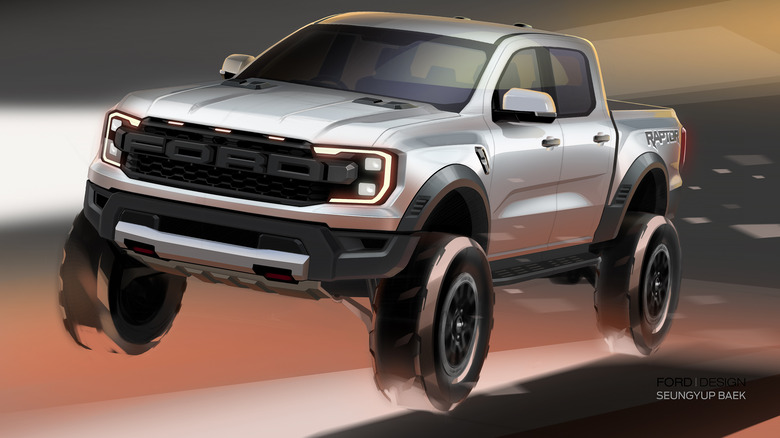 Ford
With the new Ford Ranger Raptor, the automaker introduces a full-time four-wheel drive system with electronic controls. It offers seven drive modes, one of which is the extreme, off-road only Baja mode. Baja mode boosts the vehicle's performance and adjusts its settings to support hardcore off-roading at high speeds.
Each and every drive mode configures various settings, starting with the engine and transmission to stability controls, steering, and throttle response. The driving modes range from on-road: Normal, Sport, and Slippery, to off-road: Rock Crawl, Sand, Mud/Ruts, and Baja.
The new Ford Ranger Raptor will be the first next-gen Ranger model to be launched in Europe and will begin shipping before the end of 2022, but that's not all: it will also be the first Ranger Raptor to be available in the U.S. Jim Farley, the CEO of Ford, confirmed on Twitter that the vehicles will be available in the United States starting in 2023.
No information about the pricing of this beastly truck has been revealed as of yet, but it likely will cost a fair amount. Undoubtedly, extreme off-roading enthusiasts will be prepared to pay the price, given how sturdy and capable this pick-up seems to be.