2023 BMW Z4 First Drive: Focused Updates Can't Spoil The Fun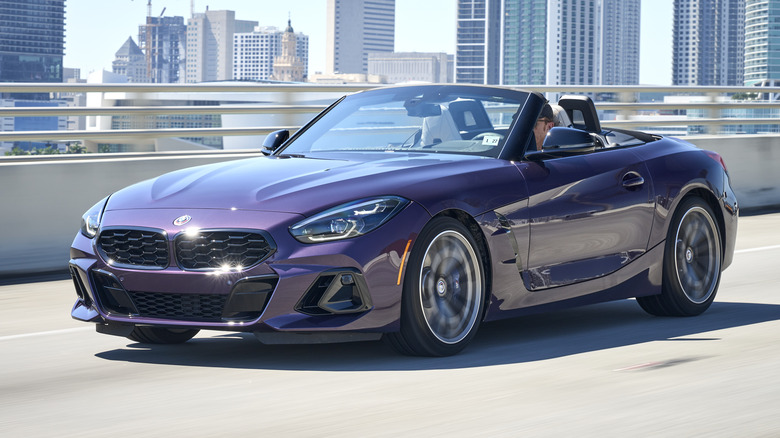 Daniel Kraus/BMW
You'll need a keen eye to spot the tweaks BMW made to the 2023 Z4. The base sDrive30i model gets a sportier front fascia, and all Z4s have new color and wheel options to choose from. Other than that, the G29-generation Z4 is pretty much the same as it ever was. But considering this car's calling card has always been how fun it is to drive, this modest list of changes is A-OK by me.
Because the 2023 Z4 sDrive30i has a little more standard equipment — namely, the previously optional M Sport package, which adds BMW's redesigned kidney grilles, a new front apron with three-section air intakes, new side sills, and an tweaked rear apron — its cost of entry is $1,300 higher than before. That means a 2023 Z4 starts at $53,795 including a $995 destination charge, while the more powerful 2023 M40i keeps its $66,295 MSRP intact.
Two turbo engines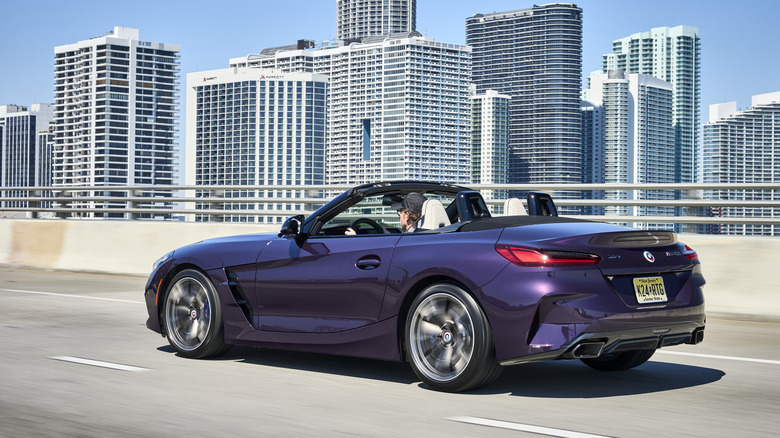 Daniel Kraus/BMW
The Z4's choice of engines carries over unchanged, and remember, they're shared with this car's fraternal twin, the Toyota GR Supra. In the Z4 sDrive30i, a 2.0-liter turbocharged inline-4 produces 255 horsepower and 295 pound-feet of torque, but if you step up to the Z4 M40i, you get a 3.0-liter twin-turbo inline-6 with a healthy 382 hp and 369 lb-ft.
In both cases, the turbocharged assist means the power comes on super low in the rev range, with all 369 lb-ft of my M40i test car arriving at 1,600 rpm. That means the Z4 M40i can accelerate to 60 mph in 3.9 seconds, while the less-powerful sDrive30i completes the same sprint in 5.2.
Impressively, these turbo engines are pretty stinkin' efficient, too, with the 2.0-liter I4 estimated to return up to 33 miles per gallon on the highway. Even the 382-hp I6 has respectable fuel economy, with EPA ratings of 23 mpg city, 31 mpg highway and 26 mpg combined.
Still only one transmission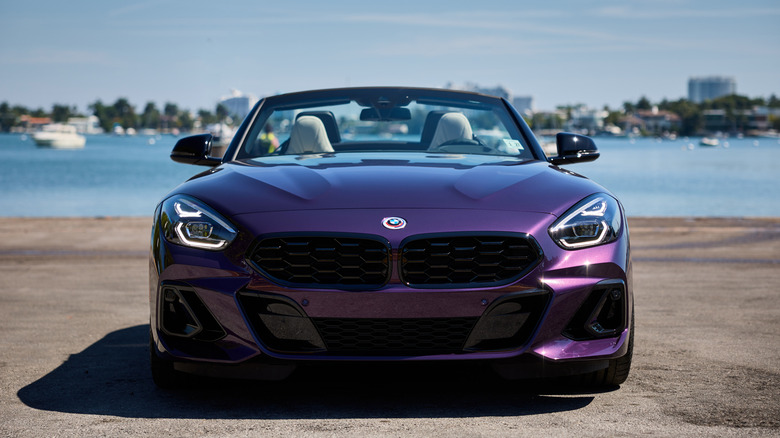 Daniel Kraus/BMW
Because the Z4 and Supra were co-developed, you'd be right to ask, "Where the heck's the manual?" For 2023, Toyota gave the GR Supra a six-speed manual transmission option for the 3.0-liter engine, but the Z4 will only be offered with an eight-speed automatic. That's not necessarily a bad thing, since luxury buyers are likely less prone to opt for three pedals, and the eight-speed is a pretty smooth-shifting gearbox, anyway. It's also worth mentioning that the Supra outsells the Z4 by a margin of three to one, so if any car's going to get a manual, it'll be the one that has the best shot at finding customers.
But all hope is not lost for a manual Z4. Rumors have circulated for a while suggesting a stick-shift option is in the cards, and that it could show up as early as 2024. I'm not going to hold my breath for such an outcome, especially since it'd only sell in extremely low volumes. But I also won't poo-poo more manual options. The stick-shift Supra is pretty sweet, and a Z4 would likely be just as fun.
It's really nice to drive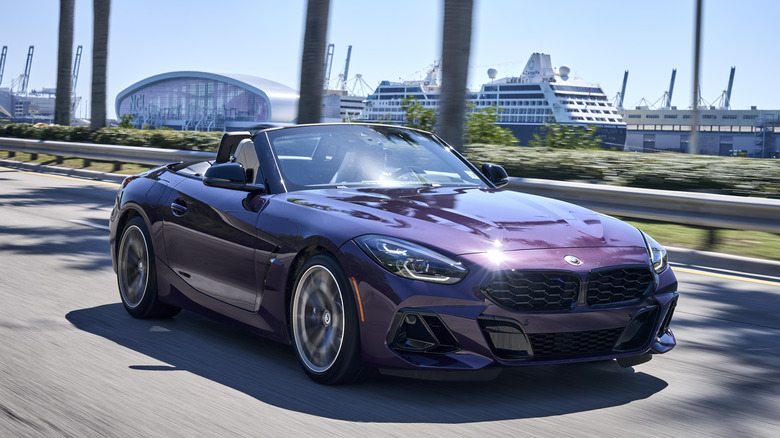 Daniel Kraus/BMW
Not that the automatic Z4 isn't a good time, of course. With the larger 3.0-liter engine, the Z4 accelerates with authority and punch, though there's a slight amount of midrange turbo lag that you'll notice while passing slower cars on the freeway. Both models come standard with 18-inch wheels, but my M40i test car rides on the optional 19s, wrapped in staggered P255/35R19 front and P275/35R19 rear Michelin Pilot Super Sport summer tires. This means the Z4 has quite a bit of grip, but the nicely tuned dampers keep the ride quality copacetic. You can road trip down the freeway for hours without getting annoyed by the Z4's ride quality.
The steering is a little on the light side, but the Z4 nevertheless responds quickly to inputs. Both the sDrive30i and M40i have the same 15.1:1 steering ratio, so neither turns in more immediately than the other. Rear-wheel drive is standard across the board, and a perfect 50:50 weight distribution means the Z4 offers predictable balance, with controlled body motions during turns.
The truth is, aside from power output, there's not much that separates the two Z4 variants in terms of on-road demeanor. Both are comfy, sprightly and more energetic than you might expect. But both are also not nearly as visceral or engaging as a more expensive Porsche 718 Boxster or even a lighter, slower Mazda MX-5 Miata. The BMW Z4 is definitely geared more toward grand touring than outright sportiness, though given the target customer, I think that's fine.
Comfy but cramped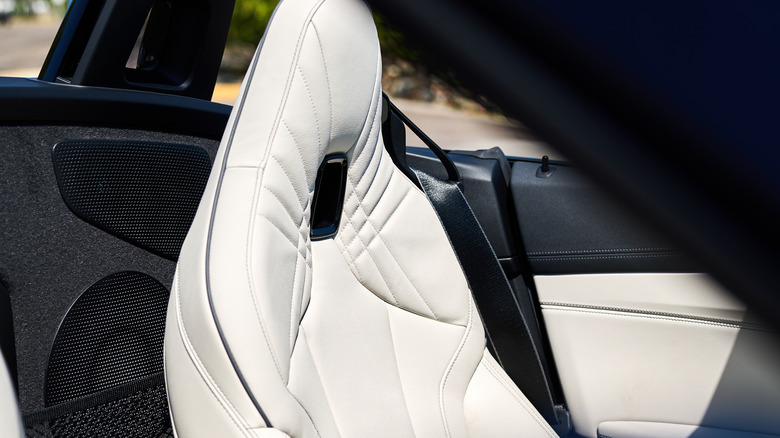 Daniel Kraus/BMW
To that end, the Z4's interior is pretty plush. The sport seats can be done up in a blend of leather and Alcantara, and are as supple as they are supportive, with multi-way power adjustment and — my favorite feature — a manual thigh cushion extension. The standard M Sport package on the entry-level Z4 includes an M leather steering wheel, M sport pedals, and a SensaTec-covered dashboard. A few different upholstery colors are available, and given the Z4's high beltline and low-slung nature, I highly recommend staying away from the all-black option just because it can make the cabin feel dark and gloomy.
Then again, the quickest way to brighten up the Z4's interior is to lower the electronically operated soft top, which takes a scant 10 seconds to drop. You can even operate the roof while driving at speeds up to 30 mph, so if you feel like raising or lowering the top on a whim, go for it.
Good roster of tech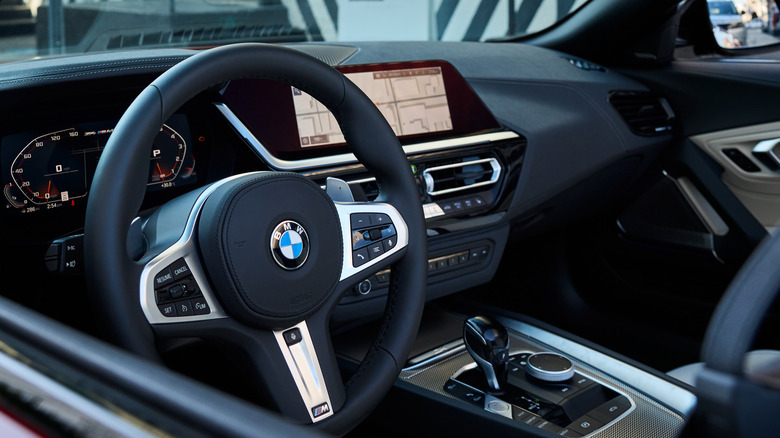 Daniel Kraus/BMW
There aren't any real tech improvements to speak of; the Z4 keeps on rolling with BMW's last-generation iDrive 7 infotainment suite, unlike models like the all-electric i7 which get iDrive 8. Still, between the 12.3-inch digital gauge cluster and 10.2-inch central display, there's no shortage of screen real estate in this small cockpit, and iDrive 7 is still plenty functional, with integrated Apple CarPlay and Android Auto smartphone pairing.
Safety tech is actually in pretty high supply for such a focused sports car — assuming you pay for it, that is. Things like forward-collision warning and lane-keeping assist are standard, but you need to shell out $700 to get a package that includes blind-spot monitoring and full-speed adaptive cruise control. Unfortunately, the Z4 doesn't offer any of BMW's driving assists that combine adaptive cruise and lane-keeping tech, but I don't think roadster buyers are really prioritizing that sort of thing.
A niche player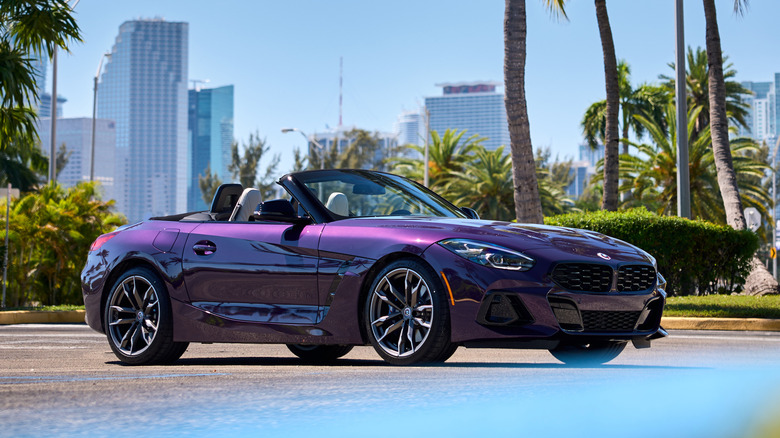 Daniel Kraus/BMW
The Z4 exists in a weird space in the automotive landscape. Its closest competitor is the Audi TT, which won't be around much longer. That leaves the Porsche 718 Boxster as the next-closest luxury rival, though the Boxster is way more lovely and lively to drive – so much so that some argue it exists for an entirely different customer.
On the other hand, there are cheaper options that might make more sense because of the amount of personality you get for the money. I'm talking about cars like the Mazda MX-5 Miata, which never ceases to make me smile, or even something totally different like a V8-powered Ford Mustang GT, which is a whole different animal but still offers a highly enjoyable open-air vibe. Don't forget, there's also the Toyota Supra, which isn't a convertible, but gives you pretty much the exact same driving experience for a bit less cash.
Looking ahead, the BMW Z4's future is unclear. It's a small-volume product in a shrinking segment, and likely doesn't fit into BMW's aggressive electrification plans. The changes for 2023 may be small, but they might be all we'll get before the Z4 goes away forever.