2024 Ford Mustang Revealed: 7th Generation Pony Car Stampedes Into The Limelight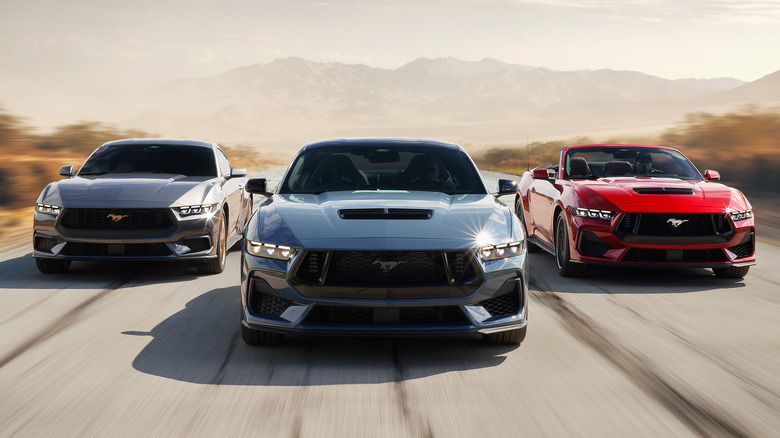 Ford
The Ford Mustang has been the automaker's faithful steed for nigh (neigh?)-on sixty years. As each version iterated on what came before, it's always remained true to its pony car ethos. The same rings true for the newly-revealed 7th Generation Mustang: more of what we love, but with a modernized style as well as a few new tricks.
Amidst a veritable stampede of Mustangs from the past, Ford unveiled the 7th generation Wednesday evening at the 2022 Detroit Auto Show. From the outset, the new pony car gives a modern spin on its classic looks, something Ford has had lots of practice with since the "retro-futurism" baked into the 2005 5th generation car. Though much has changed since then, a number of cues have remained, such as the tri-bar LED tail lamps, fastback roofline, and short rear overhang; all harkening back in some way to the design of the original.
Running Wild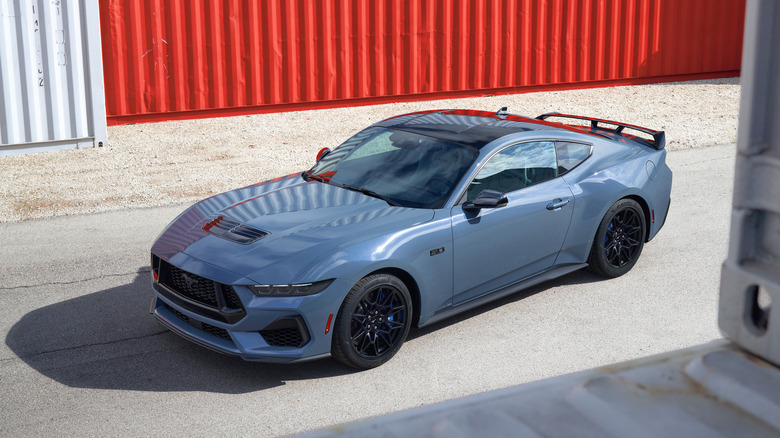 Ford
The new Mustang will launch in two distinct flavors based on which engine its saddled with, EcoBoost and GT. Both engines are new iterations of previous builds, with the 2.3-liter four-cylinder turbocharged EcoBoost purported to be more efficient and powerful than before. Similarly, Ford's 5.0-liter Coyote V8 returns in its 4th-generation form. Thanks to its dual air intake box and dual throttle body design, it's meant to be the most powerful naturally aspirated engine Ford has ever planted into a GT.
How much power are we talking about here? "More," according to tight-lipped Ford reps. Regardless, the V8 will send power to the rear wheels by way of a standard six-speed manual gearbox or, as an option, Ford's 10-speed automatic. 2024 Mustang EcoBoost models will be paired with the 10-speed auto only, a change to the 2022 Mustang EcoBoost which can be had with a stick-shift too.
As is the case currently, there'll be both fastback and convertible versions of the 2024 Mustang. The latter will have a fully lined and insulated fabric roof, with a single-handle center latch to open and close it. Ford claims that, despite needing to accommodate the folded roof, the trunk of the Mustang convertible can still hold two golf bags. 
Unbridled Power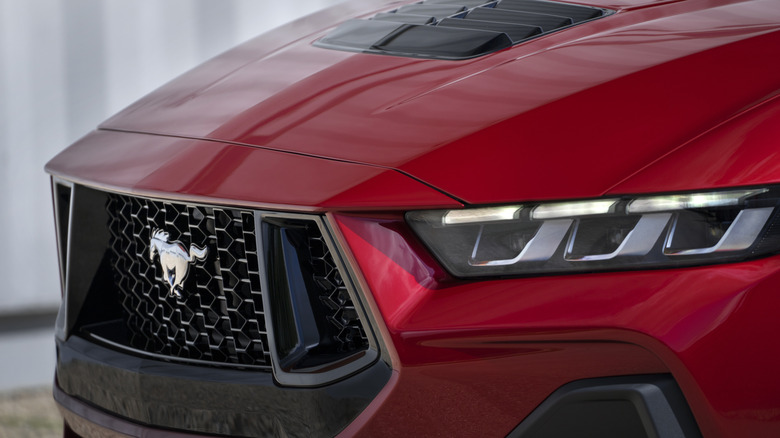 Ford
Different drive modes adjust the Mustang's behavior accordingly, be it for more agility on the track, stability in the snow, or optimizing traction at the drag strip. A customizable drive mode allows for up to six individual settings to be tweaked to personal preferences, while Track apps like line lock and launch control also make a welcome return. An optional Performance Package nets the sporty Ford an active MagneRide suspension, Torsen limited slip differential a front tower brace, and wider rear wheels. It also adds larger Brembo brakes: 390 millimeters at the front, and 355 millimeters at the rear. 
A new nifty party trick comes in the form of an electronic drift brake, something we saw Ford offer first on the Focus RS back in 2017 to get around the hot hatch's missing hydraulic handbrake. A standard feature on all 2024 Mustang Performance Pack models, this new toy has been engineered to give the increase pressure and quick engagement to send the two-door into controlled drifts. It's adjustable, too, giving novices a leg-up in their efforts to be a slip-sliding Mustang master. Cars & Coffee events across the nation, you've been warned.
A Sharper Image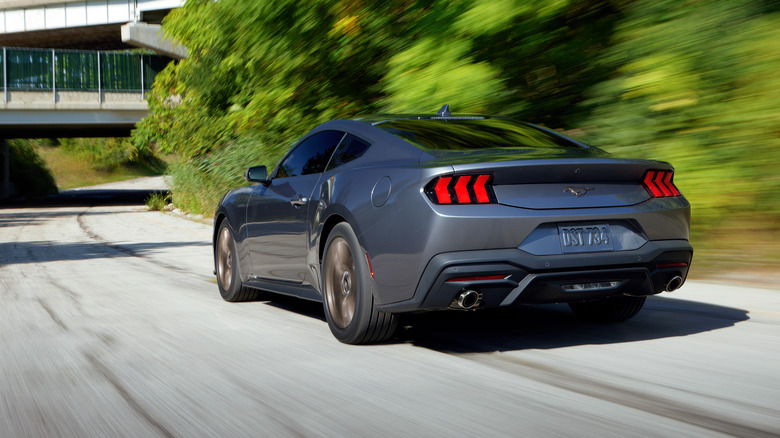 Ford
The outgoing vehicle brought some of the biggest changes to the Mustang formula, such as an independent rear suspension and a design aesthetic meant for global appeal. This latest generation builds on that while bringing the design back to one more inline with American sensibilities. Overall, the new Mustang's looks aren't a wild departure from what we're familiar with: some of the more rounded edges are replaced with more dramatic, pronounced angles, giving the Ford an edgier look, literally.
EcoBoost and GT models will differentiate themselves most prominently with unique facias, with the GT sporting a more prominent and dramatic front end that includes a hood-mounted heat extractor and functional "nostrils" that will feed into the V8's aforementioned dual air intakes.
11 total exterior color options will be available for the Mustang, including two new ones, Vapor Blue and Yellow Splash. There will also be a number of interior and exterior touches that customers can choose from to further personalize their new pony car. One of note is a Bronze design appearance package, that adds bronze badges and alloy wheels.
Players Gonna Play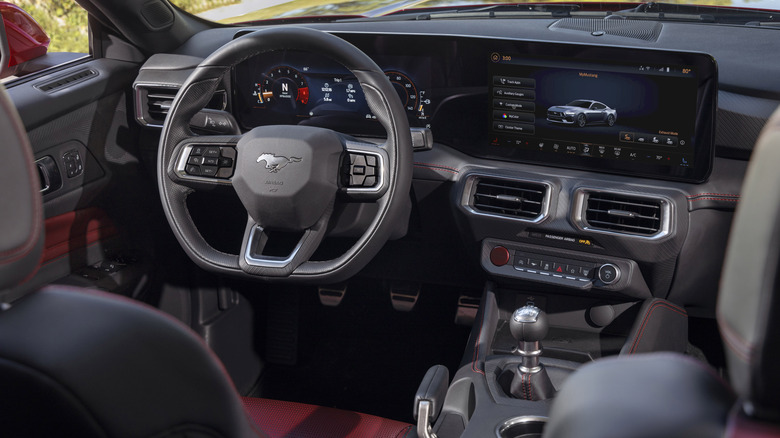 Ford
Ford brought the biggest changes to the Mustang's interior, looking to draw in a younger generation of enthusiasts with more prominent technology and video-game inspired menus. A 12.3-inch digital display cluster sits behind the steering wheel, supported by a 13.2-inch touch screen in the center stack. The screens are split in the base model, but premium models combine them within one continuous frame. The center stack and other inputs are angled towards the driver seat to fully immerse them in the experience.
Both screens are highly customizable, with the ability to spread out gauges across the available screen real estate and displaying big, easy-to-read graphics in performance driving situations. Making use of the Unreal game engine — as we've seen other automakers do recently — menus are analogous with the ones in modern video games, which is particularly prominent when adjusting different drive settings. 
When done so, a graphic of the car highlights the components that are being adjusted, providing more clarity to what's changing and how it impacts the car's performance. Lastly, a MyColor slider lets drivers set their gauges to emphasize things in either a color of preference or one easier on the eyes. Look hard enough, and you might even find digital versions of the analog gauges from some previous Mustangs. 
Easy Rider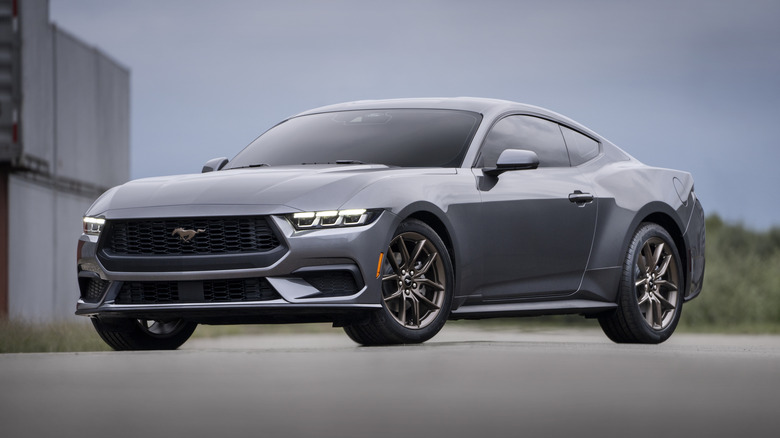 Ford
Powered by Sync 4, the center stack will be the home screen for numerous car settings but it will also provide the expected navigation and entertainment functions. Sync 4's connectivity features will allow for over-the-air updates to keep the Mustang's software up to date, and will of course be Apple CarPlay and Android Auto compatible. There's Amazon Alexa Built-In for voice control, an optional wireless charging pad in the center console, and an optional B&O Sound System as the audio upgrade.
The new Mustang will also house more advanced driver assistance than it's ever had before, too. Ford's Co-Pilot360 system will be included that will give the pony car adaptive cruise control with stop-and-go ability, lane centering assist, speed sign recognition and other incident-avoidance functions. 
Other features are more unusual, though no less thoughtful. Overhead USB ports might seem like a strange place to put charging outlets, but Ford expects them to be a hit with people looking to mount GoPro-style action cameras on the windshield, without having cables stretched across the windshield.
Off To The Races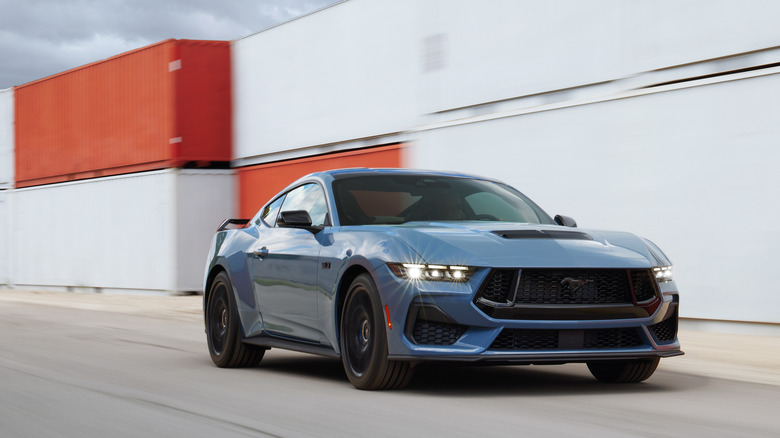 Ford
It's clear that Ford is trying to strike what's undoubtedly a fairly tricky balance with the 7th Generation Mustang, one that satisfies the pony car's loyal fanbase while also targeting a younger generation with different expectations. At first glance, though, they might have done it, maintaining the powertrain options Mustangs know and love while enticing the connected generation with the in-car technology they demand. If the Mustang Mach-E left some long-time fans concerned at the storied nameplate being applied to a crossover — and an all-electric one at that — then this 2024 Mustang coupe and convertible resolutely nudge things back into familiar territory, without a squeak of electrification to confuse matters. 
We're as keen as you are to learn details like the total power output of both engines, 0 to 60 times, when it'll hit dealer lots and the like, but Ford has been keeping this info close to its vest. In the meantime, we'll be waiting patiently to take the reins of this Mustang to see for ourselves if this combo of old-school muscle and modern technology is the winner it promises to be.