2022 Mazda MX-5 Miata Review: For The Lucky Few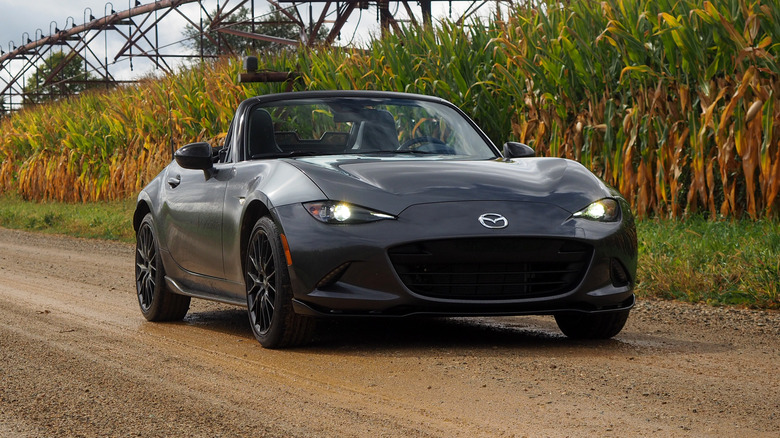 Chris Davies/SlashGear
It should perhaps be illegal to love a gearbox so much. The Mazda MX-5 Miata's six-speed stick shift is, at this point, so widely vaunted and ubiquitously praised that it's almost bordering on parody. Manual sales still continue to dwindle in the U.S., meanwhile, and drivers more often than not opt for larger and larger SUVs and crossovers when they're shopping for a new vehicle.
Yes, there are still enthusiast cars where changing your own gears is an (encouraged) option, but if speed is your goal then the rifle-bolt-rapidity of a modern dual-clutch transmission can't be bested by muscle power alone anymore. A cynic might wonder if manufacturers see the stick shift as not only fading but quite frankly passé.
It's no idle concern, either. Sales of the MX-5 are down more than 50% year-on-year so far in 2022, though with the proviso that almost every vehicle in the automaker's range has seen a dip this year. Nonetheless, with just 4,571 new Miata finding homes in the U.S. in the first three quarters of the year, roadster purists would be forgiven for feeling a little uneasy about the car's future.
Affordable whimsy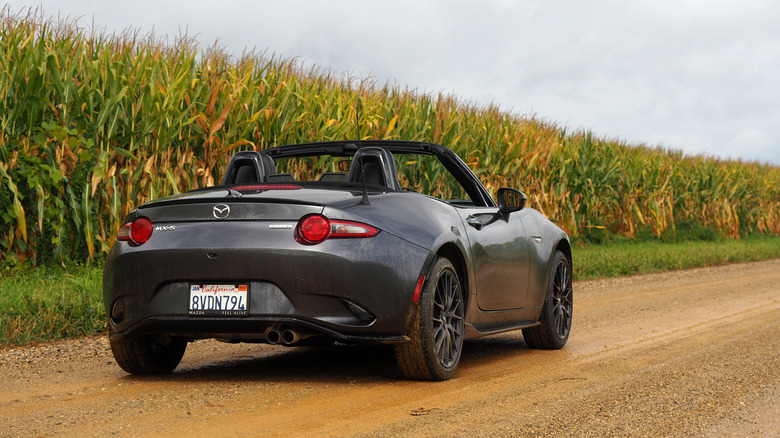 Chris Davies/SlashGear
The good news is that, if the rumors and leaks are to be believed, Mazda is already testing a redesigned Miata. The even better news, though, is that you don't need to wait for the Miata NE — or whatever it turns out to be — to obtain one of the most rewarding driver experiences, bar none, today. Delight-per-dollar, the current MX-5 doesn't disappoint.
The whimsy kicks off at $27,650 (plus $1,015 destination) for the 2022 MX-5 Miata Sport, rising to $32,650 (plus destination) for the more luxurious Grand Touring trim. In-between is the MX-5 Miata Club you see here, starting at $31,150 but, Mazda warns, likely to be absent from its dealerships unless you get very lucky. Stock has, for the 2022 model year at least, sold out.
That could be because, in Miata terms, the Club feels like the sweet point in the triple-trim line-up. $30,800 (plus destination) gets you the same 2.0-liter four-cylinder gas engine, 6-speed manual transmission, and rear-wheel drive as the other trims, but adds the torque-sensing limited-slip differential, sport-tuned suspension, and Bilstein dampers. It also gets a front shock tower brace.
The middle is just right (but sold out)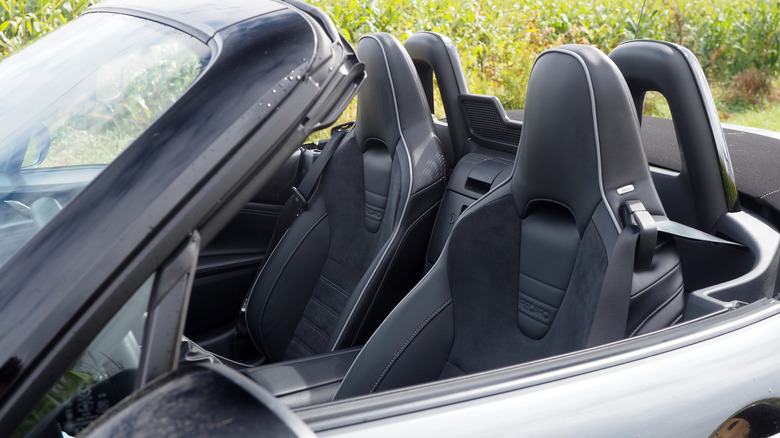 Chris Davies/SlashGear
Now, the Grand Touring trim has those extras too, you just pay more for them (and have to resist the automatic transmission option that trim alone offers; no great hardship). The Club trim car you see here, meanwhile, comes with a few extras of its own, too. The Machine Gray paint is a $595 option, while the Brembo BBS Recaro package requires $4,500 in return for its Brembo brakes, sim sill extensions, BBS forged 17-inch dark alloy wheels, rear bumper skit, and snug heated Recaro sports seats.
The total is $36,910, including destination. You can get some of the styling on the Grand Touring, but not the Brembo, BBS, and Recaro niceties. However, there are leather seats and navigation to make up for it.
Look, nobody is going to be unhappy with the Miata Grand Touring. In fact, you might be a little more comfortable, since the Recaro sport seats are snug even if you're on the slim side. Not that the MX-5 is known for being all that spacious to begin with, and taller drivers may find the 37.4 inches of headroom a dealbreaker from the start.
Driver-focused, by design and budget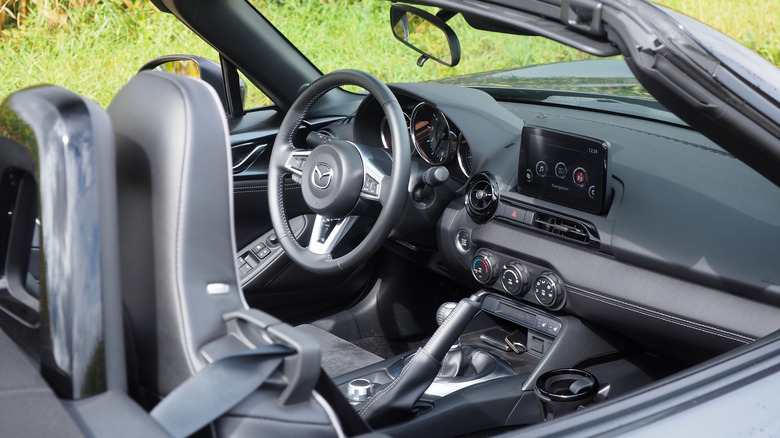 Chris Davies/SlashGear
Their loss is my 5-foot-8-inch gain. Assuming you're no size outlier, the Miata's cabin is a snug and straightforward place. Mazda clearly didn't spend too much of the budget on materials, so while there's soft-touch plastic and some decent stitching, the general feel is one of sober intent. It's also — whether by design or cost restraint — easy to operate even while you're having fun.
The HVAC system consists of three big, easily-twirled knobs. There are a couple of buttons for the (very effective) heated seats, and a jog dial that masquerades as a joystick as well to step through Mazda's simple (and a little dated-looking) infotainment system. The audio system is, well, present, but the 9-speaker Bose rig feels only average despite its subwoofer and headrest speakers.
Android Auto and Apple CarPlay are standard, with Club and above trims cutting the cord on Apple's projection too. Mazda also locks out the touchscreen at any speed above a crawl, citing safety reasons. I'm not convinced that notching through the UI options with the jog dial actually feels less distracting than the short reach to the display, but most of the time I was more focused on the road anyway.
Made for the road not the destination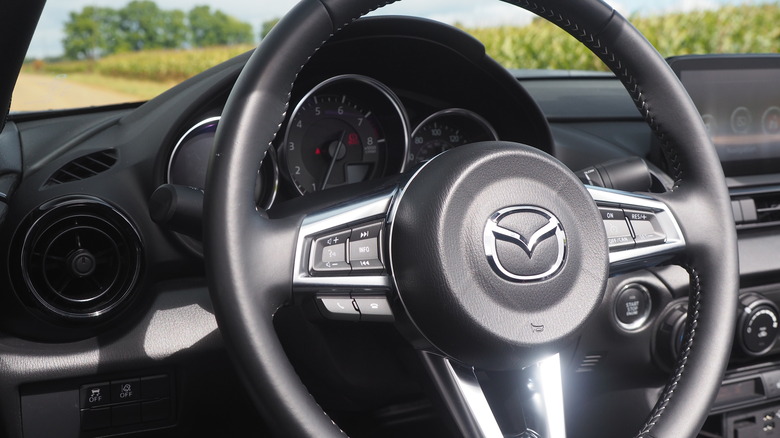 Chris Davies/SlashGear
That's because, well, the road is what the Miata is all about. And yes, I agree, it's a statement that at first seems silly, and obvious, because surely all vehicles are about roads, no? Yet I think there's a good argument to be made that the majority of transportation is focused on the destination, while Mazda's plucky little roadster is about the journey.
I am an enthusiast and a realist, in technology as well as cars. There are certainly good, admirable reasons to want to maintain the old ways of doing things. At the same time, it's easy to get caught up in desperation to retain the status quo merely because of its familiarity.
Transmissions are an excellent example of this. There are good manual gearboxes out there, in everything from affordable little sedans and hatchbacks to sport-tuned sticks in expensive M-badged BMWs. Most of the time, though, they are just plain outgunned by their self-shifting siblings. We're far, far removed from the days of slushy, sluggish automatics.
In love with a stick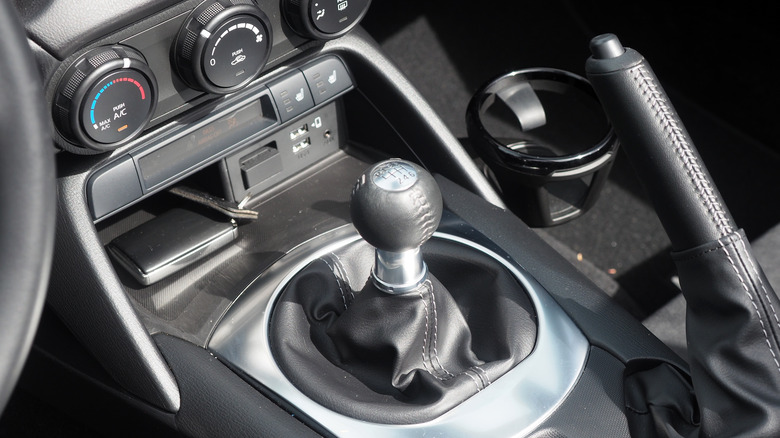 Chris Davies/SlashGear
So, most of the time, I think I'd pick the auto, and yet for the MX-5 Miata, that's absolutely not the case. Its throw is short and slick; each ratio slots in without needing force, but without feeling over-eased either. The clutch is weighted just right, neither soft and flabby nor too heavy should you find yourself a convertible minnow in traffic.
It doesn't, and I think this is the key part for me, make you work at it, just to get it right. Some sports-minded manuals seem to delight in forcing attention and intent with each gear change. Get it wrong, dare to be distracted — whether by a pothole or a playlist — and you're punished with a crunch to let everyone else around you know that you messed up.
The Miata's gearbox is, in contrast, ethereally playful. Fun for its own sake; the sort of transmission you'd be lucky to learn how to drive stick on. Even if then you'd be spoiled for life by just about everything else out there.
If the formula works, don't mess with it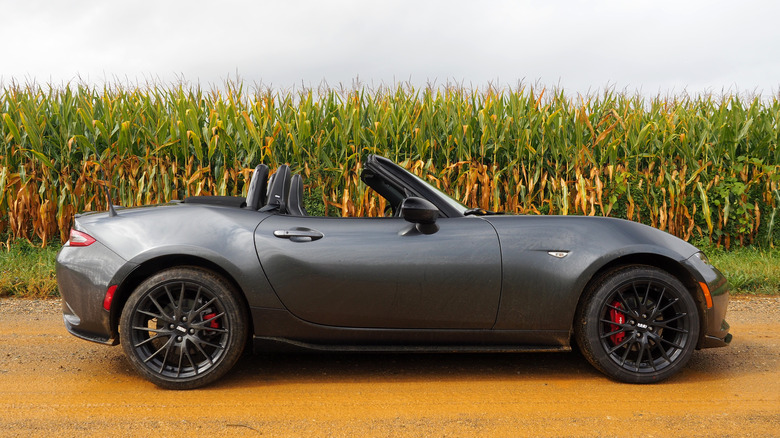 Chris Davies/SlashGear
The rest of the Miata equation is tried and true lightweight roadster territory. At 181 horsepower and 151 lb-ft of torque, the Skyactiv-G engine is hardly going to scare a supercar on paper (or, for that matter, the average midsize sedan). They're more than sufficient, however, for whipping around what is a mere 2,341-pound droptop.
It means you get to row gleefully through the gears to make the most of the power band, a treat not a chore, and then sail brightly around corners. Grip isn't unending, no, but rear-end wiggles are easy to control with Mazda's direct and communicative steering and more-than-adequate brakes.
And if you do get stuck in traffic? The most off-putting thing is the sense of scale: the Miata really does feel toylike in the shadow of modern trucks and SUVs. You can either let that intimidate you, or you can take matters into your own hands and go zipping through every tiny gap possible. Even taking advantage of slices of good weather is easy, too, with the manual hood a doddle to put up or down.
2022 Mazda MX-5 Miata Verdict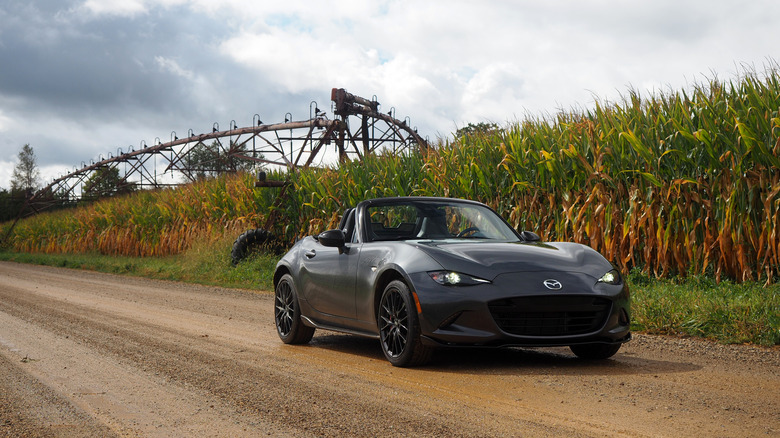 Chris Davies/SlashGear
I'm honestly curious where cars like the Miata are destined, as the inevitability of electrification takes it from being manufacturer-range-outlier to generally abundant. The frugal MX-5 — which is happy with standard or premium octane — is rated for 29 mpg. A full tank will take you around 345 miles. Trying to imagine an electric Miata that can do similar, well, at this point in EV tech you'd probably be looking at a battery that weighed a decent chunk of the whole car, currently.
That, though, is a problem for other people to think about. And it's not like the handful of lightweight two-seater roadsters is really the gas-guzzling, planet-polluting issue we have to tackle first. Those hefty SUVs and trucks are the primary culprits there.
That leaves us with an oddly attainable opportunity for fun today. The MX-5 Miata isn't very practical, probably shouldn't be your first choice (or second, really) for a commuter vehicle, and doesn't do much to hide the places where cost-cutting was possible. Instead, it's not only a welcome reminder that there are good reasons why enthusiasts get so worked up over things like changing their own gears but a positively glorious way to find that same enthusiasm yourself.