2023 BMW I7 xDrive60 First Drive: Finally, Some Electric Attitude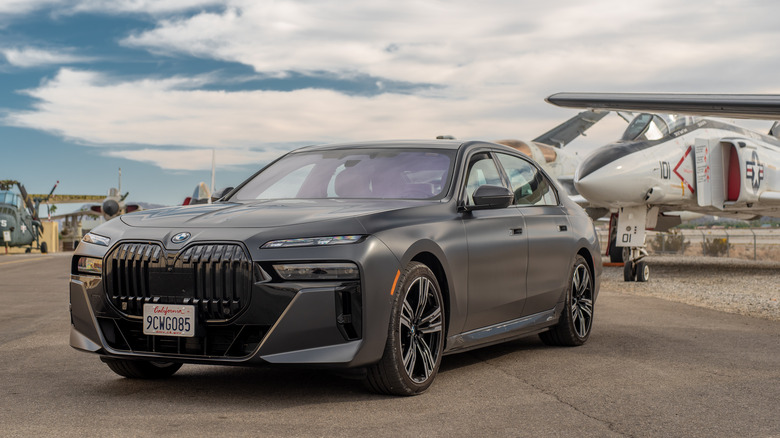 Victoria Scott/SlashGear
The electric vehicle market has finally blossomed into a semi-mature one at its top end, with nearly half a dozen $100K+ sedan offerings on offer that promise superlative performance and range long enough to traverse the entirety of Nevada without stopping for a single electron. Speed, range, efficiency, tech—there's something for everyone.
Well, except people seeking attitude. Sure, the Porsche Taycan or the Audi e-tron GT are hyper-futuristic cars with performance that borders on video-game surreal, and a Lucid Air or a Mercedes EQS look like a technocrat's executive limousine ripped straight from Blade Runner 2049, but nothing on the market has real bravado.
And then BMW invited me to drive the all-new i7, and at long last, high-end electrification can be terrifyingly imposing, too. Say hello to the seventh generation of the 7-Series, the first generation of the 46-year-running model line to be fully electrified, and arguably the first luxury sedan that understands that being sustainable should still be a touch intimidating.
Under the skin...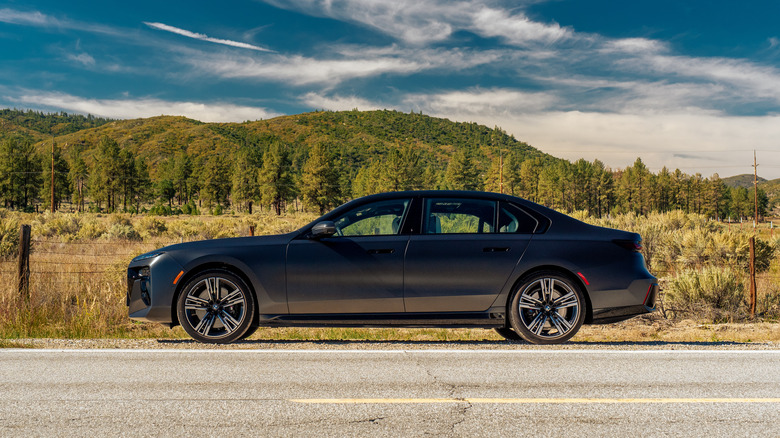 Victoria Scott/SlashGear
The i7 possesses a pair of synchronous induction motors at the front and rear; together, they pump out 544 horsepower and 553 pound-feet of torque. Admittedly, this trails most of the high-end market, with Tesla's Model S and Lucid's Air base models both possessing nearly 100 more horsepower for significantly less cash; the i7's 0-60 time of 4.7 seconds won't be putting it in any YouTube compilations for breakneck speed, either.
It has a significant 101.7 kWh of battery capacity; together with some advanced wind-tunnel tricks to help streamline the brick-like front profile down to a svelte .24 coefficient of drag, that battery translates into 310 EPA-rated miles of range. This is good to put it roughly mid-pack among its similarly-priced competitors, although unfortunately for a flagship model, this range trails BMW's own iX crossover, which boasts 324 miles of range from a larger battery pack. It does, however, offer excellent regenerative braking (with deceleration as strong as .22 G) and rapid DC fast charging at up to 195 kW, which will likely keep the 310 mile range from ever feeling too short.
But, even more importantly than EPA numbers, it's worth saying right now: the i7 is not optimized for paper. It is, at its core, not an EV for nerds. No offense to nerds—I, too, deeply appreciated the discussion of how BMW managed to squeeze 93% efficiency from the magnetless induction motors in the i7, or how the batteries now precondition themselves automatically when a charging station is input to the navigation system—but to focus solely on the nitty-gritty of the drivetrain is to miss the entire point of this car.
What makes a unique car when silence reigns?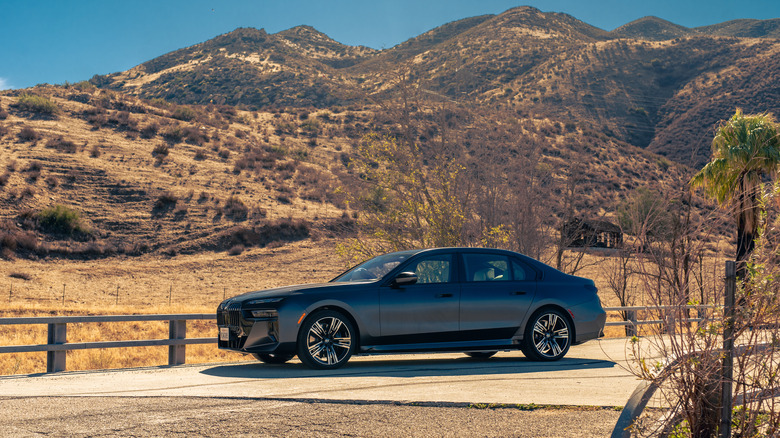 Victoria Scott/SlashGear
There is something that no one is quite ready to admit yet about electric cars: they are converging on a singularity. A good electric car is not a solved science, but engineers at dozens of companies are getting damn close to cracking the code. And as they do, the differences between the drivetrain of, say, BMW's electric executive sedan and Mercedes' electric executive sedan become harder and harder to spot. 
Indeed, in a straight line, the i7—despite its "slow" 4.7-second 0-60 time—pulls like a freight train, just like all of its competitors. It doesn't stop pulling with alarming ferocity until well past speeds of [redacted] miles an hour, either. It just does so in complete silence, missing the echoes of legendary BMW V8s and V12s that resided under the hoods of past 7's, and in light of this, BMW needed to define the i7 in some other way.
Sinister is but an M-Sport pack away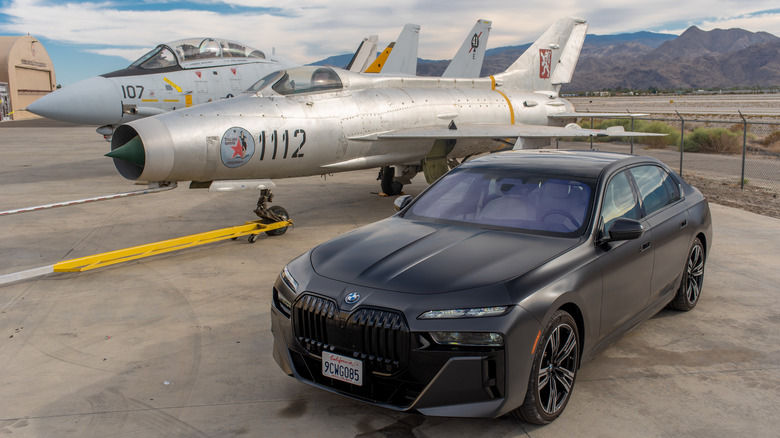 Victoria Scott/SlashGear
BMW distinguished the i7 in two ways: the first was by making the most sinister-looking EV on the market. When equipped with the "Pure Excellence" package, flush with chrome trim, the sedan looks vaguely threatening, if a bit grandma-spec; with the M-Sport package I chose for my test car (and shown in this story) it looks like a EV purpose-built for an environmentally-friendly dominatrix. The i7 with an all-black fascia and satin black paint makes Jason Statham's Transporter E38 look downright congenial in comparison. Admittedly, the i7 lacks the subtlety of previous BMW designs, but that is precisely the point. Louboutins aren't subtle, either, and yet no one would deny their impact and appeal.
When I tested this car on two-lane roads and inevitably caught up to cars in front of me, drivers practically dove for turnouts when this face showed up in their rear-views. I don't blame them; the split-headlight design gives the car a permanent, illuminated-Swarovski-crystal scowl that would look right at home ripping out of the garage of Cruella de Ville if she happened to take an interest in electrification.
Minimalism, but make it high-tech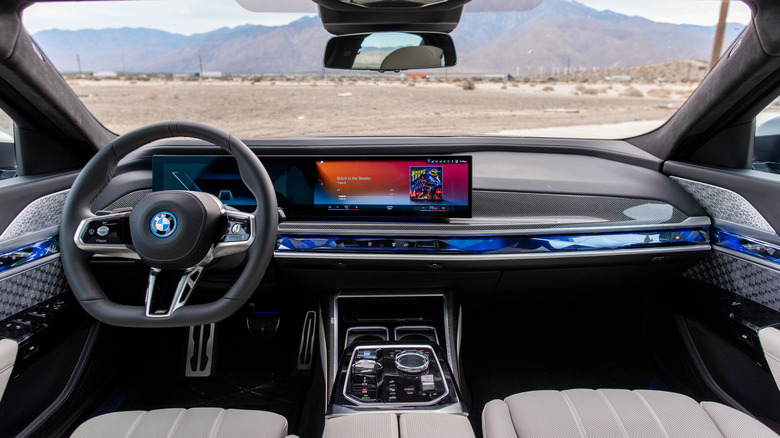 Victoria Scott/SlashGear
The second way the i7 differentiates itself is with its tech package and interior affects. The i7 is a significantly more spartan affair than previous 7-series generations, with BMW removing "ornamentation" and instead choosing to adorn only functional equipment. As a result, the curved dash screen—composed of a 12.3-inch instrument cluster and a 14.7-inch infotainment touch screen—constitutes a large part of the driver experience.
Luckily, the i7 runs BMW's iDrive 8, which is a rock-solid operating system. The driver experience is nearly infinitely customizable, with dozens of different UI themes and HUD displays, but no matter what setup is selected, touchscreen lag is nonexistent, the instrument cluster is clean, and the care given to fonts, readability, and menu organization is deeply appreciated.
The rest of the interior's limited contact surfaces were, unfortunately, much less consistent. While I appreciate the physical buttons for common features on the center console, the unfortunate decision to relegate climate controls—thus turning seat heating/ventilation into a minimum two-tap affair—was less welcome.
Villainess vibes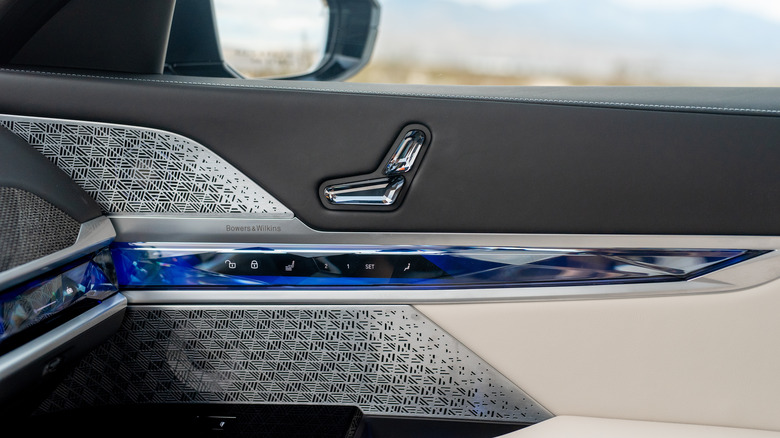 Victoria Scott/SlashGear
And while most of the interior felt Germanically high quality, the capacitive-touch buttons for seat adjustment on the (surprisingly flexible) door panel were one of the only parts of the car that didn't feel up to par, with too much give and too little feedback to operate easily.
Something that felt significantly more at home in the i7: optional automatic doors. The mechanized doors can be activated via the central touchscreen or a variety of cabin buttons (or even via the phone app). The rational reason to opt for the mechanized door option is that the massive doors of the 212-inch-long sedan are difficult to reach for with a traditional handle when fully open, which makes automatic push-button closing a welcome convenience. The less-rational reason is because it is insanely satisfying to slam all four doors at once with a single tap, and it fits the villainess vibes of the i7 perfectly.
IMAX on 21 wheels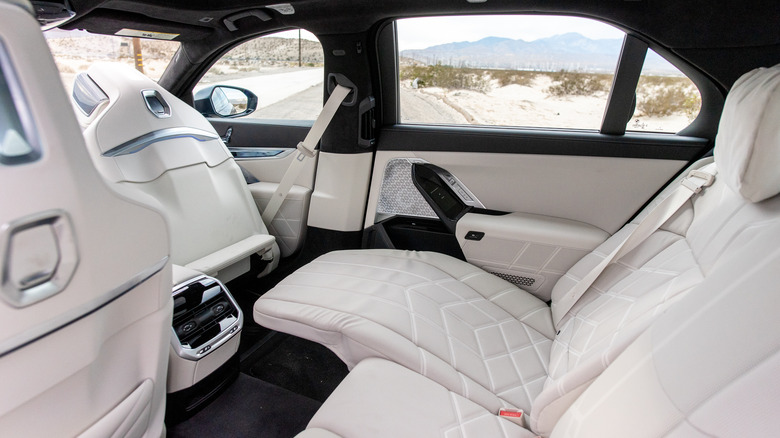 Victoria Scott/SlashGear
Enough about the driver, though, because in the i7, the tech runs deep into the rear. The i7 features a rear-passenger recliner, individual temperature controls, and deep-tissue seat massagers.
All of this functionality and more is controlled through door-panel-mounted 5.5-inch touchscreens that are superbly positioned for easy operation. Additionally, an LED-laced panoramic glass roof can help keep the ride from getting too monotonous...
But, if it does, then the optional 31.3-inch, 8K-resolution ultra-wide fold-down touchscreen will help alleviate backseat ennui. While the folding mechanism requires a very short driver to deploy while in motion, once the screen is in position, the image quality is fantastic and the audio quality of the Bowers & Wilkins surround system could shame most home-theater setups. BMW doesn't expect most 7-series buyers to have chauffeurs—at least not in the States—but still, this sure would help pass the time in the cellphone lot while waiting to pick up my friends at the airport.
In motion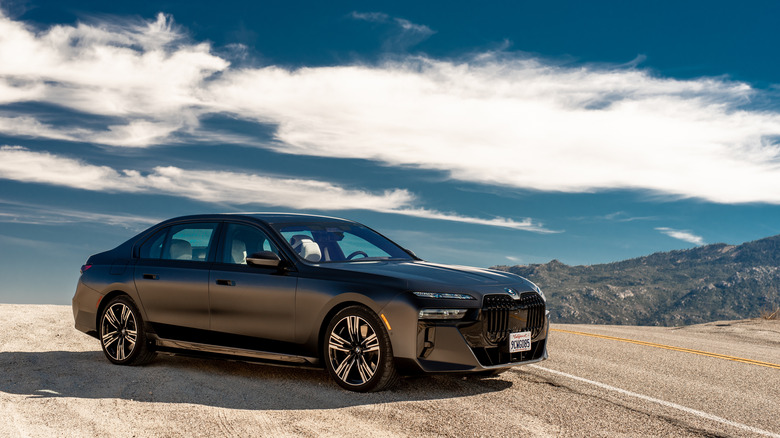 Victoria Scott/SlashGear
All that was really left for me after enjoying the creature comforts of the i7 was to set it loose on some of California's most beautiful roads and see how it performed. The 7-series has always been one of the most driver-focused executive sedans on the market. Ironically, I first drove a stint of the 10 with BMW's advanced Level 2 hands-free cruise control on, partially removing myself from the driving equation. The silent electric operation, combined with the isolated cabin and hands-free driving, certainly made it clear why there was a "relax" mode in the main menu.
It performed admirably, with enough safety monitoring of both the world outside and my attention for me to have faith in its Level 2 abilities. With the cruise off in leisurely driving, the adaptive regeneration did an excellent job at both recouping massive amounts of range and smoothly keeping distance from leading cars.
Leaving things here, however, would feel like a very incomplete road test for a BMW flagship.
The right road to evaluate a BMW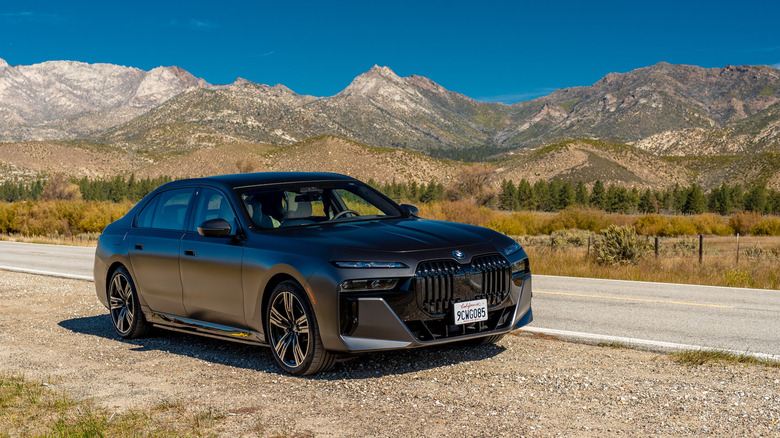 Victoria Scott/SlashGear
California Route 74—now there's a place you evaluate a BMW.
In the winding switchbacks of 74, the i7 performed extremely admirably. Steering was a strong point, with the typically heavy BMW feel doing a good job at conveying the mass of the sedan and transmitting just enough road feedback to feel confident I was, indeed, still on the tarmac.
The optional anti-roll control had its pros and cons. On the positive side, it kept my rear passenger in extreme comfort no matter how hard I drove; my backseat journalist didn't even notice I was attempting to make the i7 sweat while he flipped through cinema-screen functionality. On the negative side, it almost works too well; when braking hard and tossing the 6,000-pound car into a corner, I expected to feel some pitch and roll that would predictably load the tires, and without the feeling of inertial yawing, I wasn't exactly confident in my ability to chuck the i7 into a hairpin. 
That was all moot, though, by the time I reached the exit of the corner, as the electric motors all worked their torque-vectoring magic and I tore out with all four wheels planting down as much power as physically possible. In short, it was the 7-series performance that BMW devotees expect—it's just quiet now.
A true electric flagship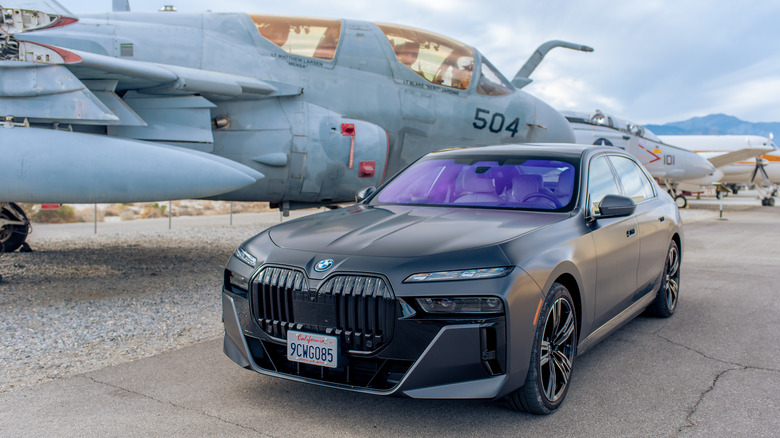 Victoria Scott/SlashGear
The i7 is obviously not BMW's first stab at electrification—far from it—but it is arguably its most crucial attempt thus far. The 7-series has long set the tone for the company's entire model line; properly bringing both performance driving dynamics and high-tech functionality to its first electrified flagship will be crucial to convince longtime buyers that just because the high-strung V-powerplants are gone, the BMW genetics still run strong. 
The 2023 BMW i7 more than accomplishes that, and it wraps it up in the most ominous package available in the EV market today. Just make sure to spring for the satin black—the extra paint care is worth it to look that foreboding.