2022 Mercedes-AMG EQS Review: Luxury Electric Car Feels Flagship-Special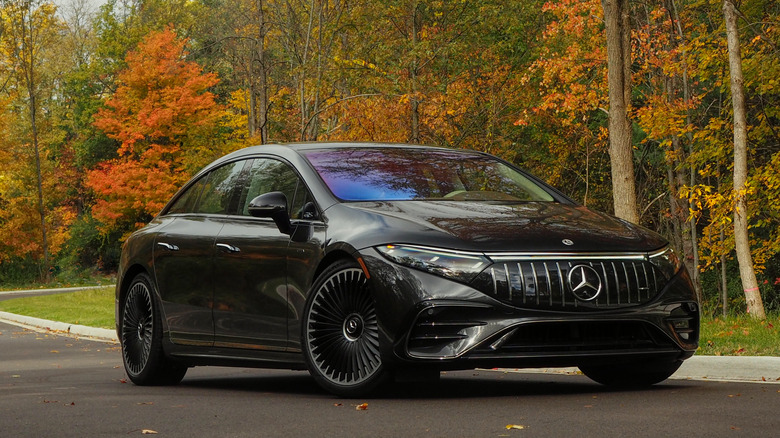 Chris Davies/SlashGear
When they're calling you "the electric S-Class," you've got to be good. The specter of Mercedes-Benz's benchmark big sedan looms large over the EQS, the first all-electric sedan from the German automaker as it wades into a segment until now defined by (relative) upstarts like Tesla and Lucid Motors. To demonstrate the seriousness of its intent, it has supplied a de-facto flagship, too: the 2022 Mercedes-AMG EQS.
It keeps the swooping, almost comically smoothed silhouette of its 'Benz-branded siblings, but upgrades the dual motors for 649 horsepower and 700 lb-f of torque. Boost mode temporarily sends word to the engine room to go above and beyond, briefly nudging those numbers to 751 hp and 752 lb-ft. The result is 0-60 mph in 3.4 seconds, not the swiftest in the EV set but still astonishing considering Mercedes hasn't compromised a jot on luxury inside.
You pay handsomely for that pairing, of course. Base price is $147,500 (plus $1,050 destination), and EPA range — on paper — clocking in at 277 miles makes this more reminiscent of the Porsche Taycan (rated for 199-246 miles, model depending) than the long-legged Lucid Air with its 500+ mile rating.
A wild dashboard that's maybe too extreme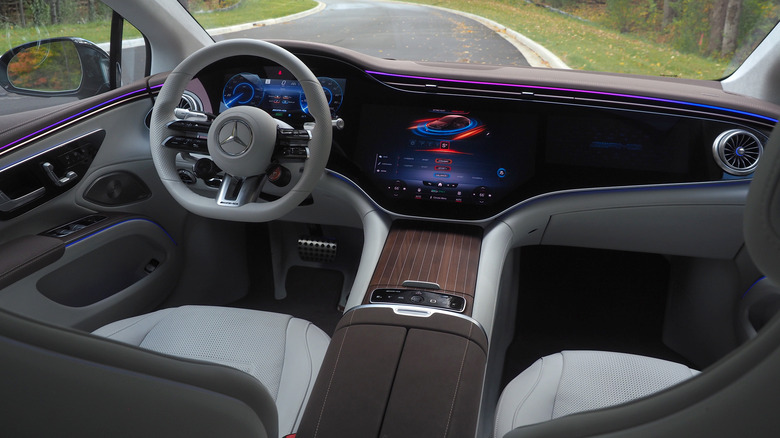 Chris Davies/SlashGear
Neither of those rivals — nor Tesla — can match the EQS' interior for gadget-first wow factor. The AMG EQS gets Mercedes' near-comically-expansive MBUX Hyperscreen as standard, 56 inches total of dashboard display crisply laminated breath a single, kinked slab of toughened glass. That includes a dedicated screen for the front passenger, should they want to monitor battery level, adjust navigation, or tweak the multimedia.
It's the center touchscreen that will either wow or overwhelm you, though. Generally centered on a huge map, it floats shortcut widgets to things like music and navigation along the top, with a persistent row of HVAC controls along the bottom. MBUX's unexpectedly adept "Hey Mercedes..." voice control is good for cutting through the visual overload when you just want to turn on the massage seats.
I could definitely see the Hyperscreen being "too much" for some drivers, and occasionally Mercedes' UI decisions don't help, much. The EQS supports wireless Apple CarPlay and Android Auto, but the shortcut to load them is a tiny button in the upper corner, for example. Meanwhile, despite all the real estate on offer, things like lists of the nearest DC fast chargers require far too much scrolling.
Two personalities and frightening speed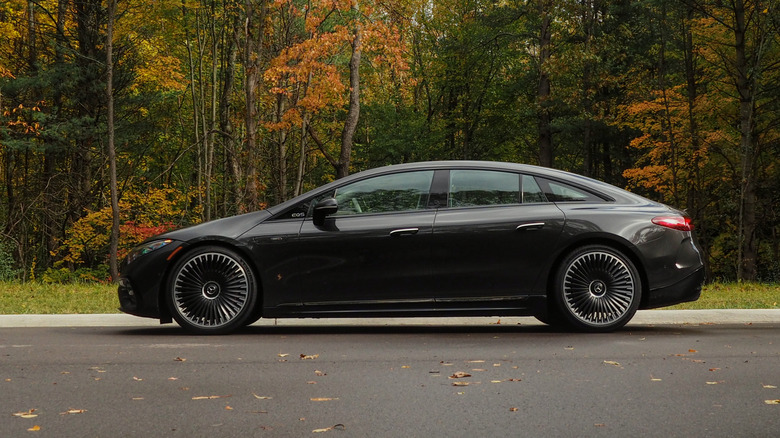 Chris Davies/SlashGear
Pinpoint a destination, though, and there's no denying that the AMG EQS will get you there swiftly. This is no light sports sedan, with a curb weight just shy of 6,000 pounds, but in the best tradition of "give a luxury four-door a frankly silly quantity of power" it still blasts like the best of them. Straight-line speed leaves AMG's estimates feeling conservative, the EQS simply hurling itself forward when you graze the accelerator.
A rotary controller on the steering wheel notches through the various drive modes, like Comfort, Sport, and Sport+; a second pod on the opposite side allows you to quickly adjust things like air suspension settings. In the corners, the AMG EQS relies on fiendishly clever engineering to keep it unexpectedly level. My bravery ran out before its grip did.
Is a Taycan GTS better at the twists? Yes, but Porsche's four-door EV doesn't wrap you in a space-age lounge as it does it. The duality of electrification shows its potential here nicely, the AMG tamed but not tepid when flicked into Comfort mode. It's all oddly usable at either extreme, shifting personality in an instant.
Sounds weird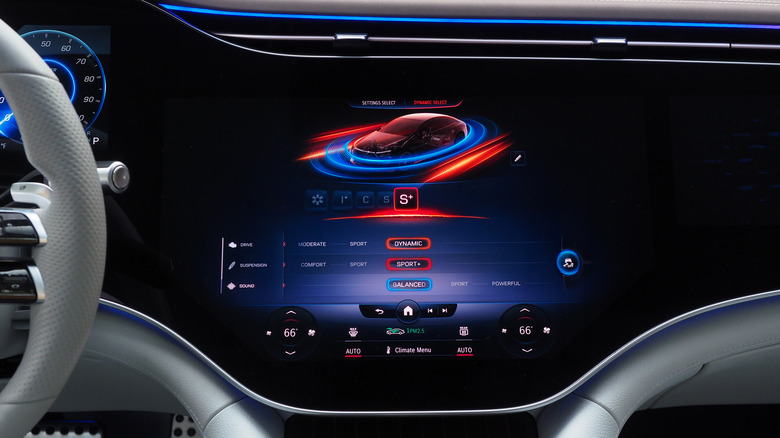 Chris Davies/SlashGear
AMG's fettled motors sound great, but then the tuning team spoils it — to my ears — with some of the more unnerving artificial sounds that I've heard in an electric car. I didn't like it when I first drove the AMG EQS, and a longer period in its company hasn't changed that first impression. The gurgling, metallically-electronic burble still sounds like the background to an "Aliens" movie and manages to strum whatever part of my limbic system is responsible for leaving me disconcerted and borderline anxious.
Happily, you can turn it off — though it's not a latching setting, and you need to do that every time you switch between modes — and there's always the driver-customizable "Individual" mode which allows you to turn the soundscape down to its least-intrusive setting.
As for range, as you'd probably expect, how close the AMG EQS gets to its 270-mile EPA rating will depend heavily on how aggressively you drive. There are three levels of regenerative braking, controlled by the steering wheel paddles: the most potent slows the car eagerly when you lift off the accelerator, while at the other extreme the sedan will glide serenely, nice to use on the highway. It can't quite beat Mercedes' King of Coasting, the VISION EQXX concept, of course.
The 2022 Mercedes-Benz EQS 450+ wades in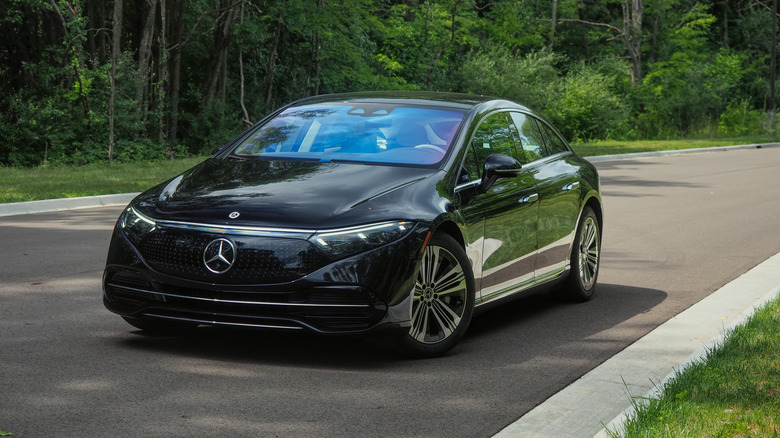 Chris Davies/SlashGear
The AMG EQS may be the flagship model in the EQS Sedan line-up, but it's not the only one. At the other extreme sits the 2022 Mercedes-Benz EQS 450+ Sedan, a single-motor version of the car. It starts at the (comparatively) affordable $102,310 (plus $1,050 destination), loses some of the more aggressive styling, and clocks in with an EPA range estimate of 350 miles.
In fact, that makes it the most long-legged version of the EQS Sedan, even if it's short of what rival luxury EV-makers like Lucid Motors and Tesla are promising. The compromise is that it's rear-wheel derive only, with a single electric motor delivering 329 horsepower and 419 lb-ft of torque. You still get niceties like air suspension, active dampers, 10 degrees of rear-axle steering for tighter turns, and multiple levels of regenerative braking strength.
My review car clocked in at $116,305 all-in, thanks to things like an upgraded HVAC system with HEPA filtration, massage front seats with rapid heating, and fancier ambient lighting. However it's the $7,230 MBUX Hyperscreen Package, which adds the vast 17.7-inch central display, 12.3-inch driver display, and 12.3-inch passenger touchscreen, that really swells the sticker.
Mercedes' more affordable EQS doesn't feel cheap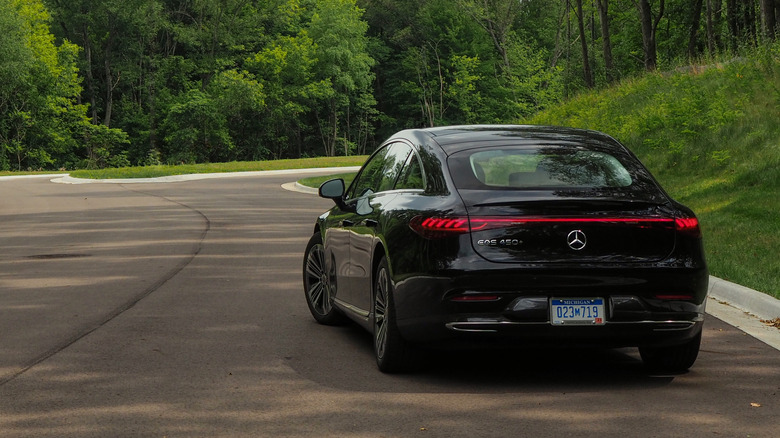 Chris Davies/SlashGear
What's interesting is how closely the 2022 EQS 450+ feels behind the wheel to a regular S-Class. Of course, Mercedes' storied sedan is the luxe inspiration for the EQS, but it's easy to get distracted by the rocket ship acceleration of many EVs, especially when they're in ultra-fancy AMG form.
This entry-level version, in contrast, is fast but doesn't feel face-disrupting. Acceleration is brisk and more than adequate, but 0-60 mph in 5.9 seconds feels just fine. Like, in fact, the grunt you get from an S-Class's gas engine.
The EQS 580 4MATIC wields twin motors for electric all-wheel drive, drops 10 miles of EPA range, starts at over $126k with destination, and trims the 0-60 dash to 4.1 seconds. Definitely fast, then, but for most people looking for a comfortable, modern electric sedan I suspect the more affordable version will be plenty. There's no doubting the cosseting of the cabin or the plush ride, and if you have to waft long distances there are few ways to do it that are less stress-inducing.
Fast charging, but hardly the luxury lifestyle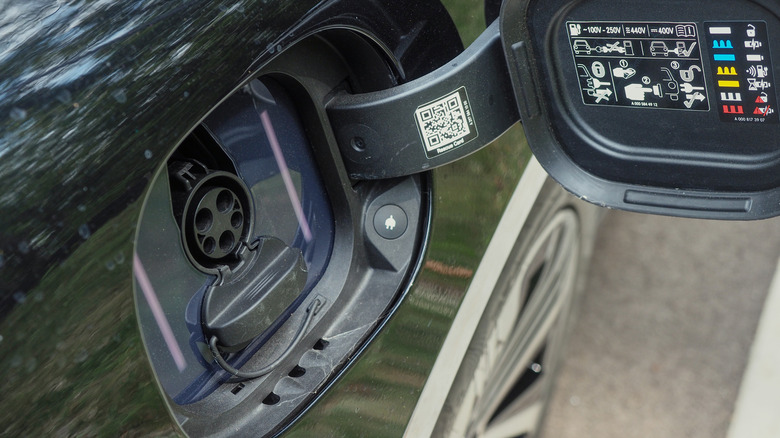 Chris Davies/SlashGear
That's assuming charging doesn't give you a headache. Most electric cars are still predominantly recharged at home, and for the moment it's difficult to recommend them if you lack Level 2 facilities and a dedicated parking space. Tesla's Supercharger network may have made EVs a legit transit option for many, but the experience — even in six-figure niceties like these Mercedes — just isn't matched outside of it.
The good news is that the EQS supports up to 200 kW DC fast charging. That means about 30 minutes to go from 10% to 80%, and if you find an Electrify America charger then all EQS drivers get two years of complimentary 30-minute sessions there. You can use other public chargers, of course, you'll just have to pay for them.
Finding them, consistently, functional, and unoccupied is a chore. Not an impossibility, no, and MBUX guided me adroitly to the nearest EA location, but 50% of the chargers were out of service, and it took 5+ minutes of plugging in, unplugging, and replugging the car to get the EQS and the charger to play nicely with those that were free.
Is that Mercedes' fault? Not directly, sure, but if I'm responsible for customer satisfaction at the automaker then you can bet I'd be mortified by the lackluster experience some of my biggest spenders are encountering. It is, to share the manure properly, the same situation for BMW, Lucid, Rivian, and in fact any other EV firm that hasn't set up its own fast charging network, and it stings all the more intensely when the rest of the electric experience is so smooth.
2022 AMG EQS Verdict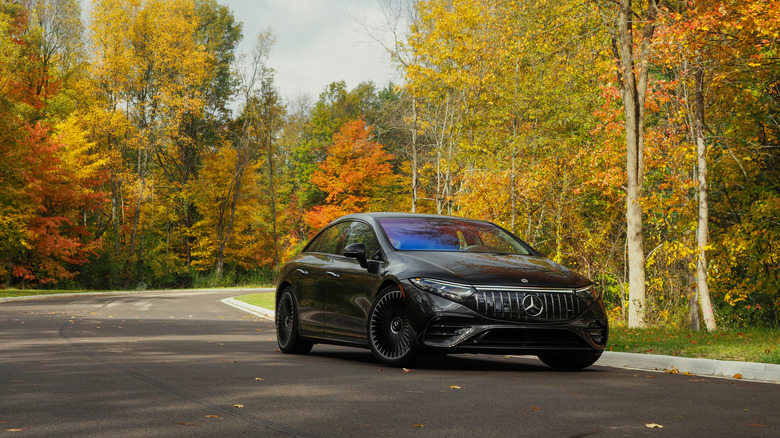 Chris Davies/SlashGear
Because make no mistake, whether you get the "base" EQS or the fanciest AMG flavor, this truly does feel like the future of luxury. Quiet, smooth, refined in a way that internal combustion engines can only aspire to... if the definition of privilege is isolation from the real world, Mercedes' electric sedans epitomize it.
Yes, I wish there was more range, and that they didn't make weird noises, and certainly, these are expensive cars. I'm not convinced anyone needs — or even wants — the monstrously attention-grabbing Hyperscreen, and in places, it feels like Mercedes has opted for ostentation simply because it wants, desperately, the EQS to feel like the next evolution of the S-Class. Rival high-end EVs feel a tad more restrained.
Regardless of all that, however, it's hard not to be charmed. A Porsche Taycan is sportier, and a Tesla Model S Plaid can be faster in a straight line, but neither has the plush cabin of the EQS. Lucid's Air has more range but lacks the cachet outside of EV circles. Mercedes may be busy filling in the rest of its electric line-up, but it can only do that because it knows it did just what it needed to with the EQS.