2022 Lucid Air Grand Touring First Drive: Electric Upstart Leads The Pack
The biggest surprise with the 2022 Lucid Air Grand Touring isn't so much how good the all-electric luxury sedan is, but that Lucid Motors managed to get it to production at all. After all, it's been more than five years since Lucid strapped me into something clearly living up to its "first prototype" billing, then promptly catapulted me into the distance to demonstrate just how fast its 1,000-horsepower EV could be.
I'm going to level with you, there've been times I wasn't sure that Lucid Motors was going to make it. The electric car segment hasn't exactly been short of upstart automakers promising huge things from their EVs. Neither has it been short of failed upstart automakers discovering that delivering on those promises is a lot harder than it might seem. Lucid gets some instant kudos, then, because it already managed to ship cars. The Lucid Air Dream Edition was around $170,000 of pure EV and effectively the halo for the company. Lucid staking its flag in the ground, triumphantly declaring its arrival.
The Dream is over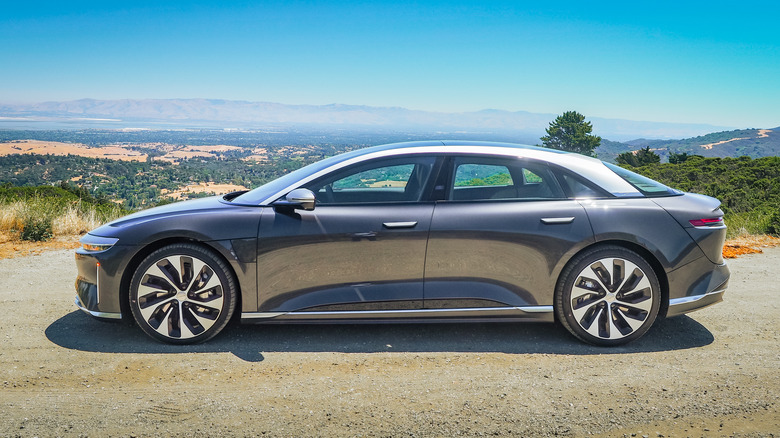 Chris Davies/SlashGear
It wasn't a huge arrival, mind. Just 520 examples were made, all of them massaged and improved from the standard Air design because, Lucid says, its earliest customers had been mightily patient and deserved that attention to detail. That also meant a fledgling automaker trying to refine its product could iron out any lingering issues, before the meat of the Air range arrives. The 816-horsepower Air Grand Touring is that main meal, no longer production-capped or specially massaged — just the promise of real luxury, real speed, and really long range.
Along with it comes a surprise sibling. The Air Grand Touring Performance is actually a relatively late addition to the line-up, its 1,050-horsepower form getting the green light after the demand for the Dream Edition Performance far outstripped supply. It cuts the 0 to 60mph time to just 2.6 seconds — a mere tenth of a second slower than the Dream Edition Performance — but drops the limited-availability part.
Space age style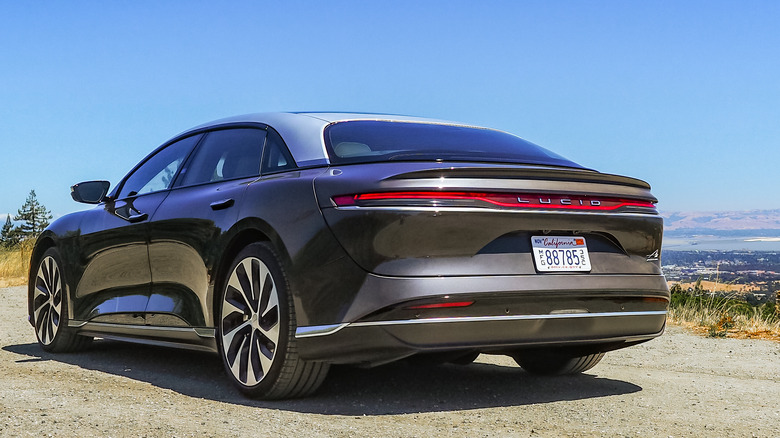 Chris Davies/SlashGear
It's no super-smoothed pebble-like Mercedes' EQS, but neither does the Air look like anything else on the road. Resolutely a sedan — Lucid's Gravity SUV is in the works, with the aim to have it launch in 2023 — it's sleek and space age, and while the Eureka Gold paint of early examples is no longer on offer, heads still turn nonetheless. From most angles I'm a fan, though the chunky A-pillars and optically-odd rear glass can screw with visibility.
Lucid made the decision to design its key components in-house, and while that may not sound like a big deal, it's an outlier in the auto industry. Car companies may tweak, reskin, and modify, but most turn to the omnipresent Tier 1 suppliers for off-the-shelf components. The Air isn't entirely free of third-party handiwork, but Lucid has focused its collective talents on the chunks that make the biggest difference.
The benefits of DIY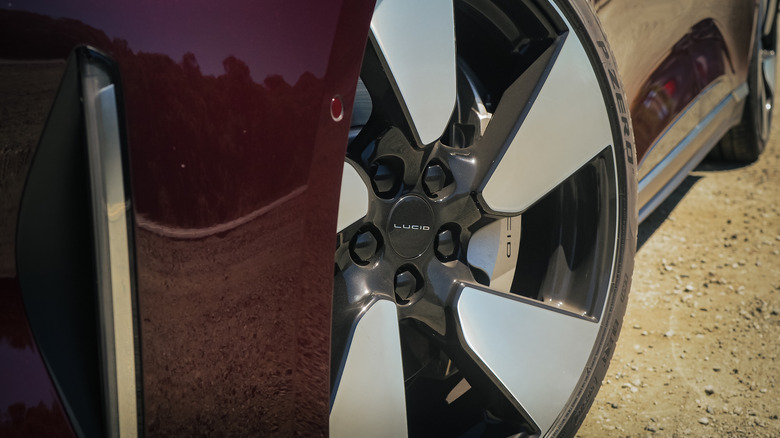 Chris Davies/SlashGear
The Air's electric motor is a good example. Lucid standardized the design — the front and rear motors in the Grand Touring are the same, with different tuning for different power outputs — so that only a single design needed to be validated. At 74 kilogram (163 pounds), it's lighter than Tesla's latest motor and significantly smaller, too. A custom stator — the electromagnet part — uses a patented coil-winding process to minimize welds, improve consistency and performance, and speed up production, while the torque differential has been shrunk down so that it fits inside the spinning rotor. The result is a maximum of 670 horsepower per motor, or a wild nine horsepower per kilogram.
Lucid's battery is similarly clever. Three hundred cells fit into each module housing (itself built in an award-winning one-shot process) affixed to a cooling plate; bolted low into the body of the EV, it helps with body stiffness, too. A composite base plate roughly a third of an inch thick is then added for underbody and side-impact protection; it can be removed so that individual battery modules can be accessed for repair or replacement, but is also contoured to act as part of the Air's rear diffuser.
Range to spare
Chris Davies/SlashGear
Like other automakers, Lucid plans to manage the number of battery packs in the car to adjust the overall range. The Air Grand Touring and Grand Touring Performance each have 22 modules in their Large pack, though in the former that adds up to 112 kWh and the latter 118 kWh. Lucid's upcoming Standard pack drops that to 18 modules, the missing four opening up more rear footwell space in the process.
The result is seriously impressive range on a full charge. With 19-inch wheels, the Air Grand Touring is rated by the EPA for 516 miles of driving; switch to the 21-inch wheels and that dips to a still-incredible 469 miles. Even the more potent Air Grand Touring Performance is long-legged: it's expected to do 446 miles on its standard 21-inchers. That's almost a hundred miles more than the — slightly faster (and cheaper) — Tesla Model S Plaid.
Lucid and Tesla may have been sparring over which company's cars can drive the furthest on a charge, but the broader reality is that both are simply on another level compared to the rest of the EV pack. We're talking similarly-priced luxury electrics that deliver half the range of what an Air Grand Touring can do. And, while Mercedes, Porsche, and others may be making big commitments about what's in the pipeline, Lucid is delivering just that today.
Straight line speed is not in question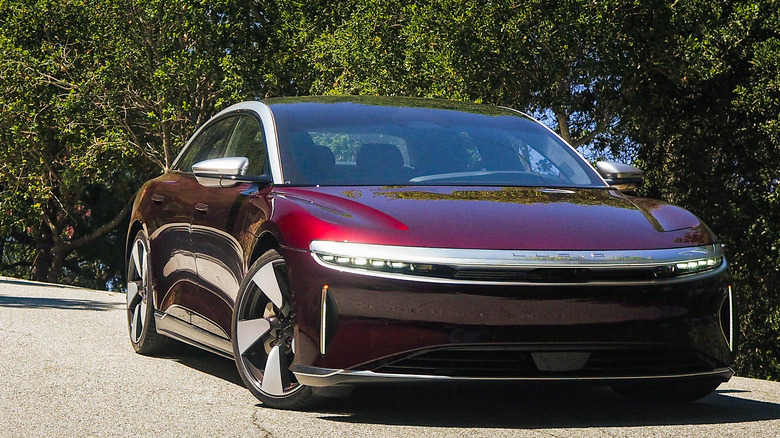 Chris Davies/SlashGear
Of course, achieving those EPA numbers involves showing some restraint with your right foot, and that's tricky to do when you've got upwards of 819 horsepower to play with. Lucid is clear that the Air is — despite the numbers — a luxury sedan, not a sports car, but that doesn't mean it's a wallowing, bloated thing only good for straight-line pace.
Certainly, there's a checkmark in the "going fast in one direction" box. You'll need to be in the most potent Sprint drive mode (the Smooth and Swift settings tamp down on maximum power) to access Launch Control, but then it's just a case of planting a foot on each pedal, waiting for the blue California bear graphic to show up, and then enjoying the sensation of your organs readjusting when you release the brake.
Fun, but I feel like the more interesting part is that Lucid's motor and battery cooling mean you should be able to do far more of these performance starts before heat buildup slows the car compared to rival EVs.
Good to go, good to slow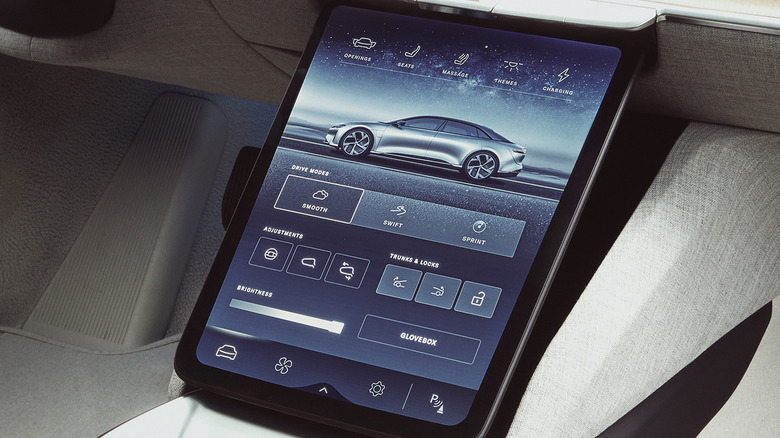 Lucid Motors
Out in the real world, there's more than enough power for any situation. The Lucid will show its heels to most other vehicles on the road, and without the weird electronic warbling and gurgles that most other EV-makers have decided should be part and parcel of the electric experience. Part of electrification's charm in general is all that near-instantaneous torque, but 885 lb-ft in the Grand Touring (and 921 lb-ft in the Performance) is sufficient to slam the unprepared back almost uncomfortably in their seats and likely earn the driver some strong words.
Unlike many luxury rivals, Lucid bypassed air suspension in favor of steel coil springs and adaptive dampers. The latter adjusts — along with steering feel, brake response and brake-based torque vectoring, and other settings — according to the drive mode, and do an impressive job of flipping from limo duty in Smooth through to playfully firm in Swift. It also means the Lucid avoids the bounciness that some air-equipped cars suffer when faced with rough roads.
The downside is that, though you can press-and-hold the drive mode shortcuts to switch between standard and high levels of regenerative braking — the latter capable of bringing the Air to a complete halt with the accelerator pedal alone — there's no way to independently adjust power output and suspension stiffness. There were times when the shoddy asphalt called for softer settings, for example, but I still wanted maximum performance. The good news is that Lucid could potentially change that in the future with a software update.
Cunning in the corners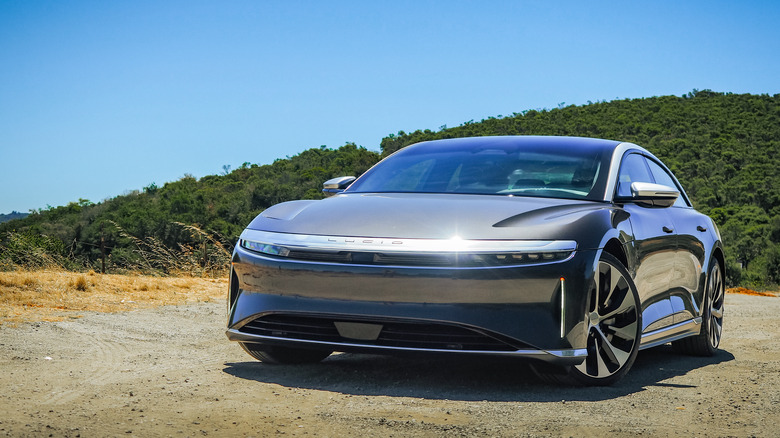 Chris Davies/SlashGear
In Swift mode, the Air does a decent job of hiding its roughly 5,200-pound curb weight. The fact that a big chunk of that is the battery — and thus mounted low down — helps, but physics can only be held at bay so far. Nonetheless, the result is far more eager than you'd expect.
Even without the go-to tricks like all-wheel steer that rivals resort to, the Air tucks and turns without losing poise, and with the feel of a smaller car. When you're cruising, the steering feels softly anodyne — it, like the brakes, relies on mechanical linkages rather than by-wire systems — but there's a directness when you push harder which makes placing the big EV reassuringly easy. The 19-inch wheels get Pirelli P Zero all-season rubber as standard, but the 21-inch wheels use summer tires instead. Grip was never in short supply, and the Air stayed composed even when the back roads got bumpy.
Performance badge means profligacy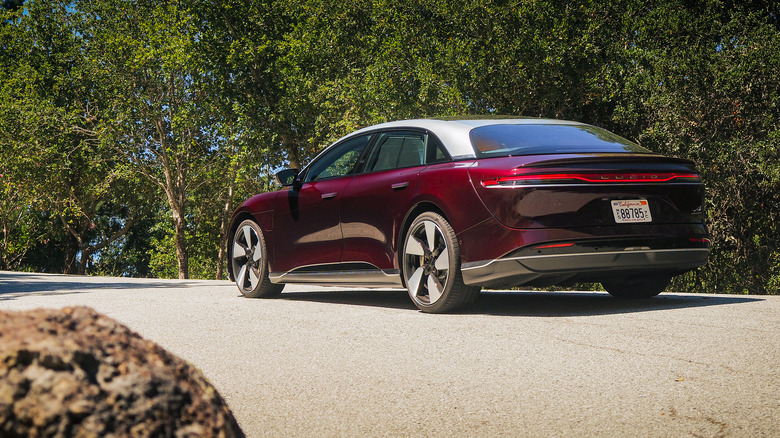 Chris Davies/SlashGear
Switching up to the Performance version makes a difference in terms of acceleration — and bragging rights — but otherwise, the car is the same. Though I'm as enamored by the idea of four-digit horsepower as the next person, I struggle to imagine anybody actually driving the two Grand Touring models back-to-back (as I did) and concluding they couldn't live with the less-potent car. The fact that the Performance only comes with the larger wheels means there's no escaping the slight uptick in highway road noise the 21-inchers seem to suffer, too. 
Excellent brakes help in both cases, as does a well-modulated blend of regeneration. In the maximum setting, you can have up to 0.3g when you lift off the accelerator, and Lucid's tuning belies Porsche's contentious argument that one-pedal driving can feel less consistent to the driver. I'd say the Taycan GTS still has the edge for overall sporting intent — and Lucid execs likely wouldn't argue — but the Air definitely feels bolder on the back roads than the AMG EQS.
Wunderbox magic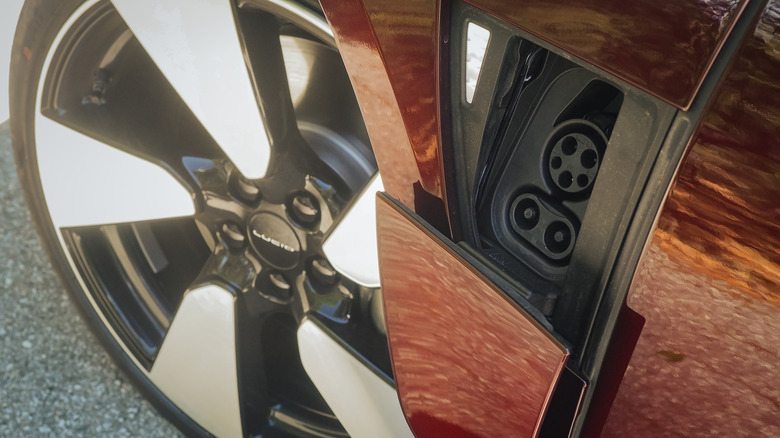 Chris Davies/SlashGear
When it comes time to plug in again, Lucid also went the extra mile. Its whimsically-named Wunderbox onboard charging unit delivers up to 300 miles after 20 minutes plugged into a 300 kW DC fast charger. There's no Lucid equivalent of Tesla's Supercharger network, but early Air buyers do get free access to Electrify America's network in the United States.
As with the battery modules, the Wunderbox is designed to be a structural component in the Air, as well. What's going on inside is actually fiendishly complicated, but all you really need to know is that there's 300 kW peak public charger support and up to 19.2 kW home charging. Lucid's included mobile charger tops out at 9 kW/50 amps and comes with not only interchangeable Level 1 and Level 2 connectors for different outlet styles, but two CCS adapters, too. That way, you can use the Air to recharge another electric vehicle. An optional 100-amp home charger will take about 5.5 hours for a 100 kWh charge.
A sleekly welcoming cabin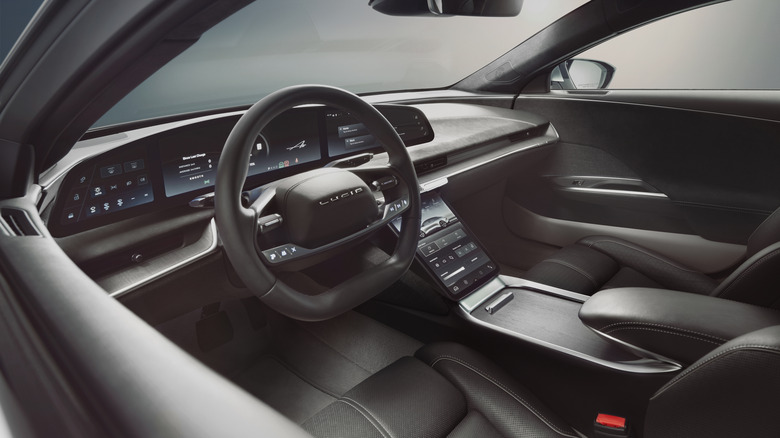 Lucid Motors
What really stands out beyond the raw performance is how cohesive Lucid's cabin is. It's more inviting than Tesla's stark — and often creaky — minimalism, but less ostentatious than the screen-strewn Mercedes and Porsche.
The driver gets a curved display panel made up of three screens. A small touchscreen on the left gives persistent access to lights, wipers, and other essentials; a central display shows speed, range, and other details; finally, a touchscreen on the right handles navigation and multimedia. Lower down, a larger touchscreen deals with drive modes and vehicle settings, climate control, and more. It can also power back, into the dashboard, to reveal a sizable storage cubby.
There's more storage in the center console, and indeed the whole cabin feels spacious in a way that — as Lucid promises — belies the exterior scale. Rear space is particularly commodious once you've got past the somewhat low door opening. The same goes for the trunk, the narrow opening of which is reminiscent of a mail slot, but which is actually pretty capacious (especially if you lift the floor to access the lower storage section). Lucid's frunk is also surprisingly deep, though it lacks a drain hole, so don't plan on filling it with ice for tailgating parties.
Competitive but not old school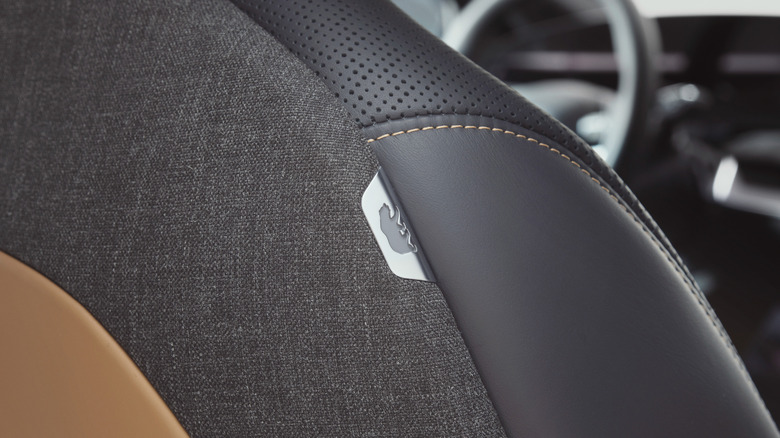 Lucid Motors
Lucid's palette of materials and colors is another success, combining traditional options like leather, wood, and metal with more modern textiles and engineered fabrics. There are three color schemes — all California-themed — and I've no complaints about the attention to detail. The same goes for the vast majority of Lucid's switchgear. The steering wheel buttons and wheels are distinctively styled but straightforward to use, and there are physical controls for volume and climate control (though not for the steering wheel and side mirror positioning, which is done through the center touchscreen). Those in a second row get a small, crisp touchscreen for adjusting their own settings.
The result definitely feels like it can hold its own against what the Germans are doing, but without feeling old-school in the process. Lucid keeps the gimmicks to an admirable minimum, too, and everything — bar the slightly plasticky steering column stalks — feels appropriate to the price tag.
Some serious tech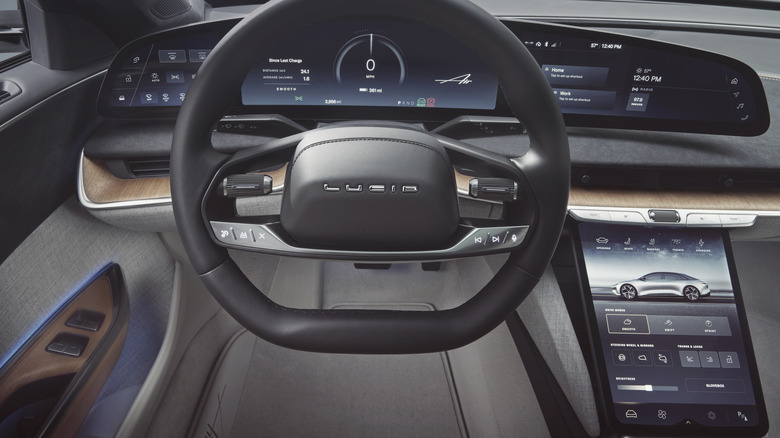 Lucid Motors
Behind those various displays is Android Automotive OS, though without the Google Maps, Google Assistant, and Google Play Store that we're used to associating with that platform. Instead, Lucid designed a completely unique interface on top of it, relies on Amazon's Alexa for voice control, and tapped HERE for its mapping and navigation. Lucid's argument is that, though Google Maps is familiar, HERE's real-time data — for public charger status in particular — is, in its experience, more accurate.
Software is often the bugbear of modern vehicles, and certainly Lucid still has a little work ahead. Apple CarPlay and Android Auto are still on the to-do list, as is SiriusXM. The good news is that the Air was designed with over-the-air (OTA) updates in mind — of the 90 ECUs in the car, 70 are software upgradable — and the roughly 25-strong team responsible, including no small amount of ex-Apple talent, seems hyper-focused on taking advantage of that. 
Lucid's future plans are ambitious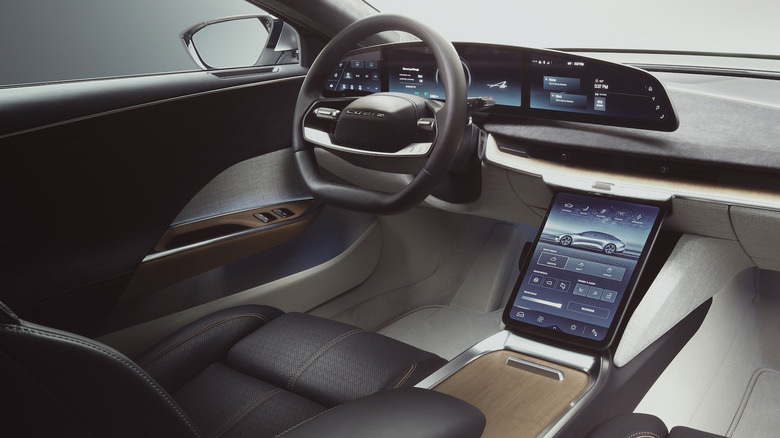 Lucid Motors
Indeed, there have been 17 OTA updates pushed out since November 2021. Some of my own frustrations from behind the wheel are already fixed in a soon-to-come release, which will speed up the UI transitions, dramatically improve infotainment boot-up speed, make better use of the driver display for navigation instructions, and shift some of the interface elements better into reach.
Lucid is, it appears, particularly hungry to hear Air drivers' feedback: previous updates have tweaked how the power handles behave, for example, after owners reported confusion there. That emphasis on future-proofing is reassuring, particularly given some early glitches reported around Dream Edition cars, and indeed some of the Air's existing talents are yet to be fully tapped.
The EV supports bi-directional charging, for example, potentially turning it into a whole-home power supply during outages (or even just when grid rates are particularly extortionate). The missing piece, there, is the home hardware required for that to work, including safety features like isolating from the grid. Once available, though, the car will be able to deliver a whopping 19.2 kW, twice what a Ford F-150 Lightning can output with its Intelligent Backup Power option.
EV buyers on a budget will have to be patient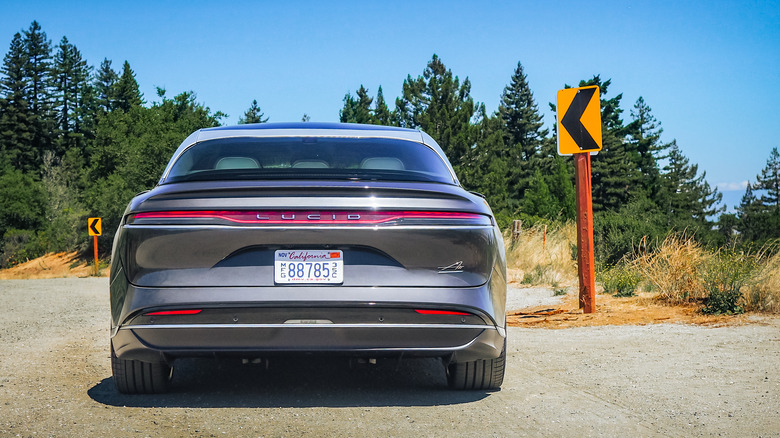 Chris Davies/SlashGear
It's fair to say the Air Grand Touring is impressive. Then again, with a sticker price of $154,000 — or $179,000 for the Performance variant — so it should be. Expectations are understandably high for six-figure luxury sedans, regardless of what drivetrain they may use.
We won't have to wait too long for things to get more interesting on that front, mind. Production of the Lucid Air Touring is on track to begin in Q4 2022, the automaker says, and that will start at $107,400. The Air Pure, which should arrive in roughly the same timeframe, will start at $87,400, finally bringing the EV sedan under the six-figure mark.
For that, you'll get an estimated 406 miles of range and 480 horsepower in rear-wheel drive form, plus a metal roof instead of glass. Nonetheless, it's still a lot of car — and a lot of power — for the money, and even if deliveries slip into early 2023, it's enough to shame some more mainstream automakers and their electric promises.
2022 Lucid Motors Air Grand Touring verdict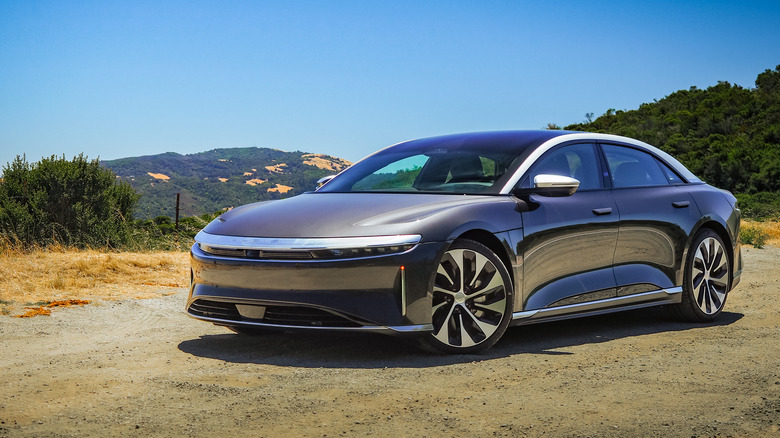 Chris Davies/SlashGear
Time will tell as to just how much Lucid has to sacrifice in order to hit those price tags. For now, though, it's hard not to be charmed by just how capable and well-rounded the Air Grand Touring is. The price tag sets certain expectations and, for the most part, this production model meets them.
Though I've no doubt Lucid will sell plenty of Grand Touring Performance EVs to clout-chasers, the reality is that the "regular" Air Grand Touring is more than sufficient. Of course, you'll probably be able to say the same about the upcoming Air Touring, but early adopters are balancing excess against availability. Like the rest of the auto industry — and electric startups in particular — production capacity is the biggest bottleneck to sales, and right now Air demand far outstrips supply.
What's clear, though, is that the Air has been worth the wait. Rather than focusing just on speed, range, luxury, or even brand cachet, it pulls all those things together. The result is an electric car that's modern and geeky enough to take on Tesla, but well-rounded enough to compete with some of the mainstays of the luxury segment. Now, Lucid just needs to build more of them.