2022 Toyota GR Supra 3.0 Review: For Everyday Enthusiasts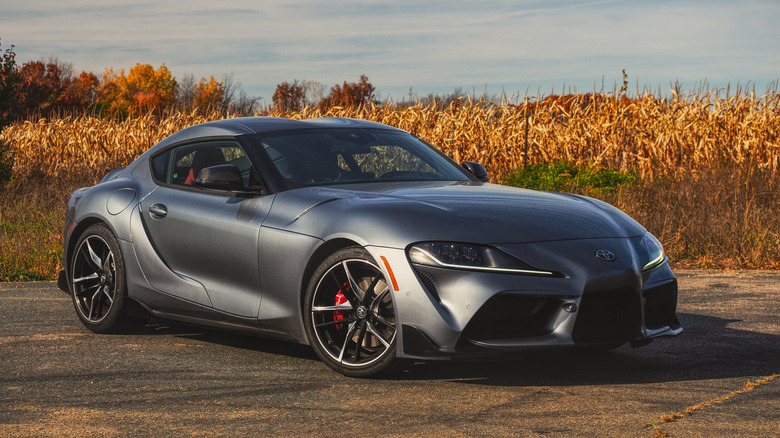 Chris Davies/SlashGear
It feels like everyone has an opinion on the Toyota GR Supra. The will-they-won't-they decision — after plenty of poking and teasing — to bring back the storied nameplate kept the rumor mill working for literally years, the automotive equivalent of Ross and Rachel, even if Toyota's decision to make friends with BMW on the project was the wildcard few predicted. Then there's the styling, a further splash of controversy long before cars even arrived in dealerships.
You can debate the appropriateness of that OEM pairing as much as you want, but it's undeniable that, had Toyota been facing the GR Supra reboot alone, it's doubtful that we'd have this fifth-generation coupe. Cousin of the BMW Z4, it bypasses the boulevard cruising of its droptop relative in favor of embracing what, ostensibly, enthusiasts are looking for. Performance, memorable styling, and affordability.
It's a simple recipe, but — like making saltwater taffy or invading Ukraine — what seems straightforward on paper can turn out to be a sticky nightmare in practice. Is the GR Supra engaging enough for the purists, authentic enough for the enthusiasts, and competitive enough for those cross-shopping with even cheaper rivals like the new Nissan Z? Or, when wring-it-out engagement is the goal, should everyone just be buying a GR86 or a Miata?
Look, you either like the styling or you don't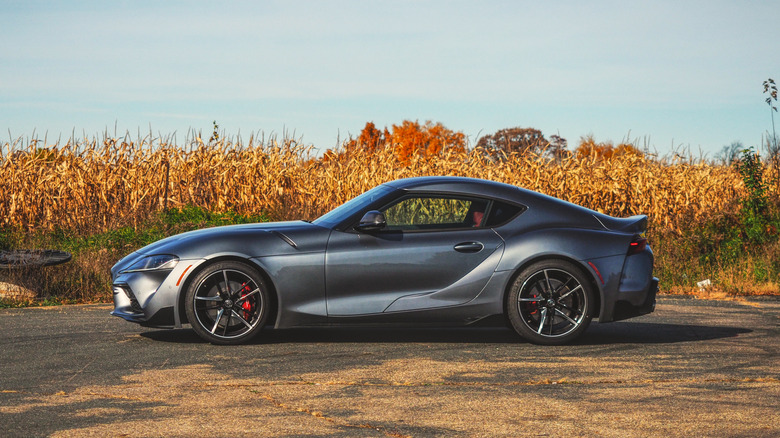 Chris Davies/SlashGear
Plenty has been written about the aesthetic of the GR Supra, and yes, a lot of it is less than positive. At this point, I suspect you've decided you either like it or you hate it: the priapically long hood, double-bubble roof bulges, and snorting mono-nostril grille.
I do think that Toyota's GR86 is more classically handsome as a coupe, but there's no denying that the GR Supra turns heads. That doesn't automatically make it attractive, of course, but then the sports car world has plenty of weird-looking but memorable models that have cemented themselves as classics over the years.
I'm not sure this fifth-generation model will quite ascend to that status, but then that's something for time to decide. Today, however, it's probably more pertinent to consider the impact of color on the car. Toyota bucks industry apathy for brighter finishes and has a number of more attention-grabbing hues to go for, though the "Turbulence Gray" you see here was retired in the 2023 model year. The closest you can get now is "CU Later Gray" which is exclusive to the limited-edition manual-transmission GR Supra A91-MT.
Manual or auto, the choice is yours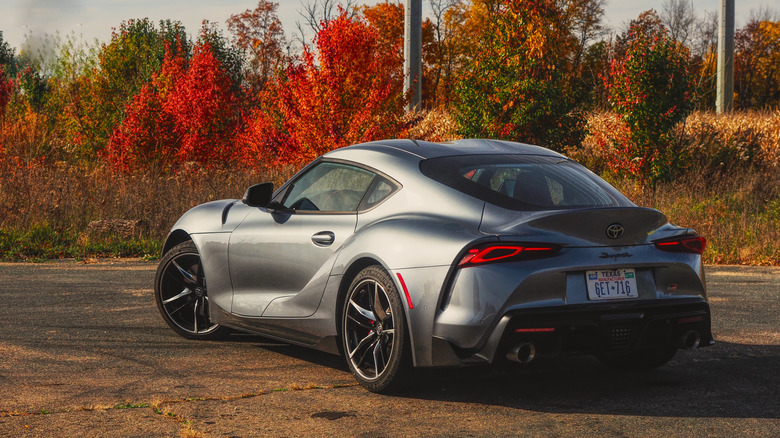 Chris Davies/SlashGear
That stick-shift offering was another well-rumored topic, with Toyota long maintaining that it wouldn't be offering its enthusiast car with an equally enthusiast-friendly gearbox... right up until the point it announced it would. You'll pay the same for the privilege of rowing your own gears — from $52,500 plus destination — whereas a GR Supra 3.0 Premium starts at $55,650 plus destination for the 2023 model year car.
You make the usual compromises in return for three pedals. 0-60 mph in the manual Supra clocks in at 4.2 seconds; the standard eight-speed automatic trims that to 3.9 seconds with the same 3.0-liter engine, though frankly it feels faster still. Long gone are the days when handling clutch duties yourself trimmed acceleration, and at this point the main reason to go stick is because you actively want that sense of involvement versus for any performance reason.
I'm glad there's the option now, though I'm not sure I'd be swayed. Toyota's automatic — a ZF-sourced box — is a slick and capable thing, flexible enough to syrup your way through stop-start traffic while also sufficiently snappy for more aggressive driving. I think I'll save my manual love for Mazda's MX-5 Miata.
Close your eyes and you're in Germany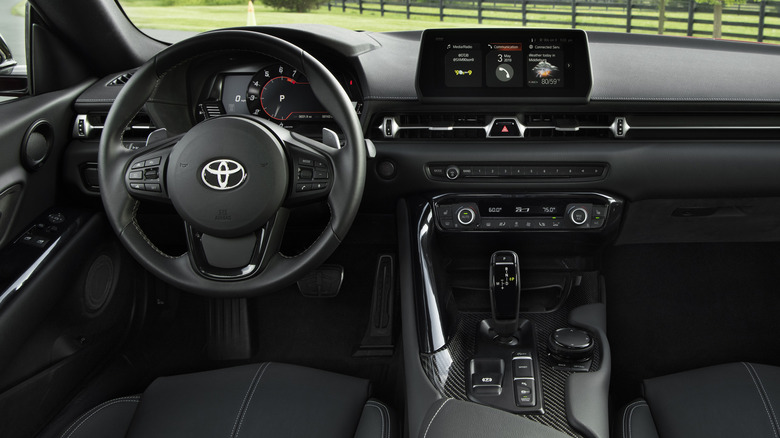 Toyota
It's the cabin where Toyota's dalliance with BMW is most obvious. Slip inside and you'd be forgiven for assuming you were in, well, any of the Bavarian brand's recent launches. The software has Toyota logos, as does the steering wheel, but the changes here really are the bare minimum.
That's not, ostensibly, a bad thing. Generally, I'd say I prefer BMW's interior aesthetic, and its materials, to what Toyota generally uses. The 8.8-inch touchscreen feels a little small, but it's easily reached, and there are the niceties of wireless phone charging, wireless Apple CarPlay (though not Android Auto), a 12-speaker JBL audio system, color head-up display, and keyless entry. The heated power sport seats are comfortable and supportive.
The downside is that it doesn't do much to give the Supra its own sense of identity. Contrast that with, say, the new GR Corolla. More affordable, yes, than the GR Supra, and with an equipment and finishes list to match that lower price tag, and yet you definitely feel like you're in a GR-series car.
A recipe for fun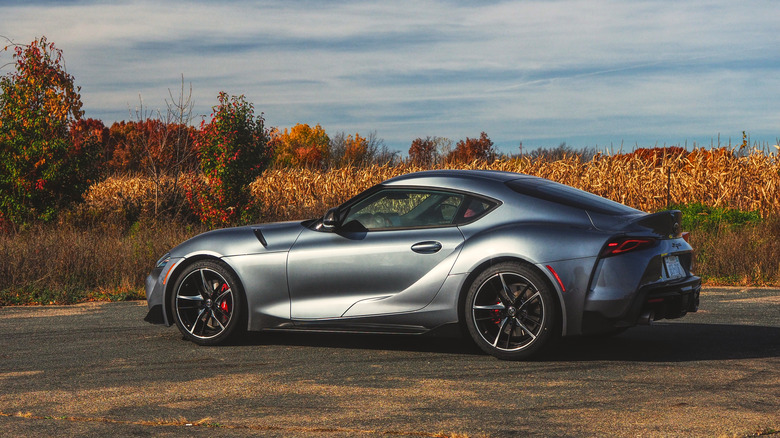 Chris Davies/SlashGear
What the GR Corolla doesn't have, though, is a most pleasing 3.0-liter turbocharged inline-six engine, also borrowed from BMW and worthy of a thank-you note. It replaces the standard 2.0-liter turbo-four, which is perfectly acceptable but is more than 100 horses down from the six-cylinder's 382 horsepower and 368 lb-ft of torque.
Rear-wheel drive is your only option — no bad thing — and, whether it's BMW's handiwork, Toyota's input, or some combination of the two, the GR Supra is endearingly responsive and agile. It'll cruise neatly and with surprising manners, especially if you have the $1,195 Driver Assist Package with its adaptive cruise control, but point it at some curves and things get far more interesting.
The steering is on the lighter side, and while the 2023 model year gets tweaked shock absorbers and retuned suspension (in addition to the standard active rear sport differential on the 3.0 cars) I can't say this 2022 setup was disappointing. It's entertainingly easy to get the Supra's rear to wag, but also equally straightforward to bring it back under control. That seems like a good combination to get right.
The real reason to go 3.0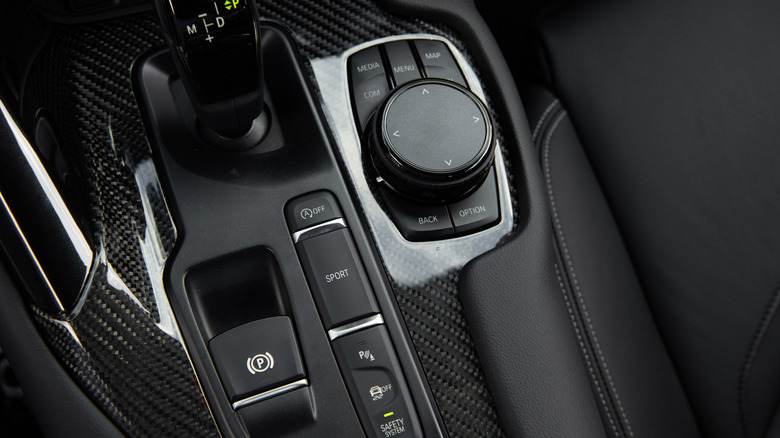 Toyota
If you're really looking for a good reason to spend extra on the bigger engine, though, horsepower and straight-line performance might not actually be it. Another distinguishing factor between the 2.0 and the 3.0 liter GR Supra models is the addition of Toyota's Adaptive Variable Suspension, or AVS, which is only offered with the inline-six.
It effectively allows the GR Supra to adjust the stiffness of its double-joint-type MacPherson strut front suspension and multi-link independent rear suspension, according to the road conditions and the drive mode. That means softer and more compliant when you want to go cruising, but firmer and more taut when the roads deserve it.
Unusual — at this point in the auto industry — but welcome is just how simple Toyota approaches this flexibility. While the AVS system may be adjusting its settings a hundred times a second, according to the automaker, the driver basically gets a choice of turning on Sport mode or switching it off. Unlike in rival performance cars, where there can feel like an overwhelming array of options to choose between when all you want is "go faster, fiercer," the GR Supra boils it down to a single button. You can, though, tweak exactly what settings Sport mode summons beforehand, useful if your usual roads are in poor condition and so the firmest settings are bordering on uncomfortable.
Ironically, the smaller engine adds lightness to the equation, and — though it's obviously a little slower and doesn't sound anywhere near as good as the inline-six — that pays dividends in how readily you can flick the GR Supra around. Either way, though, there's a whole lot here to like in terms of attainable, playful, controllable fun.
Toyota GR Supra 3.0 Verdict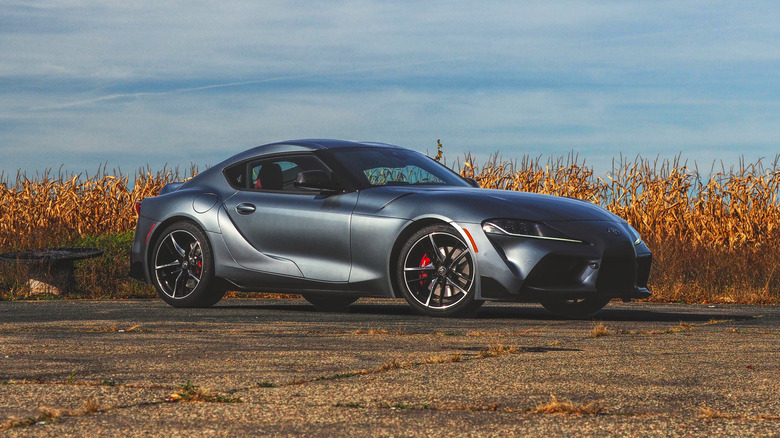 Chris Davies/SlashGear
That's a combination it does feel like the auto industry has been missing for some time, now, even if the $58k of this review car is nudging the top end of what "attainable enthusiast ride" could be defined at. The obvious hard-top competition is Porsche's 718 Cayman, though that starts at just shy of $65k for a smaller and less powerful engine. A new Nissan Z kicks off at around $40k, but the overall package feels less refined than what Toyota is offering.
This segment, of course, is ruled as much with heart as it is head. Maybe you've long coveted a Porsche crest on the front of your summertime toy, and are willing to pay for that privilege (and, to be fair, for the 718's near-sublime dynamics). Perhaps you're a long-time Z fan, for whom Nissan's "price it low and the modders have their way" strategy is far more appealing.
The GR Supra is fantastic out of the box, meanwhile, and equally, its controversies are clearly printed on that packaging. If you're a fan of the styling, Toyota's coupe sits at a covetable Venn diagram overlap of performance, practicality, and relative affordability. If you're not so convinced, I suspect there's little I could say to sway you. Once you're inside, though, it's hard to fault the GR Supra's charms.