2020 Toyota Supra First Drive: Reset Your Expectations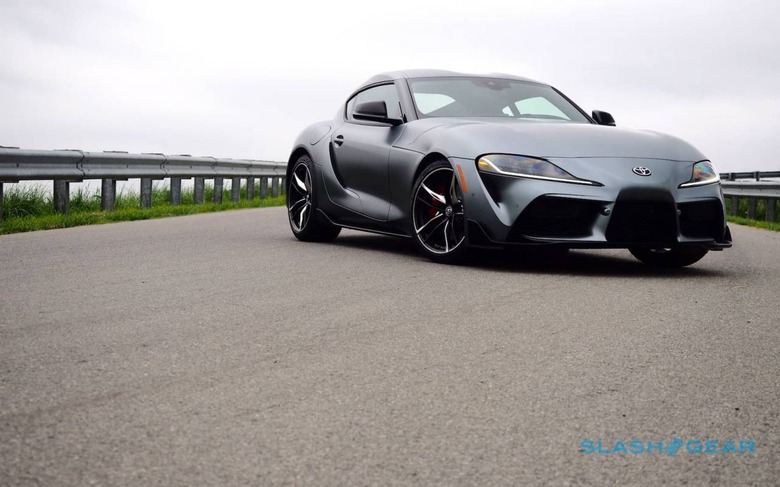 The 2020 Toyota Supra faces a tough audience. Fans of the original cars – with 17-plus years of misty eyed reminiscing under their belts – are automatically suspicious of anything Toyota might consider worthy of the Supra badge. Those familiar with Toyota's current range of earnest-but-hardly-heart-pounding models are, justifiably, skeptical that the automaker could make a legitimate sports car.
Then there's the company the new Supra keeps. Toyota's deal with BMW to collaborate on a sports car produced both the 2020 Supra and the latest Z4. It also generated a deep, sticky morass of confusion about just how much of Toyota's DNA is actually inside its new halo car.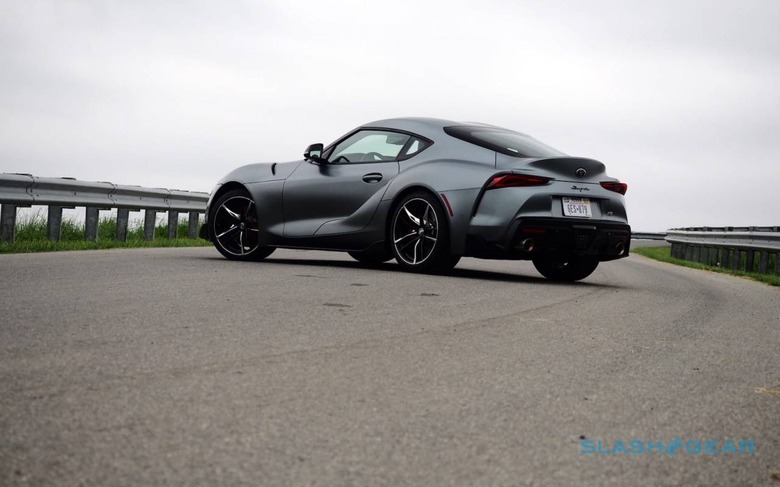 Here's the reality. The Supra and the Z4 are based on a newly-created platform made in collaboration between Toyota and BMW: the former didn't just go parts-shopping in the latter's existing range. While the platform may be shared, these are still two very different cars, with different driving feels and focuses. And, most fundamentally, if it hadn't been for that partnership, we wouldn't have got this new car at all.
Oh, and there's another truth you need to know. The 2020 Supra is really, really good.
2020 Toyota Supra design
Design is subjective. Most people I've spoken to about the aesthetics of the new Supra, though, agree: they're challenging. Based on the FT-1 concept from 2014, it's all exaggerated curves and sudden sharp edges. Alex Shen, chief designer at Toyota's Calty Design Research studio, describes it as "Function Sculpting" and Condensed Extreme"; personally, I'm down with the rear three-quarters, but still getting used to that nose.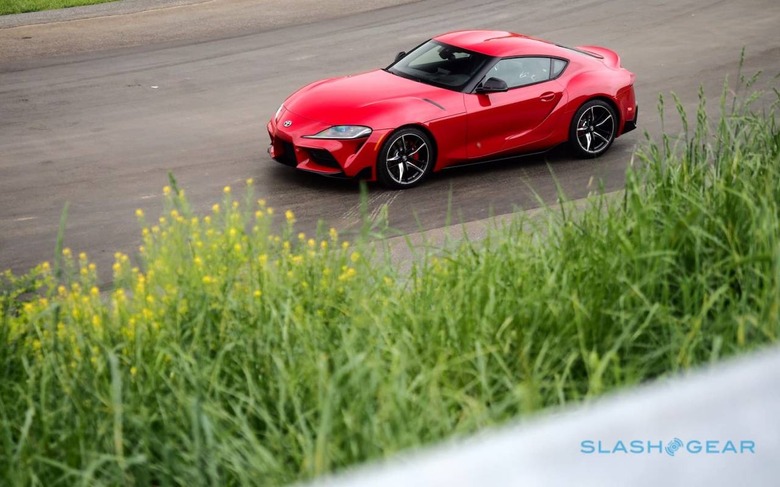 Undoubtedly the most discussed aspect of the new Supra's styling, however, has been the numerous fake plastic vents that stud and slash the bodywork.
Here's the thing. Off the production line, most of those vents may not be functional, but each is placed somewhere that Toyota's designers and engineers could envisage someone wanting airflow. Around the brakes and wheels for cooling, maybe, or flowing under and around the front wings for extra downforce.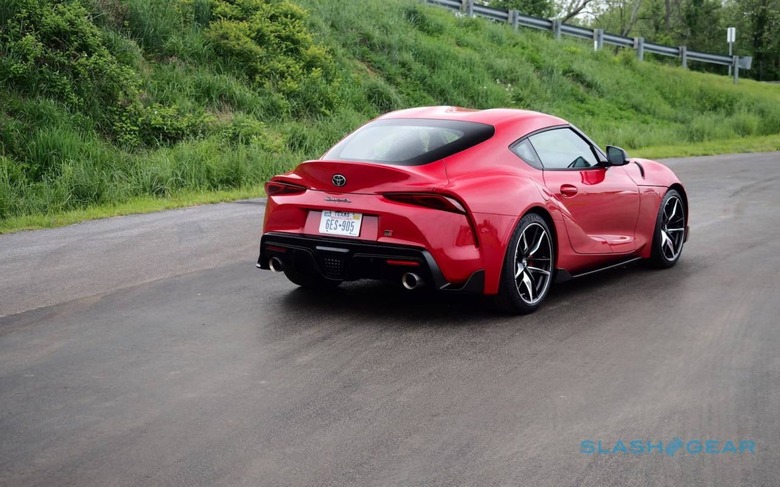 Most cars, if you want to add extra venting, you either have to carve out big chunks of the bodywork or replace whole panels. Toyota designed the new Supra, though, with that flexibility baked in from the outset. Need more air for a bigger transmission cooler? The Supra not only has space for the necessary intakes and pipework, but Toyota left room for that bigger cooler, too.
The same goes for the differential, and for optionally increasing torsional stiffness. Lift the hood and there are not only mounting points for new sway bars, but Toyota even designed in cut-outs where those bars would need to pass across other components. The automaker, after undertaking its own tuning assessment, decided the Supra was stiff enough without extra bars, but it also knows that such modifications are going to be low-hanging fruit for aftermarket mods.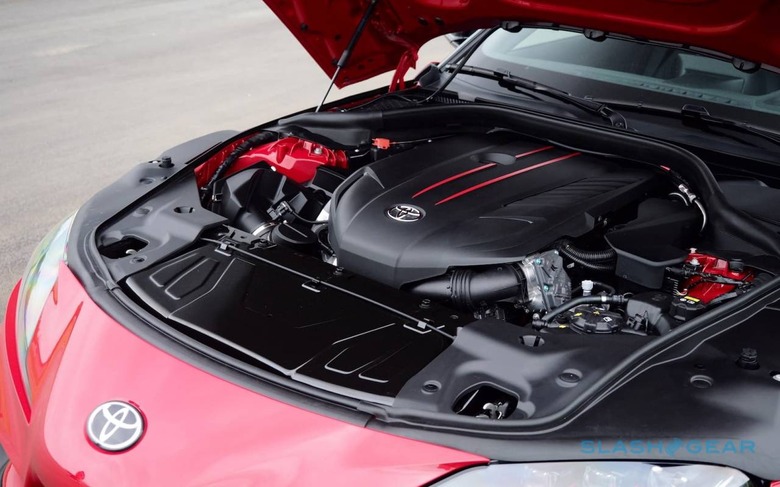 Once you start looking at the new Supra from the perspective of potential customization, indeed, Toyota's decisions make a whole lot more sense. Using more traditional materials, like steel, rather than exotic alternatives such as carbon fiber help keep costs and complexity down; it also leaves the door open for the aftermarket carbon parts Toyota is confident will arrive soon. Overlap between the Supra and the BMW 3 Series, meanwhile, was also intentional. That means M3 aftermarket parts should, with minimal tweaking, work on Toyota's car too.
It's one of the most carefully strategized plays to the car mod community I can remember, but it's also entirely in keeping with how the original Supras played out.
2020 Supra on the track
A car that's easy to modify is one thing. Toyota, though, couldn't have the Supra need customization in order to be a rewarding drive. Spoiler: it doesn't, and it is.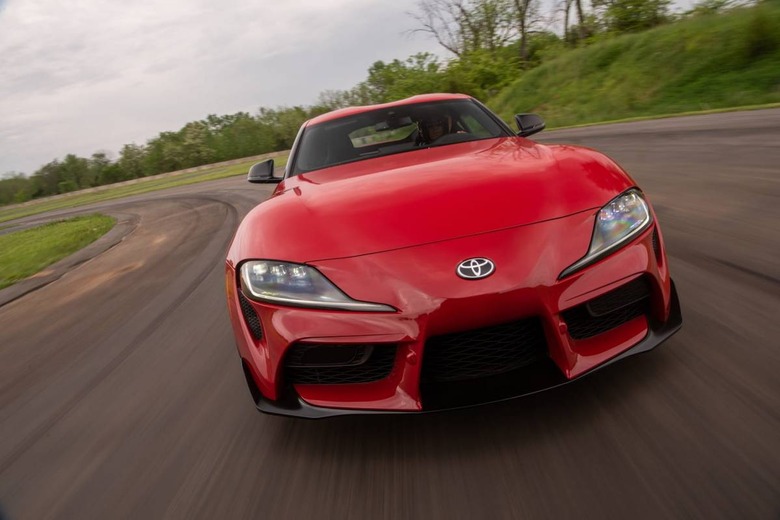 Under the hood there's a 3.0-liter turbo inline-6, with dual variable valve timing with lift. It's a BMW engine, tuned by Toyota for 335 horsepower (between 5,000 and 6,500 rpm) and 365 lb-ft of torque from just 1,600 rpm. The Supra pairs it with an eight-speed ZF 8HP transmission.
If you're a Supra purist, there are a couple of glaringly obvious problems in that paragraph. For a start, there's the fact that BMW squeezed more power out of the same engine for the Z4. Then there's the absence of a manual gearbox.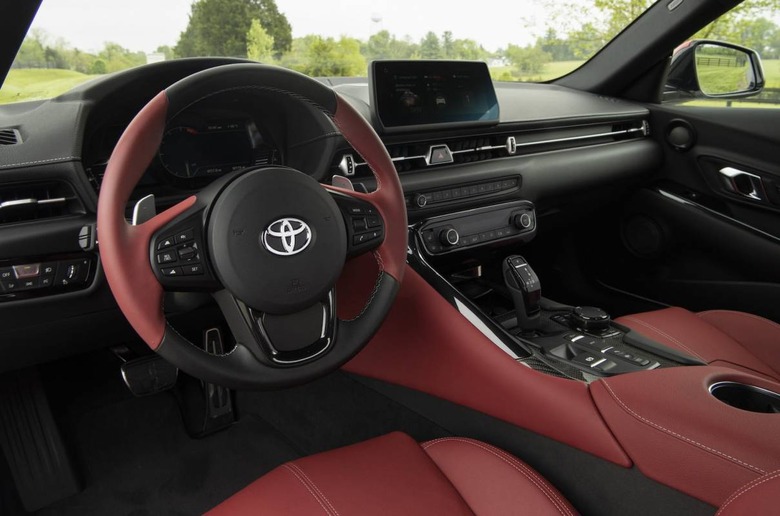 Both, chief engineer Tetsuya Tada maintains, were intentional decisions. The horsepower, he insists, was picked because it's the best match for the Supra's chassis. The gearbox may be controversial, but Tada is confident that, once you try the car, you'll agree that ZF's cogs suit the powertrain perfectly.
Indeed "drive it, and then talk to me" is the chief engineer's regular refrain. To do just that, Toyota had invited media out to Summit Point Motorsports Park in Jefferson County, West Virginia. There – to the unnerving sound of intermittent gunfire and low-flying helicopters from the BSR military training center next door – a fiendishly technical course awaited.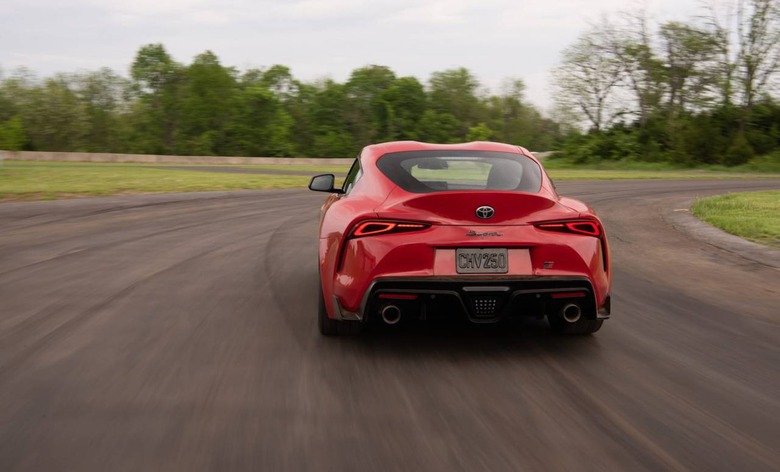 Turn after turn, with little room to wrack your brain and figure out what comes next. Unexpected changes in elevation that simultaneously destroy your sightlines. Awkward corners that are all too ready to eat up your pace if you brake at the wrong time.
It's the sort of course that gives amateur track drivers like myself cold sweats, not to mention being deeply unforgiving to a less-than-capable car. The Supra, it's fair to say, handled it better than I did.
There's neither too much power, nor too little. Don't get me wrong, I like ridiculously potent supercars as much as the next horsepower-addict. Still, I can never quite shift the feeling that I'm squandering 90-percent of the juice on tap in them.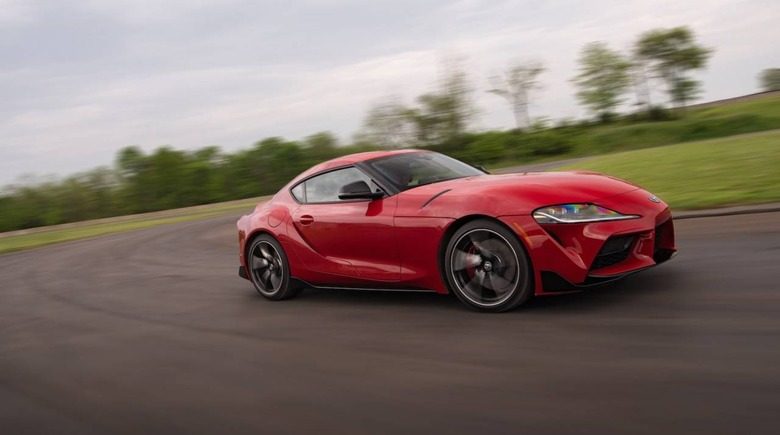 In the Supra, you feel like you're giving the car a proper shake-down. It's not slow – 0-60 mph comes in 4.1 seconds – but you can't rely solely on straight line speed to save the day. Instead the 50:50 weight balance steps in, along with a low center of gravity and an eagerness to pivot. In Sport mode, even with the stability control all still switched on, the rear end isn't too hard to provoke out of line. That might not be the route to the fastest lap-time, but it's plenty of fun.
Slowing is just as important as speed, and Toyota has opted for 13.7-inch Brembo ventilated discs with four-piston calipers at the front, and either 13.6- or 13.0-inch discs with single-piston floating calipers at the rear. They proved to be fade-free and more than up to the job. Some track days, every fourth lap seems to be for cool-down, giving the car a chance to simmer down once more. The new Supra, though, scoffed at such cosseting.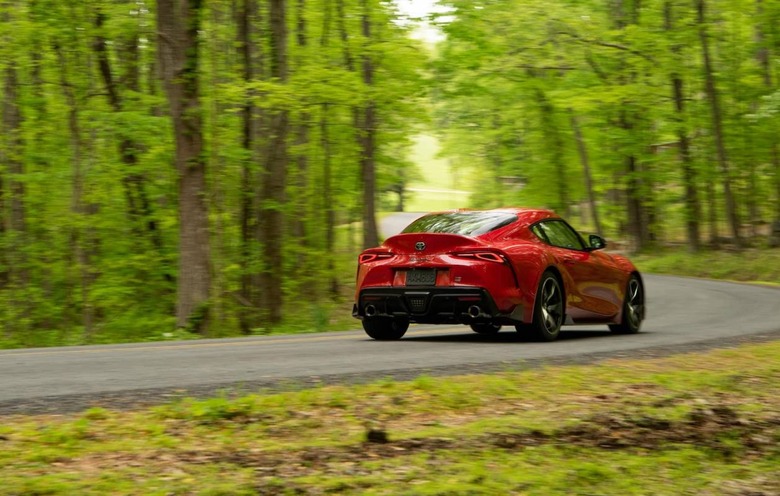 The control is key. There are performance cars which feel like they want to kill you, and are merely waiting for the right opportunity. The Supra, in contrast, wants to play, and Toyota's near-sublime tuning coaxes out every ounce of that. There's only the slightly artificial-sounding engine noise that's piped into the cabin to jar the experience.
Shift into Normal mode, meanwhile, and you're reminded that Toyota makes sensible, comfortable cars like the Camry and Avalon. Ill-kempt roads will still send some judder through the double-joint McPherson strut front suspension and multi-link independent rear, but the adaptive dampers all round do a capable job of smoothing out most bumps and potholes. Variable-assist power steering helps too, losing almost all of the heft found in Sport mode, while the throttle mapping and transmission logic each take on a more laissez-faire approach. The Supra may not be a grand tourer by the strictest definition, but daily-driver duties certainly aren't beyond it.
2020 Supra cabin and tech
A comfortable and practical cabin helps there, too, even if it feels like it's been lifted straight out of a BMW. Toyota claims that the vast majority of the Supra is unique, but you'd certainly not know that looking at the dashboard. The pictographs in the infotainment system may be of the Supra, but the display, the rows of media and HVAC buttons across the center console, and the iDrive controls all feel rather... Bavarian.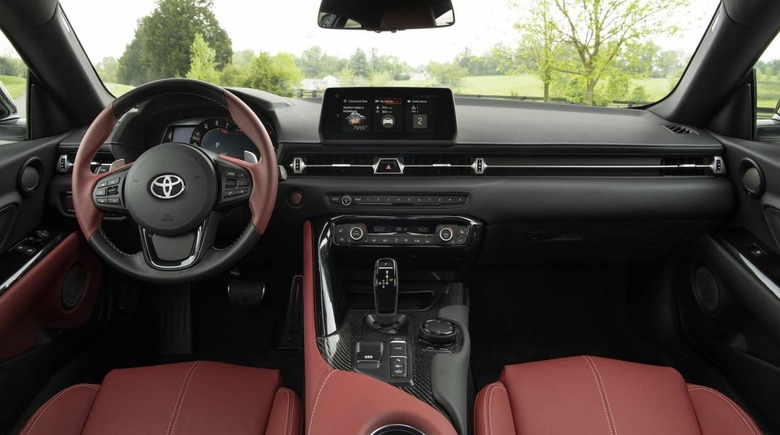 Ironically it also makes the Supra's dashboard the most aesthetically pleasing and best-feeling of all the cars in Toyota's range. Whether on the standard 6.5-inch display, or the optional 8.8-inch touchscreen, the infotainment system is far preferable to Entune on the automaker's other cars. Wireless CarPlay is a welcome addition – with that all-important wireless phone charger to go with it – even if Toyota makes it an option, while real carbon fiber trim looks and feels the part.
14-way adjustable seats – including 4-way lumbar and adjustable backrest width – are standard. They're grippy and supportive on the track, though took some tinkering to get entirely comfortable on the road. In the base Supra 3.0 they're clad in leather and Alcantara; the Supra 3.0 Premium trim upgrades that to full leather, along with the bigger display and a more potent audio system. Options include a head-up display and Toyota Supra Connect for remote app control and concierge services. The former is useful; the latter I could live without.
Pop the hatchback trunk – which you can only do from the button on the driver's door, or from the BMW-sourced key fob, not from the trunk lid itself – and there's 10.1 cubic feet of cargo space. You need to navigate through a relatively narrow opening to access it, but the pass-through slot into the cabin does add a little extra flexibility. Visibility is, at least, reasonable, though the optional parking sensors that come – along with adaptive cruise control, blind spot warnings, and rear cross traffic alerts – in the Driver Assist Package are welcome.
2020 Toyota Supra verdict
You can't accuse Toyota of aiming low. The shared goal with BMW was to beat Porsche's Cayman and Boxster, and certainly the new Supra undercuts its coupe rival. Kicking off at $50,920 (including destination), the 2020 Supra 3.0 isn't only cheaper and better equipped than the $58,150 718 Cayman, but has 35 hp and 85 lb-ft of torque more. The Porsche may be a few hundred pounds lighter, but it's still 0.8 seconds slower to 60.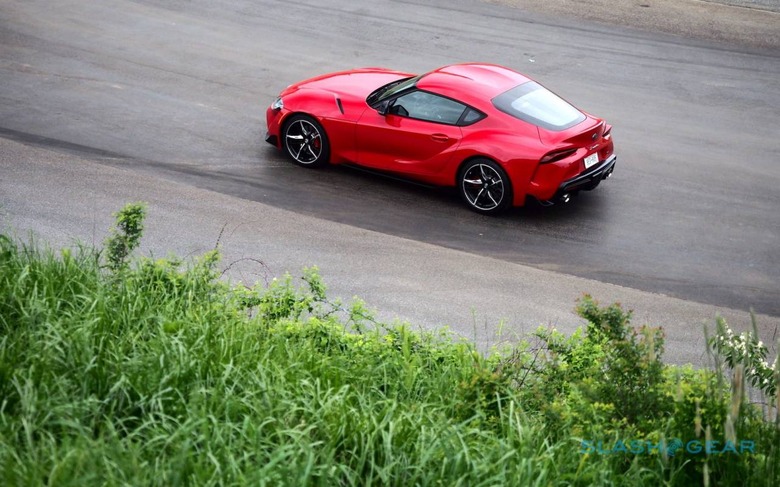 The relative merits of the Supra versus the Cayman is the sort of argument that gives enthusiast messageboards blockbuster engagement. Perhaps the biggest takeaway, then, should be something more fundamental. The very fact that we're comparing Toyota with Porsche in this context at all is astonishing.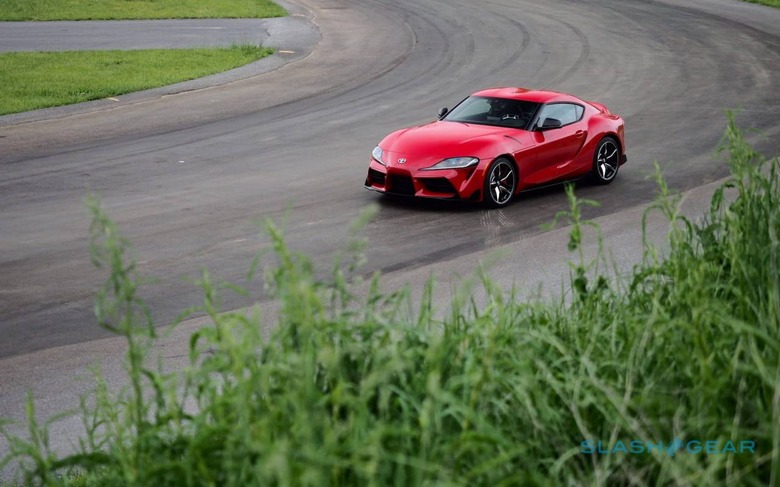 I can't say the 2020 Supra is perfect. What I will say, though, is that it's a more than welcome addition to the sports car segment and one – despite what's shared with BMW – with a charm and personality of its own. Few cars on the market today feel quite so clearly designed with enthusiasts and tuners in mind; seen through that lens, some of Toyota's more baffling decisions around both styling and engineering suddenly make far more sense.
In short, no, this isn't the rebirth of the Supra that we expected. It's something a whole lot more interesting.