2022 Toyota GR86 Review: Affordable Glee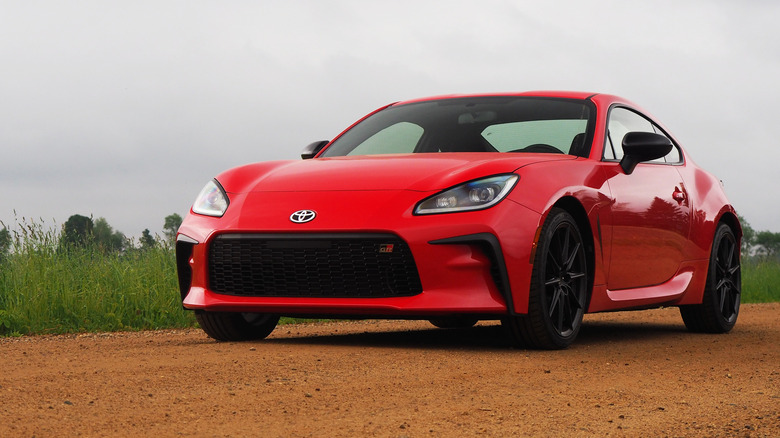 Chris Davies/SlashGear
Growing up can be a double-edged sword, but it's one the Toyota GR86 wields gracefully. The second generation of the 2+2 coupe is still priced aggressively like its predecessor, and still focused on enthusiast fun with a manual gearbox, but it also allowed Toyota and development partner Subaru to rethink some of the decisions that weren't such a success first time round. The result, at a time when sports cars seem to only be getting more expensive and more complex, is genuinely entertaining, even if some rough edges still remain.
If the old Toyota 86 felt a little fey from some angles, the GR86 toughens it up. This is still a small, lithe coupe, but the chunkier fenders, new vents, and bolder front and rear light clusters give it a more purposeful appearance. Impressively, Toyota claims those new vents and a lot of the aero stylings are functional, too, rather than decorative; that's always good for bragging rights. I still see a little of Jaguar's F-TYPE from the front three-quarter view, and Acura's NSX from the rear; either way, that's no bad thing.
Toyota's color palette has a couple of bright options, like red and blue, but the rest of the standard finishes are pretty drab. At least the upcoming 2023 GT86 Special Edition will offer an alternative, with its Solar Shift orange paint and black graphics. Would it be too much to ask for a bright green or maybe a yellow, like Audi's joyful new RS 3 can be had in? 
Finally, power to match the chassis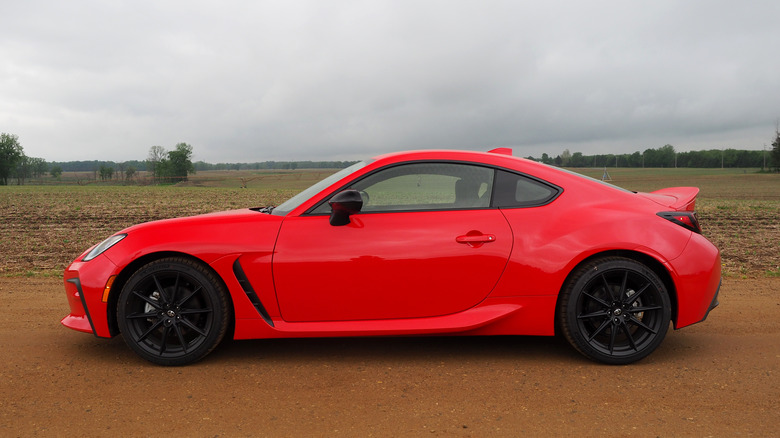 Chris Davies/SlashGear
If the first-generation Toyota 86 (aka the Scion FR-S, before the Scion brand was put out to pasture) had a problem, it was what lurked under the hood. The 2.0-liter inline-four was fine but lacked power and sparkle. It demanded a solid thrashing in order to keep it delivering its best.
For the GR86, Toyota and Subaru addressed that conclusively. The 2.4-liter boxer 4-cylinder brings with it 228 horsepower at 7,000 rpm and 184 lb-ft of torque at 3,700 rpm. That's 23 hp and 28 lb-ft more, respectively, compared to the old, smaller engine, but peak torque arrives 2,700 rpm sooner.
It makes all the difference. There's little in the way of waiting for usable power to arrive, and the GR86 feels enthusiastically urgent and eager. While 228 horsepower may not sound, ostensibly, like a lot, it's more than sufficient when your curb weight is under 2,900 pounds. There is, Miata-style, undeniable whimsy at being able to flog right up to the 7,500 rpm redline without automatically worrying that you're in danger of broiling your license at the same time.
Save your money, stick with stick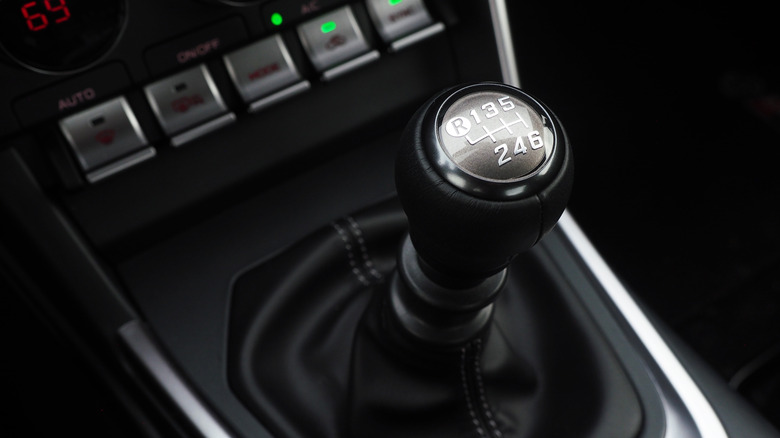 Chris Davies/SlashGear
For $1,075, Toyota will take out its charming six-speed manual gearbox and replace it with a 6-speed automatic transmission instead. It's not a bad automatic, as these things go. The 2022 GR86 introduced a new torque convertor and extra clutch discs, kept the dynamic rev management, and fits the paddle shifters as standard. It's not as rapid-fire dramatic as, say, a Porsche's PDK, but then the little Toyota coupe isn't meant to be a weapon like a 911 or Cayman.
Honestly, though, the standard stick shift is the gearbox to have. Not just because the chance to row your own gears in an enthusiast car is vanishingly small these days, and should be cherished, but because it's a great transmission, period. Whereas most sports cars perform better with a computer doing the shifting, the GR86 bucks that trend: the manual does 0-60 mph in a quoted (and pretty conservative) 6.1 seconds, the automatic taking half a second longer.
Straight-line speed, though, isn't really the point of the GR86. What cements its charm is its throwable nature, and the slick-shifting manual feels right at home there. The clutch is nicely weighted, and though first to second can be a little temperamental, the trifecta of second, third, and fourth gears is a triangle of joy. With a bigger engine and more power, meanwhile, there's less churning between the ratios for things like highway overtaking, which boosts day-to-day practicality.
Lean, lithe, and gloriously predictable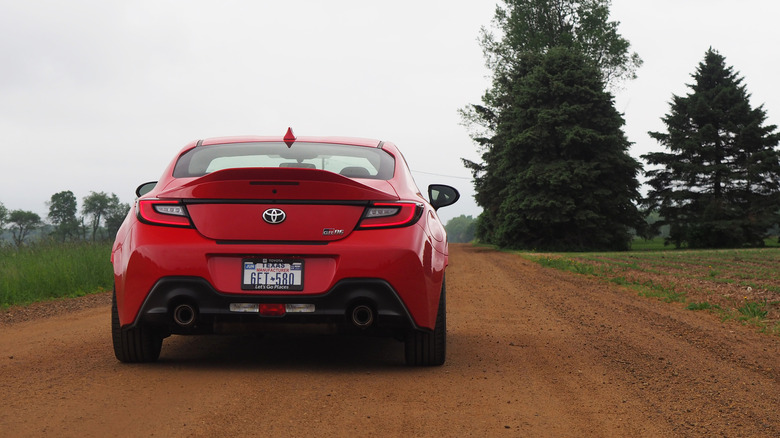 Chris Davies/SlashGear
The suspension setup helps there, too. Waif-like weight means Toyota can avoid making things unduly stiff, even if the new aluminum in the roof, front fenders, and hood have left the body itself sturdier. It's firm enough to avoid roll and beautifully predictable and direct in sharper corners, but it won't rattle your teeth loose on less pleasant road surfaces.
Toyota tweaked the steering, too, while the brakes now rely on 11.6-inch ventilated front rotors and 11.4-inch ventilated rears. They, like the Michelin Pilot Sport 4 rubber which Toyota fits to the 18-inch wheels on the GR86 Premium, are joyfully communicative. Everything is easy to modulate and devoid of surprises: lack of grip, of power, or approaching understeer are all signaled well in advance, helping you stick to your happy place rather than one in the ditch.
A noticeable cabin upgrade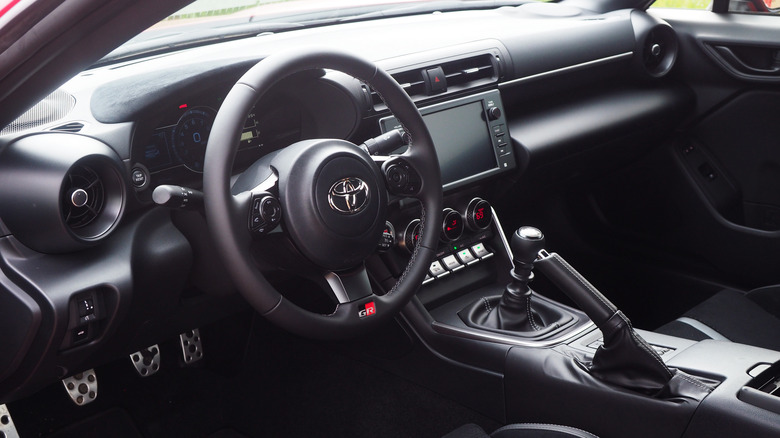 Chris Davies/SlashGear
If the underpowered engine was the old 86's first problem, its second was a fairly dreary cabin. Second time around, there's still clearly a focus on frugality — no bad thing, given the attainable starting price — but the overall experience is less of a hair-shirt affair. In fact, by Miata standards, it's positively practical, even if a fair amount of road noise still gets in.
The dashboard remains sober, its black lifted only slightly by dark silver switchgear, and there are plenty of hard plastics for your fingertips to find. All the same, creaks are in relatively short supply (for now, anyway), and the design overall feels more considered rather than slapped together. Premium spec gets blind spot warnings, dual-zone air conditioning, heated Ultrasuede seats with leather bolsters, and rear cross-traffic alerts. There's also an 8-inch infotainment system (running what's clearly a variant of Subaru's software) with wired Android Auto and Apple CarPlay support, SiriusXM, and a 7-inch digital instrument cluster display.
Toyota's switchgear is big and chunky, easy to control when you don't really want to be distracted from the road. There's also a fairly decent amount of cubbies and storage nooks: bottle holders in the doors, a covered bin in the center console, and two diminutive rear seats — arguably better as extra cargo space than for punishing passengers any larger than children or pups — that fold down to enlarge the 6.26 cu-ft trunk.
Priced to play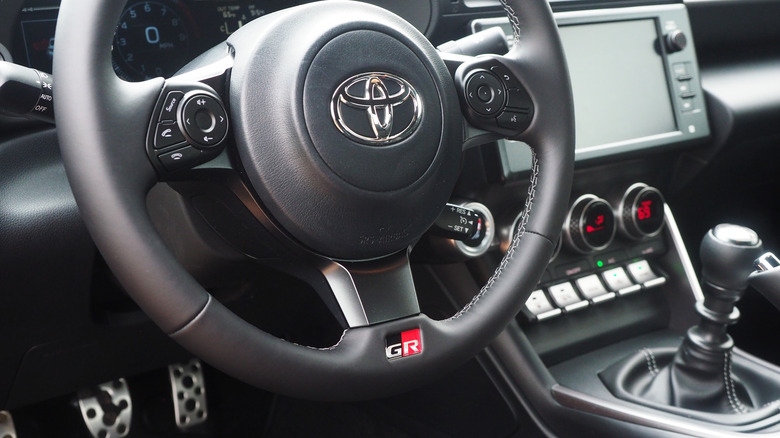 Chris Davies/SlashGear
While $2,600 more out of the gate than the base car, the GR86 Premium makes a solid argument for that delta. The regular $27,700 coupe has 17-inch wheels, does without the fancier headlights, the rear spoiler, heated seats, and packs six speakers rather than the Premium grade's eight.
It also misses out on blind spot and rear cross-traffic warnings, which is even more annoying. If you want Toyota's Active Safety Suite, meanwhile, you'll need the automatic transmission. That means no pre-collision auto braking, adaptive cruise control, lane departure warnings, or high-beam assist if you want the stick shift, and there's a frugality compromise as well. The EPA rates the automatic GR86 as good for 21 mpg in the city, 31 mpg on the highway, and 25 mpg combined, versus 20 mpg city, 27 mpg highway, and 22 mpg combined for the manual. 
By the time you add the $425 Track bRed (no, really) paint, floor mats, and a handful of accessories, my review car clocked in at $32,432 (including $1,025 destination). That holds up well against the GR86's obvious competition, the MX-5 Miata, which runs to around $32,650 for a comparably-spec'd out car. Any higher and you might start wondering about cross-shopping with the new Nissan Z, which though from $40,000 is more expensive, also brings 400 horsepower to the party.
Toyota GR86 Premium Verdict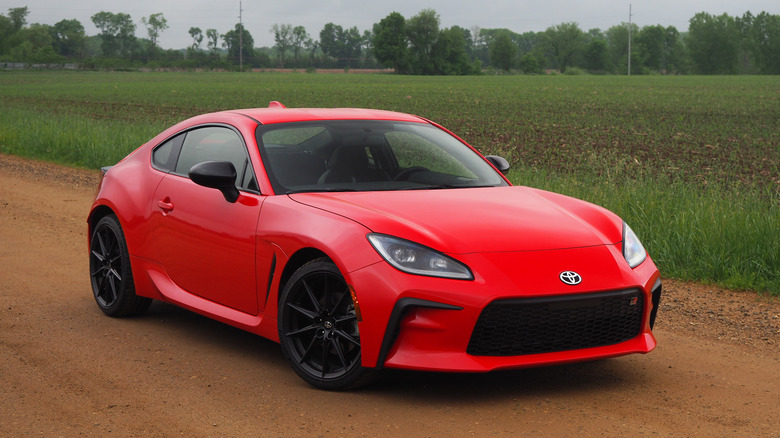 Chris Davies/SlashGear
It's tempting, of course, to see the GT86 and Miata as natural rivals. In reality, I think of them more like plucky outcasts left battling against the industry trends of more weight, more money, and more complexity. We're pretty lucky that we still have not just one, but two great options for affordable two-door whimsy.
Personally, I prefer the Mazda's manual but the Toyota's solid roof. I like the GT86's cabin, which feels less bare-bones than that of the MX-5, not to mention a little less austere when it comes to storage. The Toyota also arguably has the edge when it comes to tech, too, even if I suspect most buyers of either car will simply plug in their smartphone and let Google or Apple do the heavy lifting.
The GR86 is firmer and more focused than its glib Miata rival, and perhaps a little less toy-like which I suspect some drivers will prefer too. Honestly, you can't really go wrong with either, but Toyota and Subaru's refinement of the GR86's engine, cabin, and styling leaves it altogether more appealing. Unless you really want the wind in your hair, it's hard to doubt this low-cost coupe's high-value fun.