Belkin MagSafe Continuity Camera Mount Review: Finally, A Good MacBook Webcam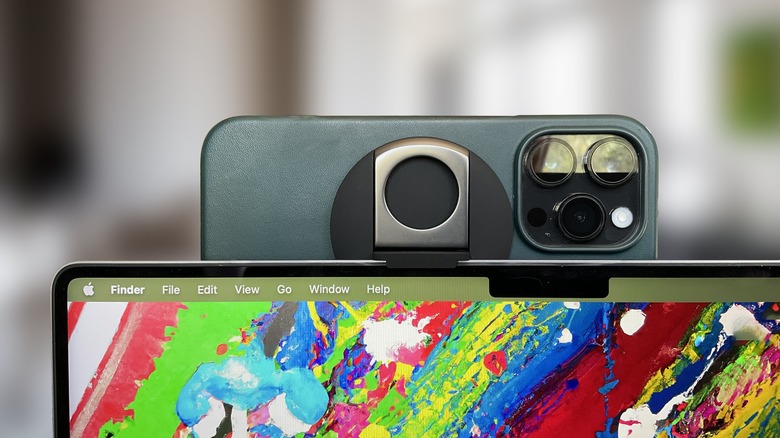 Will Shanklin/SlashGear
EDITORS' RATING: 9/10
Surprisingly, one of the most talked-about highlights from Apple's macOS Ventura reveal was a small accessory from Belkin. Officially branded as the "Belkin iPhone Mount with MagSafe for Mac Notebooks" (we'll refer to it as the "Belkin mount" or" Belkin adapter"), it takes advantage of Continuity Camera. This built-in software feature replaces your MacBook's webcam with the iPhone's far superior camera. The $30 accessory provides a massive webcam update with a smooth design and an affordable price to boot.
As Apple's identity shifted over the last two decades from a high-end and somewhat niche computer boutique to an all-encompassing technology behemoth, the company's product lineup gradually integrated more consumer-friendly pricing options. But making costs (slightly) more accessible has also meant cutting the occasional corner. And MacBooks' webcams have been a primary casualty.
Apple first added 720p front-facing cameras to its MacBooks in 2011. However, 11 years later, the company has improved its laptop camera resolution only incrementally — and even then, only in its highest-end models. Even today, Apple still sells notebooks with that same spec: 720p. While the latest MacBooks running Apple Silicon finally include full HD 1080p cameras, even they pale in comparison to the resolution and overall quality of modern iPhone shooters.
Baked into macOS Ventura, the new Continuity Camera feature lets you use your iPhone camera for FaceTime, Zoom, and other MacBook video-calling apps. And Belkin's iPhone mount was built explicitly for the new feature, in partnership with Apple, holding your iPhone in a prime position on top of your screen.
Requirements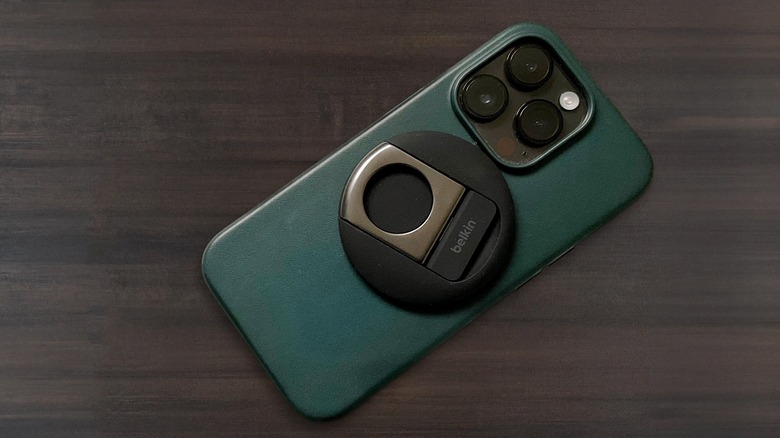 Will Shanklin/SlashGear
Although Continuity Camera works seamlessly and effortlessly, you'll want to check on a few requirements before investing in the $30 accessory. First, your Mac needs to be updated to macOS Ventura. Any Mac that can run macOS Ventura works with Continuity Camera. You will also need a 2020 or newer iPhone with MagSafe to mount it on the Belkin adapter. If your iPhone doesn't have MagSafe, you'll need to upgrade before using Continuity Camera. If you use a case with your iPhone, it will need to be a MagSafe-friendly one.
Your iPhone needs to be updated to iOS 16. If you've already updated, then you can head to Settings, General, AirPlay & Handoff, and make sure Continuity Camera is turned on. It's on by default.
Also, make sure the same Apple ID is logged into both your iPhone and Mac. You'll need to activate two-factor authentication for your Apple ID. We recommend this for security purposes either way.
Continuity Camera can work wired or wirelessly. If you're using it in wired mode and have never connected your iPhone to your Mac, you will need to confirm the "Trust" prompt that pops up on both pieces of hardware after connecting the cable and unlocking your devices.
Once you start a video-calling app, it should automatically choose your iPhone as the camera. If it doesn't, your iPhone should show up as an option in the app's camera settings. In FaceTime, you will find this under the Video dropdown. In Zoom, it's under Settings, Video. You can also change it while already in a Zoom meeting by clicking on the carrot icon next to "Stop video call."
Mounting and setup
With software setup out of the way, flip out the small clip on the Belkin mount, grip it onto your MacBook's screen, and place your iPhone on its MagSafe connector.
The Belkin mount held our iPhones in place without issues, leaving the MacBook's screen in mint condition.
It works best if you position your MacBook display at close to a 90-degree angle. If you tilt its screen much farther back, the iPhone's weight can push the display farther down to its widest angle. It would have been nice to see Apple anticipate this feature with more robust MacBook hinges allowing a greater viewing angle variety. Perhaps the next generation of Apple laptops, expected in early 2023, will check this item off our wishlist.
The Belkin adapter supports mounting your iPhone in either portrait or landscape mode. This option is helpful because portrait mode allows you to raise the camera view a little higher if the top of your MacBook screen isn't quite at eye level. On the flip side, that means your gaze will be significantly lower than the camera.
One item to note before buying this accessory is that it won't likely work if you have a case on the back of your MacBook's screen. We tried it with an Incase accessory, which was too thick for the Belkin mount to clip into place. However, it worked fine with a dbrand protective decal.
Video call quality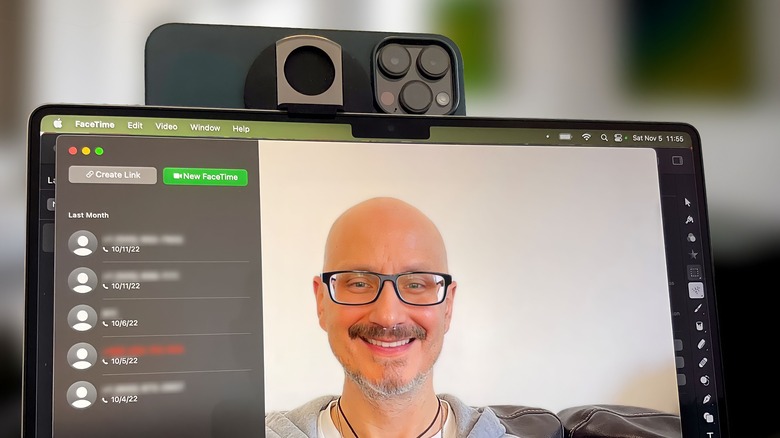 Will Shanklin/SlashGear
Continuity Camera quickly became a must-have feature for our MacBook video calls. When tested with combinations of the iPhone 14 Pro and iPhone 13 Pro Max paired with either a 13-inch MacBook Pro or 14-inch MacBook Pro, we experienced a vast improvement over the stock Mac webcam. It's similar to recording video with a ten-year-old iPhone vs. a more recent model.
One of the most pronounced differences was when using video effects — you can toggle these in Control Center.
Using your iPhone for Continuity Camera marks Mac's first time offering Center Stage, the face-tracking tech Apple first introduced on the M1 iPad Pro. This effect tracks your head movement, moving the video frame as you move your head. It keeps you in the frame and gives your calls a more elegant appearance. It's as if your own cinematographer keeps you centered in the frame.
Portrait Mode blurs your background, providing a digital bokeh effect. Using the iPhone as a camera, it's more precise at blurring your entire background — and only your background — compared to Portrait Mode with the 14-inch MacBook Pro's 1080p webcam. The latter often blurs the edges of your face.
Studio Light digitally darkens your background while lighting your face. Although Apple compares this effect to using a ring light, it isn't quite there as a complete substitute. However, it can nudge your appearance closer to that for times when you can't use a ring light.
Meanwhile, Desk View is a new effect using the iPhone's wide lens to capture your desk and face in separate shots. This mode has more niche use cases, but it could be handy for team design meetings or other calls where you want to display physical objects on your desk.
Grip and kickstand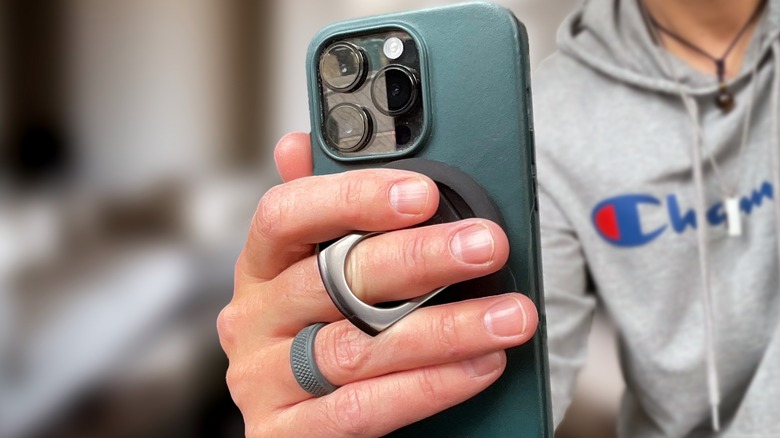 Will Shanklin/SlashGear
If the Belkin adapter only served as a mount for MacBook calls, we would still recommend it as a $30 purchase. But it can also double as a MagSafe ring grip and kickstand.
Opposite the MacBook mounting clip is a metal ring, which you can unfold to grip your iPhone more easily. Similar to a PopSocket, this setup is easier to keep a hold of today's large iPhones. These can be especially useful if you own one of Apple's supersized "Max" series of handsets.
You'll want to play with positioning to find what's most comfortable for your fingers, but we prefer placement with the ring's bottom at about the 7:00 position on your iPhone's back. It's easy to adjust the Belkin adapter until you find the right angle.
Another perk of leaving it attached to your iPhone is you'll always know where the Belkin mount is. Given its small size (2.3 inches diameter), it could otherwise be easy to forget where you left the tiny accessory.
You can also use the ring as a kickstand, which is handy for propping up your phone on a desk while watching videos.
Wrapping up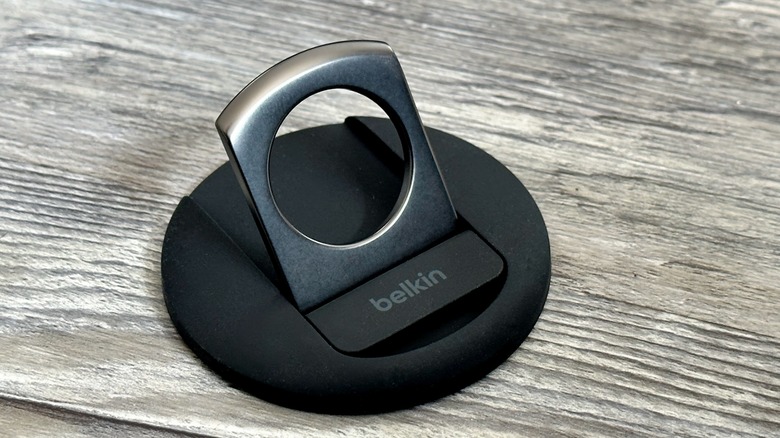 Will Shanklin/SlashGear
Rarely have we gushed so enthusiastically about a small and simple $30 accessory. Still, we consider the Belkin mount a must-have purchase for iPhone owners wanting to upgrade their MacBook video calls. And if you're going to use it as a ring grip or kickstand, that sweetens the deal even more.
In a perfect world, Apple would include high-end webcams in its ultra-expensive MacBooks. But the company doesn't appear to view that as adding enough value to justify a higher price tag or lower profit margins, so we're left with workarounds. But at least Continuity Camera, the workaround it's providing, is effective and relatively cheap for iPhone owners.
Unfortunately, at the time of publication, the Belkin adapter is back-ordered at Apple, which is currently the only place to order it. So if you decide to buy one, you may need to wait about a month. However, if you live near an Apple Store, you may get lucky and find them in stock locally. 
Of course, you can use Apple's iPhone-as-webcam feature without the Belkin adapter. Amazon vendors offer Continuity Camera accessories with similar designs, albeit without the ring grip and kickstand. You could also opt for a desk or floor stand that holds your iPhone, extending from behind your laptop. (Twelve South's $80 HoverBar Duo, designed for iPad but compatible with iPhone, is one example). These setups let you hold your phone closer to your face, higher above, or anywhere else you feel like putting it.
The terrific Belkin iPhone Mount with MagSafe for Mac Notebooks is available now from Apple in black and white color options. It costs $29.95.